This article first appeared in City & Country, The Edge Malaysia Weekly on March 13, 2023 - March 19, 2023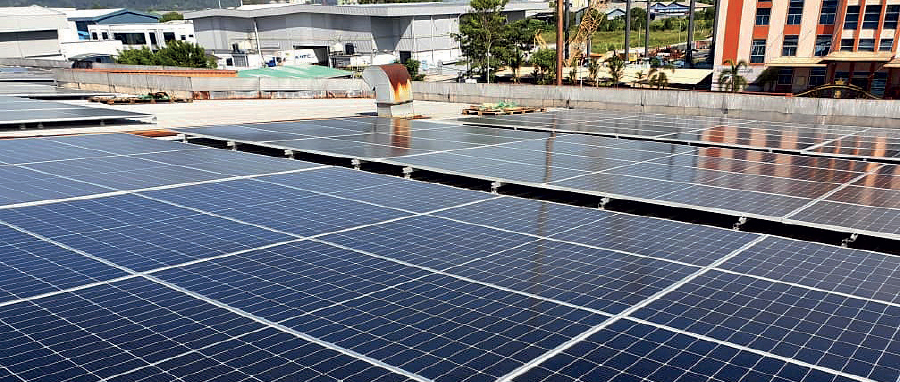 A roof retrofitting installation for an F&B factory with a 797 kilowatt peak (kWp) solar PV system in Perak (Photo by Sunview Group)
One of the key renewable resources that Malaysia has plenty of is solar energy. Sunview Group Bhd believes industrial players that are able to take advantage of this by installing solar panels will experience the benefits.
"Malaysia's advantageous geographical location offers an abundance of natural resources, readily available to be utilised for the generation of RE (renewable energy). The country's proximity to the equator provides strong solar irradiance in the range of 1,575 to 1,812 kWh/m2 throughout the year, comparable to countries with more mature and developed solar PV (photovoltaic) markets," says Sunview CEO Ong Hang Ping.
Commencing operations in 2013 and listed on the ACE Market on Oct 17, 2022, Sunview is an RE provider that specialises in engineering, procurement, construction and commissioning of solar energy systems. It also constructs and installs solar PV facilities and provides solar power generation and supply as well as associated services and products. The company offers residential, commercial, and industrial and large-scale solar RE systems and solutions that are tailored to the customer's needs. Sunview's strength is in providing cost and design optimisation to differentiate itself from its competitors. "We are better at cost and design optimisation due to our high unbilled order book of close to RM800 million as at Jan 27, 2023, hence we benefit from stronger buying power," says Ong.
Industrial players with huge factories and plants should utilise their roof space to install solar panels. This will help them to meet part of their environmental, social and governance (ESG) requirements, which are so necessary today.
It is Sunview's belief that apart from saving on electricity costs, having solar panels will increase companies' energy efficiency and be beneficial to their bottom line over the long term.
In fact, industrial players can offset subsequent electricity bills with the excess energy produced, allowing them to be more energy efficient. Another benefit is energy independence, whereby they will have a consistent supply of electricity even in the event of a power cut.
Finally, they will qualify for the Green Investment Tax Allowance (GITA), provided by the government to encourage more companies to adopt green technologies.
"The adoption of solar power as an alternative source of energy comes with massive savings over the long term. Take one of the previous government initiatives, the Net Energy Metering (NEM) Rakyat 3.0 for residents, where an electricity bill of about RM300 a month with usage of seven kilowatts per hour (kWh) could see savings of about RM228 or 76% per month," says Ong.
"As for industrial usage, companies that adopt RE can see savings of up to 80%. This will significantly reduce the fixed overheads of the company. Under Sunview, we offer SunValue and SunVenture to customers," he says. SunValue allows the convenience of managing a solar energy system through a third-party player with zero upfront investment, while SunVenture allows the customer to generate its own electricity via a solar farm with installed capacity of up to 30MW and sell to the power grid.
"Due to the increase in the ICPT (Imbalance Cost Pass-Through) mechanism to 20 sen, commercial and industrial customers under Tariff C and Tariff E who install solar under SunVertax (Sunview's outright purchase plan) can enjoy a payback period of up to three years. It is also subject to other factors, including government incentives and policies, solar system installation costs, and the amount of energy generated from the solar panels that is taken by the customer."
Ong points out that there have been several advancements in solar technology that enable better and more efficient solar energy performance. These include more efficient solar cell technology, better electrical safety systems and solar panel optimisers.
"Malaysia is currently using the P-Type solar cell technology. However, there is an emerging N-Type solar cell technology that is now available in Malaysia for better efficiency," he adds.
"The N-Type panels have one key difference from the standard P-Type. While the P-Type is coated (referred to as being dosed) in a base layer of boron, making the base positive, the N-Type has a negative base, having been dosed in phosphorus. The change brings many advantages, including an increase in efficiency, better performance in a range of conditions and lower degradation rates."
To avoid electrical fires, "the Arc Fault Circuit Interrupter (AFCI) was developed and built inside the solar inverter with the purpose of detecting and extinguishing electric arcs by an interruption of the electrical current".
And then there is the Direct Current (DC) Optimiser, which optimises the DC produced by each solar panel through the tracking of each solar module's peak output and regulating its voltage before sending it to a string inverter for DC/AC conversion.
In addition to helping companies achieve their ESG objectives, Sunview can aid them in converting selected certified assets to receive renewable energy certificates (RECs).
"RECs are a globally recognised tool that enables companies to purchase renewable power in a transparent and credible way. RECs have a clear value proposition — for project developers, they generate additional revenue for each MWh of renewable power they produce. For corporate buyers, they are essential for meeting sustainability targets globally," Ong explains.
"With the ownership of 18 solar plants as at February 28, Sunview provides the service to convert assets to RECs for business owners looking to comply with ESG reporting requirements and build a sustainable brand image. This allows companies to commit to adopting RE and reducing their carbon footprint while avoiding capital costs that come from establishing RE facilities," he adds.
Ong highlights how going the ESG way, particularly using solar energy to offset energy use and to enhance business opportunities, is being encouraged by the relevant authorities.
"Bursa Malaysia Bhd announced the launch of Malaysia's pioneer voluntary carbon market with the introduction of the Bursa Carbon Exchange (BCX or Carbon Exchange). The objective of BCX is to enable companies to trade voluntary carbon credits from climate-friendly projects and solutions, with the aim of offsetting their emissions footprint and meeting climate goals," he says.
"A carbon credit is a kind of permit that represents one tonne of carbon dioxide removed from the atmosphere. It can be purchased by an individual or, more commonly, a company to make up for carbon dioxide emissions that come from industrial production, delivery vehicles or travel.
"Carbon credits are most often created through agricultural or forestry practices, although a credit can be made by nearly any project that reduces, avoids, destroys or captures emissions. Individuals or companies looking to offset their greenhouse gas emissions can buy those credits through a middleman or from those directly capturing the carbon."
According to Ong, Sunview is ahead of schedule in venturing into the biogas renewable energy space four months after its listing on the ACE Market of Bursa Malaysia, which it initially said it would do within 24 months. The company is also tendering for the Corporate Green Power Programme (CGPP), an initiative by the government to provide opportunities for business entities to participate in the promotion and use of renewable energy in their business.
With so much emphasis being placed on ESG to do business, Sunview believes it can be the RE provider of choice to meet the solar energy needs of industrial players.
Save by subscribing to us for your print and/or digital copy.
P/S: The Edge is also available on Apple's AppStore and Androids' Google Play.