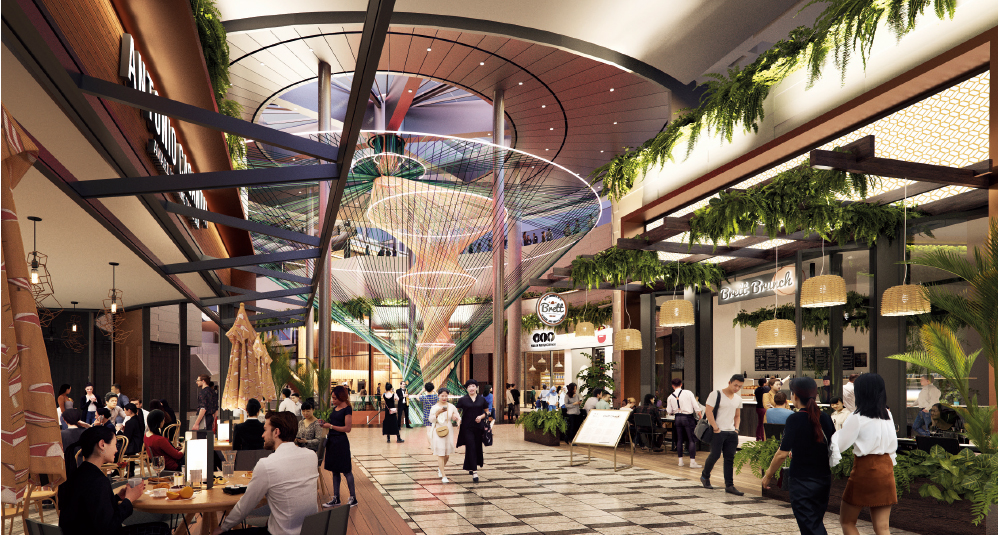 Dining at The Exchange TRX will see a range of highly exciting experiences across 5 unique F&B precincts
As the world of retail continues to evolve, discerning consumers are expecting a richer range of experiences that delight and serve with purpose. No longer just transactional venues, physical retail spaces have been reimagined as a canvas for entertainment, experiential retail and world-class dining. With this transformative vision as its cornerstone, The Exchange TRX will shape up to become the new social heart of Kuala Lumpur when it debuts in the fourth quarter of this year.
Names seen in travel guides and experiences that seemed only possible at international destinations are now conceivable, thanks to a curated pool of tenants at The Exchange TRX, which offers more than 400 unique stores spanning four retail levels. They are not only intimate yet convivial places to meet in, but also havens for idle browsing.
Avid moviegoers can now convene at GSC's Asean Flagship Store to check out the latest blockbusters on the region's largest Imax screens; homeowners can delight in the latest products to spruce up their abode when they visit the iconic premium Japanese department store, Seibu.
Submit to the temptation of its 250,000 sq ft depachika (the Japanese rendition of the words "department" and "chika", or basement) where gourmet delicacies abound, as well as leading stationery stalwart Loft — both of which are first-of-its-kind in the country.
If you're in need of a cuppa, escape to the Central Exchange Atrium where you'll sip coffee like royalty at Moroccan-themed café Bacha Coffee or indulge in Italian gourmet chocolates at the Venchi Boutique, part of a stable of new-to-market brands.
On the fashion front, brands are putting dialogue with customers at the centre via interactive and exclusive in-store experiences. The Luxury floor is already fully tenanted, with the LVMH Group opening 17 brands such as Louis Vuitton, Christian Dior and Tiffany & Co; and the Kering Group bringing in Gucci, Saint Laurent and Balenciaga, and more. Discerning clienteles who subscribe to the sartorial philosophy of Mademoiselle Gabrielle Bonheur "Coco" Chanel will be pleased with the new, full-line store that celebrates the French house's long-standing heritage. Another name to look out for includes eyewear expert Gentle Monster.
The High Street Fashion precinct is set to be a playground for trendsetters as leading high street brands carry exclusive collections straight from the runway and magazine pages. One need not compromise on style even if they are on the treadmill — a number of athleisure stores (namely Adidas, Puma, Nike, Skechers and Under Armour) will help customers strike the perfect balance between style and sports. The Exchange TRX is already working closely with these industry giants to organise engaging events that promote wellness within the city.
For those in need of a quick pampering or even just a relaxing spa day, a purpose-designed Beauty Precinct will teem with some of the most coveted names in cosmetics and skincare. Nowadays, bespoke boutiques are destinations in their own right, where personalisation meets diversification; and nature meets modern science. Like a serene sanctuary, this first-of-its-kind Luxury Beauty section is decked out with lush greenery and a sophisticated laboratory design that allows consumers to browse their favourite brands with ease.
"Malaysia's retail landscape has seen rapid transformation in recent years with the emergence of vibrant integrated developments offering the best of shopping, leisure and entertainment. As the lifestyle precinct at the centre of Malaysia's first International Financial District, Lendlease's vision for The Exchange TRX is to create a city-defining project designed with a respect for local heritage, arts and culture," says Mitch Wilson, project director for The Exchange TRX and head of retail for Lendlease Malaysia. "As a global organisation, we will showcase our international placemaking expertise alongside our 43-year history in Malaysia to introduce our signature approach to experiential retail."
He adds: "With our global platform, we have the trust of retailers from all over the world. We are grateful for their support in getting our occupancy levels to 80% with leading international and established local players, given we are under a year before opening. We believe the diverse retail mix complemented by dynamic leisure and entertainment activations will serve as key points of differentiation and encourage visitors to linger longer and make repeated visits. When we open our doors to the public, this iconic social and lifestyle destination will appeal to not only an increasingly thriving on-site population, but also to all Malaysians as well as international visitors."
While retail plays a crucial part in The Exchange TRX's master plan to rejuvenate the local commercial scene, it also seamlessly integrates nature to blur the line between indoor and outdoor. A 10-acre activated rooftop public park has been erected to complement the Greater TRX as a preferred destination for arts and cultural exchanges, as well as a gathering hub to advocate healthy living among busy city slickers. Connected to the lobbies of towering offices, gleaming hotels as well as residences, this green lung smack dab in the city centre — designed by Lendlease in partnership with landscape architects from Malaysian firm Pentago and Australian company Oculus — doubles as a common area where tourists and residents can take a breather.
Housing a biodiversity ecosystem of more than 150,000 plantings from close to 150 native plant species, the TRX City Park with cascading greenery serves as a scenic backdrop for children's play areas, water features and beautifully shaded enclaves that will allow for quiet meditation, al fresco dining, community projects, sports and leisure activities. Joining the ranks of other notable urban parks in the world such as High Line in New York, Namba Park in Osaka, Japan, and Gardens by the Bay in Singapore, this luxuriant space in downtown Kuala Lumpur dreams up an ideal location to host red carpet galas, festivals, concerts, movie premieres and even international exhibitions.
A well thought-out and immersive garden also presents the opportunity for F&B outlets to fully leverage the integrated access of retail space to the park. Already taking centre-stage are Singapore's multi-concept Tipsy Collective, which will be opening a dining and entertainment-focused outlet; as well as home-grown coffee institutions and cafés VCR and Kenny Hills Bakers.
Dining out remains one of the greatest pleasures for Malaysians. Make a beeline for the Food Exchange, a modern twist to the traditional hawker scene that features live cooking shows by local chefs and a rotating concept whereby new stalls will be introduced every other month.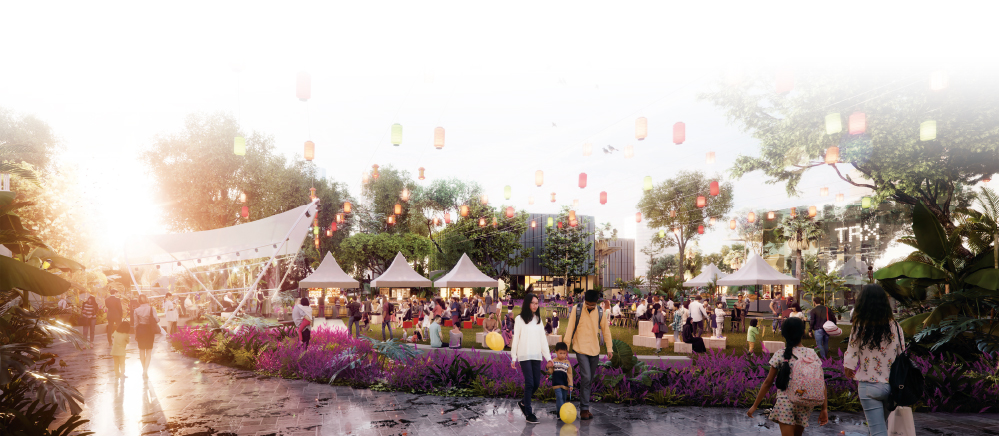 A distinct feature of The Exchange TRX is the 10-acre rooftop public park
More elevated experiences await: Concourse Dining entices with international cuisines, Park Dining with its garden-inspired interior caters for private and corporate events while Premium Dining offers a luxurious dining affair that combines gastronomy and impeccable service. Plus, after-work get-togethers on Fridays and game nights will no longer be the same as team dinners or large parties can be held at the open-air Dining Terrace.
Connectivity has always been the heart of The Exchange TRX, which will be serviced by the largest MRT station on the network. With access to all primary arteries of the city, this lifestyle epicentre seeks to inject life and vivacity into the robust Klang Valley and beyond.
The Exchange TRX is part of an integrated 17-acre lifestyle precinct featuring Malaysia's first Kimpton® Hotels & Restaurants slated to open in mid-2024, six premier residential towers — TRX Residences and a low-rise, large floor plate campus-style office building.
Discover a world of new-to-market experiences and statement stores when The Exchange TRX opens its doors at the end of this year with a host of exciting events and promotions.