A strong commitment to Safety, Health & Environment upholds MMC Gamuda's success.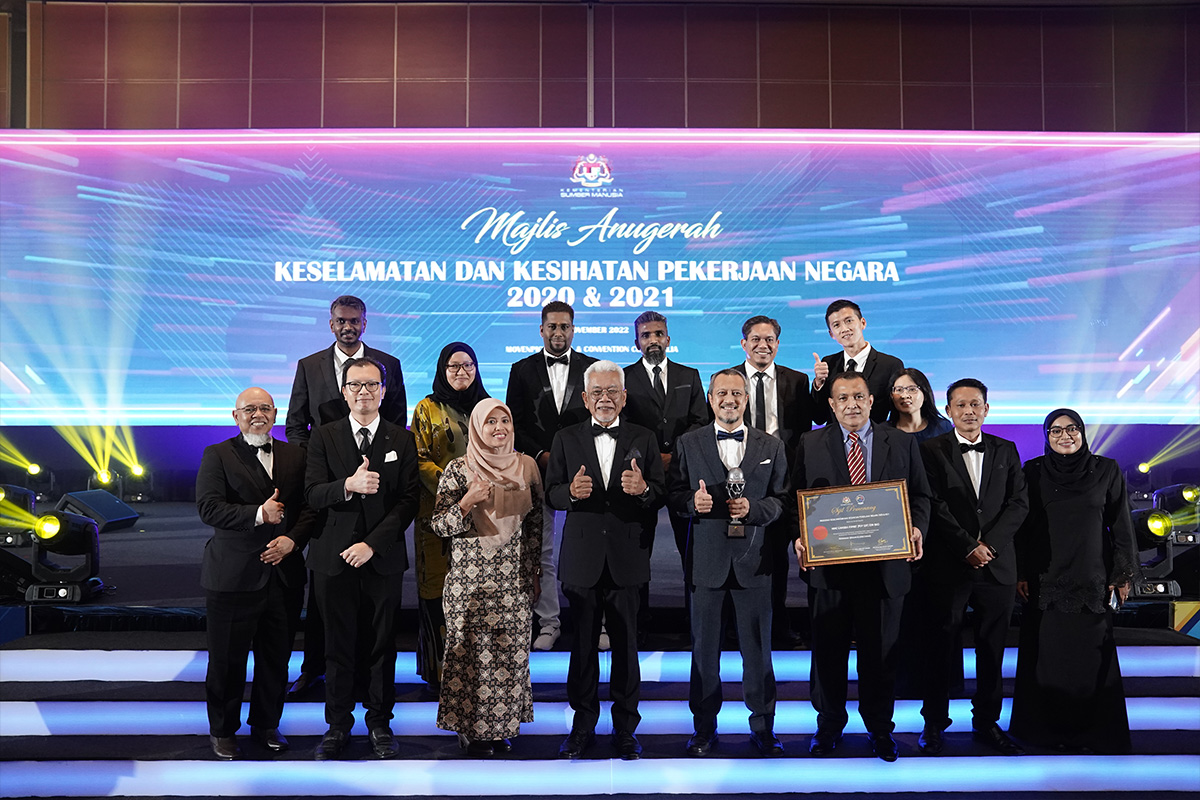 (fifth right) Director of DOSH, Ministry of Human Resource, Mohd Anuar Bin Embi with MMC Gamuda representatives: (fourth right) Project Director - Adil Putra, (third right) Deputy Project Director - Amir Malik, (first right) Head of SHE, Sirajunnisa Mohamed Farook.
When it comes to leading the way in health and safety standards in the local construction industry, MMC Gamuda is unrivalled. Indeed, its top-down approach to safety is a culture that permeates every level of the organisation.
It is no surprise therefore, that the company recently received top honours in the Construction Category of the National Occupational Safety and Health (OSH) Awards 2020/2021, hosted by the Department of Occupational Safety and Health (DOSH) Malaysia.
It also received a 5-star rating for Design and Construction in the Sustainable Infrastar certification done by the Construction Industry Development Board of Malaysia (CIDB).
In capping off an impressive year, the company bagged, for the third time, the coveted Sword of Honour from the British Safety Council (BSC).
"From as early as the start of the MRT Kajang Line and now with the MRT Putrajaya Line, we set the goal of uplifting safety standards not only within our projects but to inspire a change in the industry itself.
"These award wins are therefore a welcome recognition of our drive to lead by example, pushing forward safety standards as each year has progressed," said MMC Gamuda project director Adil Putra.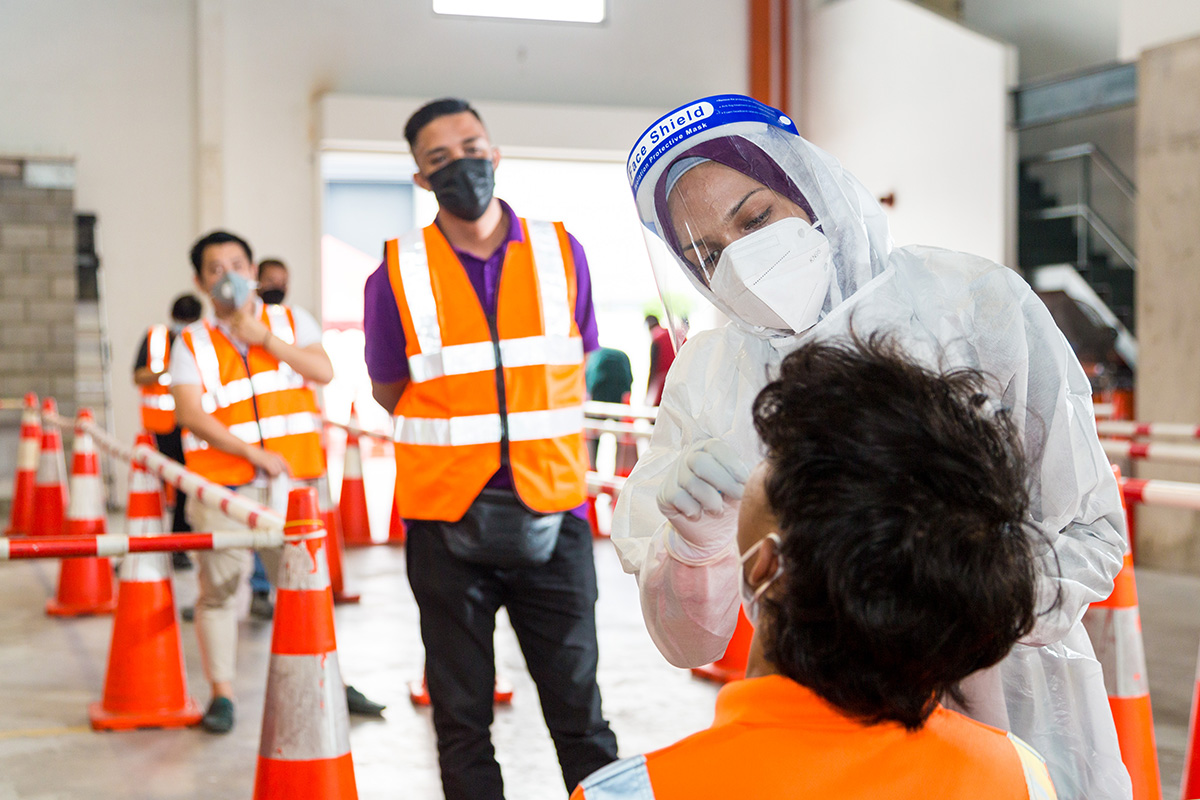 MMC Gamuda led an industry-first response, opening their very own in-house RT-PCR testing laboratory for Covid-19 screening of project workers.
Adil added that the greater emphasis on prioritising Safety, Health and Environment (SHE) standards is about being a responsible employer and investing in employees' safety and wellbeing.
"We believe these principles matter the most, as they improve our chances of project success and enhances our competitiveness in the international arena."
The National OSH award and 5-Star Sustainable Infrastar rating were achieved after intensive audits by DOSH and CIDB respectively. The National OSH award particularly required a comprehensive presentation to the authorities after a successful audit to explain and expand on the company's safety initiatives.
Notably, during the Covid-19 pandemic outbreak, MMC Gamuda acted swiftly and had the foresight to set up various facilities - clinics, a triage centre, a bespoke laboratory and others to give its employees peace of mind during these challenging times.
Processes, such as a weekly Covid-19 screening through the highly accurate polymerase chain reaction (PCR) tests, are also implemented to ensure employee safety. This enables employees to work in a safe environment be it at the office or on-site and return home to their families. There is also dedicated Gamuda Clinic, where health care is made more accessible.
These facilities are in place to take care of employees' long-term wellbeing. The investments that Gamuda has undertaken to build all these are significant. Still, compared to the cost of delaying projects due to the pandemic or other issues, it is worth it.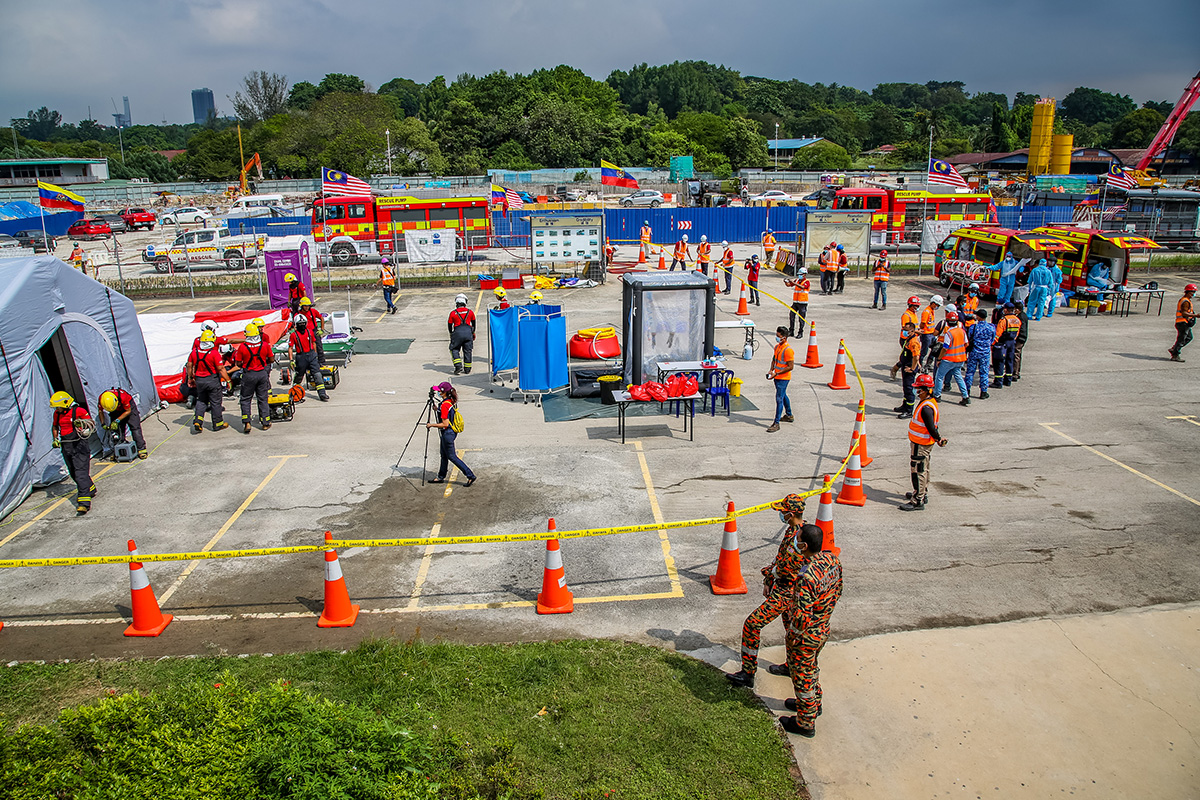 Covid-19 worksite isolation and quarantine drill demonstration for Bomba and Kementerian Kesihatan Malaysia (KKM).
Keeping workers socially distanced
Other than that, ensuring that the workers who have to work and live in proximity are safe is also essential. For this reason, MMC Gamuda has over 16,000 workers housed in 11 centralised labour quarters (CLQ) around the Klang Valley. It is the first of its kind in Malaysia and stands tall as a precursor in the construction industry in the country.
The concept of CLQs was introduced to establish a new standard of housing for workers in the construction industry. It's meant to provide a clean, safe and secure environment with self-contained facilities, such as a cafeteria, surau, cooking facilities, sick bays and recreational facilities.
The CLQ MRT facilities are aligned with the Act 446 Workers' Minimum Standards of Housing and Amenities Act 1990 and the Akta A1604 Standard Minimum Perumahan dan Kemudahan Pekerja (Pindaan) 2019, amongst others.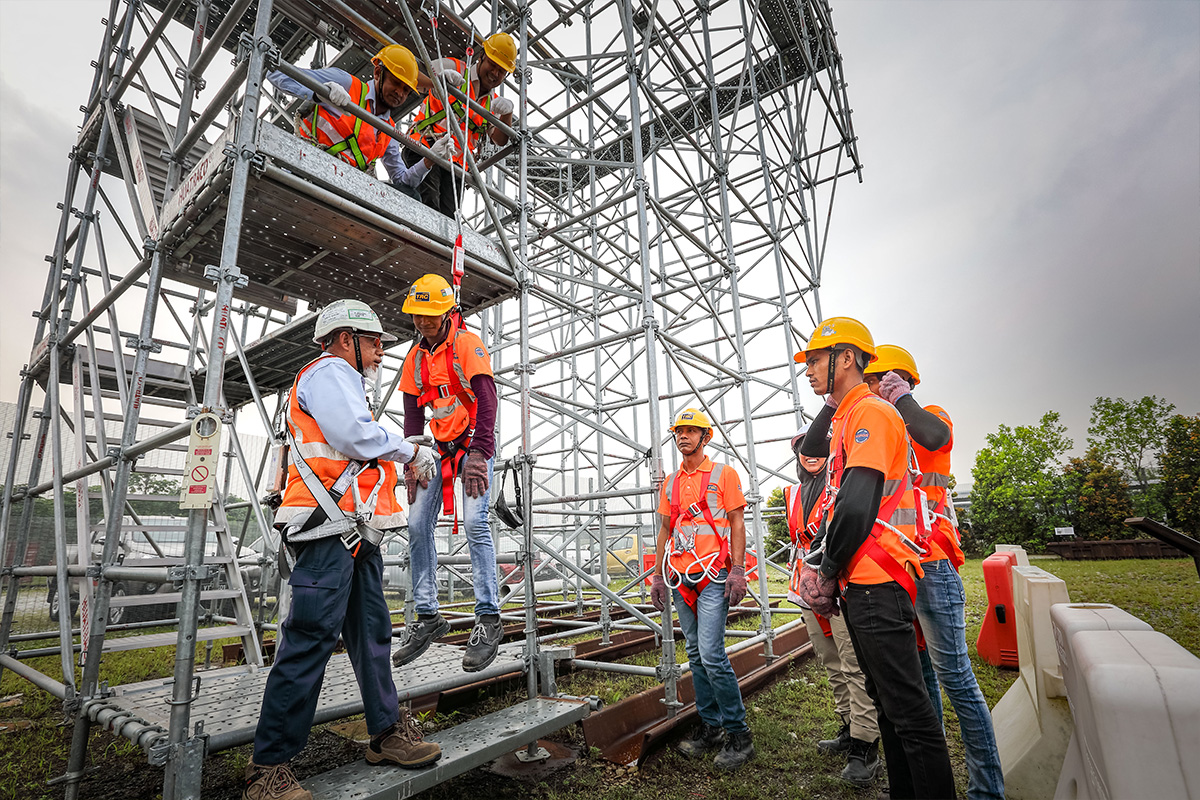 MMC Gamuda's safety centre enables mutual cooperative programmes to develop, improve and sustain their OSH culture including trainings like the Construction Skills Certification Scheme, Master Trainer Programme and Safety Performance Assessment Scheme.
Sticking to OSH standards and guidelines has since become second nature to MMC Gamuda teams, says Sirajunnisa Binti K.G. Mohamed, MMC Gamuda's SHE head.
"From the very beginning, we have put in place clear OSH policies that cover every facet of our work demonstrating the commitment of our senior management, to drive forward and promote OSH leadership in all our staff.
"The clearest example of this has been how we overcame the challenges presented by the Covid-19 pandemic over the past few years. Thanks to our effective strategies for containing the spread of the disease and minimising its impact on the project, work was able to continue uninterrupted for the most part," says Sirajunnisa.
Ultimately, Gamuda wants to ensure that its employees' wellbeing and health are taken care of for the long term, even beyond the pandemic. These investments will provide accessible and affordable healthcare to employees and families, which is essential for their mental and physical health during trying times.