This article first appeared in Options, The Edge Malaysia Weekly on February 21, 2022 - February 27, 2022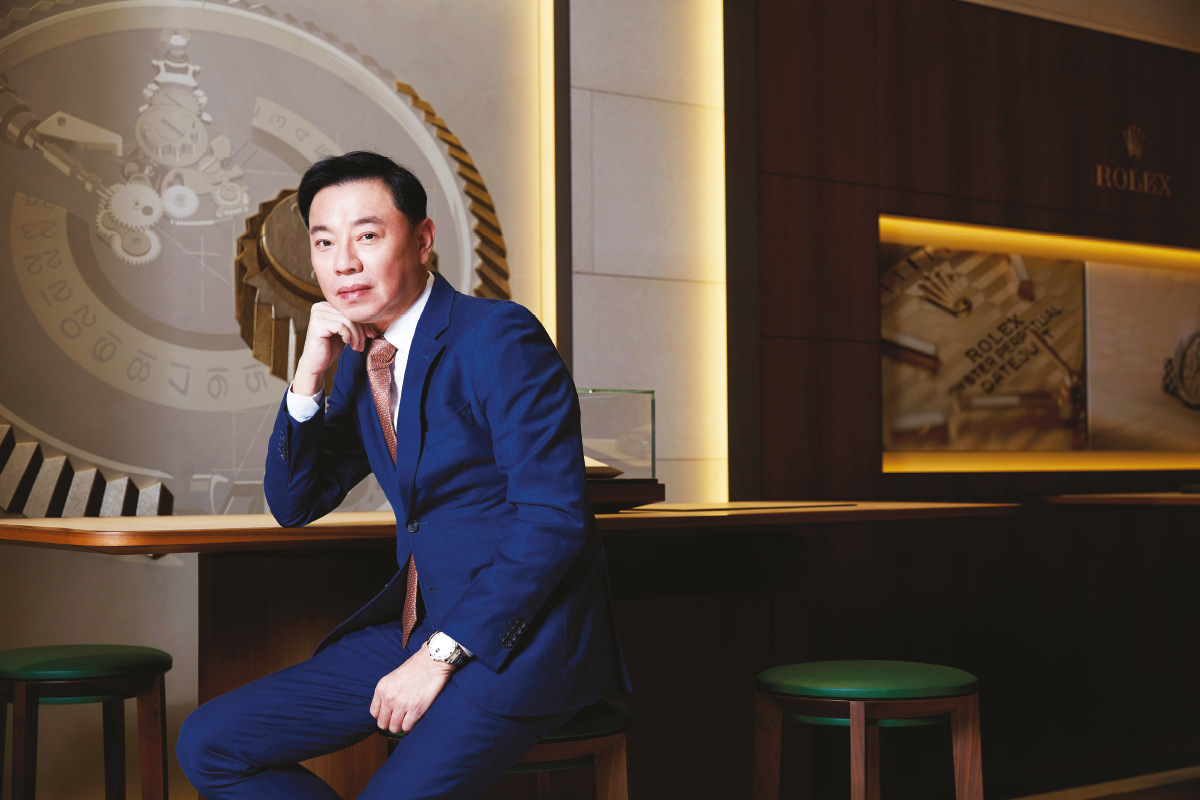 To celebrate the recent redesign of Rolex's boutique at The Starhill, Cortina Watch Malaysia managing director Tay Liam Khoon talks to Options about the rejuvenation of the space, shared journey of the luxury retailer, watchmaker and customers, and how this relationship has grown over time.
As beautiful as the newly redesigned Rolex boutique in The Starhill is, it's a little disheartening to find out that pieces from many of our favourite collections from the Swiss manufacture aren't available for sale immediately. Owing to a post-pandemic buying frenzy, the Geneva-based Swiss watchmaker is facing unprecedented demand. Not for the love of money could you acquire a Daytona on the spot anywhere; you would have to wait for your turn.
The uptake in sales of watches is encouraging news for the industry in general, but exceptional for a brand like Rolex, which already produces a good number of watches each year — the total amount remains a tightly guarded secret, but is believed to reach one million. The company has indicated to its legions of fans that it will ramp up production to cater for this surge while streamlining its points of sale.
Managed by Singapore-based luxury watch retailer Cortina, the Rolex boutique at The Starhill is a landmark retailer — an honour it shares with Louis Vuitton — and has welcomed multiple generations of buyers. As the mall itself looked inwards and relaunched to display a new look and personality, Rolex opted to do the same. Kuala Lumpur's first Rolex boutique with a street-fronting façade, the 134 sq m space offers professional expertise in an elegant setting, one that promotes a sense of harmony, discretion and intimacy.
"It's a new concept, as you can tell," begins Cortina's managing director Tay Liam Khoon as he shows us around. "We want to make it more relaxed, cosy and interactive. That's why many of the counters don't even have watches. High tables are the in thing now — none of the crowded display cases of old. We want to take customers through the journey of Rolex, its history over the years. We are creating a more interactive space that engenders conversation and engagement."
As if to prove his point, a chilled bottle of wine appears alongside some glasses. It is two weeks into the new year, and we toast to a better 2022 and, of course, the stunning space we are in. It really is quite lovely, and we thoroughly enjoy our tour. Bespoke design components were used in creating the boutique, Tay explains, to better reflect the brand's image through hallmark colours, materials and architectural features. Inspired by the design of Rolex watches, the façade of the building echoes the iconic fluted bezel, with opaque elements bringing light and a view of the exterior into the boutique.
"We used to have a two-storey lot with two entrances, but we feel it is more important to have a single main entrance to give customers a good impression and a proper welcome. And with the present safety precautions, a single entrance makes more sense too. The space now takes up what used to be the upper level of the old store."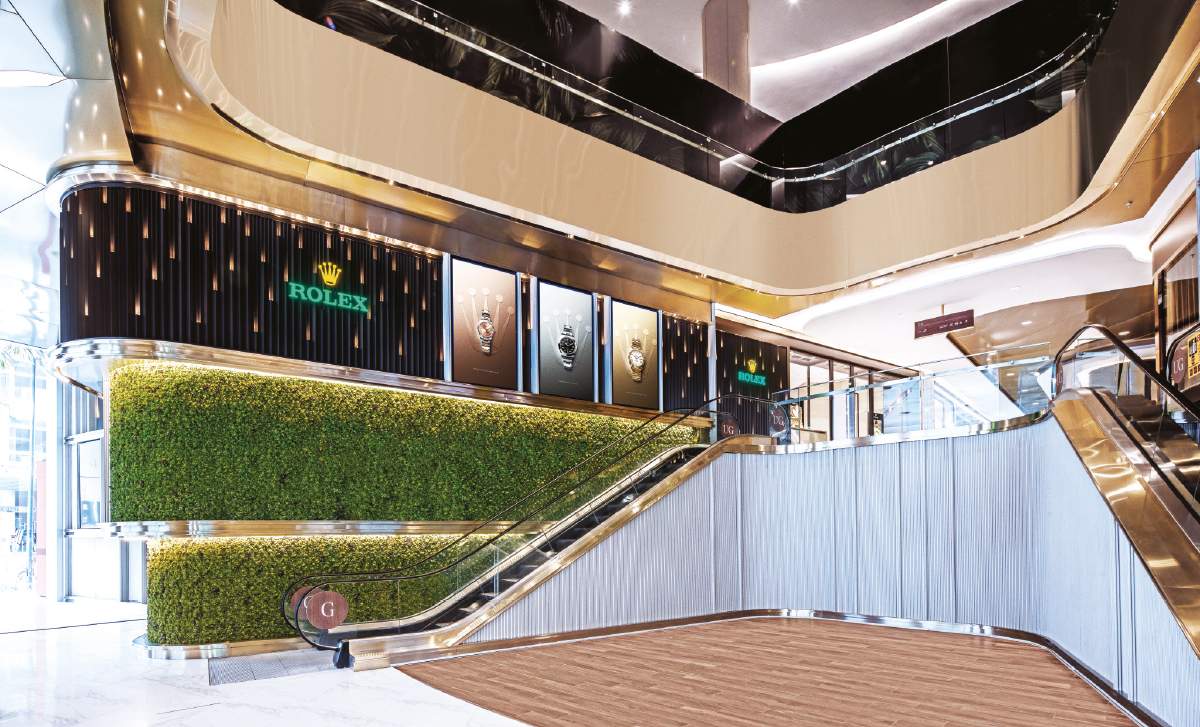 The entrance to the Rolex boutique is from The Starhill's lush, dramatically light-filled foyer
Inside, a striking emerald-aqua wall highlights Rolex's rich heritage — its wave motif referencing the iconic Oyster, the world's first waterproof wristwatch. This intense green is referenced around the boutique, creating accents that harmonise with a refreshed colour palette. The walls mix textures from walnut brown wood to beige-coloured stone and hand-crafted stucco panels in a pattern that recalls the fluted bezel of the Oyster watch. Sensitive lighting accentuates the beauty of a selection of Rolex timepieces on display, which are placed in refined showcases lined with beige leather and finished with bronze trims.
The façade of the store is especially important as it forms part of the frontage for The Starhill, whose rejuvenation and restoration has been a long time coming. Dropping its themed flooring system, the mall underwent a massive change that resulted in a number of exciting new tenants, reaffirming its aim to provide experiential retail in a warm, home-like environment that exudes timeless sophistication.
Fashion brands such as Tom Ford, Balmain and Paul & Shark held highly publicised openings, while existing tenants — especially in the watchmaking segment — also took the opportunity to rejuvenate their own stores when the malls were closed during the lockdowns of 2021. Cortina's own multi-brand boutique right next door to Rolex also underwent an upgrade after a number of years.
"I'd say the Rolex boutique really fits right in here," Tay says, referring to its prestigious landlord. "The rebranding and refurbishment of The Starhill not only came with a name change, but has fortified and enlivened the interiors of the mall. We fit perfectly into its new identity of Home to the Tastemakers, with the boutique's elegant aesthetics and attention to detail in the fittings and furnishings. And of course, the façade, which I would say is a really special touch."
The relaunch of the Rolex boutique is extra meaningful for Cortina as its relationship with the watch brand started in 2002 with the opening of this very space at The Starhill. From the day it opened, the boutique has done incredibly well. with foot traffic, which has remained constant throughout the years. "But it's meaningless to just come in and buy a watch … what we want is a long-term relationship between Cortina, Rolex and our customers," Tay points out.
"The partnership between Cortina and Rolex goes back a long way and our relationship has always been harmonious — we worked closely with them for the boutique redesign, for example. This boutique was the first we managed for them, followed by another in Gurney Plaza Penang in 2007 and in the following year, a shop-in-a-shop at Imago Kota Kinabalu, Sabah. These last two decades have marked a truly enduring relationship between both companies, and Cortina shares the same beliefs as Rolex, and we have worked very hard to continue the legacy of its founder — and that too in elegant spaces with impeccable and knowledgeable service."
It is all too easy to draw comparisons between how notably peaceful The Starhill is as opposed to the raucously busy Pavilion KL across the road, but this doesn't mean either one retail centre sees visitors who are any less eager to spend. "There are niche brands here that attract niche visitors, and also, shoppers who don't want to be seen shopping for a watch. The Starhill is more discreet. That said, more customers now don't even need to come into the store to make purchases, which has happened during the lockdowns," notes Tay. How exactly did Cortina do this? "We got it arranged," is his simple, brief reply.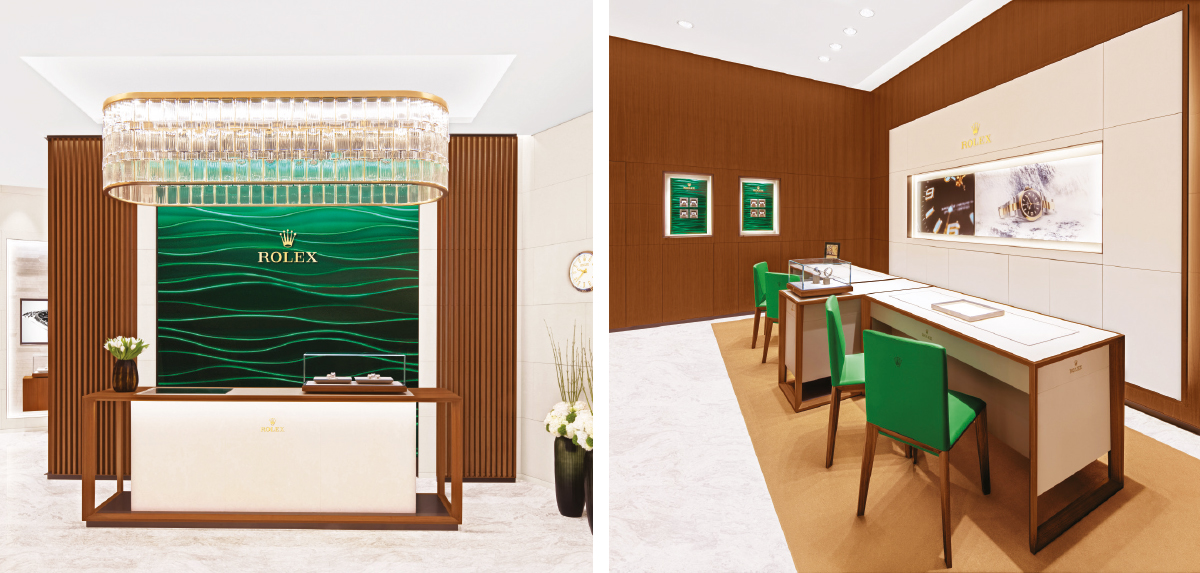 The newly redesigned boutique now occupies one floor instead of two and incorporates Rolex's signature colours in an intimate, luxurious setting
Much like how the strategy for a particular race is recalibrated when a Formula 1 car is cruising on a long straight, Cortina took the opportunity during the quiet of the lockdowns to improve back-office technical system processes and ramp up training for its sales associates. While renovations of the new space might have been delayed, Cortina made sure everything else required to support the store once it opened continued to be developed. "We focused on enhancing the fundamentals," Tay says, refilling our glasses. "These fundamentals are what solidify Cortina's customer experience and create the ideal retail environment, which is always our focus."
Incidentally, the closed borders worked out to Rolex's advantage and was a situation it actually preferred — for a good reason. "It gives a chance for the local market to grow and acquire watches that tourists might have swept up had they been around. Generally, Cortina has always enjoyed a huge Malaysian base — about 85% of our clients — but the pandemic has created an even more substantial local base and that is very healthy. Buyers based here means repeat or multigenerational buyers, because a customer who enjoys their experience in our store will bring a brother, a sibling, a child and so on."
This is the third time Tay has appeared on the cover of Options and he is someone we know well, so the conversation changes gears very seamlessly from talking shop to personal anecdotes and, naturally, industry gossip. The big news is of course Cortina Holdings' acquisition of Sincere Watch, a move that consolidated its position in the regional markets by absorbing 18 boutiques currently run by its former competitor.
Tay's brother Liam Wee was instrumental in transforming Sincere, a traditional family-owned company, into a pan-Asian luxury watch retail and distribution group that was publicly-listed on both the Hong Kong and Singapore stock exchanges. Having sold the company in 2008, he later returned to it in 2009 before selling it to Hong Kong businesswoman Pollyanna Chu, who bought the business in 2012.
Tay laughs at the way things have played out; the watch retailer his family started is now connected to him again, albeit in a manner no one could have anticipated. "Full circle indeed," he grins. "But in some ways, it was expected that they would sell Sincere," he adds, referring to the handsome and articulate Chu family scion who headed Sincere until its recent sale. "Their office is going to move next to mine but I think I'd rather keep things separate. The KL Sincere team is quite small but it does very well on its own."
In which case, Tay has quite enough to do with his present portfolio of 26 brands to manage for Cortina, which include big names such as Patek Philippe (whose monobrand boutiques are located in Suria KLCC and JW Marriott), Cartier, Jaeger-LeCoultre and Zenith, as well as smaller independent labels such as Hautlence and Eterna. The work to renovate the Rolex store has taken up a lot of bandwidth, and Tay is looking forward to reaping the rewards.
"Doing away with the previous space was bittersweet; while we had grown attached to it and were thankful for the years it had served us, we were excited to welcome an injection of newness — which the store really needed," he says. "Of course, our business operations as well as renovation progress was hindered by the lockdowns but we refused to let that dampen our enthusiasm. Now, seeing the renovated boutique, we are increasingly convinced it was the right move on our part and that of Rolex, and our perseverance during the pandemic has really paid off. All in, it was happening at the right time — for us, for me and for Rolex."
Top choice
With his many years of experience in watch retail, Cortina Malaysia managing director Tay Liam Khoon has amassed a decent collection of timepieces — Rolex included. If you are in the market for a new watch, these are the two from Rolex that Tay finds particularly compelling.
Cellini Moonphase
"It's easy on the eye, boasts a classy aesthetic, fits any wrist owing to its equal proportions and never goes out of style. The finishings are luxurious and every detail of this timepiece pays homage to the art of watchmaking. Its moonphase indicator even has a bit of meteorite, sending its wearer's imagination soaring every time it's worn. Despite coming from a fairly underrated collection, the watch still exceeds all expectations. I always receive compliments when I wear it. Its form is very different from other Rolex pieces, which I believe is precisely why it stands out."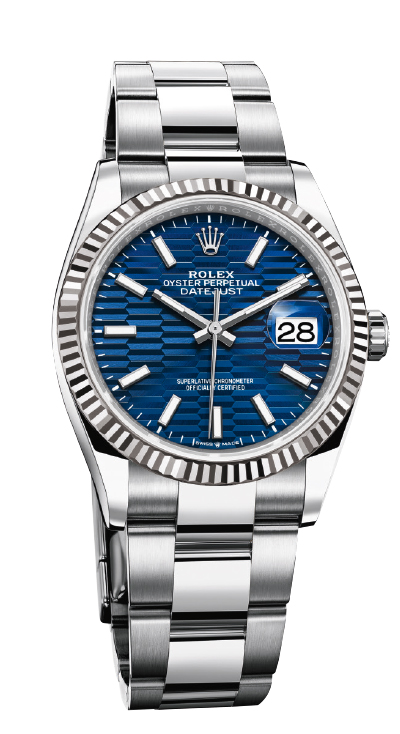 Datejust
"This is a new model that comes with a fluted bezel, Oyster bracelet and blue fluted motif, which to me is the real standout feature of this watch. It is refined and elegant, and can be worn with equal confidence for both formal and casual occasions — it is simply so very versatile."
Save by subscribing to us for your print and/or digital copy.
P/S: The Edge is also available on Apple's AppStore and Androids' Google Play.