This article first appeared in City & Country, The Edge Malaysia Weekly on February 14, 2022 - February 20, 2022
The Full Movement Control Order (FMCO) no doubt disrupted the country's economic recovery plan. Looking at the financial figures, however, the impact of the second nationwide lockdown was not as bad as expected.
According to the Department of Statistics Malaysia (DOSM), the country recorded 3.7% growth in gross domestic product (GDP) in the first nine months of 2021, compared with -6.3% a year ago. DOSM also forecasts 3% to 4% growth in GDP for 2021, largely attributable to the restrictive measures under Phase 1 of the National Recovery Plan.
Meanwhile, the Consumer Sentiment Index in 3Q2021 rose to 101.7 from 64.3 in 2Q2021 and 98.9 in 1Q2021, showing the overall upbeat mood of the market. This is thanks to the improved financials and job confidence recovery.
The overall optimistic mood is also reflected in the real estate market performance.
According to the Property Market Review 2021/2022 report by Rahim & Co International Sdn Bhd, which was officially launched on Jan 27, in the first nine months of 2021, Malaysia recorded a total of 201,065 property transactions worth RM98 billion, a slight drop of 1.8% year on year in volume. However, there was a notable increase of 21.4% y-o-y in value.
Rahim & Co director of research Sulaiman Sahed says that after property market transactions fell in 2020 (-9.9% in volume and -15.8% in value) from 2019's pre-Covid environment, the first half of 2021 saw a significant rebound as the economy and market gradually adjusted to a pandemic environment with a 21% jump in volume and 32.1% in value. However, the overall performance was dragged down in 3Q2021, when the FMCO kicked in. Among others, the residential sector has seen the most significant slowdown in terms of transactions.
"[Residential property] transaction activities showed growth in the first half but slowed down in the third quarter, resulting in an overall growth of 2.6% for the first nine months of the year. On the supply side, new launches in the primary market had dropped, as developers were still adjusting and affected by the pandemic and the country's containment measures," Sulaiman says, in presenting his speech at the launch of the report, adding that sporadic quick sales were observed for owner-occupier and domestic-focused markets.
It is also worth noting that several states in Malaysia have recorded encouraging residential property transaction performance, such as Kuala Lumpur (+10.1%), Selangor (+11.5%), Penang (+18.8%) and Sabah (+8.4%). Overall, residential property transactions in Malaysia grew 2.6% in the first nine months of 2021.
"The [residential] market recovery efforts were further supported by the extended HOC (Home Ownership Campaign) till the end of 2021, the exemption of RPGT (real property gains tax) and the initiatives provided under Budget 2022. A more holistic support was also given by the economic stimulus introduced throughout the year that aimed to restore the livelihoods of ­Malaysians and revive the business sectors," Sulaiman explains.
More overhang property
As at 3Q2021, there were 56,734 residential overhang units (including serviced apartments and small office/home office [SoHo] units) worth RM41.59 billion in Malaysia, the majority of which comprised high-rise dwellings.
"The overhang units seen across all price segments signify that the root cause is not just the properties' absolute selling prices, but also the size, psf price, type, location as well as buyers' personal preference and considerations when making a purchase decision," Sulaiman says.
According to the report, residential property priced between RM500,001 and RM700,000 is the category with the most unsold units in 3Q2021, at 14,061 units, or 24.8%. It is worth noting that 83.2% of the properties in this category are high-rise residential properties.
Meanwhile, property priced between RM300,001 and RM500,000 came in second, with a total of 12,229 units, or 21.6%. Similar to the above category, the majority (87.8%) of the property in this category are high-rises.
Johor had the most overhang units in 3Q2021, with 23,224 units worth RM19.29 billion, followed by Kuala Lumpur (8,955 units, worth RM7.94 billion), Selangor (6,970 units, worth RM4.82 billion) and Penang (5,023 units, worth RM4.12 billion).
Despite the country's overhang easing slightly quarter on quarter (q-o-q) in 3Q2021, the overall number of unsold dwellings (overhang, unsold under construction and unsold but not yet constructed), which stood at 205,217 units, is the highest since 2016.
"[One of the reasons is] the buying incentives have not made enough impact, as disposable income levels [remain low] and economic uncertainty persists. This brings forth a problem of completed units rivalling newer incoming units, and the longer a dwelling remains unsold after completion, the less appeal it holds for buyers," Sulaiman explains.
Citing Rahim & Co's Capital Cities ­Average House Prices report, he says the current key challenge of overhang property is that income levels in the past year have fluctuated because of the pandemic, which has worsened the ongoing issue of housing affordability.
According to the report, it takes an average of 6.9 years for a household to save up enough money to afford a property in Kuala Lumpur. In Penang, it takes 6.4 years; Johor, 5.8 years; and Selangor, 5.7 years.
Looking ahead, Rahim & Co expects residential property prices to undergo a correction and attain only moderate growth in the immediate future. The firm also urges the government to consider reviewing and revamping the HOC, which just ended in 2021, to put more focus on the secondary market.
"The secondary residential market accounts for 70% to 80% of total property transactions in the country, and it will continue to dominate the market. The government should introduce something for the secondary market to help purchasers make faster decisions, thus driving the entire property market forward," Sulaiman says.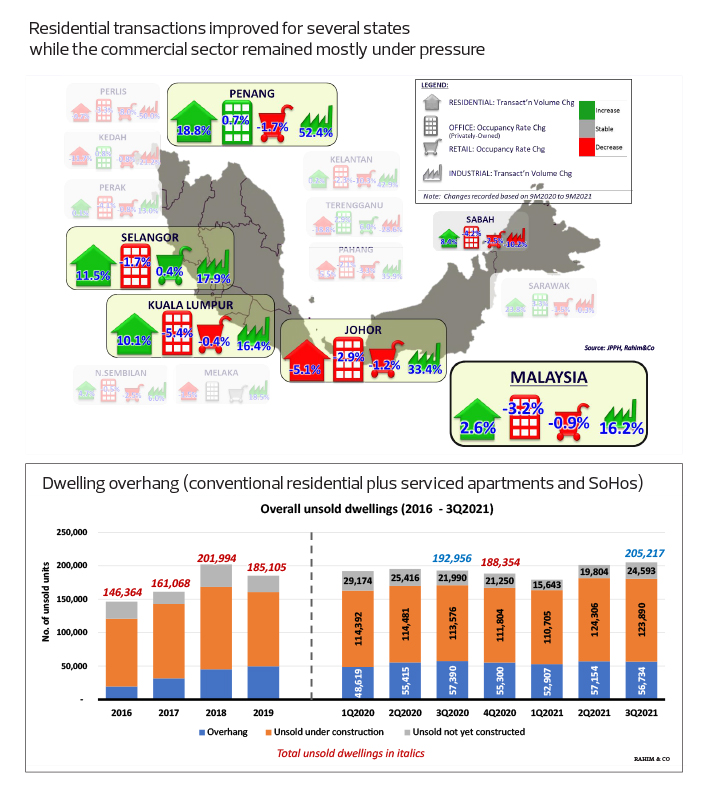 Commercial segment challenging
On the other hand, the commercial property sectors remain mostly under pressure, especially in the tenancy performance and rental levels, a trend that Rahim & Co expects will carry on into 2022 as the incoming supply continues even though demand is still being shaken up by the pandemic.
According to the report, transactions for the office and retail segments in the first nine months of 2021 declined 3.2% and 0.9% y-o-y respectively, where Kuala Lumpur was the biggest loser. It saw the number of office transactions decline 5.4% and retail drop 0.4%.
"As the biggest contributor to the nation's supply of purpose-built office space, the Klang Valley has seen its supply surpass 150 million sq ft in total existing office space, with the completion of several new buildings. This has heightened the level of concern about the sustainability of such market capacity when [placed alongside] a demand pace that has slowly declined over the years," Sulaiman notes.
As at 1H2021, the office occupancy rate in the Klang Valley was at 72.1% after a further fall from 75.4% in 1H2020. He pointed out that at this tenancy level, the Klang Valley's office market has a vacancy of 41.9 million sq ft.
Upcoming significant purpose-built offi­ces in the Klang Valley include Merdeka 118 (lettable area: 1.65 million sq ft), The MET Corporate Tower (lettable area: 628,000 sq ft), Kompleks Dayabumi Phase 3 (lettable area: 1.5 million sq ft), Cititower (lettable area: 1.72 million sq ft) and Pavilion Embassy ­Corporate Towers (lettable area: 720,000 sq ft).
"Factors that contribute to the challenging situation faced by office building owners include new workplace practices that focus more on remote working for social-­distancing purposes and staying relevant to the current trend in demand by new and existing tenants against a highly competitive supply market," Sulaiman says.
He believes the market will take time to reach a new equilibrium, as demand is still struggling to cope with uncertain economic conditions, whereas new supply is keeping its pace to enter the market.
Moreover, the traditional purpose-built office segment is also facing the challenge of the rise of co-working spaces.
New co-working spaces have been mushrooming in the past few years. In November 2021, for instance, Switzerland-based ­International Workplace Group plc announced two new luxury flexible workspace locations in Kuala Lumpur — Spaces Exchange 106 and Regus Bukit Bintang City Centre (BBCC).
Located on the 23rd floor of The Exchange 106 at Tun Razak Exchange, Space Exchange 106 offers 38,309 sq ft of workplace solutions with a 360-degree panoramic view of the city skyline. Meanwhile, Regus Bukit Bintang City Centre is located in The Stride at BBCC and will be officially launched in 1Q2022.
Similar challenging sentiment and conditions were also seen for the retail sector, which had been heavily affected by the pandemic because of the significant loss of foot traffic from strict local MCOs and international border controls. The national occupancy rate declined 2% y-o-y to 76.6% in 1H2021. Of the existing retail complex space in the Klang Valley, 14.7 million sq ft of the total of 73.6 million sq ft was vacant.
Asked about the retail sector's outlook, Sulaiman says there may have been several more closures of retail brand outlets in 2021 but new openings and expansions were also observed, signalling a resilient market that is adapting to a new business environment.
"While the Covid-19 containment measures in 2021 had been a dampener at certain points of the year, 2022 is projected to have a better growth trajectory as high vaccination rates allow physical visitor traffic movement. As such, seasonal sales periods are viewed [as having] better prospects. And while e-commerce has established its position as the new way to shop, physical shopping malls and retail outlets have maintained their relevance, as evidenced by the returning footfall during [looser] movement restrictions."
He also believes that, at present, industrial properties will continue to attract more attention than others.
"Viewed as one of the more stable sectors in a pandemic environment, it is especially so owing to the logistics, warehousing and healthcare segments. This is further boosted by the overwhelming demand for e-commerce transactions, which will continue to hold the spotlight moving forward.
"Considering the slower relative pace of incoming supply, especially for managed industrial parks with built-to-suit arrangements, industrial property investments will be keenly observed this year," he concludes.
Save by subscribing to us for your print and/or digital copy.
P/S: The Edge is also available on Apple's AppStore and Androids' Google Play.