This article first appeared in The Edge Malaysia Weekly on October 30, 2023 - November 5, 2023
THE independent investigation commissioned by the Pakatan Harapan government in 2018 revealed systemic corruption, rent-seeking activities as well as abuse and mistreatment of foreign workers in the country.
The Report of the Independent Committee pointed out that outsourcing of public sector functions resulted in certain concealed practices that became the principal cause of debt bondage — described as a form of modern-day slavery prohibited by international law, according to the International Labour Organisation.
The committee also highlighted in the report that it was suspicious of the "connivance of federal, state and local authorities in illicit activities".
The report outlined what the committee members dubbed the "dysfunctional" state of the country's foreign worker management system with alleged corrupt practices positioned at its epicentre. The report, which was completed by a 12-member independent committee chaired by former appellate court judge Datuk Seri Mohd Hishamuddin Yunus, was declassified a fortnight ago.
Among the corrupt practices alleged, the committee flagged the non-transparent appointment of recruitment agencies or outsourcing entities for sourcing foreign workers as the "most absurd".
The committee claimed that the dishonesty of this practice is both "overt and blatant" as these companies are associated with politicians, members of parliament as well as civil servants. And these companies were specifically established to undertake the activities they were granted, even though they had no prior track record. However, the report did not name any of the alleged corrupt persons or firms and provided no evidence to support its allegations of the wrongdoing.
Another layer of purported corruption highlighted lies with the outsourcing of public sector functions previously undertaken by the Ministry of Home Affairs, the main custodian ministry of foreign worker management, and the Ministry of Human Resources (MoHR) — the latter being involved via its role in labour policy, determining foreign worker quotas and finalising agreements with source countries.
The report claimed that the functions were outsourced in a non-transparent manner to "preferential companies".
These functions include identifying certified health screening clinics and developing online processes for registering these undertakings and uploading the findings of medical examinations at the recruitment stages, renewal of employment permits and provision of worker safety net coverage for work accidents at the in-country administration stage.
The committee concluded that these third-party service providers appear to have a captive market that allows for easy profits through collusive fees and charges imposed along the chain of the recruitment process at the expense of the government, employers and foreign workers.
"The use of third-party employment agencies, both in Malaysia and especially in the source countries, has given rise to the spectre of hidden costs and charges," it said, adding that these concealed practices are the principal cause of debt bondage.
Cluttered approval system and differing policies
On the government's end, the committee noted that multiple agencies use a multitude of approval criteria for the entry of foreign workers dependent on their designated sector as well as whether they are en route to Peninsular Malaysia, Sabah or Sarawak.
The committee also noted that such a situation has led to confusion and acute dissatisfaction among all stakeholders.
"Another consequence of the chaotic approval process is that it actually undermines the objective of reducing reliance on foreign workers because of ineffective controls on the number of workers actually entering the workforce," it added.
With no single official agency entrusted with reporting regular statistics on foreign workers in Malaysia, the committee said understanding and analysing the trend in foreign worker evolution and its implications was difficult and indistinct.
"This has additionally contributed to arbitrary decisions to cut legitimate demand for workers and to even freeze access to foreign workers without clear explanations and coherent reasons provided," it added.
Adding to the confusion are the differing levy rates imposed on employers in Peninsular Malaysia, Sarawak and Sabah.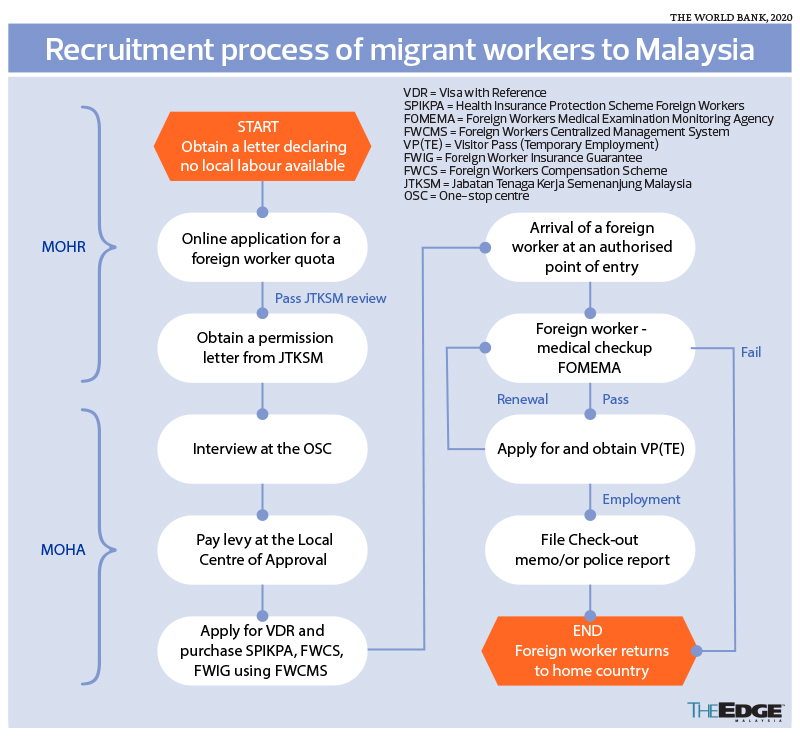 Damaging Malaysia's international standing
Speaking of international law, the committee underlined a litany of other alleged violations, including forced labour as well as human smuggling and trafficking.
"In relation to the violation of international norms, Malaysia has poor ratings for compliance and has been associated with forced labour practices, employing child labour and insufficient measures to deal with the presence of human trafficking of undocumented migrant workers," it added.
Citing several non-governmental organisations (NGOs) and independent social audits, the committee said forced labour is a problem in Malaysia with migrant workers, especially in the oil palm, electronics and manufacturing sectors.
According to the committee, the issue of forced labour in Malaysia has grave repercussions for the country's economy and global reputation.
"Therefore, it is imperative that Malaysia takes urgent steps to develop its capacity to address forced labour in the country," it said.
However, the repercussions of forced labour allegations have been evident over the past three years, with US Customs and Border Protection imposing import bans on various glove makers and plantation companies — some of which were public-listed companies (PLCs).
Currently, the only PLC facing an active import ban is the Federal Land Development Authority-backed plantation group FGV Holdings Bhd.
Touching on human smuggling and trafficking, the report mentions a 2015 case where illegal migrant camps and burial grounds for deceased migrants were discovered on the border with Thailand, which implicated both federal and state enforcement officials as well as local government authorities.
"However, none of the perpetrators have been brought to book and further progress on prosecution appears to have stalled," it said, claiming that it is largely suspected that this was "due to the connivance of federal, state and local authorities in these illicit activities".
Reflecting the reality on the ground, Malaysia remains on the Tier-2 Watch List of the US State Department: Trafficking in Persons Report in 2023.
More details expected in investigative paper
Nonetheless, some quarters find that the investigation report is rather general as it does not reveal specific details where allegations were made.
"It is very general, like a Form 5 essay, it doesn't have the specifics of what we would have hoped to be an investigative report to expose in detail the mechanics of abuse within the system," Adrian Pereira, executive director and co-founder of the North-South Initiative tells The Edge when contacted.
"A benchmark that we can use to compare is the Public Accounts Committee's (PAC) report released in 2020 on the same topic. That gives very detailed information, names, and details of proceedings conducted by the committee," he says.
The North-South Initiative is an NGO that advocates the protection of migrants' rights and provides solutions on labour in supply chains.
Indeed, the PAC report names various middlemen involved in obtaining special approval for foreign worker entries, including politicians Datuk Seri Mohd Alwi Che Ahmad, Muhammad Yusof Mohd Nor, Mohd Jamil Selamat, Tan Sri Pandikar Amin, Tan Sri Noh Omar, Datuk Masir Kujat as well as Fuad Othman and Puan Sri Dayana Kartika.
"In comparison, the independent committee's report is not really up to the mark in terms of an investigative report, and we don't know why, maybe they didn't have the skill set or didn't know the right questions to ask," Pereira suggests.
However, he applauds the committee's recommendations to transfer the management of foreign workers solely to the MoHR, a post-mortem parliamentary White Paper study on undocumented workers and halting raids on illegal migrants.
Pereira also shared his doubts about the effectiveness of the proposed Multi-Tiered Levy System (MTLS).
"The MTLS is something Malaysia thinks it can copy from Singapore but the reality is that Singapore doesn't have epic corruption like we do.
"Singapore's standards operating procedures are very clear, its management of migrant workers is very systematic, you can see how quickly it kicked into action during the pandemic. It developed apps, helped workers with self-testing in their own languages and hostel management.
"But in Malaysia, our labour supply of migrants is based on profit. There are labour agencies that want to make a lot of money, so they just bring in workers, and you see an excess of workers, mismatch of quotas, some sectors have too many workers, some have no workers," Pereira points out.
In addition, he says, employers will try to pass on high levies to the workers either through more work or illegal deductions from their salaries.
This past year, the government has indicated its intention to implement the MTLS. The proposal re-emerged in the first Budget 2023 tabled by the then Minister of Finance Tengku Datuk Seri Zafrul Abdul Aziz.
Prime Minister Datuk Seri Anwar Ibrahim later, in September, said the MTLS would be implemented in the "near future" but there was no mention of it in Budget 2024 tabled earlier this month.
Save by subscribing to us for your print and/or digital copy.
P/S: The Edge is also available on Apple's App Store and Android's Google Play.