This article first appeared in The Edge Malaysia Weekly on June 19, 2023 - June 25, 2023
The clock is ticking for corporations to consider and disclose environmental, social and governance (ESG) metrics in their operations. This pressure, while largely focused on public-listed companies (PLCs) in the past, is seeping into the supply chain through upcoming regulations and disclosures.
For instance, the European Union's (EU) Corporate Sustainability Reporting Directive will require all corporations that derive revenue from that region to conduct sustainability reporting. In Malaysia, the stock exchange regulator has mandated all PLCs to disclose their carbon emissions by Dec 31, 2026 (including ACE Market-listed companies).
According to the Net Zero Tracker, 148 countries and 929 of the largest PLCs in the world have set a net zero target. Of the PLCs, 17% have full coverage of all three scopes of emissions, which includes those of their suppliers.
Another development to watch out for is the International Sustainability Standards Board (ISSB), set up under the International Financial Reporting Standards (IFRS) Foundation, which aims to standardise sustainability reporting standards and includes Scope 3 emissions from the supply chain. It is expected to be rolled out by January next year.
The demand for ESG disclosures could either be a bane or boon for small and medium suppliers. As corporations aim to comply with these requirements and meet their own net zero goals, demand for ESG data will be passed on to small and medium enterprises (SMEs) that are part of their supply chain. Those that are ready to meet these demands may become more competitive.
"Embracing ESG reporting can make [SMEs] more attractive to large corporations and international companies, as these entities increasingly prioritise sustainability and responsible business practices in their procurement decisions. This can lead to stronger business relationships, enhanced reputations and potentially increased revenues for SMEs that successfully implement ESG initiatives," says Max Lee, founder of Pantas Software Sdn Bhd, which has created a platform to help companies track and report carbon emissions.
But it is not just about reporting. The EU's Carbon Border Adjustment Mechanism (CBAM), which imposes a tax on carbon for EU imports, will affect 80% of SMEs in Malaysia, estimates Bank Negara Malaysia. This means they could lose clients if the carbon content of their products is too high.
Evidently, SMEs face the daunting task of adhering to these demands as corporations aim to green their supply chain. Various surveys have already highlighted that SMEs do not have enough resources or knowledge to transition as their larger counterparts do.
Efforts by various parties are underway to provide assistance to SMEs. Notably, Bank Negara and Bursa Malaysia recently launched programmes targeting SMEs that are suppliers to PLCs, incentivising them to adopt ESG reporting, measure their emissions and become eligible for sustainable finance.
Tackling SMEs through PLCs
Bank Negara's Greening Value Chain (GVC) programme was announced in November 2022 and launched in March this year with Kossan Rubber Industries Bhd and Pantas.
SMEs from Kossan's supply chain will receive free access to Pantas' carbon accounting software. Training and consultation will be provided by GVC partners. These include Malaysian Green Technology and Climate Change Corporation, Credit Guarantee Corporation Malaysia Bhd, British Standards Institution and AmBank Bhd.
"We want our suppliers to be educated on carbon accounting and get them ready for carbon emissions disclosure. This is a crucial preparation for the forthcoming needs of reporting on carbon emissions in accordance with the EU's CBAM regulations," says Lawrence Lim, executive director of Kossan.
"ESG is an eventual compliance [requirement] for all. Carbon accounting and IT systems for this are expensive. For a small start-up to invest in this is almost impossible, so we encourage them to participate."
Kossan is paying for the software, so its vendors and suppliers are able to access it at no cost, he adds.
Meanwhile, Bursa's Early Adopter Programme (EAP) aims to help PLCs and SMEs improve their ESG disclosures. So far, its participants have included Petroliam Nasional Bhd (Petronas), UMW Holdings Bhd and Mah Sing Bhd.
The partnering PLCs and their SME suppliers will have access to Bursa's Centralised Sustainability Intelligence (CSI) platform, where they can measure and report their carbon emissions and disclose other ESG data in compliance with global standards.
"Bursa will continue to engage with leaders in other industries, especially those that have higher ESG exposure, to onboard more participants for the EAP. The EAP partners include several banks such as Malayan Banking Bhd (Maybank), CIMB Bank Bhd and Alliance Bank Bhd, to facilitate and expand sustainable financing for corporations and their supply chain companies," says Wong Chiun Chiek, director of Bursa Intelligence.
"The primary focus is on accelerating compliance with ESG disclosures, particularly for Malaysia's export-oriented companies, which is crucial, given that about 70% of our exports are estimated to go to countries dedicated to achieving net zero emissions."
The CSI is meant to address the problem that PLCs face when trying to gather data from vast and complex supply chains. Regulators and clients may demand different kinds of data, which can be difficult for PLCs to handle.
Through the platform, individual carbon profiles of the participants of the EAP such as Petronas and UMW will be developed, which includes data from their suppliers that forms the Scope 3 emissions. The pricing model for the platform is currently under review.
"Bursa is committed to ensuring that the costs associated with utilising the platform will be affordable, ensuring minimal barriers to entry for the corporate sector and their supply chain companies," says Wong.
Technology to the rescue
What is obvious from the programmes is the use of technology to ease the process. For example, Pantas' simplified carbon accounting software solution, named Pantas Lite, allows SMEs to measure, manage and report their carbon emissions digitally.
The cloud-based software collects and calculates emissions based on the data input. Users can see their performance via a dashboard, where the data is broken down into scope — categories such as mobile combustion, stationary combustion and fugitive emission — as well as duration, which comprises monthly and quarterly figures, and so on.
Pantas Lite is available in six languages — Bahasa Malaysia, English, Thai, Japanese, Mandarin and Bahasa Indonesia.
"Pantas will assist SMEs in setting relevant decarbonisation targets, such as a 15% reduction in energy use by 2024. Through these targets, SMEs can then access sustainability-linked financing based on the data that is collected and tracked on Pantas Lite," says Lee.
This was what drove Kossan to seek Pantas' help when it was beginning to calculate its carbon emissions.
"We needed assistance from technology such as an IT platform to key in the carbon emissions data that can also identify any errors in calculation. We also needed a system that could assist in monitoring and tracking the data. Kossan engaged Pantas to establish the system for our tracking and monitoring, specifically for Scope 3," says Lim.
Similarly, Bursa's CSI platform allows corporations to retrieve and review ESG information disclosed by their suppliers. This allows corporations to closely track and assess the sustainability performance of their supply chain. On the other hand, SMEs are able to utilise the CSI platform to assess their carbon emissions and explore financing opportunities.
"Corporations using the platform will retain full ownership of their data, safeguarding the confidentiality and control of their information. The underlying infrastructure of the CSI platform will be deployed in a Bursa Malaysia system environment, allowing for better control and security," says Wong.
"Corporations will gain insight into the carbon performance of their supply chains, allowing them and banks to identify which suppliers to support for sustainable development and financing opportunities, and to determine the best engagement approach."
This could be by offering incentives to adopt better practices, imposing penalties or providing assistance to reduce emissions, he adds.
Where is the money?
Reporting and measuring are only the first step. For SMEs to adopt new practices and reduce emissions, financial resources are needed.
A popular financing mechanism for this purpose is sustainability-linked financing, which is an outcome-based financial product. The financing rates are tied to the borrower's performance in meeting pre-determined sustainability targets.
Sustainability-linked financing encourages SMEs to adopt greener practices, such as transitioning to solar power or improving operational efficiency to benefit from cheaper financing rates.
This is where banks come in for both programmes. "Pantas' software enables lenders such as AmBank to monitor the borrower's climate performance and track whether targets are met," explains Lee.
AmBank also offers a variety of green financing options, including green vehicle financing and green mortgages.
"To stimulate further adoption of renewable energy, we joined forces with two solar companies to introduce a special solar financing scheme, further enabling our business customers to reduce their greenhouse gas emissions and transition to renewable energy sources," says Datuk Sulaiman Mohd Tahir, group CEO of AmBank.
AmBank's offerings extend to green funds, sukuk and advisory services as part of its broader investment and corporate banking solutions. "We view ESG considerations in our lending practices not merely as regulatory requirement, but as a critical facet of our role within the financial ecosystem," says Sulaiman.
Another example is Bursa's memorandum of collaboration signed with Mah Sing and Alliance Bank under the EAP. The bank has announced that it will offer a range of incentives to Mah Sing's suppliers, contractors and consultants.
These incentives include access to better green financing and lower deposit rates of up to 50 basis points, free access to an SME climate assessment tool jointly developed with the UN Global Compact Network Malaysia & Brunei, ESG training and potential discounts for green technology solutions.
"Specific criteria and requirements will be determined by the participating companies and banks involved in the collaboration. As the CSI platform functions as an inter-operable marketplace with global partners, Bursa welcomes collaborations with banks willing to deploy financing solutions to facilitate decarbonisation throughout the corporation's supply chain," says Datuk Umar Swift, CEO of Bursa Malaysia.
Malaysian banks can tap the Low Carbon Transition Facility (LCTF) by Bank Negara, where the central bank offers matching funds to participating financial institutions to support SMEs in the adoption of sustainable practices. The maximum financing rate is 5% per annum, inclusive of guarantee fee.
The responsibilities of PLCs
Undoubtedly, corporations hold the reins in greening the supply chain, and have a huge influence in helping Malaysian SMEs adopt ESG practices.
"The relationship in the supply chain used to be confined to mutually beneficial commercial buy and sell. However now, we see and anticipate closer collaboration with our partners to achieve a sustainable ecosystem," says Lim.
For instance, Kossan is one of the founding members of the Responsible Glove Alliance, which aims to protect workers and promote responsible recruitment. Furthermore, the company has launched its 3S strategy, which involves improving its energy efficiency and water footprint and cultivating good waste management practices.
But it takes two to tango. All stakeholders will have to collaborate to help Malaysian companies, large or small, adopt and maintain ESG practices to remain competitive in global markets and manage risks due to factors like climate change.
SMEs that do not adopt ESG practices could therefore risk being shut out of local and global markets.
"All our vendors must work progressively towards reducing their carbon emissions. This criterion will be part of the vendor selection process moving forward. This is critical to ensuring the competitiveness of our vendors amid a procurement market that is increasingly becoming more environmentally conscious," says a UMW spokesperson via email.
Lim concurs. "We will continue to enhance our policy to ensure all our partners are aware and aligned with Kossan's ESG policy. We do see the eventual set-up of preferred status to our business partners being part of the efforts in regulating our ESG compliance."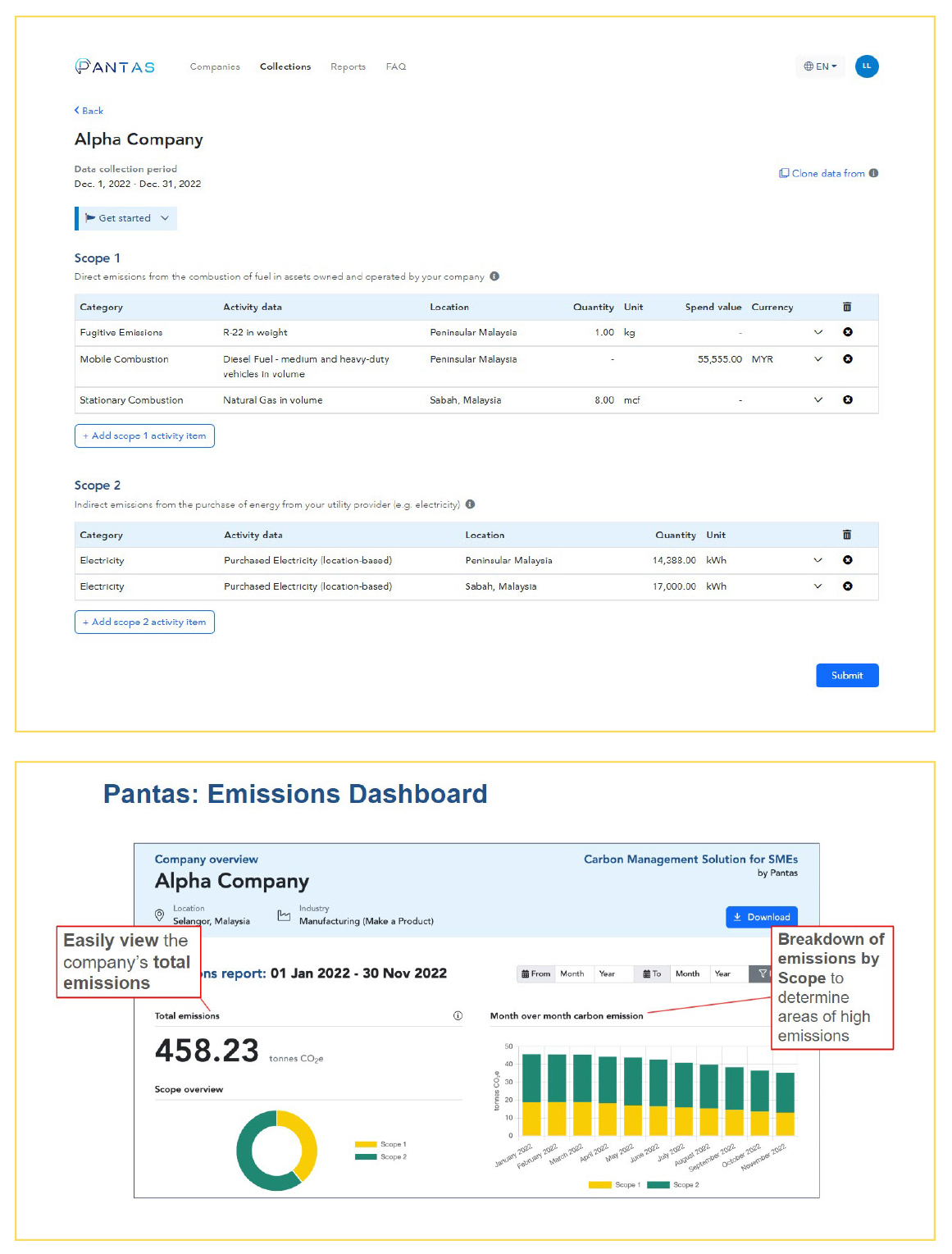 Pantas' simplified carbon accounting software solution, named Pantas Lite, allows SMEs to measure, manage and report their carbon emissions digitally
Save by subscribing to us for your print and/or digital copy.
P/S: The Edge is also available on Apple's AppStore and Androids' Google Play.