This article first appeared in The Edge Malaysia Weekly on June 12, 2023 - June 18, 2023
PENANG-based Oppstar Bhd realised its dream when it made one of the strongest public market debuts on Bursa Malaysia in March this year, but it is not done with its goals yet. The integrated circuit (IC) design house, which is the country's largest contract chip designer, wants to become a prominent player in the region.
According to co-founder and CEO Ng Meng Thai, being the first IC design house to be listed on Bursa was only the company's first dream.
"Now, we aspire to be a big name in the regional league — to become a total chip original design manufacturer (ODM) solutions provider. We want to go upstream and become involved in the more complex chip design activities, which generally command higher profit margins," Ng tells The Edge in an exclusive interview.
"While we remain a chip designer, we also want to expand our design portfolio to include silicon validation, substrate design, board design and other areas that will give us higher profits."
Ng co-founded Oppstar with two others — Cheah Hun Wah and Tan Chun Chiat — in 2014. Cheah is the company's chief technology officer and Tan is chief operating officer.
The trio collectively owns a 54.55% direct stake and a 3.34% indirect stake via their private vehicle, Bigcore Technology Sdn Bhd, in the ACE Market-listed technology firm.
As a contract designer, Oppstar does not design and produce its own branded chips. Instead, it works on a contractual basis to develop custom chip designs based on the specifications and requirements of its clients.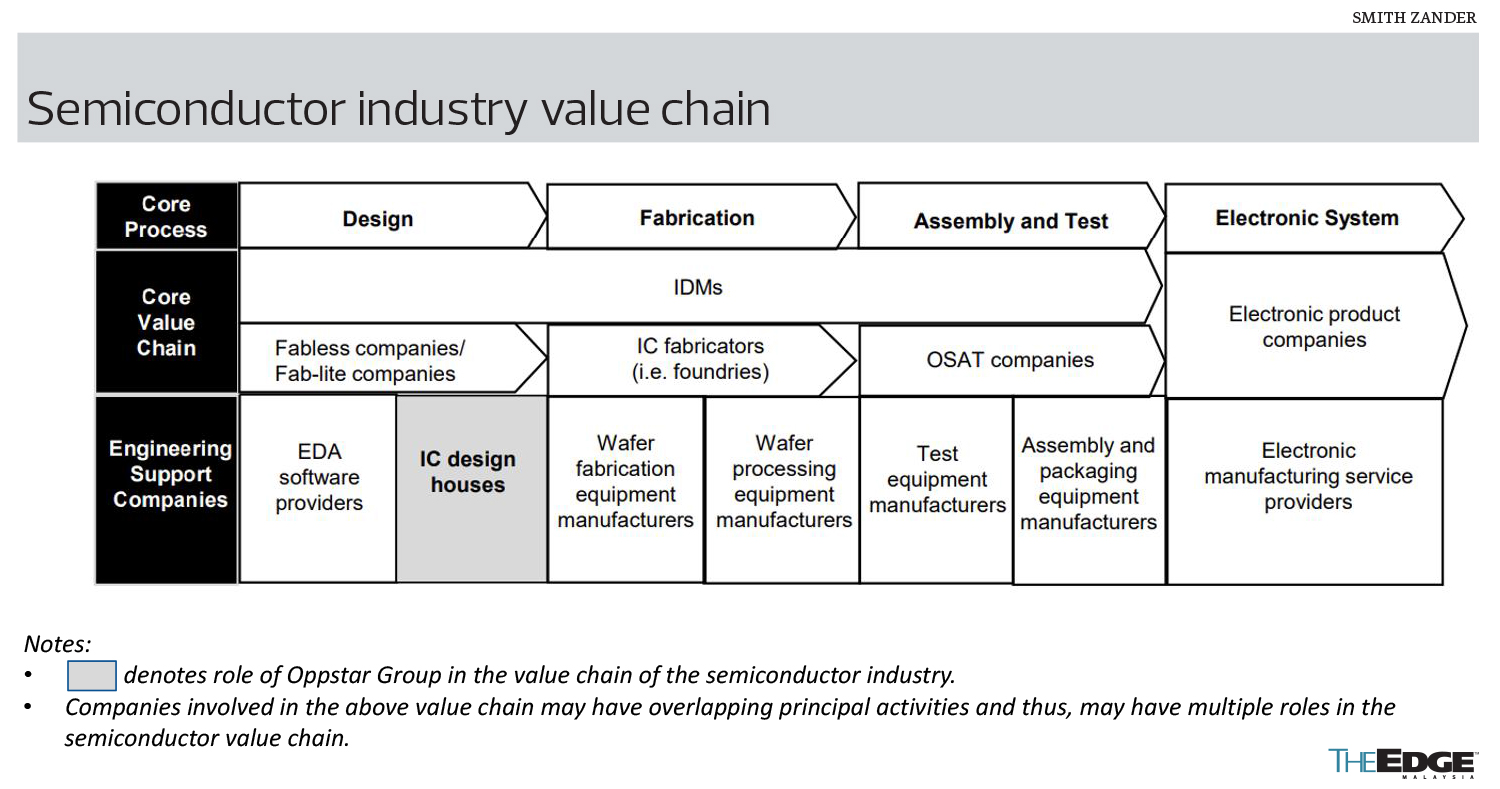 Cheah recalls that, in the last 10 to 15 years, a chip designer did not have to worry about packaging.
"Those days, when the silicon came back, you just attached it to any standard package and it would work. But, today, the protocol has become more advanced, so the silicon design and package design have to be equally advanced.
"At the end of the day, all the signals need to route through the package before they go out to the motherboard. When we do simulation, we have to model everything, from microprocessors, silicon, package, motherboard, and memory chips," he explains.
Given that signal integrity is extremely important in designing chips, Oppstar could factor in the design elements of the entire semiconductor value chain by becoming a total chip solutions provider.
"Our clients just need to talk to us to get everything done, instead of talking to different designers," Cheah says.
Over the years, however, Oppstar has been providing its clients with extra services, such as post-silicon validation. Now, the group intends to expand these services in a big way.
Ng points out that there will be a lot of business opportunities for Oppstar when it expands its design portfolio.
"To give you a perspective, in the past, a customer would come to us and say, 'You just do the design and I will take care of the rest.' Now, a customer would come to us and ask us to do the design, all the way to giving them the components and printing of their logo," he says.
"But don't get me wrong; I am not saying that Oppstar will become a substrate manufacturer or OSAT (outsourced semiconductor assembly and test) player. But, definitely, we are capable of designing substrates and it will be part of our full range of services."
Ng agrees that as Oppstar focuses on being a solutions provider, the company would need to work with partners. He also foresees that demand for custom chips for the big companies will increase to accelerate processing power.
Since Oppstar's listing, he adds, several big pure-play global design houses have approached the company for potential collaboration.
"When we talked to them, we realised how small Oppstar was and how big they were. We are inspired to be like these regional IC design players. If our size could become a quarter of theirs, we could grow multiple times from where we are today.
"In fact, we are honoured that these players are interested to meet with us. Hopefully, we will be able to collaborate on future business."
While the listing of the company's shares has opened up more opportunities for Oppstar, Cheah believes this is only the start of a long journey. "We welcome strategic partnerships to collaborate. We are not looking for partners to just provide funding but that will be able to provide further business opportunities and growth for our business."
New kid on the block
Oppstar is the first pure-play IC design house listed on Bursa. Previously, investors who wanted exposure to the semiconductor sector could only choose from among OSAT companies and automated test equipment (ATE) firms.
Since its listing, Oppstar's stock price has almost tripled. It closed at RM1.85 last Thursday, giving the company a market capitalisation of RM1.18 billion. The counter is currently trading at a historical price-earnings ratio (PER) of 58 times.
In comparison, its initial public offering (IPO) price of 63 sen was based on a PER of 24.14 times.
Commenting on the share price, Cheah says he will let the market determine Oppstar's stock valuation.
"As management, we are very focused on growing the business and see many opportunities for us to tap into. We see a strong growth curve for Oppstar," he adds.
The company's customers include integrated device manufacturers (IDMs), fabless companies, fab-lite companies, electronic system providers and other IC design houses. The group is capable of providing specific design services — both front- and back-end designs — and turnkey design services.
In its financial year ended March 31, 2023 (FY2023), Oppstar saw its net profit grow 22.4% to RM20.35 million from RM16.63 million in the previous financial year. Revenue also increased 14.5% to RM57.9 million from RM50.56 million in FY2022.
About 76% of Oppstar's turnover was contributed by its turnkey design services in FY2023.
Northeast Asia, mainly China, was the largest market for the company, accounting for about 78% of total sales in FY2023, followed by Southeast Asia (22%).
To expand its business, Oppstar plans to set up offices in Penang, Singapore, Taiwan, India and Japan. Currently, it operates from rented premises in Penang and Kuala Lumpur, as well as Shanghai.
As for its dividend policy, Oppstar plans to pay out 25% of its net profit. On May 29, it declared its maiden dividend of 0.8 sen per share — amounting to RM5.09 million — for FY2023, payable on July 5. As at end-March, it had cash and cash equivalents of RM114.74 million and zero borrowings.
Expanding workforce and retaining talents
The largest cost component for Oppstar is labour, which accounts for about 90% of its total cost of sales. Almost half (RM50 million) of the RM104.25 million in IPO proceeds raised has been allocated for the expansion of its workforce.
The remainder of the funds has been earmarked for the establishment of new offices (RM25 million), research and development (RM12 million) and working capital (RM12.65 million).
Oppstar plans to expand its total workforce, comprising design engineers and engineers or technicians for post-silicon validation services, to 280 people by year-end. Currently, it employs 250. Over the next three years, the company intends to hire an additional 90 people every year, bringing its total workforce to 500.
Cheah says hiring and retention were among Oppstar's objectives to go for a listing. This gave the company an opportunity to reward and retain its current employees.
"When we look at how some of the multinational corporations (MNCs) have been laying off their employees, I think many people have now realised the importance of talent cultivation. It's not just about buying talents from your competitors. It's about how you groom your talents and make them stay motivated," he adds.
Today, says Cheah, Oppstar is receiving more enquiries from job seekers, both fresh graduates and those with experience.
"We see a change in trend. In the past, most senior employees at MNCs would not look for a job in smaller companies such as Oppstar. But now, they see our value.
"As I always say, Oppstar is only one company. We need to create a good ecosystem for IC chip design supply chain in Malaysia. I think investors are beginning to realise the potential in companies like Oppstar when they benchmark us against other regional players."
Cheah points out that Malaysia is not short of IC designers, and that it has "quite a large talent pool".
"Malaysia has a decent number of IC designers, be they existing or new; they can be trained. We are trying to prove to the world that Malaysia can bring up enough IC designers and provide enough of our expertise to the world from what we see today.
"Malaysia can be an IC design hub. Five years ago, global companies did not realise that Malaysia could provide such a large number of engineers to the world, but today we have achieved a small milestone by putting our country on the IC design map."
So, isn't Oppstar worried about other companies coming in and setting up shop here? Cheah seems unfazed by the possibility.
"For the younger generation these days, money is important, but money is not the only deciding factor. They will consider the working environment, whether there are opportunities to learn specific designs, while some of them like challenges," he says.
"We need to find ways to understand what our employees need. If you can fulfil their aspirations, you have the ability to attract them to you."
If it has 500 employees about three years from now, adds Cheah, Oppstar could undertake three mid-sized projects at one time, coupled with complex types of projects running in parallel.
"Usually, one mid-sized project needs about 120 people. Therefore, we need to expand our workforce before we can take on more mid-sized to big projects," he reiterates.
Save by subscribing to us for your print and/or digital copy.
P/S: The Edge is also available on Apple's AppStore and Androids' Google Play.