KUALA LUMPUR (22 Nov 2022): ZTE Corporation (0763.HK / 000063.SZ), a global leading provider of information and communication technology solutions, successfully presented its case before the 5G Summit and User Congress 2022 in Italy recently.
At the summit held from 8-9 November, ZTE unveiled "Inspire the Digital Transformation" as its theme before various thought leaders, industry partners, leading analysts from GSMA, Intel, CCS, IGF, 3GPP and Global Data, and top-tier operators, among others as the company shared key insights with an audience consisting of over 300 attendees from more than 70 companies. Topics covered at the summit included 5G cases, successful ecosystem, digital transformation, B5G, and sustainability.
"In the future, digital world and real world will interact with each other on a larger scale, breaking the dimensional space, and gradually evolving into a new era of deep and seamless connection," highlighted Mr. Xiao Ming, Senior Vice President of ZTE.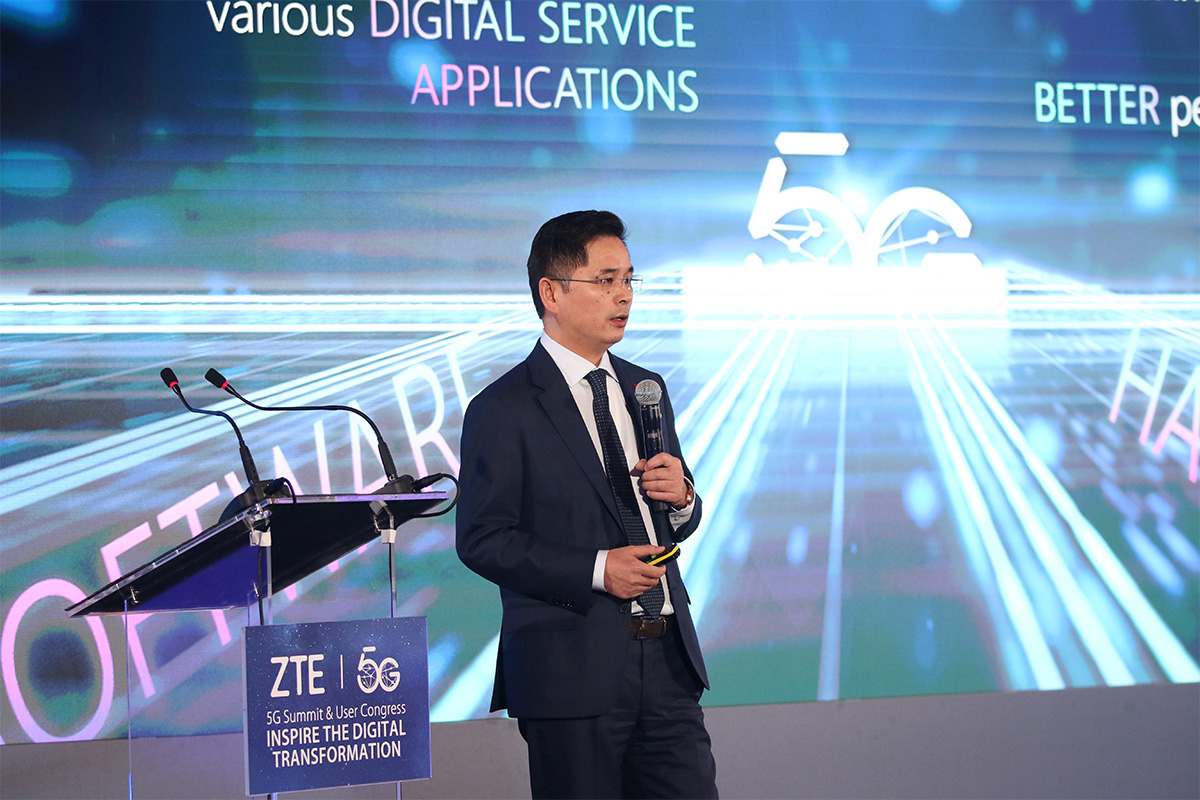 At the 5G Summit & User Congress, Xiao Ming, ZTE's senior vice president, said the digital and real worlds are moving towards convergence on a larger scale through innovations that allow seamless connections.
"Every step we take today is to faithfully and firmly measure the real world, and to open up and reconstruct new boundaries of the virtual world."
Digital Transformation is no longer just a simple innovation, and it has become an intelligent connection of different services and industry verticals.
"One of the key missions of 5G in the coming years is to empower digital transformation across all sectors. Last year saw 5G expand commercially into vertical, already exploring economies of scale," said John Hoffman, CEO of GSMA Ltd. "However, to achieve these economies, industries need to explore many different application scenarios to move 5G from an optional to a must-have technology," he adds.
"If we want to build stronger businesses and communities, and achieve the sustainable development goals, we simply cannot afford to leave anyone behind. Mobile operators play a key role in the tech innovation ecosystem. Operators can mitigate the route-to-market challenges by providing the platform, customer relationship, and resources to drive their mobile innovation to scale," noted Lara Dewar, CMO of GSMA Ltd.
With all-scenarios, applications, and innovative connection technologies as the foundation, ZTE has integrated smart digitalisation into all aspects of life, such as smart manufacturing, port, medicine, home, etc., and is also effectively providing underlying technologies to support the digital transformation of industries and society. Business models, technologies, and customer needs are changing at a break-neck pace. Therefore, a collaborative ecosystem helps telco industries not only survive but also thrive in such a demanding era.
Other than showcasing its cutting-edge technologies and solutions such as the Mini 5GC, ZTE also launched the B5G Technology Whitepaper in partnership with GSMA at the event. The successful vertical case demonstration not only hammers on the reality in the 5G era but also demonstrates how the industry can monetise these applications and mass scale.
ZTE experts and leaders also showcased the network's successes throughout the world including in Malaysia, where in 2021 it won the bid to become a vendor for the Digital Nasional Berhad (DNB) IP Router, and is partnering with DNB to provide indoor connectivity solutions throughout the country. DNB is the company mandated to deploy Malaysia's 5G network and infrastructure on an accelerated schedule.
Boasting industry-leading SuperMIMO functionality, ZTE's indoor connectivity proposition features throughput of between 3 – 4 times that of traditional cells. This ensures superior coverage and signal stability for 5G users, even in highly built-up areas.
This advanced solution will address the traditional bottlenecks seen in other systems, such as when trying to balance between solving "interference" problems and the need to provide adequate capacity.
With its established global track record, ZTE stands out as a credible equipment and systems supplier on the Malaysian market.
To handle the constantly growing 5G traffic from Radio Access Network (RAN) side and Microware (MW) side, ZTE proposed its M6000S series routers to meet high 5G service requirements, as well as its Intelligent SDN solution to make the network more intelligent and effective, while being easier to operate.
"Going forward, the digital world and real world will interact with each other on huge scales, bringing the region into an era of fast and seamless connections," said Steven Ge, managing director for ZTE Malaysia, who added ZTE is always ready to adopt a collaborative stance to help telco industries thrive even as business models, technologies, and customer needs are changing at a rapid pace.
"With a firm commitment to its vision and mission, ZTE is well poised to enable Malaysia to be seamlessly connected with the world for a better future through digital transformation."
ZTE Corporation is a global leader in telecommunications and information technology. Founded in 1985 and listed on both the Hong Kong and Shenzhen Stock Exchanges, the company has been committed to providing integrated end-to-end innovations to deliver excellence and value to consumers, carriers, businesses and government and enterprise network customers from over 160 countries around the world to enable increased connectivity and productivity.
ZTE has complete end-to-end product lines and integrated solutions in the communications industry. Through a full range of wireless, wired, service, terminal products, and professional communications services, ZTE can flexibly meet the differentiated and rapid innovation requirements of different operators and government and enterprise customers worldwide. At present, ZTE has fully served mainstream global operators and government and enterprise customers. ZTE insists on Build Stronger Core Competence, continuously enhances R&D investment and core competitiveness. By the end of 2022H1, ZTE had filed over 8,5000 patents worldwide and accumulated over the years 4,3000 patents worldwide. ZTE has filed over 4717 chip patents and has granted over 2062 licenses. Up to now, the patent technology value of ZTE has exceeded 45 billion yuan CNY.
In 2022Q3, ZTE achieved operating revenue of CNY 92.56 billion. ZTE adheres to R&D investment, continuously strengthens core competitiveness, and promotes market share increase. In 2022Q3, ZTE's R&D investment reached CNY 16.11 billion, accounting for 17.4% of its operating revenue.
In terms of operator network business, ZTE actively participates in global 5G construction. ZTE's series of innovative products and solutions are committed to maximizing customer experience and network efficiency, and building the optimal cost-effective 5G network. The share of 5G wireless, 5G core network and 5G bearer products in the domestic operator market is over 30%. According to reports from external organizations in September, 2022, the annual shipments of ZTE 5G base stations globally ranked top 2, and the revenue of 5G core network ranked top 2. The market share of optical network for operators ranked top 3 in the world while the overall market share of fixed network ranked top 2 in the world.The total user capacity of the video system exceeds 200 million, and the market share continues to increase. The full series of 5G power supplies have provided power supply guarantee for over 450,000 5G sites worldwide.