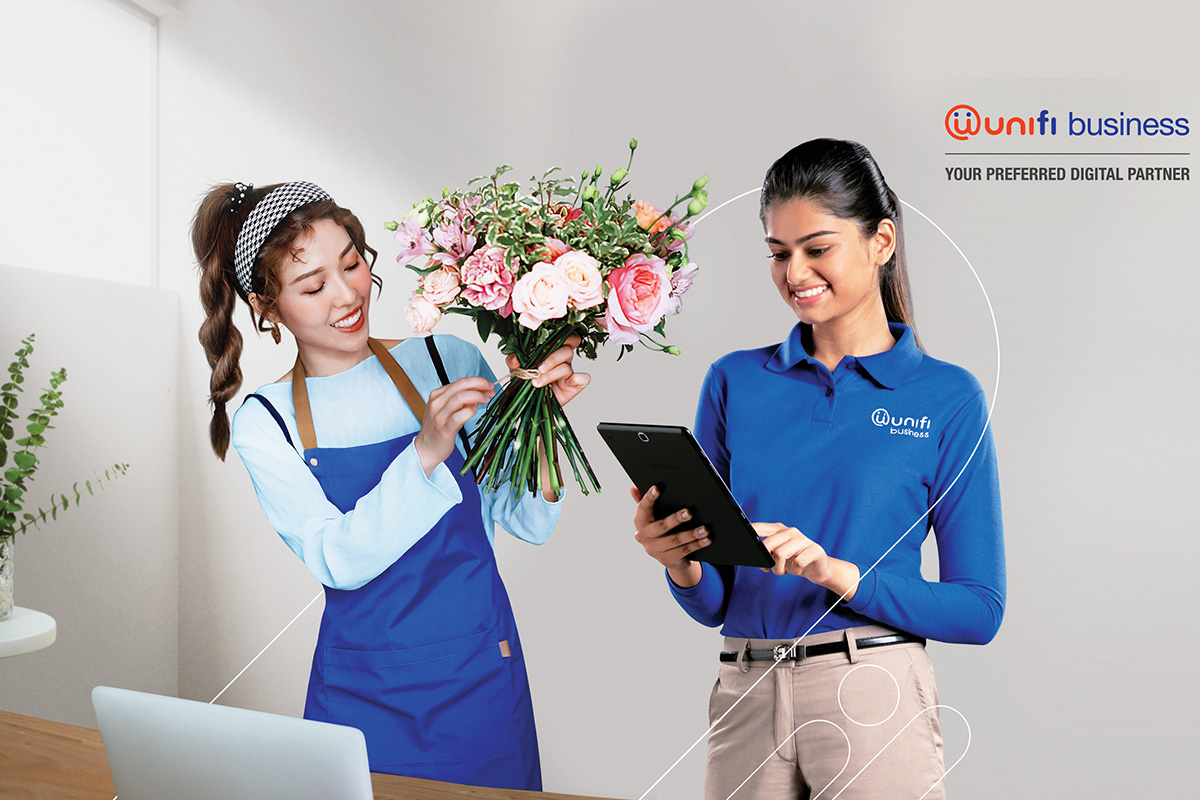 Integrated service provider unifi, via unifi Business, has unveiled a new business solutions bundle curated to support micro, small and medium enterprises (MSMEs) in Malaysia in accelerating their digital business transformation.
As the economy grows rapidly in the transition to endemicity, unifi's latest suite of solutions is targeted at fulfilling business needs in these key areas: advancing into e-commerce operations, reinforcing online security, encouraging productivity and tightening connectivity.
unifi Business, owned by Malaysia's telecommunications leader Telekom Malaysia Bhd (TM), said that this latest internet bundle comes with a selection of these solutions: unifi Cloud Storage, unifi eCommerce Hub and a cutting-edge cyber security solution.
The unifi Cloud Storage solution, it said, brings flexible, safe and scalable data storage to help businesses manage how they store valuable information. Features such as access for multiple users and secured encryption are included to help drive business productivity. Hosted locally at TM's Green Data Centre certified facilities, unifi Cloud Storage provides a secure space for important files and information, so that businesses can focus on growing and being profitable.
Meanwhile, the unifi eCommerce Hub solution is designed to connect and maximise growth opportunities seamlessly as it offers a single and integrated platform with an easy-to-use interface. Entrepreneurs can sync their offline and online sales channels, manage product inventories and orders, monitor sales and revenue, as well as manage social media enquiries. They can even build interactive websites with built-in online payment features and delivery partner services.
The cyber security solution is to protect businesses against cyberattacks, and is easy to deploy and straightforward to manage, so that MSMEs can focus on generating revenue and growing their business, regardless of the firm's information technology (IT) skill level.
The solution combines the simplicity of PC protection with special capabilities to keep businesses safe. With a "set and forget" security system, it protects Windows, Mac PCs, laptops and Android devices, as well as Windows file servers, by securing valuable files and documents.
The solution helps fortify internet safety for businesses paying bills and taxes online. It also has built-in vulnerability scanning to ensure apps are safe from intrusion while being utilised. Functions such as file encryption and backup are activated to secure businesses' intellectual property and trade secrets.
Along with these business solutions, buyers can also hand-pick from various fibre connectivity speeds, ranging from 100Mbps to 800Mbps, to pair with the service bundle.
These bundles, a specialised series of packages for businesses, were created to be affordable for MSMEs. For instance, a bundle that contains unifi Business Fibre and unifi Cloud Storage starts from RM139 a month. Nonetheless, the solutions are also available separately.
Upon purchase, all unifi Business customers will enjoy member benefits through the unifi Business Club (uBC) such as access to its online portal https://ubc.unifi.com.my, where businesses can find insightful and inspiring contents, including webinars, talk shows, live chats, events, business tips and articles.
uBC members can also enjoy access to financial assistance, productivity boosters, digital marketing platforms, tools and community engagement programmes that are tailored to a variety of business needs.
uBC has supported over 300,000 businesses of all sizes and industries and aims to continue securing its position as the preferred digital partner for MSMEs.
MSMEs play a vital role in Malaysia's digital economy growth
Citing data from the Department of Statistics Malaysia (DOSM), Malaysia's e-commerce value soared by 22% to RM801 billion in 2021 compared to RM658 billion in 2020 for the period of January to September.
MSMEs, which represented 97.4% of overall business establishments in the country in 2021, will boost Malaysia's digital economy growth if more of them participate in the burgeoning local and regional e-commerce market by making their products and services available online.
unifi Head of SME segment Mohamad Yusman Ammeran said MSMEs need to take timely advantage of the digital boom to navigate towards more sustainable growth in order to stay competitive.
"Digitalisation done right is the way to go and unifi Business is primed to help them get back on their feet, come back stronger and achieve positive gains through our innovative digital solutions," he said.
"Our dedicated unifi Business consultant team is another testament to our commitment to serving MSMEs. They are certified with the International Certification of Digital Literacy (ICDL) and will offer continuous support and guidance.
"Our multiple business solutions for MSMEs also reflect TM's support for the government's initiatives, such as the National Digital Network (JENDELA) and MyDIGITAL, and are aligned with the group's role as the enabler of Digital Malaysia," said Yusman.
JENDELA is designed to provide wider coverage and a better broadband quality experience for the people as the country moves to 5G technology, implemented in stages with Phase 1 from 2020 to 2022 and Phase 2 from 2022 to 2025.
TM has been expressive in its support for the Malaysian government's 5G deployment under the single wholesale network (SWN) model. It said that 5G would expand opportunities and growth areas across all customer segments for TM, strengthening the group's fixed-mobile convergence proposition and digital services.
The MyDIGITAL initiative sets out various measures and targets that will be implemented in three phases until 2030. The initiative, which includes the Malaysia Digital Economy Blueprint, complements national development policies such as the 12th Malaysia Plan (12MP) and the Shared Prosperity Vision 2030 (WKB 2030).
With online connectivity playing a central role in the new normal, unifi Business will continue to bridge the connectivity gap by serving businesses with innovative and high-quality products at affordable prices.
For more information on the new business solutions bundle and other product offerings, visit unifi.com.my/business/totalsolutions.

Scan the QR code to explore unifi Business digital solutions