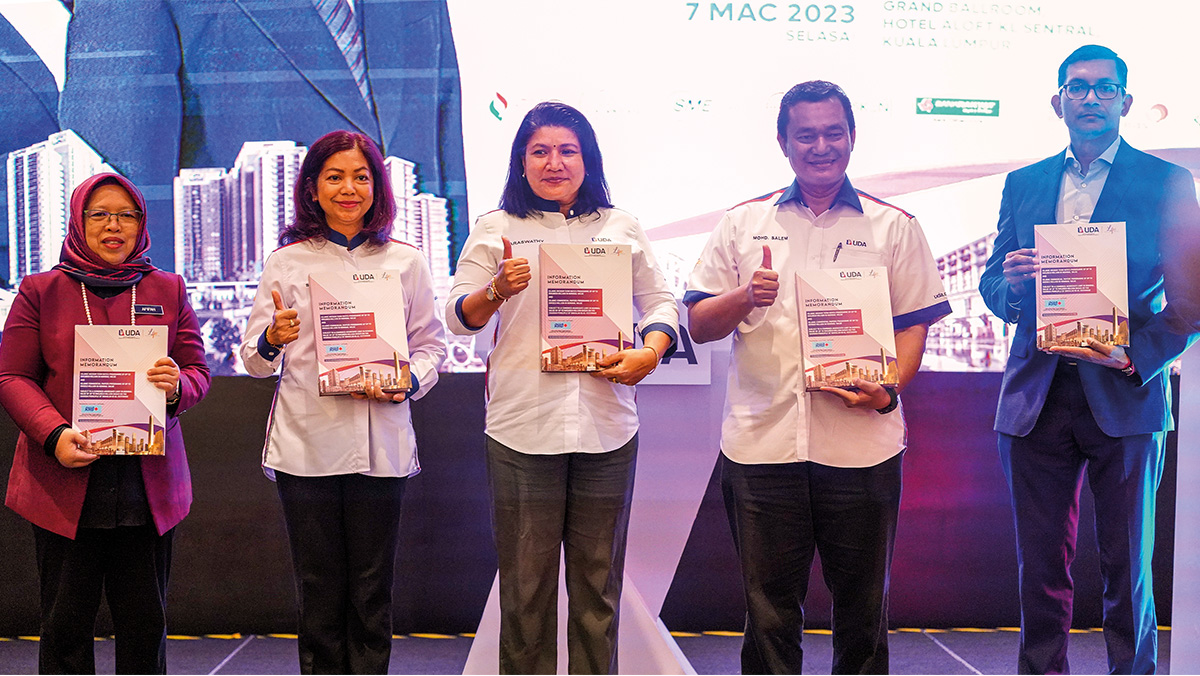 Deputy Entrepreneur and Cooperatives Development Minister Saraswathy Kandasami (centre) accompanied by Ministry of Entrepreneur and Cooperatives Development (MECD) secretary-general Datuk Seri Suriani Ahmad (second from left), MECD deputy secretary-general (policy & monitoring) Noor Afifah Abdul Razak (left), Mohd. Salem (second from right) and RHB Investment Bank Bhd managing director Ganesh Sabaratnam attending UDA's sukuk launch ceremony in Aloft Hotel, Kuala Lumpur Sentral
From developing the coveted Taman Tun Dr Ismail township back in the 1970s to more recently completing the groundbreaking Legasi Kampong Bharu in the Kuala Lumpur city centre, UDA Holdings Bhd has remained at the forefront of Malaysia's urban development for over half a century.
Going from strength to strength, the leading property developer and investment holding company under the supervision of the Ministry of Entrepreneur and Cooperatives Development has grown its development footprint to span across Malaysia, as well as diversified its expertise into property investment and management, facility management and hospitality to complement its core segments.
As it prepares to add another chapter to its illustrious history, UDA is keeping a keen eye on sustainability in line with its mission of "Enriching Life by Delivering Best-Value Products and Services Sustainably".
To facilitate the balance between sustainability, socioeconomic development and profitability, the company has turned to the Islamic bond market to drive its next step forward with the launch of a maiden sukuk wakalah programme with a nominal value of up to RM1 billion, comprising the issuance of Islamic medium-term notes (IMTNs) and Islamic commercial papers (ICPs) of twenty- and seven-year tenors respectively.
Guided by its intricate Sustainability Sukuk Framework — based on the Securities Commission Malaysia's Sustainable and Responsible Investment (SRI) Sukuk framework, Asean Sustainability Bond Standards, Asean Green Bond Standards and Asean Social Bond Standards — utilisation of funds garnered from the issuance of sustainability sukuk by UDA will ensure the company continues to contribute to its sustainability agenda.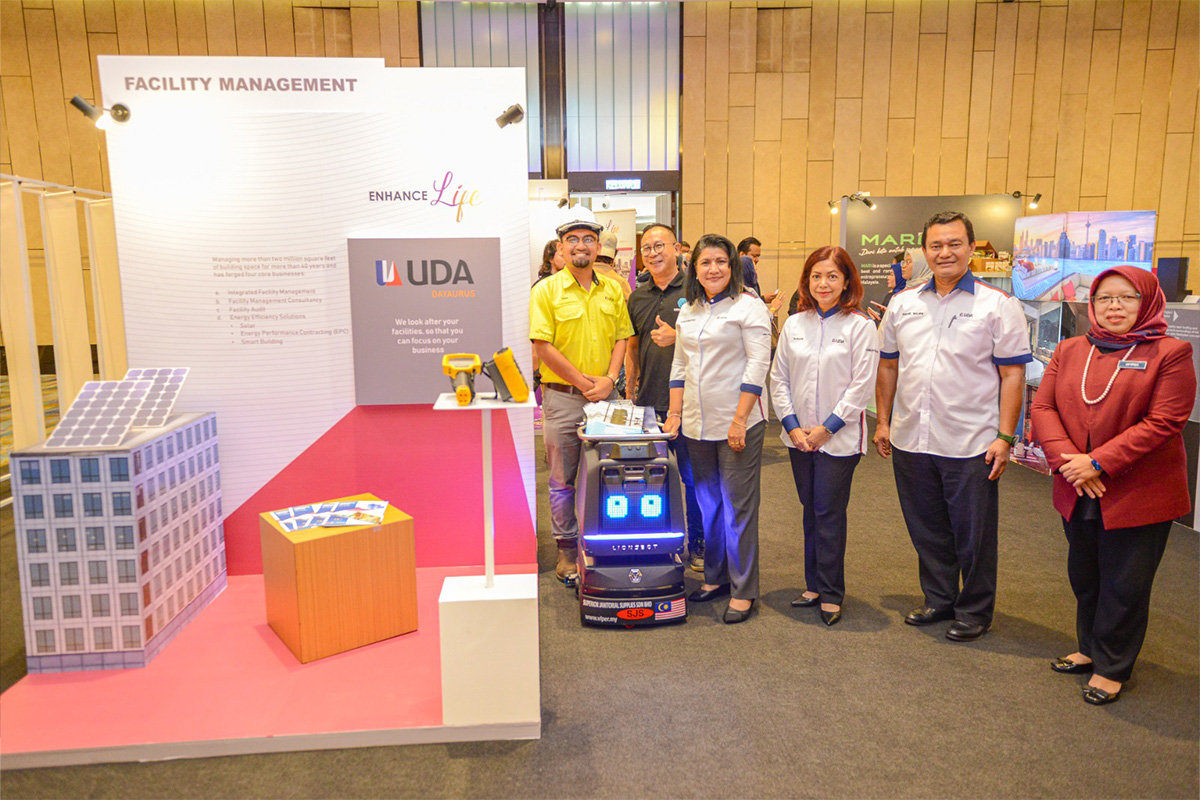 From right: Noor Afifah, Mohd. Salem, Suriani and Saraswathy visiting a showroom for facility management, one of UDA's business segments
Proceeds from the issuance have been earmarked for working capital, financing commercial, residential and industrial development projects as well as waqf projects that relate to the development of waqf (endowment) properties or assets. Projects to be funded via the sustainability sukuk will undergo a step-by-step process for evaluation and selection.
According to UDA President / CEO Datuk Mohd. Salem Kailany, credit rating agency MARC Ratings Bhd has assigned a "MARC-1IS/AA-IS" rating to the Islamic bond facility based on UDA's track record in property development and strong cash balance on the back of effective capital management as well as income from investment properties.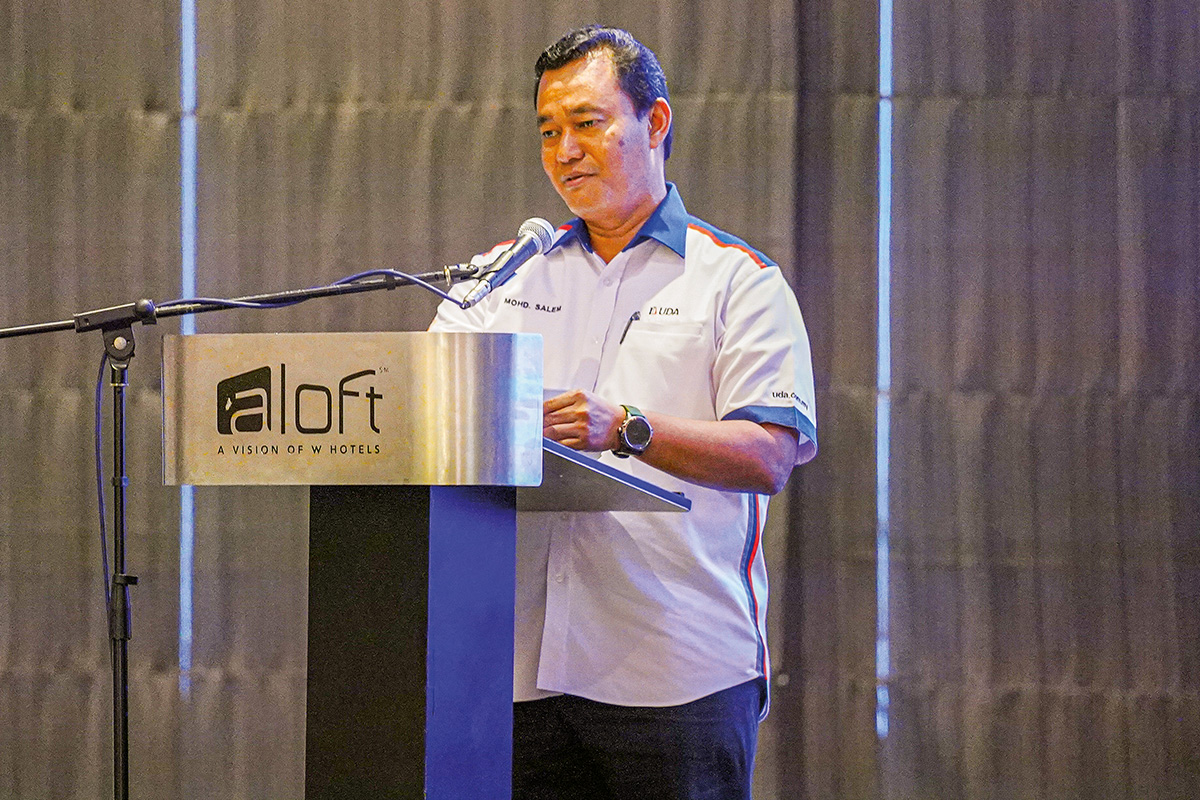 Mohd. Salem delivering his speech at the UDA sukuk launch ceremony
"On the back of this sukuk wakalah issue, UDA Group Asset Management will focus on efforts to scale up its green endeavours through the use of solar energy in buildings maintained by UDA and accelerate adoption of renewable energy," Mohd. Salem said at the launch of the sukuk wakalah programme earlier this month.
Meanwhile, Entrepreneur and Cooperatives Development Minister Datuk Ewon Benedick lauded UDA's efforts to issue the sukuk wakalah, adding that the programme is in line with the "Building Malaysia Madani" concept towards sustainably rebuilding the nation's economy.
"UDA's move to issue sukuk wakalah for the first time is timely considering that the country is undergoing an economic recovery phase that emphasises business sustainability," he said.
RHB Investment Bank Bhd is the sole principal adviser, arranger and manager of UDA's sukuk wakalah programme.
Spearheading waqf development in Malaysia
During the launch of the sukuk wakalah programme, Ewon also highlighted that UDA's issuance will mark a significant milestone in Malaysia's sukuk market, as it will cement the agency as the first organisation to use the definition of SRI for waqf real estate development projects.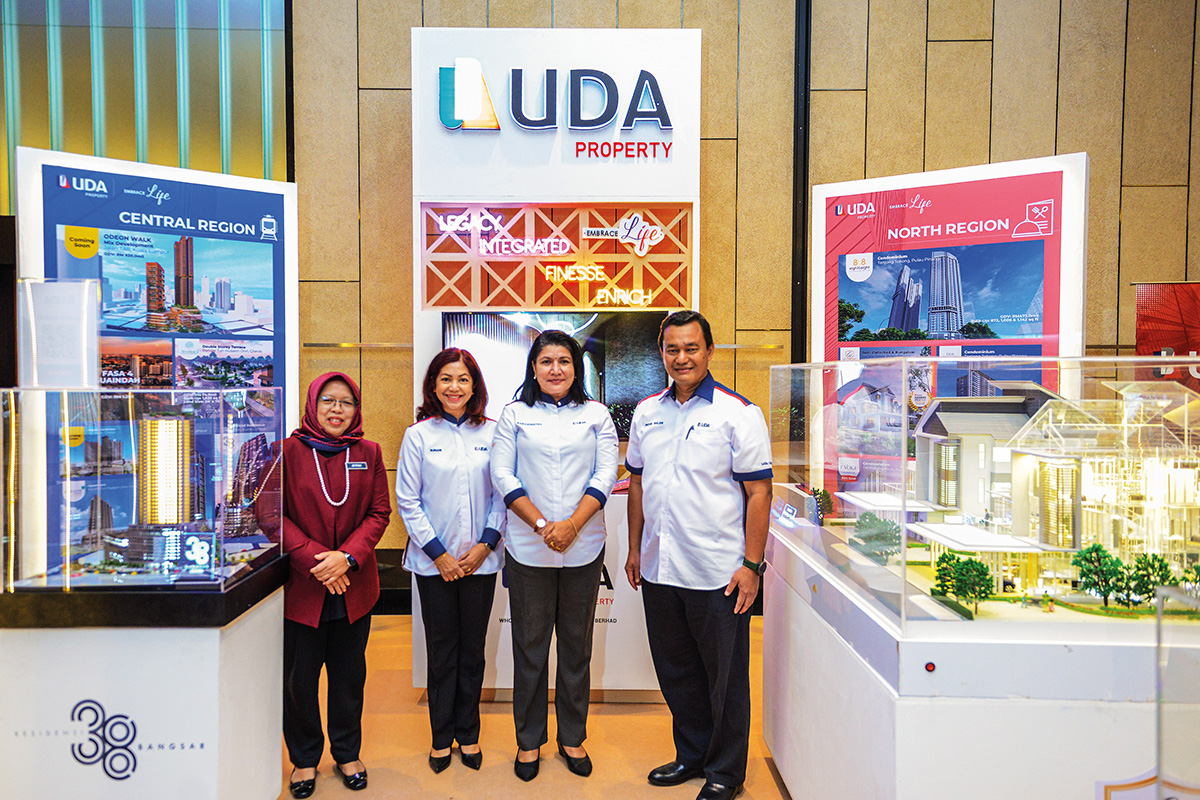 Saraswathy (second from right) with Suriani (second from left), Noor Afifah (left) and Mohd. Salem at the UDA Property showroom after the launch ceremony
"Funding requirements for development projects under the waqf category used to be done internally. Now, they can be met via the sukuk issuance by UDA.
"This initiative also solves issues surrounding funding, because there are not many options offered by commercial banks for these types of projects," he said.
"The success of the sukuk wakalah issuance will ensure the sustainability of UDA to continue to serve and contribute to the country's economic prosperity," he added.
In line with the Madani framework, the government has identified waqf as one of the redistributive mechanisms that contribute to universal prosperity.
A huge opportunity is ripe for harvest in the waqf space. Prime Minister Datuk Seri Anwar Ibrahim said during the recent tabling of the revised Budget 2023 that only around 3,500 hectares or 12% of registered waqf land have been successfully developed thus far, adding that fresh efforts in developing waqf land and assets need to be continuously explored.
According to UDA, much of this undeveloped waqf land is strategically located in city centres in Selangor, Kedah, Perak, Kelantan, Johor and Sabah. To date, the waqf developments UDA has completed are the Wakaf Seetee Aisah 1 and Wakaf Mohammad Hashim in Penang.
Notably, for the Taman Wakaf Seetee Aisah development, UDA was recognised as a pioneer in waqf development and received the Waqf Innovation & Promotion Organisation award during the first Global Waqf Conference in 2019.
As for the company's ongoing waqf development projects, UDA is developing the RM100.5 million in gross development value (GDV) Taman Sultan Sallehuddin, which spans 27.22 acres and is slated for completion in 2026.
UDA is also working on the second phase of Wakaf Seetee Aisah, which covers 7.23 acres and has a GDV of RM176.64 million. The project is scheduled for completion in 2024.
Besides being a window for further expansion, the development of waqf land also improves the socioeconomic standing of people in the country by providing them with the opportunities to participate in economic activities resulting from the waqf development process as well as increasing property ownership.
"Using the Ijarah (leasing) concept, the ownership of the property remains with the respective Majlis Agama Islam Negeri, while the rights to occupy will be assigned. The two-pronged strategies will also aid Majlis Agama Islam Negeri in generating passive income to develop the Muslim community," UDA said.
Next chapter in UDA's legacy
Since its founding in 1971 as the Urban Development Authority, UDA has completed more than 190 projects in eight townships and numerous urban developments that cater for the needs of people in Malaysia. With 410.53ha of reserve land under its belt worth RM2.6 billion, UDA is well equipped to take the next step in its development journey.
UDA has already crafted a clear five-year development roadmap from 2023 to 2027, which comprises the launch of 72 new projects with a cumulative GDV of RM9 billion.
The company will continue to create an affordable range of properties to meet market needs in the residential, commercial and industrial segments. Of the 16,093 units it plans to launch, 15,475 will be for the residential segment, 569 for commercial and 49 for industrial.
For the residential units, UDA will price 7,571 units at RM500,000 and below, and another 3,536 at RM300,000 and below to offer diversified products and price ranges to meet the needs of various market segments.
There are also five new developments in the planning stage, namely UDA Enclave in Johor Baru, Johor; Neu Pendington in Kuching, Sarawak; Desiran Tanjung in Penang; Suaindah in Bandar Tun Hussein Onn, Selangor; and the sprawling Kuala Lagenda in Pekan, Pahang.
For waqf developments, the company has earmarked six projects with an aggregate GDV of RM300 million to be launched over the next few years — three in 2023, two in 2024 and another in 2025.
Backed by a strong financial record with an average profit before tax (PBT) of RM160 million and a 0.24 times gearing ratio, UDA showcases prudent capital management as well as resilience in weathering market challenges and economic cycles. For the unaudited financial year ended Dec 31, 2022 (FY2022), UDA posted a PBT of RM260.9 million on the back of RM525.6 million in revenue.