Gamuda Bhd group managing director Datuk Lin Yun Ling talks about the group's journey towards zero-carbon, and why the transition has to be a collective effort on the part of all stakeholders.
In recent years, countries around the world, led by the US, the European Union (EU) and China, have accelerated their transition to the green economy to tackle the devastating effects of climate change. As these countries rev up their commitments to transforming to low-carbon, resource-efficient and socially inclusive economies, it will be only a matter of time before it becomes imperative for other countries and economic sectors to follow suit, particularly if it is a prerequisite to doing business.
Transitioning to a green economy, whether for a country or an organisation, requires a multi-pronged approach. In the case of Gamuda Bhd, it's the Gamuda Green Plan that is anchored on four key pillars: sustainable planning and design, and circular construction; community and business; environmental and biodiversity conservation; and enhancing sustainability via digitalisation. But it is through the first pillar — sustainable planning and design, and circular construction — that the development and infrastructure player hopes to make the biggest dent.
Responsible for more than 30% of global carbon emissions and nearly a third of all wastes, the building and construction industry can help achieve climate goals and curb global warming by shifting to a circular economy model. Here, the focus is on more efficient use of resources and greater commitment to the environment by minimising (or even eliminating) waste and pollution, and by improving efficiency. The circular construction approach encompasses everything from the design phase to construction, operations and maintenance, and eventually, deconstruction.
In Gamuda's path towards a green economy, group managing director Datuk Lin Yun Ling emphasises the need to adopt a strategic approach. "We have to ask ourselves where we can make the most impact. No one group or country can do everything. It's a collective effort. For us, being in the infrastructure business, we see that we can make the most impact in terms of concept planning and design."
In an interview, Lin shares his thoughts on the move towards a green economy by countries around the world, why it is imperative for such a transition and Gamuda's experience in seeding the next generation to care, take action and arrive at a zero-carbon economy.
Why is the circular economy important to Gamuda?
Datuk Lin Yun Ling: I think firstly, we'll need to look at the bigger picture. There have been developments over the past year that have been very heartening, not only in the EU — which has been a leader when it comes to the green economy — but also even in the US and China. If there is one thing these three biggest powers in the world agree on, it is that climate change is a threat to humanity. We have this habit of thinking that there is a fine line between an imminent threat and an existential crisis, but the pandemic has shown that there is no fine line: An imminent threat is an existential crisis.
These economies have given their pledges to the world — essentially most have committed to decarbonisation and zero-carbon targets. In the steps these economies have taken, whether in their respective economic development plans or stimulus plans to get them out of pandemic, they are investing and creating new jobs in the green economy. We need to think about what these pledges and the transformation of these economies with green investments mean for us. What will they mean for the other countries in the world? I can see that none of these countries will allow the others "to get away with it". The EU may impose a levy on imports from places with poor ESG (environmental, social and corporate governance) so everyone will have to play their part. We will all be pulled into it whether we like it or not.
When did Gamuda's sustainability journey begin?
I'd like to think we started many years back, though it was not done in a very concerted or coordinated way. I remember 25 years ago when we started our township development in Kota Kemuning, we had 30 building contractors under us, and we insisted that all the foreign workers were properly housed in our centralised labour quarters, modelled after European youth hostels, with strong showers, clean beds and good ventilation, as well as a dobi and mini-mart. This is what we call enlightened self-interest — you take care of the worker, he's happy, rests well and becomes more productive.
So, when did it shift from sustainability to circular economy?
The circular economy is only one part of the whole ESG effort, and no doubt most directly related to carbon reduction. Our approach has to be strategic — we have to ask ourselves where we can make the most impact. Being in the infrastructure business, we can clearly see that we can make the most impact in terms of concept planning and design. So, with the MRT, that takes a lot of cars off the roads. And now our Penang South Islands (PSI) project, we have master-planned it to be a very low-carbon, smart city. Our target is a 50% reduction in carbon emissions by 2030 compared to a conventional design.
At the strategic level, we opened our first IBS (industrialised building system) factory. This is not a precast factory. It is the digital manufacturing of our construction products. The design of the house or apartment building is done online and is paperless; the data is on the cloud and then sent directly to the robots, and the panels are made based on the online drawings. The panels are then assembled on-site like Lego blocks. We are also digitalising all our management work systems. Two years ago, we put our procurement on a digital platform, so it's very transparent. All our management employees have access to how the tender and auctions are called; who was awarded. All this information is shared online through a live-stream process.
In the coming years, you will see our green economy initiatives — in how we master-plan our townships and how we bring Gamuda Parks into play with a lot more urban forests, a lot more planting. In the coming years, all the buildings in our developments will be designed to green and very energy-efficient standards.
What guides your approach towards the circular economy model?
Our Green Plan has been finalised. Beyond that, it's important to understand that a company's greenhouse gas emissions are classified into three scopes of emissions. Scope 1 emissions are direct emissions related to our activities. Scope 2 emissions are indirect emissions, basically from electricity generated and distributed by TNB (Tenaga Nasional Bhd). Scope 3 emissions are all indirect emissions related to the value chain.
If we look at the bigger picture, and if you've read Bill Gates' latest book How to Avoid a Climate Disaster, it tells you that green electricity is the key to the whole world moving towards net-zero. If we can't get carbon-free electricity, then it's going to be very difficult to achieve a zero-carbon economy. Electricity is central to everything.
So, Scope 2 is the biggest elephant in the room: If the electricity is generated by coal-fired plants, what chance do we have to move to a circular economy model?
The government or the Energy Commission has to come up with strategies and a roadmap to zero-carbon and with clear timelines. So far, they have said they want 30% of the electricity generated to be from renewable sources by 2025. There are many issues they have to contend with: Our coal-fired power plants still form the bulk of the power generated. In many other countries, solar energy is increasingly cost-competitive but it is a different form of energy because of the intermittency issue and the need for innovations to enable storage. But at some point, you have to reduce the green premium or additional costs to move or migrate to renewable energy (RE). You have to come up with the right incentive structure. In Europe, as far back as more than 10 years ago, they had already set up an emissions trading system to force that shift.
I feel that if we can green our entire power system, we have a very good chance to meet the Paris Agreement targets. It's not easy because it's a question of how to bring in all these incentives, how to retire the coal plants, reduce the reserve margin and yet keep tariffs affordable. You have to juggle these different priorities to get it right.
Do you think that the absence of a clear roadmap to generate electricity from renewable sources has been a major obstacle to adopting the circular economy model?
Yes and no. In the first place, let's be clear — what we see now are the bits and pieces, like 30% RE by 2025. But we are talking about a roadmap to zero-carbon. When rating agencies look at us and determine our ESG performance, they can understand that we have very little control over scope 2. They would want to see what we are doing regarding scope 1. In our design and planning, we come up with a low-carbon master-plan. Our design puts bicycles ahead of cars. We harvest rainwater and use it just as we do other wastes like food waste. These we address.
What are the challenges in this journey towards sustainability?
It's not unlike elsewhere in the world. By that, I mean it's really down to conviction. The leaders in the group have to own it; they have to have conviction and walk the talk with employees.
What's the recipe to get people to walk the talk and advocate to others?
That build-up of conviction quite often comes from knowledge. When you know the subject matter, the buy-in is better, and from there you hopefully get to a virtuous cycle, where the better you are at it, the more time you will spend on it, and when you spend more time on it, your conviction strengthens. When our people see that the digitalisation of processes and operations makes us more competitive and how we can be successful in the future, they love it. The buy-in is there when they see that.
What buoys your optimism about the sustainability of Gamuda's efforts so far?
As an engineer, I enjoy reading about issues and innovations. But it's like a sort of tailwind when I see all the younger employees being more enthusiastic. Their knowledge is good. Their digital skills are good. That's very encouraging. It's not like we have to force it down our people's throat. We are fortunate that we are not in that kind of situation.
What do you hope to achieve at the end of the day?
It's easier to answer by asking, what if we don't do it? If we don't address climate change, what kind of legacy are we leaving our children and grandchildren? There's no alternative. It's not just issues that are directly pertaining to climate change but a lot has to do with how we treat our foreign workers, how we upskill our workforce and how we approach nature and biodiversity in the right way.
Do you see yourself as a circular economy warrior?
I don't believe in these words because what's the alternative? We can't keep doing things as we have done in the last 50 years. The science is clear — it's not just Greta Thunberg telling us. It's not about being a hero. There's just no alternative.
Pillar 1: Sustainable planning and design, and circular construction
Achieve 50% reduction in carbon emissions via sustainable master-planning, shared facilities, climate-responsive design and green features, integrated transport planning, super-low-energy buildings with smart features and RE installations, reduction in landfill waste and freshwater demand.
Pillar 2: Our community and our business
Scale-up community investment efforts via Yayasan Gamuda, including the Enabling Academy, and build capacity and capability in new sustainability and climate science areas through our Gamuda Scholarship programme. Elevate health and safety performance through robust risk assessments and controls and adoption of best practices — prioritising the well-being of the workforce.
Pillar 3: Environmental and biodiversity conservation
Nurture and plant one million trees and saplings by 2023. Intensify Gamuda Parks' agenda by establishing wetlands arboretum, develop in-house specialists and partnerships with the indigenous community, and conduct biodiversity audits at developments.
Pillar 4: Enhancing sustainability via digitalisation
Transform into a data-driven organisation by digitally integrating our processes — digital engineering, enterprise resource planning, data warehouse platforms and Building Information Modelling. The focus is on upskilling data literacy and digital skills as key enablers for sustainable growth.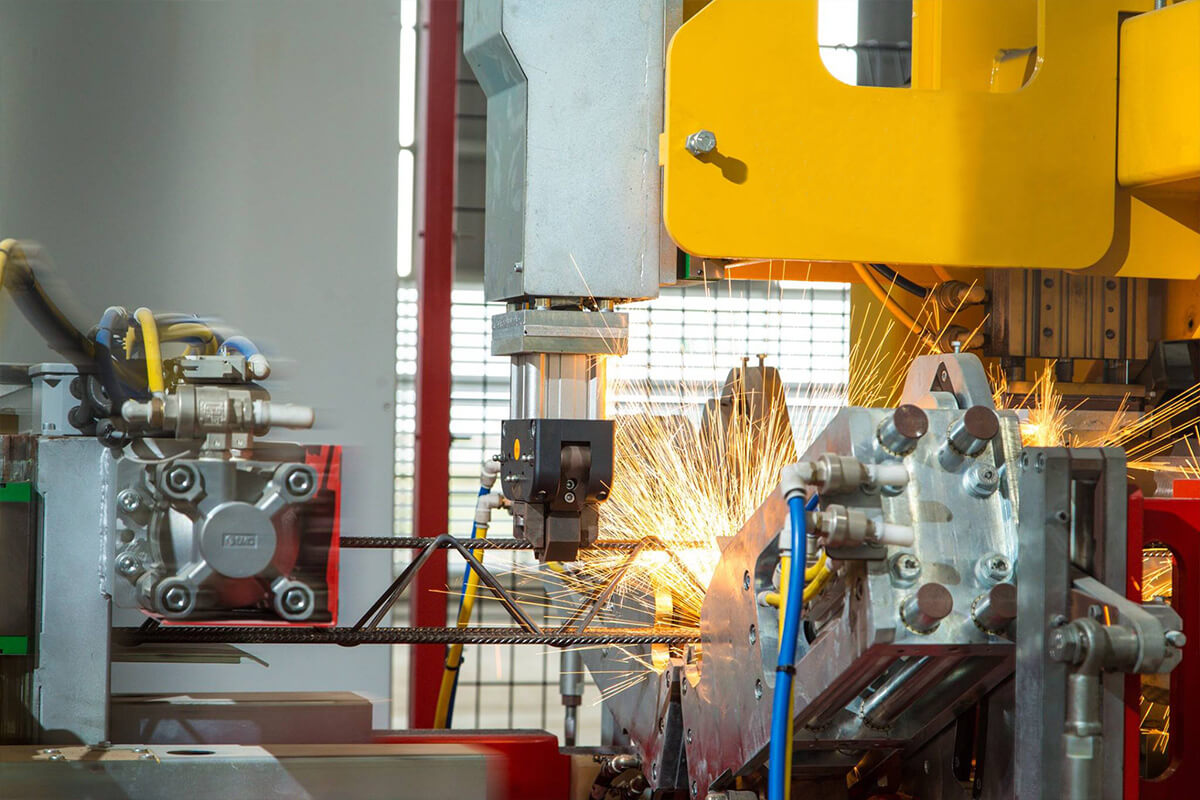 Gamuda boasts the country's first digital Industrialised Building System (IBS) facility