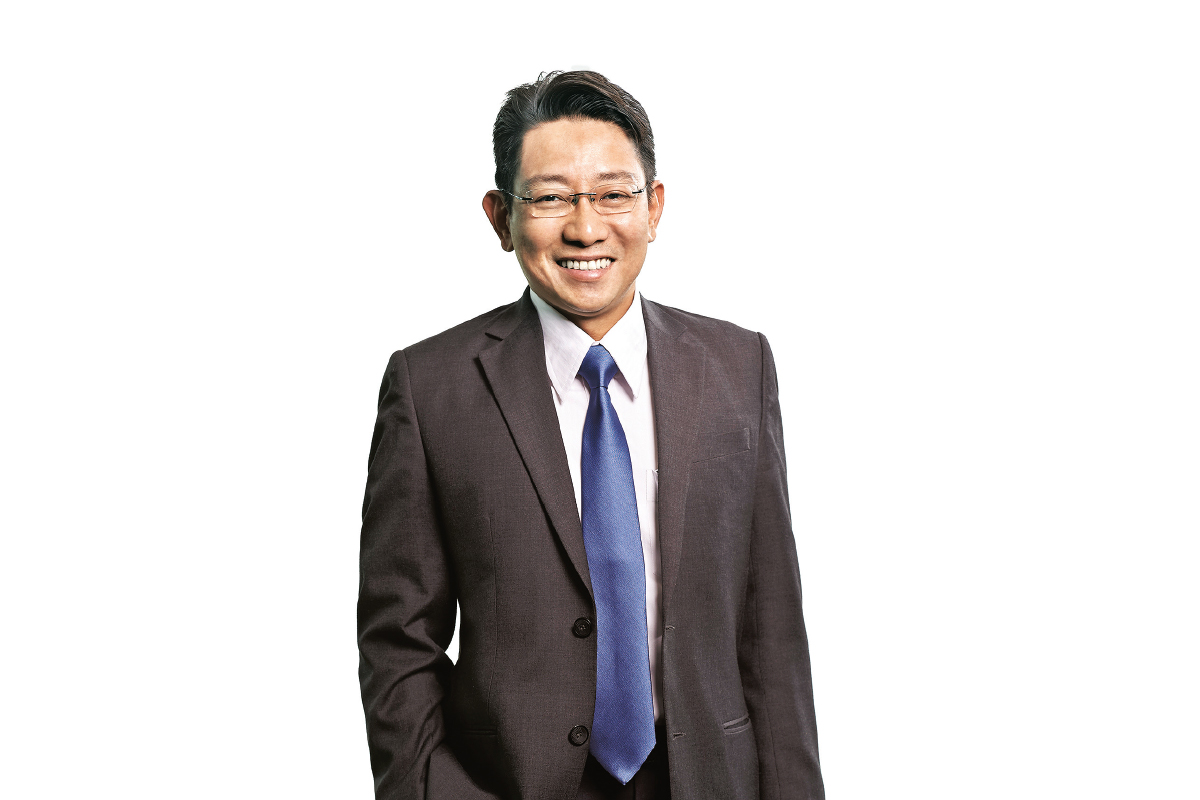 Cyberview will continue to spearhead the development of Cyberjaya but our new role is of a tech hub developer. This means that we look to cultivate a robust and well-developed ecosystem for our existing and potential tech players. - Najib
Cyberview takes on a new mandate to spearhead the development of the country's global tech hub
Cyberjaya is well on its way to becoming a vibrant and exciting global tech hub for the country. The city currently houses more than 144,000 innovators and creators, about 400 MSC-status entities including multinational corporates and over 40 government agencies and government-linked companies. It is also the base for a large number of successful start-ups, around 429 companies (as at June), as well as seven universities and colleges.
Cyberview Sdn Bhd has been given a new mandate by the government to catalyse Cyberjaya's journey towards becoming a global tech hub. "Cyberview will continue to spearhead the development of Cyberjaya but our new role is of a tech hub developer. This means that we will look to cultivate a robust and well-developed ecosystem for our existing and potential tech players. We want to provide affordable and stellar infrastructure, a wealth of human capital, customised incentives as well as reliable support to attract even more tech companies into our city," says Najib Ibrahim, managing director of Cyberview Sdn Bhd.
Established in 1996, Cyberview was mandated by the government to oversee the development of Cyberjaya. Its role has evolved over time, from landowner to facilitator, cybercity manager and tech hub enabler to its current portfolio, of tech hub developer. "As a cybercity manager, we developed
Cyberjaya into a premier ICT hub. Then, as a tech hub enabler, we transformed this city into a global tech hub. Now, we enter our next phase as a tech hub developer as we look to advance Cyberjaya into a vibrant centre for Malaysia's tech innovations."
"While Cyberjaya will serve as a platform for creators and innovators to launch their business, we are cognisant of the need to attract the right type of players, that is, those that will eventually contribute to the economic growth of the country," says Najib Ibrahim.
The new masterplan
Cyberjaya's new masterplan focuses on the creation of a holistic tech ecosystem that comprises commercial and digital activities. Najib Ibrahim expects a robust and well-developed ecosystem in Cyberjaya to support and augment the country's future tech innovations. To strengthen the city's ecosystem, Cyberview will focus on the research, development and commercialisation of ten focus areas. These areas are: big data analytics,artificial intelligence (AI), creative content, Internet-of-Things (IoT), information security, mobile internet, green technology, cloud computing, robotics and systems integration.
"Under the new Cyberjaya masterplan, we will also delve deeper and cast the spotlight on three tech clusters: smart mobility, smart healthcare and digital creative. These tech clusters have been identified as Cyberjaya's pillars of growth," says Najib Ibrahim.
Smart mobility refers to high-speed connected methods of transportation that is advance, intelligent and more sustainable. There is a focus on "mobility as a service" where users can access flexible, efficient and integrated modes of transport. Cyberview would like to advance smart mobility innovations such as autonomous and electric vehicles, drones and intelligent transport systems.
Smart healthcare refers to a convergence of technology to enhance the pre-, during, and post-medical treatment experience for users. Najib Ibrahim notes that the use of telemedicine (caring for patients remotely) has surged during the Covid-19 pandemic and believes that this area will continue to grow in the post-pandemic new normal.
"The healthcare sector is more important than ever after the outbreak of the coronavirus. Now. there is strong demand for digital health technologies. Smart healthcare incorporates AI, robotics, loT and big data to empower activities such as assistive diagnosis and healthcare tracking. We are also considering the use of medical robots to reduce the risk of cross-contamination," says Najib Ibrahim.
Digital creative refers to creative industries that may transform or spur development of new industries and/or complement other tech clusters in Cyberjaya. This tech cluster is expected to create high-value employment opportunities. "Cyberview's strong ties with academic institutions as well as our own initiatives have enabled us to support and nurture the growth of local talent. It takes time to mould talent and over the past 20 years, we have invested great effort into creating a conducive and innovative environment to develop our local talent pool."
"We are proud of our success stories in the digital creative tech cluster. Local animation studios, based in Cyberjaya, such as Animonsta Studios, Wau Animation and Digital Durian are well-known names in the industry. Their success is proof that Malaysia does have the creative talent, ecosystem and ability to develop world-class creative products," adds Najib Ibrahim.
Four complementing districts
Cyberjaya's new master plan will leverage on the characteristics of each of the four districts in the city. West Cyberjaya is currently the designated area for industry and academia collaboration to produce skilful talent. North Cyberjaya houses the business district, which utilises smart city solutions. South Cyberjaya is seen as the innovation district while Downtown Cyberjaya focuses on commercial and communal activities.
"All four districts complement each other and come together with the aim of transforming Cyberjaya into a vibrant global tech hub. For example, West Cyberjaya will provide skilled talent produced for innovation efforts and research and development work based in South Cyberjaya. South Cyberjaya is really the fundamental district in this new masterplan as it anchors development of the three identified tech clusters," he says.
To accelerate Cyberjaya's journey to becoming a global tech hub, Cyberview has collaborated with the government to establish a National Regulatory Sandbox at Futurise Centre — a one-stop centre for corporate companies and universities to develop prototype tech solutions and products — in Cyberjaya. Futurise Centre is operated by Futurise Sdn Bhd, a wholly-owned subsidiary of Cyberview.
"The National Regulatory Sandbox is an initiative that explores the creation of more innovation-friendly regulatory approaches and adaptive policy-making. Here, innovators can test their products, services, business models and delivery mechanisms in a live environment while adhering to relaxed regulatory requirements. This sandbox is currently used to develop a data-driven policy under the digitalisation of government service delivery initiative, an e-nanny childcare services guideline and the secretariat of national technology and innovation sandbox," says Najib Ibrahim.
"By allowing new technologies to be developed, tested and piloted in Cyberjaya, we are encouraging healthy experimentation of smart city solutions. My vision is that Cyberjaya becomes a potent location for inventors and entrepreneurs while embodying inclusivity, accessibility, safety, increased production and resilience."
Strategic partnerships
Besides development of an innovation-friendly ecosystem, Cyberjaya needs to attract investors and entrepreneurs if it is to advance into a global tech hub. Fortunately, Cyberview has a track record of forging strategic alliances in developing the city. Najib Ibrahim believes that collaborations with the right partners will benefit the existing community and attract new talent to build their innovations in the city.
"A goal as big as ours is not achievable by one party. It is definitely a collaborative effort to reach our aspirations. Cyberview has always been open to strategic collaborations with the right partners and we want to continue to do so. Local and international companies that set up a base in Cyberjaya will eventually contribute to economic growth by driving foreign direct investments and domestic direct investments into the country. Furthermore, their presence will ultimately enhance the existing vibrant ecosystem in Cyberjaya."
Incredible talent is the critical element in the development of new technology and innovations. A shortage of qualified tech works is often the biggest concern of corporate leaders across all industries. To create a suitable talent pool, Cyberview has established strong ties with academic institutions while launching initiatives such as a living lab to support the growth of local talent in the city (see box story).
"Cyberjaya nurtures high-value and knowledge-based workers in line with the government's commitment of driving Industrial Revolution 4.0 (IR4.0) across industries. I would like the population living here to be high-value, skilled and knowledge-based workers. This can be achieved through strategic collaborations with our partners and stakeholders. This is a successful strategy as it has resulted in a healthy synergy between multinational companies and start-ups in the city. We are seeing more companies entering Cyberjaya that can help in realising the city's move towards becoming a smart city while transforming local communities," says Najib Ibrahim.
He believes the future is a world shaped by technology and efforts taken by Cyberview to further develop Cyberjaya is important in enabling the country's tech companies to thrive. "We are living in a changed world, a 'new normal' as it's called, but the dust will settle. At Cyberview, we always encourage start-ups and businesses to be agile and flexible in order to remain relevant. There are many opportunities, especially in today's fast-changing world. This is the time for businesses to improve their products and services while continuing to serve their existing customers well."
"We must keep our focus on the future. What we are doing today is really about prepping the grounds for tech businesses to thrive in years to come. Cyberjaya, which already boasts a sound tech ecosystem, is clearly the best location for tech businesses and investments in technology," adds Najib Ibrahim.
Cyberview's key milestones
Cyberjaya, which started off as agricultural land about 23 years ago, is now known as Malaysia's capital of creation. This city's development was spearheaded by government-owned Cyberview Sdn Bhd, which has also progressed and developed along with the city. Now, Cyberview is tasked with a new masterplan aimed at advancing Cyberjaya into a global tech hub.
According to Najib Ibrahim, managing director of Cyberview, this is a feasible aspiration and made possible by a solid foundation established over the years. Milestones achieved by Cyberview during this period include:
Building a living lab for tech innovations
Cyberjaya offers a living lab where inventors and creators can pilot and validate their innovations. "As the capital of creation, Cyberjaya offers real-life settings for proof-of-concept testing throughout the city. About 20% of Cyberjaya's total population are among the early tech adopters. By setting up operations here, tech companies can leverage and maximise on the offerings of the city as a testbed for their innovations before embarking on commercialisation," says Najib Ibrahim.
In 2013, Cyberview launched the Cyberview Living Lab Accelerator (CLLA) programme, which provides start-ups with resources, facilities, mentorship as well as networking and go-to-market strategies. Selected start-ups are stationed at CoInnov8, a smart city collaborative space provided by Cyberview at its headquarters. "To date, the Living Lab Accelerator programme has helped start-ups raise over RM87 million in total investments and generate more than RM218 million in total revenue. It has also created more than 552 jobs," says Najib Ibrahim.
Establishing the country's first 5G OpenLab
Cyberview, in collaboration with Digi Telecommunications Sdn Bhd (Digi), established the nation's first 5G OpenLab in October 2019. This lab, located at RekaScape in Cyberjaya, is used by creators and innovators to develop and test their solutions on a 5G network. "The OpenLab is used by tech industry players, universities and companies to test their 5G-enabled products. To date, there are 21 cases in this lab consisting of innovations for smart city services as well as for smart mobility, smart healthcare and digital creative tech clusters. This lab is also being used by Universiti Putra Malaysia for smart education use-cases such as a virtual reality learning space and augmented reality avatars," says Najib Ibrahim.
Cyberjaya Investment & Services Centre
The Cyberjaya Investment & Services Centre, launched in March, provides end-to-end assistance and facilitation for investors and businesses that want to establish operations in the city. Services offered include facilitating market and ecosystem-related matters, talent sourcing, assisting in processes relating to expatriate workers as well as securing available land or buildings in Cyberjaya. This centre also serves as a city services and cybercity manager and facilitates enquiries regarding the township and its community.
Click / Tap image to enlarge