The idea of a home has rapidly changed in recent years, with many homebuyers placing more importance on larger spaces, recreational facilities, and convenience right at their doorsteps.
However, the space offered by landed homes and the convenience and facilities of high-rise residentials do not always co-exist. But what if you could get the best of both worlds right here at the gated and guarded precinct of Elmina Grove in the City of Elmina?
Presenting to you the Ilham Residence 2, the new chic double-storey linked homes with built-ups of 1,668 sq ft onwards, 22 unique facilities within your neighbourhood, and multi-tiered security benefits similar to those provided at high-rise residentials.
Ilham Residence 2 comprises 277 units of double-storey link homes
With its upcoming preview in mid-December, Ilham Residence 2 will offer new and aspiring homeowners four practical layouts to choose from, with lot sizes ranging from 20ft by 60ft to 24ft by 65ft. Occupying 20 acres of freehold land with only 277 units available to purchase, this stratified residential development combines the comfort of a landed-home lifestyle with the added convenience of high-rise living.
For newlyweds and young starter families who appreciate minimalist and tasteful living, the Type A home with a 1,668 sq ft built-up, three bedrooms and three bathrooms is the perfect choice. One of its special features is its wide lifestyle kitchen, which is designed to look out into beautifully landscaped back lane gardens. These homes also feature three comfortably sized bedrooms and a family area on the first floor, suitable to nurture growing families.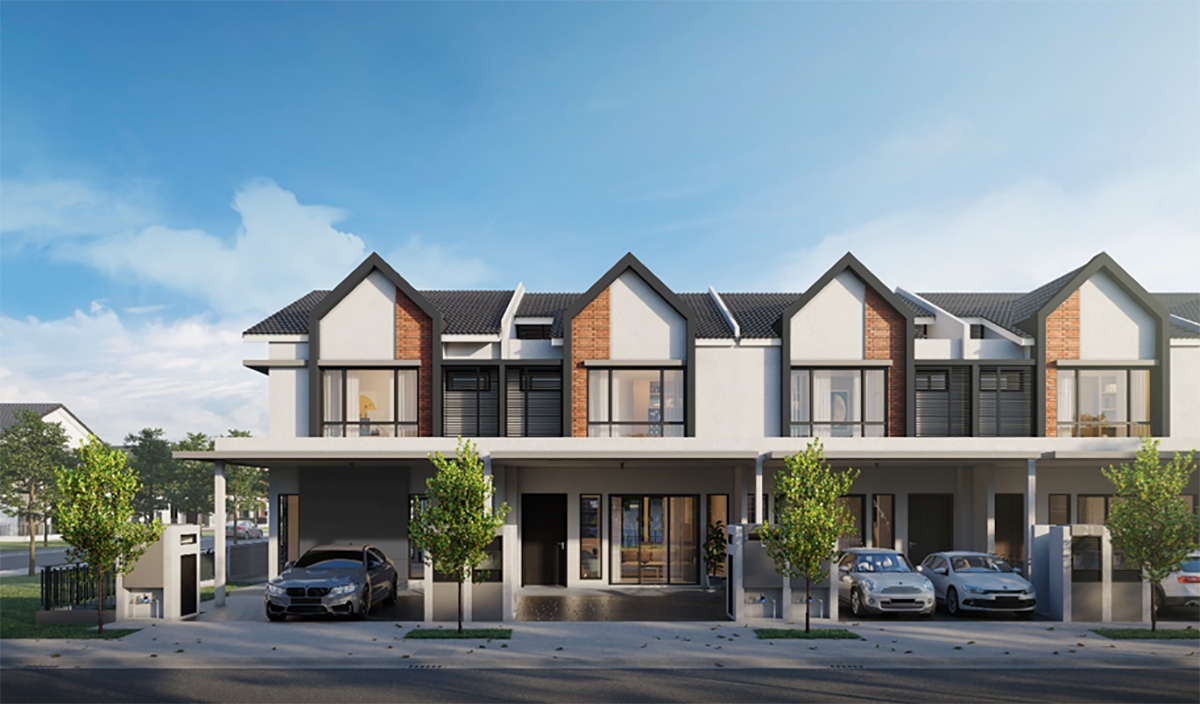 The 1,668 sq ft Type A home is the perfect choice for newlyweds and young starter families
The Type B unit, which is 1,718 sq ft in size, features a 4-bedroom, 3-bathroom layout that is sure to be loved by growing families. The additional bedroom on the ground floor can be converted into a home office, a bedroom for the elderly or even a playroom for young children.
Designed for larger families is the Type C home, which has a generous built-up of 2,091 sq ft and comes with four bedrooms and four en-suite bathrooms as well as a 22ft-wide frontage and a spacious master bedroom.
The most exclusive units in Ilham Residence 2 are the Type D homes, with four bedrooms, four en-suite bathrooms and an ultra-spacious built-up of 2,468 sq ft. These 24ft-wide end lots feature an additional utility room and a 6ft side garden, ideal for multigenerational families who love to spend time outdoors.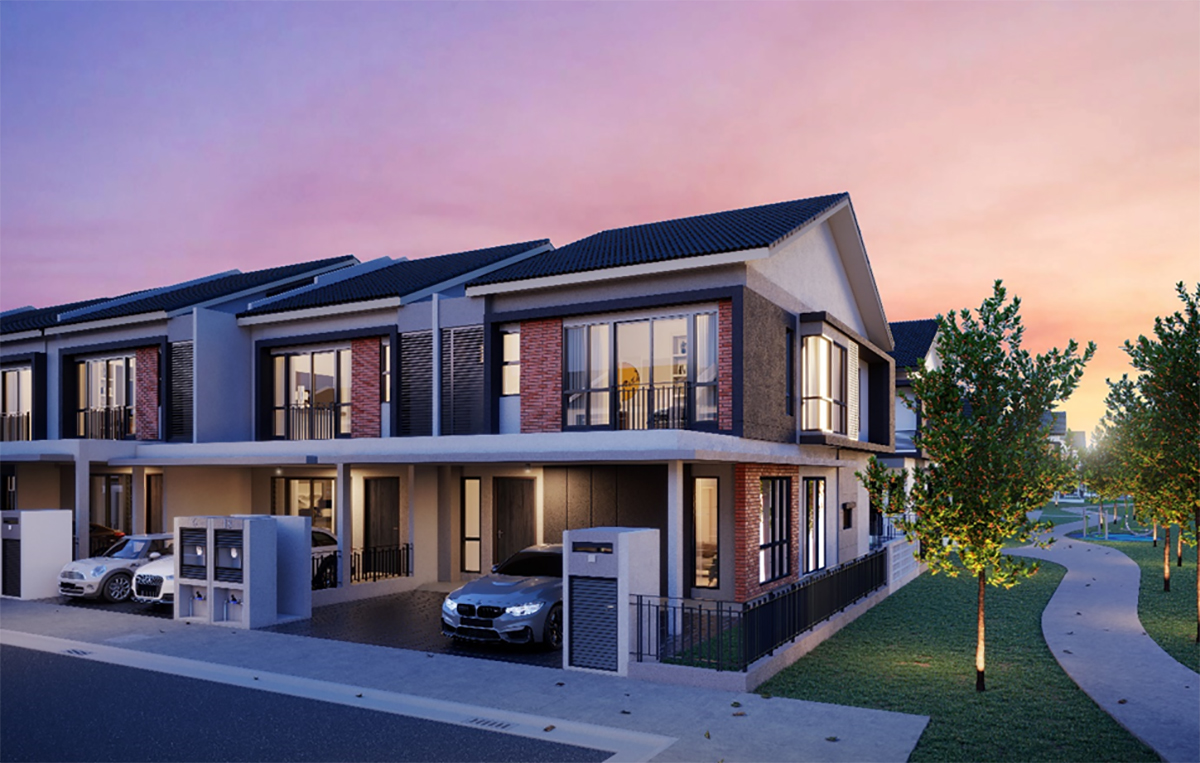 The most exclusive Type D home has an ultra-spacious built-up of 2,468 sq ft
Homes at Ilham Residence 2 will be provided with solar panels and smart meters - a green feature that would help homeowners save the environment as well as their electricity bills. Each unit will also come with quality fittings, which are the hallmarks of products in the City of Elmina, including built-in air-conditioning piping, full timber flooring on the first floor, branded sanitary ware and stone wool roof insulation for indoor temperature regulation.
22 curated amenities and a close-knit community
Apart from the carefully thought-out homes, residents of Ilham Residence 2 will get to enjoy a wide range of amenities such as an inclusive playhouse and slides for children of all abilities, a gigantic snakes and ladders board game for endless family fun, a playground for toddlers, hammocks and relaxation swings, a half basketball court, a barbecue pavilion and a glamping corner in the safe confines of the neighbourhood.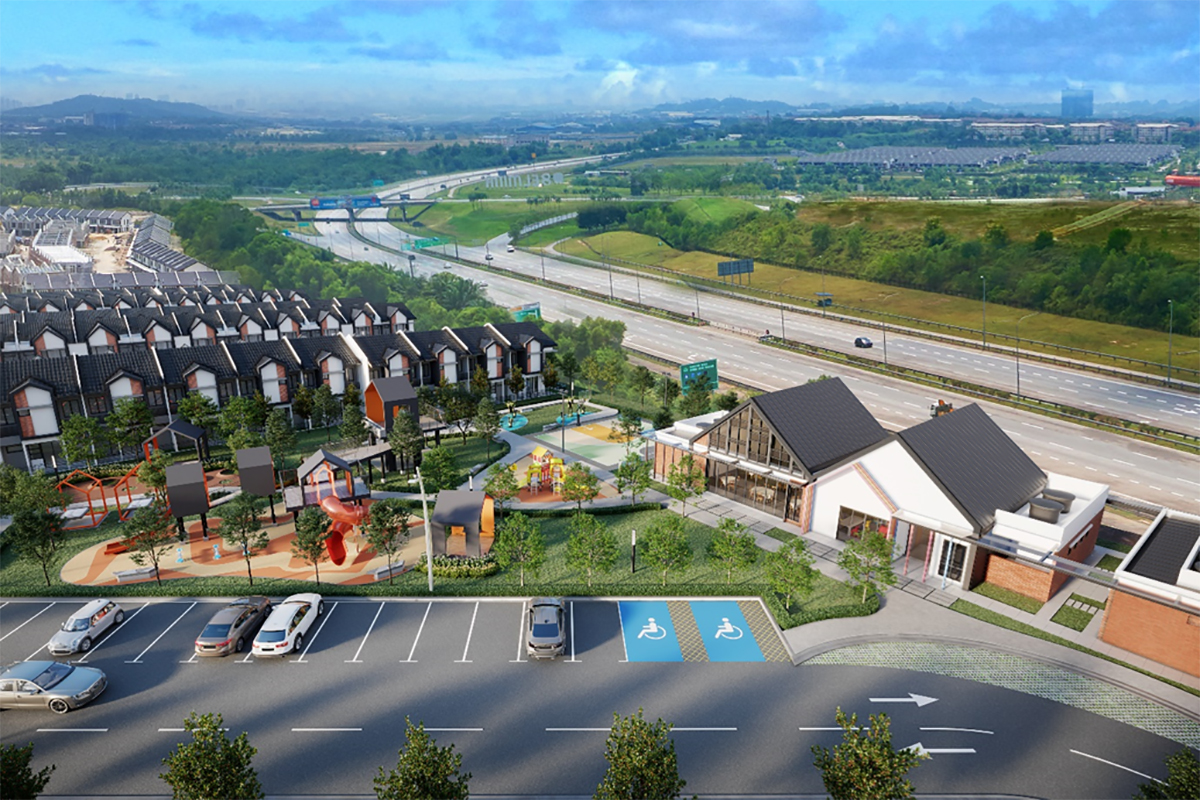 Residents will have access to a wide range of amenities within the development, including the Central Park
Also available for the convenience of the community will be dedicated spaces for a multipurpose hall, kindergarten, surau and visitors' parking space at the Central Park.
The back lanes at Ilham Residence 2 will feature lush landscaping and 1.3km of interconnected jogging paths, designed to promote close-knit relationships among neighbours while revitalising the function and aesthetics of the oft-underutilised space.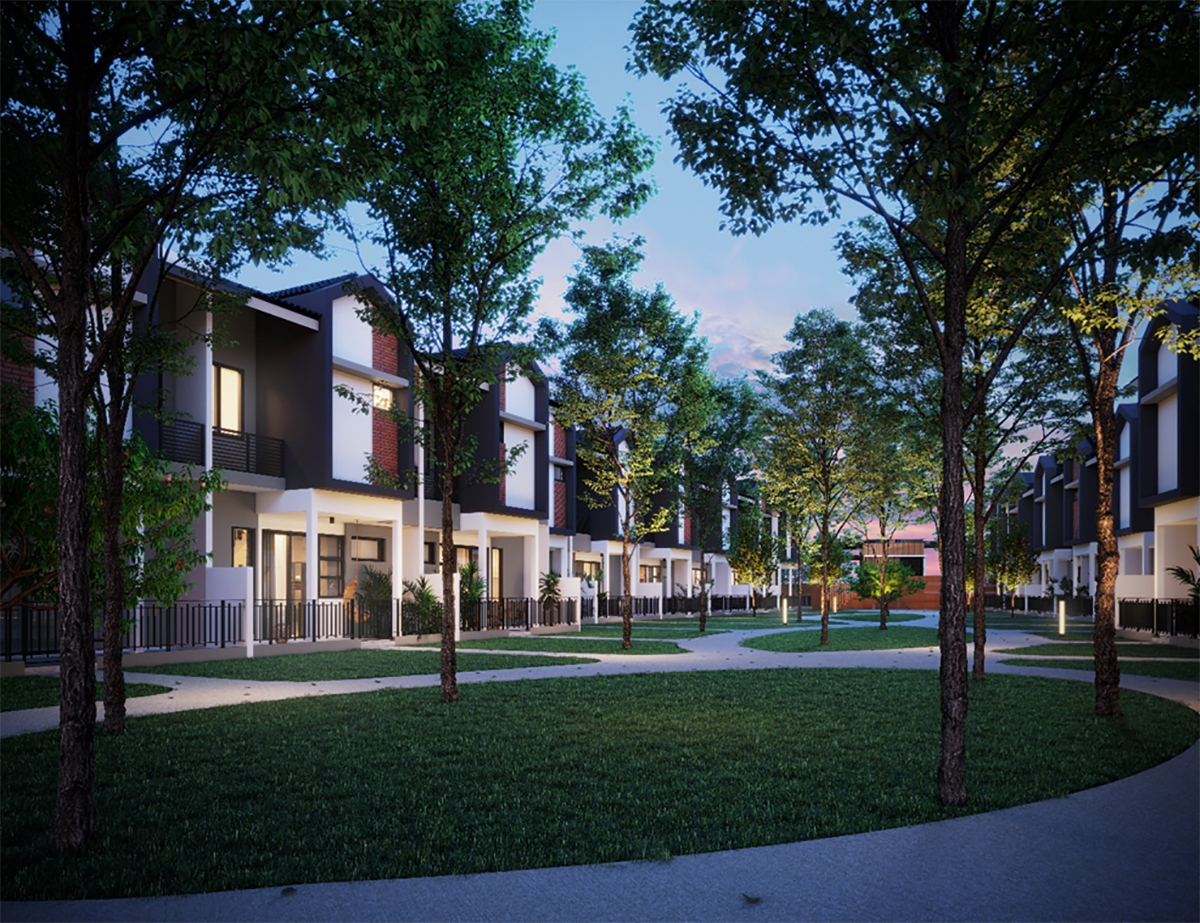 The back lanes at Ilham Residence 2 will feature lush landscaping and 1.3km of interconnected jogging paths
Ilham Residence 2 will also boast multi-tiered security features, including RFID access for residents, CCTV surveillance at both the entry and exit points, security patrols, an online visitor management system and secured perimeter fencing around the neighbourhood.
A convenient and wellness-centric lifestyle
Ilham Residence 2 is just a stone's throw from the various lifestyle amenities within the City of Elmina. The residential area is located 250m from the first Clubhouse in the City of Elmina and 1.5km from the Temu Commercial Centre, which means residents will have easy access to recreational amenities, many dining options and convenience shops.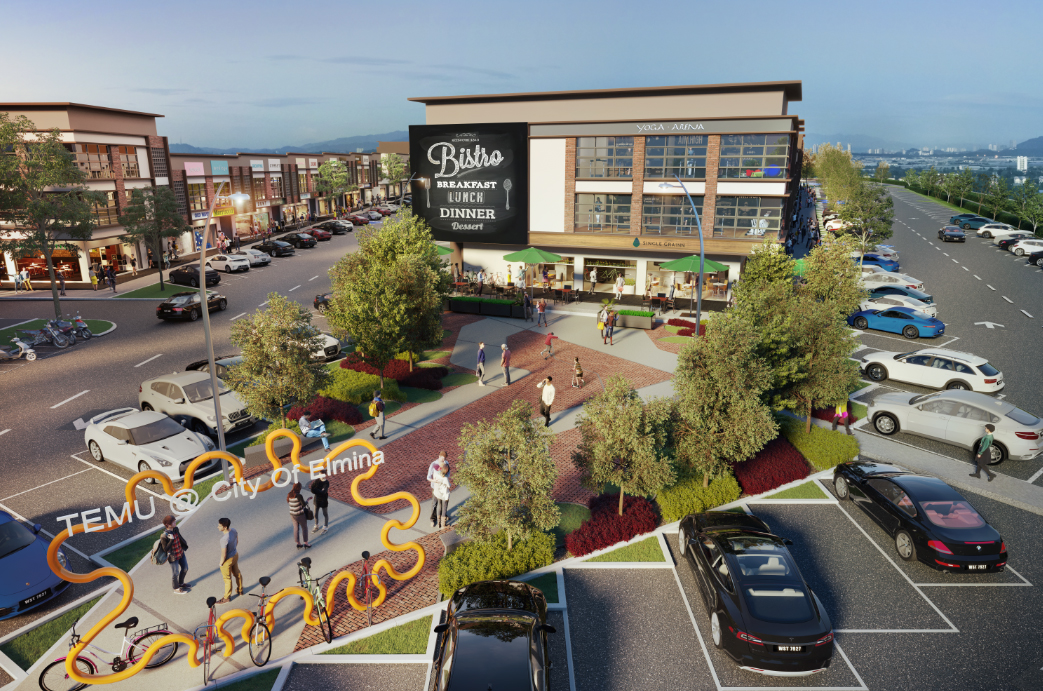 Residents will also enjoy easy access to the Temu Commercial Centre 1.5km away, which offers recreational, retail and dining options
The homes are also located 800m from the lush Elmina Twin Lakes Park, and a short drive will take residents to the 300-acre Elmina Central Park as well as the upcoming lifestyle mall that is geared to become the new commercial heartbeat of the township.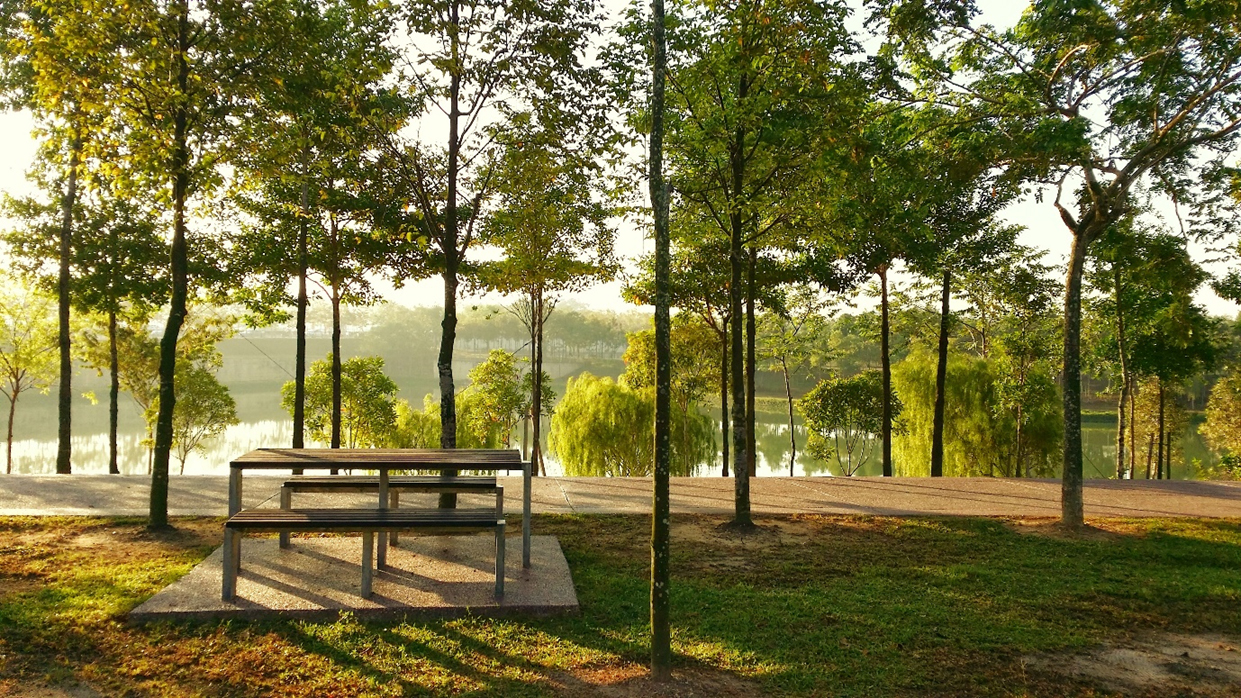 Ilham Residence 2 is only a short 800m from the scenic and serene Elmina Twin Lakes Park (Photo credit: TI SHU HERNG)
As for connectivity, the City of Elmina is easily accessible via the Guthrie Corridor Expressway, LATAR Expressway and New Klang Valley Expressway, and is linked to the upcoming DASH, or Damansara-Shah Alam Elevated Expressway. Located just 10km from the airport in Subang and 20km from Petaling Jaya, the City of Elmina is an Insta-worthy hotspot, popularised by its colourful and vibrant hardscapes as well as beautiful, lush parkscapes. The 6,500-acre megacity has a development plan that spans until 2040 and is set to be the preferred residential destination for millennials and Gen Z.
Visit https://simedarbyproperty.com/city-of-elmina/ilham-residence-2 for more information on Ilham Residence 2, or call (603) 7831 2253