Graduates' Choice Award (GCA) - Malaysia's most authoritative graduate employer branding award has announced the nation's Most Preferred Graduate Employers to Work for in 2022. Employers are given recognition for their dedication and efforts in enhancing their employer branding in public and private universities across Malaysia.
GCA 2022 saw over 23,000 Malaysian undergraduates from more than 100 private and public universities nationwide voting. This represents the largest consensus of young Malaysian voices, accurately capturing their future employment preferences and attributes from a variety of aspects - including the most preferred employer.
The results of the GCA 2022 are set to be a vital guide and tool for the millions of Malaysian fresh graduates as they venture out into the workforce in search of their ideal job.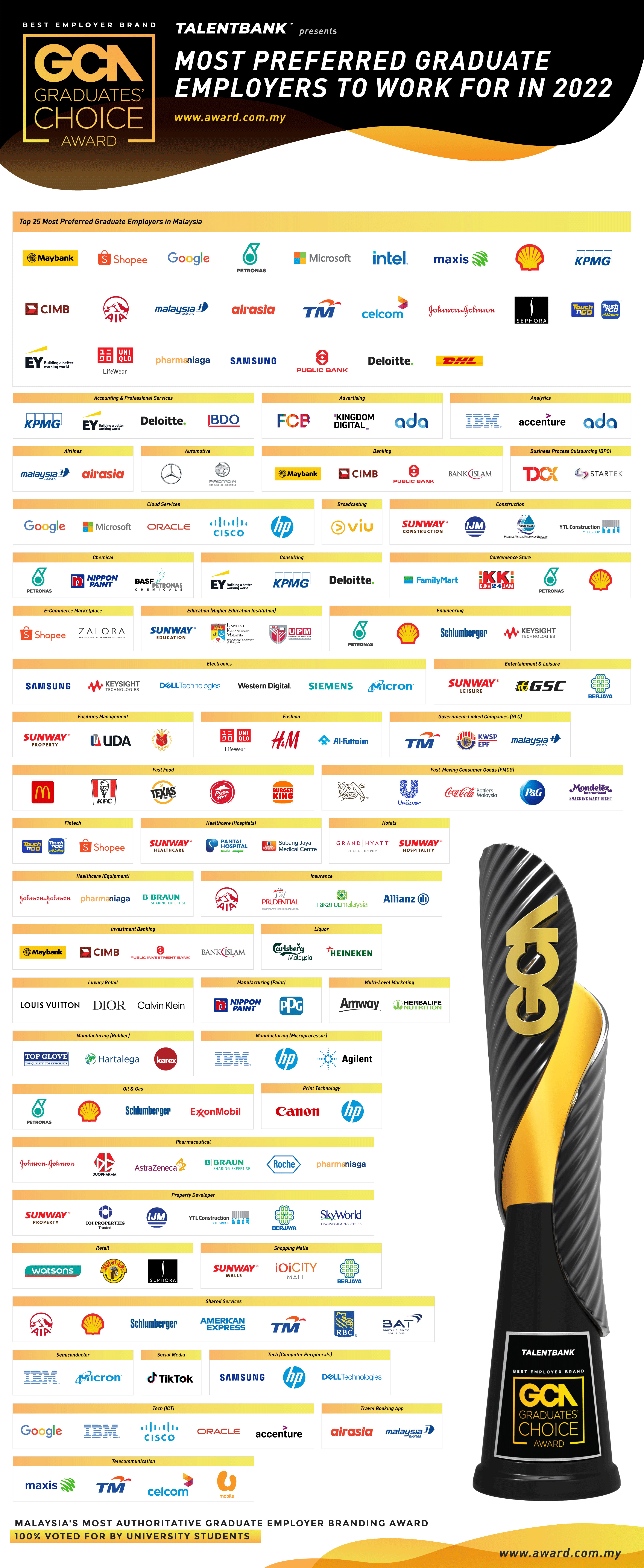 Commenting on the findings, Ben Ho, founder of Talentbank - organisers of GCA said, "For the fourth year running, through the Graduates' Choice Award, Malaysian university students have made their voices heard, weighing in on some of the most crucial criteria when it comes to finding the right organisation and job for them. Through our comprehensive and wide-reaching poll, we are able to gain invaluable insights into what undergraduates are looking for in terms of jobs helping others make wiser employment decisions too."
This year also saw the number of overall winners increase from just 10 to 25, a testament to the growing list of influential and preferred employers amongst Malaysian undergraduates.
GCA 2022 recognizes 48 distinctive industries, amongst the voted industries are Accounting and Professional Services, Automotive, E-Commerce, Electronics, Fast-Moving Consumer Goods, Government-linked Companies, Pharmaceutical, Retail, Telecommunications, and many others.
Some of the new categories introduced in GCA 2022 include customer relations services, which are Convenience Store, Luxury Retail, and Travel Booking App. With digitalization being the forefront of day-to-day operations, categories like Fintech, Investment Banking and Print Technology were also introduced in GCA 2022. Among other new categories introduced are Advertising, Analytics, Broadcasting, Construction, as well as Social Media.
Two categories in previous year's GCA were divided into specified categories for GCA 2022. With tech being an open space with new exploration and innovation, the Tech category is expanded to specify Computer Peripherals and ICT. Additionally, the Manufacturing category is expanded to specify Microprocessor, Paint and Rubber to further define the industries into its specialties.
Beyond specific organisations, GCA 2022 also showcased other important employment preferences that would shape their decision-making process. Some of the key considerations included good bosses and leaders, salary and bonuses as well as career development opportunities.
Other key attributes and preferences that were highlighted in the GCA 2022 results included learning and development opportunities, company culture, flexible working hours, work-life balance, job security, and the ability to contribute back to society.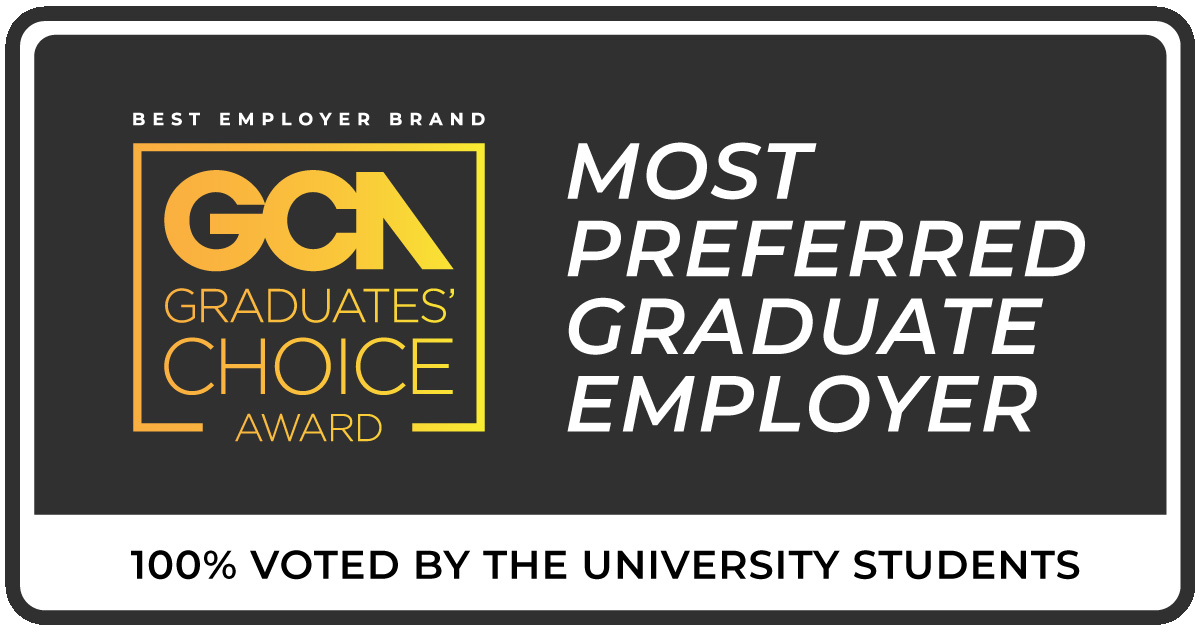 A symbol of excellence and recognition, the GCA emblem is designed to embody the hallmark of excellence portrayed by organizations across the industries
GCA 2022 also shined a spotlight on particularly trending and preferred industries with the aim of guiding fresh graduates towards industries that would best reward them upon entry into the job market.
Amongst the most preferred industries for employment were e-commerce marketplaces, telecommunications, accounting, tech and banking ranking amongst the top five.
"Today's job market is more sprawling and elaborate than ever before. There are thousands of companies across hundreds of different industries for fresh graduates to sieve through when finding the right job for them. It is for this very reason that we created GCA, to stand out as a singular and consolidated voice and guide for Malaysian university students when it comes to planning their future careers. With the GCA, fresh graduates will be able to make more informed decisions on their industry of choice, specific target organisations, expected salaries and more," added Ben.
Launched in 2018, GCA has cumulatively reached out to over 85,000 graduates and recognised more than 200 large organisations. 100% of the results were determined by the votes of university students nationwide. GCA has been vital in providing actionable intelligence for the nation's leading campus recruiters. Beyond this, GCA has proven to be equally important at guiding young graduates to make better employment decisions and connecting them to the country's top employers.
GCA is organised by Talentbank, an award-winning career discovery ecosystem focused on producing career-ready candidates and helping them with better careers, by connecting them with industry leaders that welcome prime talent.
Ben Ho, Founder of Talentbank said, "Over the past four years, GCA has solidified itself as the hallmark of excellence for organisations nationwide. Making it the voice of the next crop of potential employees, GCA has cemented its status as Malaysia's most authoritative graduate employer branding award."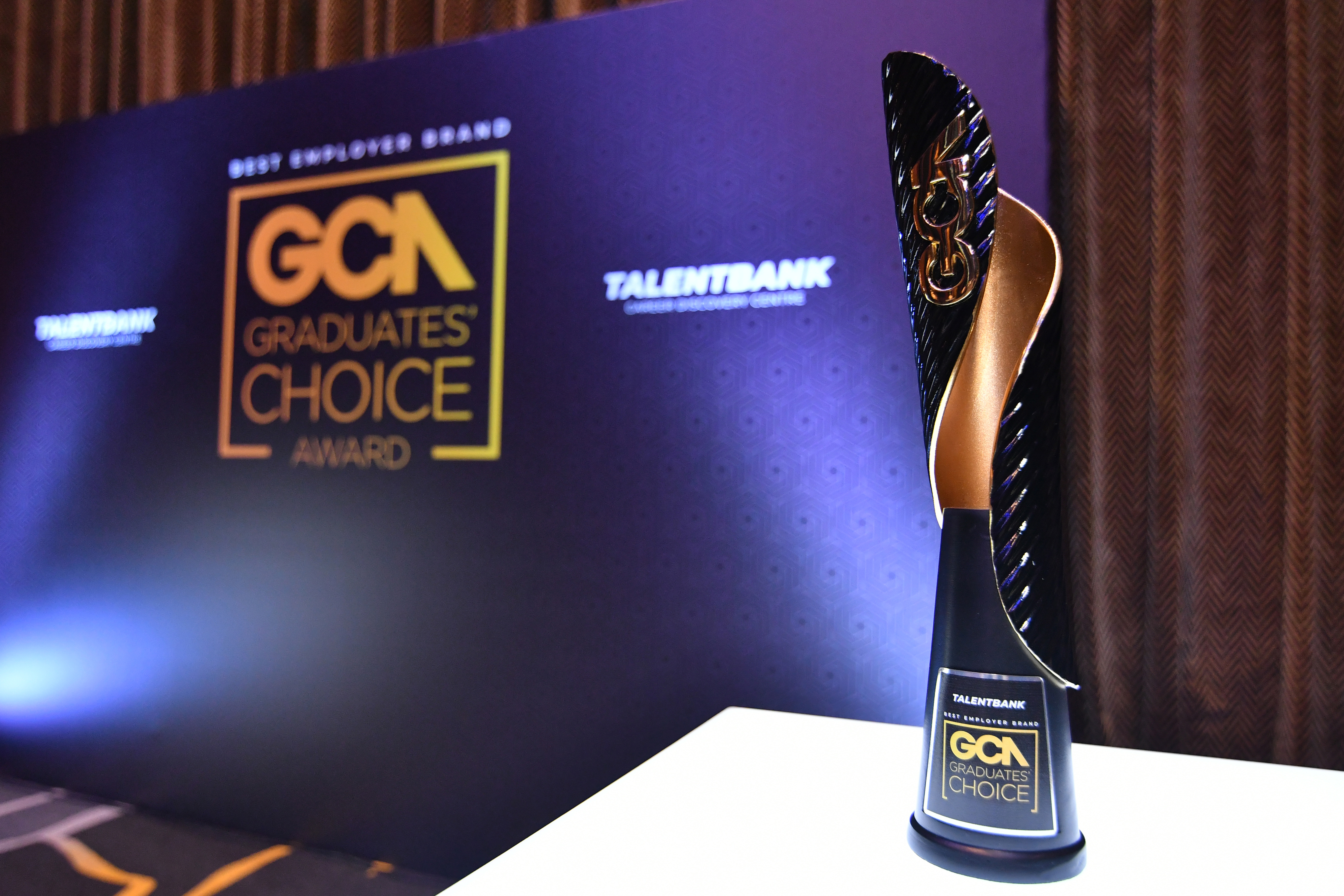 Handcrafted with the use of pewter and 24K gold, the GCA trophy is designed to resemble a scroll - a symbol of courage, knowledge, and wisdom.
After a four year track record of excellence in highlighting the wants and needs of the latest generation of Malaysian graduates, the fifth edition of GCA is already underway. Voting for GCA 2023 is now open until 30th June 2022.
"If you are a Malaysian university student, this is your chance to voice your opinion and have it mean something to your peers. Your votes for the 2023 Most Preferred Graduate Employer to Work for and other criteria will guide millions of others in their search for the ideal job," Ben added.
All Malaysian undergraduates and graduates are eligible to vote for GCA 2023 and can do so by simply visiting www.graduatechoiceaward.com/vote/.
Participating voters will stand a chance to win prizes such as Apple 13" Macbook Pro, HP Spectre x360 Laptop, Samsung Galaxy Note 20 or Apple iPhone 13.
For more information on GCA and this year's Most Preferred Graduate Employers to Work for visit: www.graduatechoiceaward.com. For additional information on Talentbank visit: www.talentbankgroup.com or www.jobsbank.com.my.