Air travel nowadays could be quite stressful, as there are so many security checkpoints that one has to go through. Often a passenger has to arrive at the airport at least two hours before departure and pray that the queues go smoothly.
Now imagine an airport walkthrough that only takes about half an hour from the departure hall to the boarding gate. A smooth walkthrough, that doesn't require you to show proof of identifications at every single security checkpoint.
Together with the world's leading air travel IT and technology company SITA, Malaysia Airports Holdings Bhd (MAHB) will introduce the 'single token' journey at its airports, starting with the KL International Airport (KLIA) as part of its Airports 4.0 digital transformation initiative. The Airports 4.0 initiative strives to promote the characteristics of a smart airport that uses "single token" and big data analytics to provide a seamless passenger experience.
According to the International Civil Aviation Organisation (ICAO), a single token is a mean by which a passenger can repeatedly identify him or herself in a uniform manner throughout the steps of the airport process using his face.
Upon registration of his or her travel document, boarding pass and facial biometrics into the system, the data will be digitalized and tokenized for the passenger. This way, the passenger can be identified at every touchpoint within the terminal.
Sounds good, but why is MAHB doing this?
"I think for the passengers, the benefit is that it will be more convenient for them and it will help speed up their journey through the airport. It is about the convenience for the passengers, above all," says Lee Yiang Ming, senior general manager, information technology of MAHB.
"If you look at some of the manual processes that we have, especially during high peak times, it takes a bit of time to clear. So, with this technology they are able to register not only in the airport but also potentially through the smartphone application that we will enhance later on," says Lee.
This means that in the near future, passengers at KLIA will be able to start their journey even before they get to the airport, by registering their facial identification through the MYAirports App, which will be enhanced soon.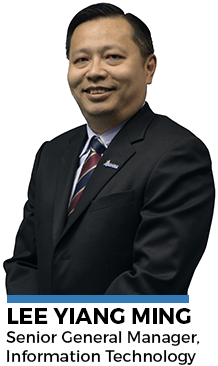 To kickstart the process of implementing the single token journey, MAHB is partnering with national carrier Malaysia Airlines Bhd for live trials. Passengers of Malaysia Airlines' flights to Tokyo Narita International Airport and Osaka Kansai International Airport will be the first to try the technology.
The pilot run, which will start in November, is expected to run between three to six months. From there, MAHB will detect all the pain points and challenges faced by the passengers.
So how will the single token at KLIA work?
"This is how we envision the single token journey will be - a passenger comes into the terminal, registers him or herself one time and gets a single token ID (facial biometrics). Then from there – the passengers have already checked in via online – they go to drop their luggage.
"Rather than the traditional way of luggage drop or even using scanners, we can use their face to verify their identity as they have already registered for the single token ID. Then they can walk through the first security checkpoint without having to show their passports and boarding pass," says Lee.
After clearing the immigration and second security checks, the passenger, who has now arrived at the duty free shopping area, can also make purchases without showing his or her passport and boarding pass to the cashier, as their facial ID will be scanned instead.
"So, with the three information already tokenized inside our system, you can literally pass through the airport without us asking you for more documents to identify yourself. So, I think from a passenger' standpoint, it is just a much smoother journey," says Lee.
While this sounds like futuristic technology, it has actually been around for quite some time. The first airport to have adopted the single token technology is the Queen Beatrix International Airport in Aruba, since 2015.
In Asia, the newly opened Beijing Daxing International Airport will also feature single token system, while Singapore Changi Airport's Terminal 4 is a 100% biometrics-based terminal.
"In general, the idea is that every touch point the passenger is doing today manually, we are trying to replace it with automation. We hope that within three to six months we will get successful results from the pilot test and if it is successful, we will attempt to launch it for all the other flights," says Lee.