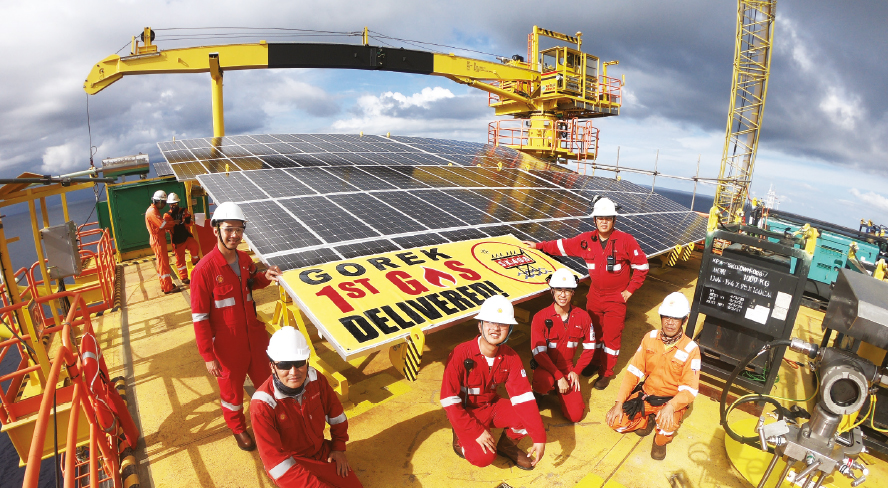 Less than a year into his new role, Shell Malaysia chairman Ivan Tan has set his sights firmly on steering the oil and gas company on a transformational journey to become a net zero emissions energy business.
Stressing that Shell plays a significant role in meeting the energy needs of the world today, Tan highlights that the company actively works to reduce emissions from its own operations while supplying energy and products to power lives, businesses and homes.
In expediting its efforts to provide cleaner energy solutions, Shell has introduced Powering Progress as its strategy to accelerate the transition of its business to net zero emissions, he points out. Through Powering Progress, the company aims to be a net zero emissions energy business by 2050, in step with society's progress towards achieving the goal of the Paris Agreement.
"Shell's climate target includes carbon dioxide (CO) emissions from the end use of all the energy products we sell, our Scope 3 emissions, which account for over 90% of our total emissions. This means that to achieve net zero emissions, Shell must sell a lower carbon energy mix over time by offering customers more low-carbon products, which include low-carbon power from renewables, EV charging for electric vehicles and lower-carbon fuels," says Tan.
In addition, where it is not possible to avoid emissions, such as in heavy manufacturing and the transport of heavy goods, the emissions will need to be captured using technology or offset through nature.
"We are working with the government and our partners and customers to develop more sustainable energy solutions in the form of low-carbon power and fuels, carbon capture and storage (CCS) technology, circularity in our economy and forest conservation projects in Malaysia and the region," he says.
"We serve 10 million customers a week at our retail sites across the country and we need to ensure that our existing businesses are the best that they can be, in terms of reliability and competitiveness.
"We are also privileged to have the best talent in the industry, and we want to inspire a safe and inclusive environment where our teams can bring the best of themselves to work every day and be motivated to work together to power progress for our nation and society."
With a presence of more than 130 years in the country, Shell Malaysia has grown tremendously and has played a significant role in developing the local oil and gas industry — making the country's first oil discovery, developing the first refinery and building the world's first commercial gas-to-liquids (GTL) plant in Sarawak.
"Just as we have been a partner in Malaysia's progress through the development of the country's hydrocarbon resources, Shell will continue to partner the nation in the transition to a net zero energy future," says Tan.
Promoting the sustainability agenda
Tan acknowledges that the energy transition poses both a challenge and an opportunity to the company and it is working together with the government, its customers and partners as well as wider society to achieve real and meaningful change in the energy system.
One of the initiatives undertaken by Shell Malaysia is "The Tree, The Sky, The Sun", where it worked closely with the Malaysian Green Technology and Climate Change Centre to develop a possible carbon-neutral pathway for the country.
According to Tan, various consultations were conducted with government stakeholders and policymakers, industry leaders, academics and non-governmental organisations (NGOs) to understand the country's needs, priorities and ambitions, and to identify the key levers that will have the greatest influence on its carbon-neutral journey.
"The result of our modelling and consultation work was a pathway that describes Malaysia's journey to becoming carbon neutral. The five critical levers our work identified were energy efficiency; electrification; renewables, especially solar energy; reforestation; and carbon pricing," he says.
"Other, more aggressive, pathways are possible and depend on societal and policy preferences, but we believe these key levers will feature in any credible pathway. It is great to see the government's recent commitment to becoming carbon neutral as early as 2050."
"The Tree, The Sky, The Sun" was launched with the support of Environment and Water Minister Datuk Seri Tuan Ibrahim Tuan Man, and in collaboration with the Embassy of the Kingdom of the Netherlands, the Malaysian Dutch Business Council, the CEO Action Network and Climate Governance Malaysia.
On the CCS front, Shell Malaysia Upstream recently signed a Joint Study and Collaboration Agreement (JSCA) with Petronas to jointly explore suitable CO storage locations off Sarawak. This collaboration aims to help both parties build sustainable and resilient portfolios by supporting the decarbonisation of Malaysia's upstream industry while identifying potential CO storage solutions for other local and regional industries.
Tan highlights that Shell Malaysia has also worked with parties such as Cleantech Solar and Porsche to drive its decarbonisation initiatives. "Shell is working with Cleantech Solar to install solar panels at our retail stations in Malaysia. So far, over 21,000 solar photovoltaic (PV) panels with a total capacity of more than 9.5mwp have been installed on the roofs of over 200 stations as part of the company's commitment to running a safe, efficient, responsible and profitable business," he adds.
"We have also entered into a partnership with Porsche for the implementation of Southeast Asia's first cross-border high performance charging (HPC) network, with 12 charge points at 6 Shell stations strategically located along Malaysia's North-South Expressway, offering EV drivers the possibility of smooth and convenient travel between Singapore, Kuala Lumpur and Penang."
The partnership with Porsche, says Tan, will drive the future of electric mobility in Southeast Asia by also spearheading connectivity between Singapore, Malaysia and Thailand.
"Apart from all these, our GTL plant in Bintulu, Shell Middle Distillate Synthesis, has recently started to offer carbon-neutral GTL fuel to the Japanese market by bundling nature-based carbon offset credits together with the GTL fuel, such that carbon emissions generated by the use of the product are compensated by equivalent amounts of carbon removal through nature. In addition, the GTL business in Malaysia is keen to explore potential opportunities in developing viable pathways for clean hydrogen production capabilities, through a memorandum of understanding signed with Sarawak Energy Bhd."
On its operations, Tan says its Shell Business Operations (SBO) in Cyberjaya, which employs 2,000 employees, currently runs on 100% green energy, is equipped with facilities such as rainwater harvesting, and has zero food waste and recycling programmes.
First fully solar-powered wellhead platform
On its Timi gas field project, Tan points out that it is not Shell Malaysia's first foray into powering its offshore operations with renewable energy. The company had installed its first fully solar-powered wellhead platform at the Gorek field off Sarawak.
"The Timi development features Shell's first wellhead platform in Malaysia that is powered by a solar and wind hybrid renewable power system. It demonstrates the company's capabilities in innovating and delivering safe, reliable and sustainable projects, in line with our commitment to achieving net zero emissions by 2050, in step with society," he says.
"Malaysia is one of nine core positions for Shell Upstream, and we aim to pursue similar competitive and carbon-resilient upstream investments such as Timi, which will help contribute to the nation's economic growth and carbon neutral agenda. Timi, like many of our projects such as Gumusut Kakap and Malikai, will be built in Malaysia and will draw from extensive local oil and gas capabilities."
Demand for oil and gas is here to stay
Despite shifting its business strategy to embark on cleaner energy, Tan acknowledges that the demand for oil and gas is expected to remain for decades to come. "Natural gas helps to deal with the problem of intermittency that is inherent with the use of renewable energy — when the sun is behind cloud cover, at night, or when there is no wind," he points out.
"Second, electricity generated from renewable energy sources can power many parts of the economy, such as the manufacture of clothes and food, which requires lower-temperature processes and mechanical activities.
"However, for industries that produce iron, steel, cement, plastics and chemicals and long-distance heavy goods transport, including shipping, aviation and road freight, we will still require oil and gas to provide extremely high temperatures in the manufacturing process, for the chemical reactions and higher energy storage density."
Today, it remains technically difficult or cost prohibitive to decarbonise these sectors, Tan notes, adding that renewable solutions will take time to scale and the world will continue to need oil and gas in the meantime. "We must recognise that we need energy to be affordable and equitable so that everyone can enjoy a good quality of life.
"But we must also ensure that our business is conducted responsibly by continuously lowering our emissions. We are doing this by improving methane intensity, eliminating venting and routine flaring, using renewable power and developing CCS technology to safely lock away CO underground."
RM8.6 mil contribution for fight against Covid-19 and flood relief efforts
Meanwhile, Shell Malaysia is at the forefront of helping vulnerable communities impacted by the Covid-19 outbreak. The company has donated about RM8.6 million for initiatives to assist those affected by the pandemic.
The money allocated went towards the setting up of field hospitals, the purchase of healthcare equipment and the running of mobile vaccination programmes. "Last year, Shell Malaysia contributed about RM4.2 million (US$1 million) to the Malaysian Red Crescent Society and Mercy Malaysia as part of the company's Disaster Relief Donation Plan," says Tan.
He notes that Shell Malaysia has supported national efforts in accelerating vaccination/immunisation programmes through various measures. "We are deploying mobile vaccination campaigns for vulnerable and at-risk populations, as well as other groups that reside in rural areas.
"We also mobilise volunteer teams to conduct door-to-door vaccinations, focusing on the bedridden, disabled and sick, who are unable to go to designated centres for their vaccine shots."
In the light of the recent flooding in the country, Shell Malaysia is working with Mercy Malaysia to provide aid to the communities that were badly affected by the disaster.
"As an initial and immediate action, Shell Malaysia has contributed RM100,000 to Mercy Malaysia to support the NGO's efforts in helping impacted communities. We are also distributing essential items such as food and bottled water to victims in affected areas, through our retail station network," says Tan.
Shell Malaysia enriches people's lives via Shell NXplorers and LiveWIRE programmes
On the community development front, Shell Malaysia has developed a programme that encourages science, technology, engineering and mathematics (STEM) education, called Shell NXplorers, which encourages students to look at things differently, see opportunities and build sustainable solutions to global issues. Since its inception in 2017, the programme has benefitted more than 20,000 secondary school students and over 800 tertiary students nationwide.
"We are proud to share that our students in Malaysia have the capacity to think of sustainable solutions. For example, we had students from SMK Lutong in Sarawak develop a solution to cool down the high temperature in homes to make studying more conducive," says Tan.
Meanwhile, Shell Malaysia seeks to support and develop Malaysian entrepreneurs via its Shell LiveWIRE programme. Following a series of workshops and a selection process, the winners undergo a nine-month business start-up facilitation and receive post-start-up support from the programme's partners, says the oil and gas company.
"Since 2015, Shell LiveWIRE has trained 750 entrepreneurs, created 199 employment opportunities and even managed to connect 20 businesses directly with the Shell Malaysia supply chain," says Tan.
"We want to support entrepreneurs in their ambitions and turn their entrepreneurial dreams into a reality. In turn, this will enable the small businesses to grow and create more employment opportunities in the larger communities."