An e-commerce platform with a difference, TikTok Shop is making online shopping fun through its unique content and discovery system. Powered by TikTok's signature videos and live streams, the social network has transformed e-commerce by making shopping community-driven, relevant and engaging.
Bringing entertainment into commerce, TikTok Shop has ushered in a new era of what is best described as "Shoppertainment" in the e-commerce space. Making full use of its extensive reach and expertise, the social media giant is enabling merchants, brands and creators to showcase and sell their products directly on the platform.
TikTok Shop is a boon for both users as well as merchants. Rather than just offering a "browse and buy" experience, shoppers benefit by discovering new items through regular and engaging stories, live streams or videos all in one place. For merchants, TikTok Shop provides an avenue to reach a huge, highly engaged and captive audience.
After all, the platform doesn't just provide sellers with an avenue to sell products and expand their customer base. TikTok Shop also serves as a platform that has a massive impact on consumer buying habits. Merchants can sell their products directly on the app through in-feed videos, LIVE sessions and the product showcase tab.
The beauty of TikTok Shop is that it is fully integrated into the TikTok platform. The marketplace allows merchants to do everything from uploading products to curating the point of purchase as well as managing shipments and order fulfilment directly on the platform.
A primary benefit of the platform is that it helps local brands and merchants, especially small and medium enterprises (SMEs), tap into an expansive audience while growing their social presence. By encouraging brands to produce fun and engaging content to entice customers, TikTok Shop also helps businesses build authentic connections with shoppers through entertaining live streamed sessions and creator collaborations.
Optimised for success
More than just an online shopping platform, TikTok Shop helps enhance the e-commerce experience for businesses and brands through innovative and forward-thinking campaigns and events. Event days such as MY Brand Day is IP designed to celebrate big moments such as the launch of new products and drive GMV (growth merchandise value) and brand marketing.
In July, TikTok Shop began Category Day, which highlights a category during each day of the week. This creates an added avenue for brands and merchants to capitalise on to highlight their products and access a targeted segment of shoppers based on their interests.
On each day of the week - Monday: Fashion Day (#FesTikTok), Tuesday: Lifestyle Day (#TikTokRumah), Wednesday: FMCG Day (#TikTokShopEssentials) and Thursday: Electronic Day (#TikTokTech) - all sellers under these categories are eligible for special category vouchers. Selected sellers will be supported with additional traffic and marketing resources to increase their visibility.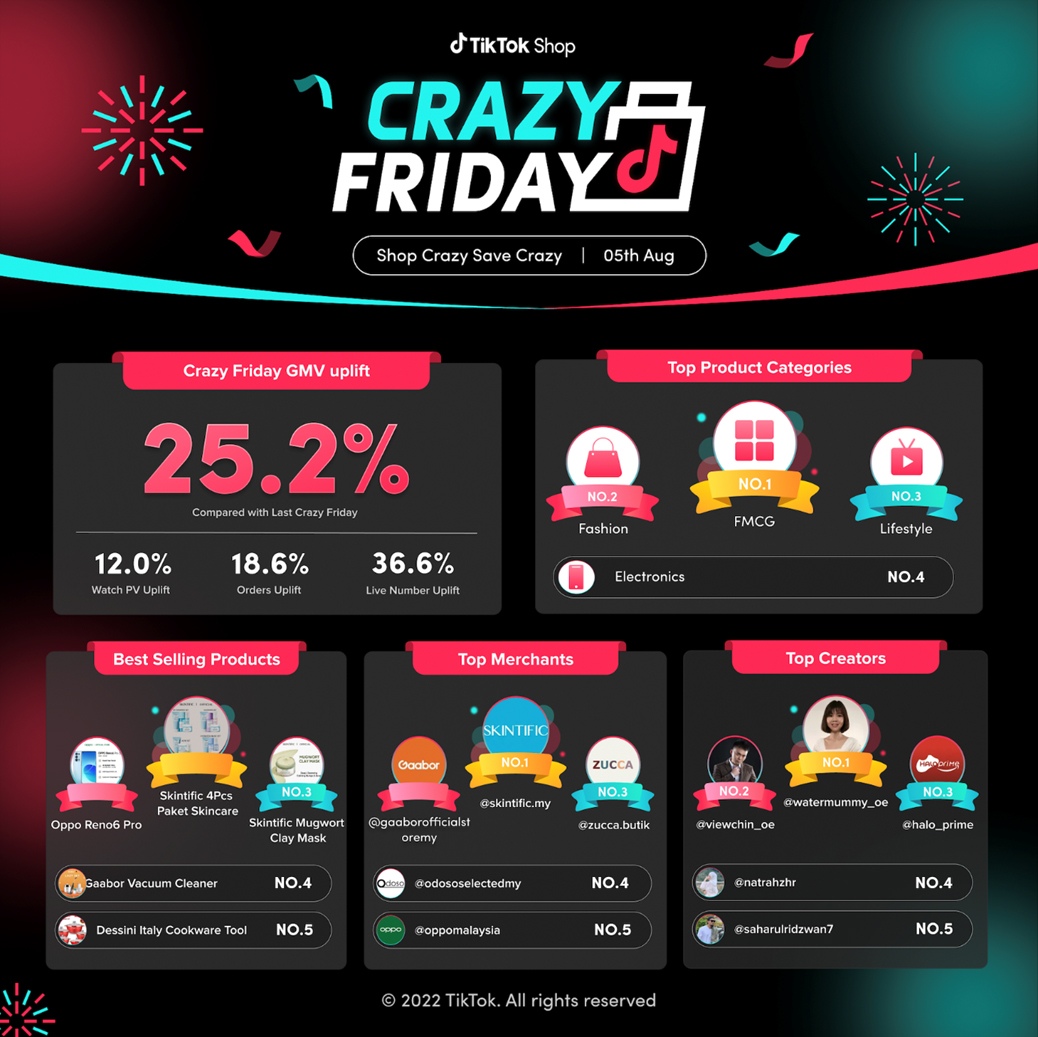 Every Friday, TikTok's Crazy Friday serves as an unprecedented category celebration with deals and vouchers offered during TikTok Shop sellers' Live sessions. This weekly opportunity affords sellers a way to achieve peak revenue on a weekly basis while gaining additional awareness and exposure.
Unrivalled success
TikTok Shop has thus far delivered unmatched value and exposure to sellers, brands and SMEs through its innovative platform. Skincare brand Skintific has enjoyed GMV growth of as much as 150% since it joined the platform in March 2022. The brand achieved tremendous exposure during Crazy Friday, which has spurred the company to go LIVE regularly while actively collaborating with creators to increase their visibility and reach.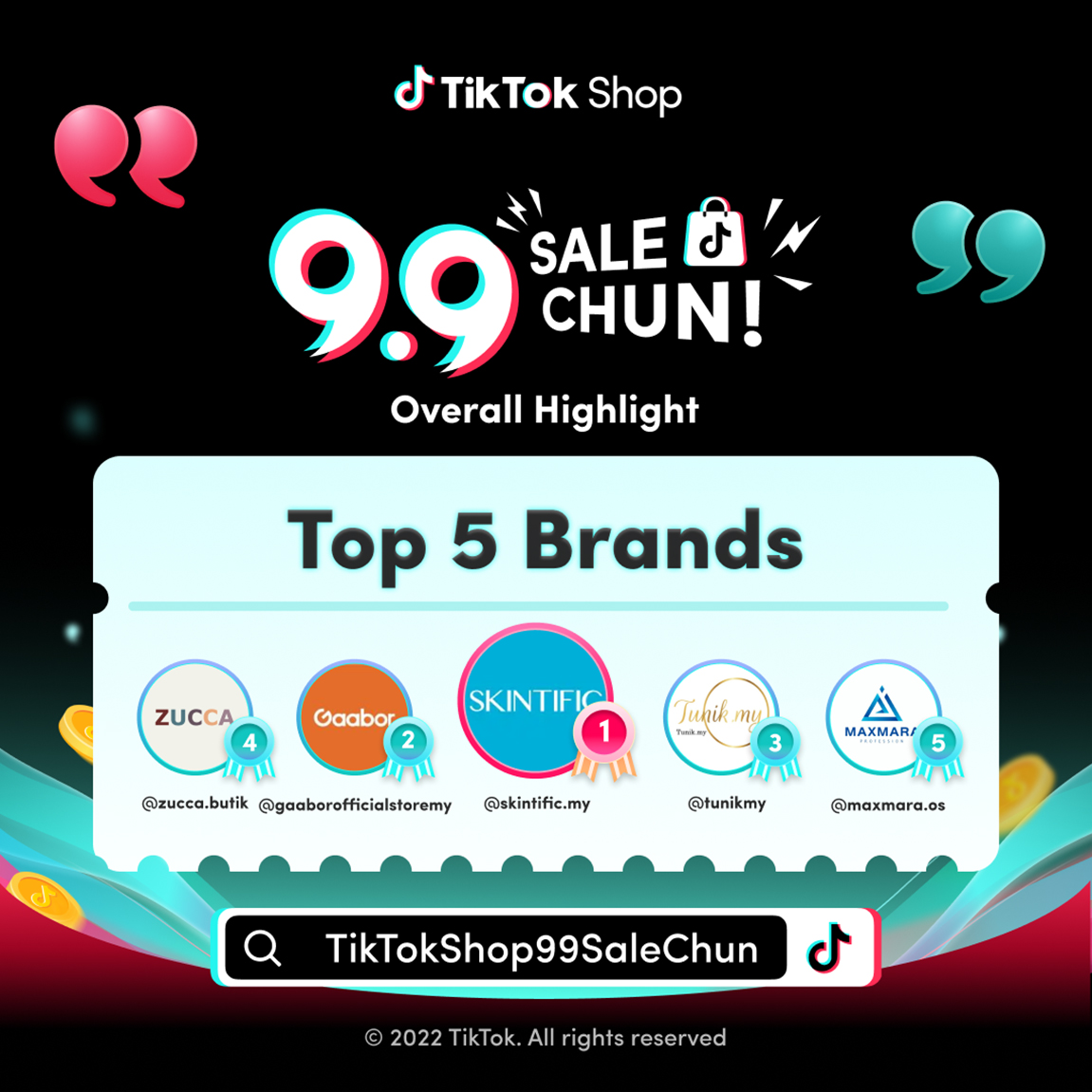 During the 99 Sale Chun!, Skintific proved to be one of the best brands during the sale through its performance of more than 170% GMV uplift in live shopping sales and a 168% increase in order volumes.
It is a similar story with Gaabor, a leading home appliance brand. After joining TikTok Shop in April 2022, it achieved a growth of nearly 160% in sales, which was further fuelled by participation in TikTok daily campaigns like #TikTokTech and Crazy Friday.
The brand also successfully launched its new sub-brand GWEICH and new products Air Fryer GWA-45M01 and GWA-55E02 during MY Brand Day through 24 hours x 7 days of live shopping celebration with its official account @Gaaborofficialstoremy, collaborating with 150+ TikTok Shop creators through shoppable live and shot videos metrics, and investment in shopping ads and marketing exposure on TikTok.
Apart from exclusive live offerings, Gaabor also engaged with TikTok users and creators through Hashtag Challenge #Gweichrancak and LIVE championship. MY Brand Day achieved a remarkable sales peak by uplifting nearly 18 times compared to prior to the campaign, a nearly 400M campaign impression, as well as an uplift of 11 times in new consumer numbers on TikTok Shop, marking a showcase in the overall home appliance industry.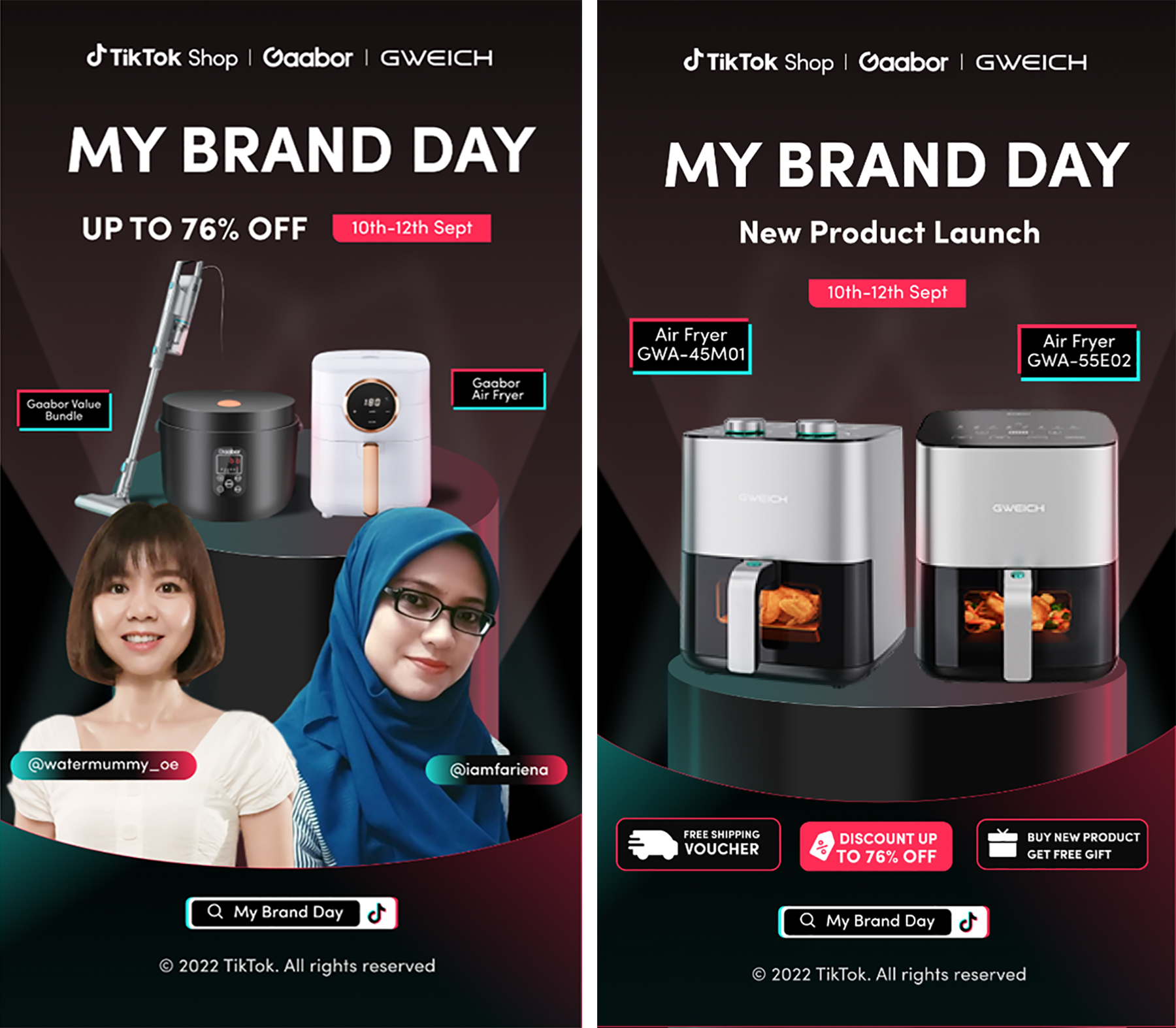 Online boutique Zucca experienced over 75% metrics growth in June and July. The brand has been one of the top three fashion sellers in terms of sales since #FesTikTok started in July. One of its most significant achievements is garnering a 69% product sales uplift, 159% order volume uplift and 21% increase in LIVE impression during one single LIVE session on Fashion Monday.
"Through our live streams, we are able to interact directly with our followers. They can share their concerns with us so that we can fulfil their needs immediately. We also offer special vouchers to our return customers to increase our retention rates," says Zucca co-founder Gary Ng.
Just recently during the 9.9 shopping sales campaign, the platform orchestrated the TikTok Shop 9.9 Sale Chun! Campaign. Taking place from Sept 5 to 9, the campaign offered discounts of up to 75% for new users as well as shipping vouchers and exclusive discounts across the fashion, fast-moving consumer goods, electronics and lifestyle segments.
Taking interactivity to new heights, TikTok Shop allowed users to grab products worth RM9.90 in TikTok Shop's Magical 9.9 Zone. Users also had the chance to win up to RM500 in cash prizes in the Duet Hashtag Challenge.
By taking part in the challenge through the #TikTokShop99SaleChun, users were given an opportunity to duet with Malaysian actor Fahrin Ahmad on TikTok itself, thus continuing the interactivity of the campaign with its users.
As for the 9.9 Sale Chun!'s overall performance, the campaign performed remarkably as it achieved a more than 136% live GMV increase compared with the previous daily average level with a cumulative watch PV of more than 19 million views on live stream alone. At the same time, Skintific and Gaabor secured the No 1 and No 2 spots respectively as the top performing brands during the 9.9 sale.
With 10.10, the next big sales campaign, expect TikTok Shop to once more change the game of e-commerce with more unique and engaging promotions and sales activities for both sellers and consumers. Find out how TikTok Shop can help enhance your business in the e-commerce space here.
Go here to find out how TikTok Shop can help enhance your business in the e-commerce space.