It is not an easy time to be an investor. After barely recovering from the pandemic, economies around the world are now facing high inflation and rising commodity prices, while dealing with the fallout from the Russian invasion of Ukraine.
Supply chains continue to be disrupted by these events, and central banks have begun to hike interest rates. All these uncertainties have affected market returns, leaving investors struggling to find income-paying instruments in an inflationary environment.
Within Malaysia, investors also had to contend with the currency depreciation, foreign funds outflow and uncertainties relating to the growth trajectory of China, who is one of the country's main trading partners.
"At this point, it is important for investors to have a diversified portfolio, with some income-distributing investments", says Ng Chze How, Head of Retail Wealth Distribution at Manulife Investment Management (M) Bhd.
These tend to give investors protection during market shocks and volatility. Solutions such as preferred securities, multi-asset, fixed-income or real estate investment trust (REIT) funds seek to provide investors with a regular source of income.
"This is something especially important for retirees, as they generally have to rely on their savings in the absence of a salary from paid employment. A steady investment income can also create a potential 'alternative salary' by reversing the net cash outflow situation," says Ng.
Those with established careers or younger people may be more focused on capital gains. But the income-paying assets can benefit them if they reinvest the income to achieve potentially greater returns, he observes.
"Besides acting as an additional cash source, income-focused investments help to reinforce effective wealth management. It is common for investors to neglect wealth management due to their hectic work schedules or lifestyles. Investing in assets that offer regular dividends can provide a cordial reminder when payouts are made," says Ng.
"This has the effect of highlighting any idle assets and, consequently, the need to review the investor's portfolio. In such a case, the investor can then decide whether reinvestment is required. This is a cycle that allows people to be disciplined investors."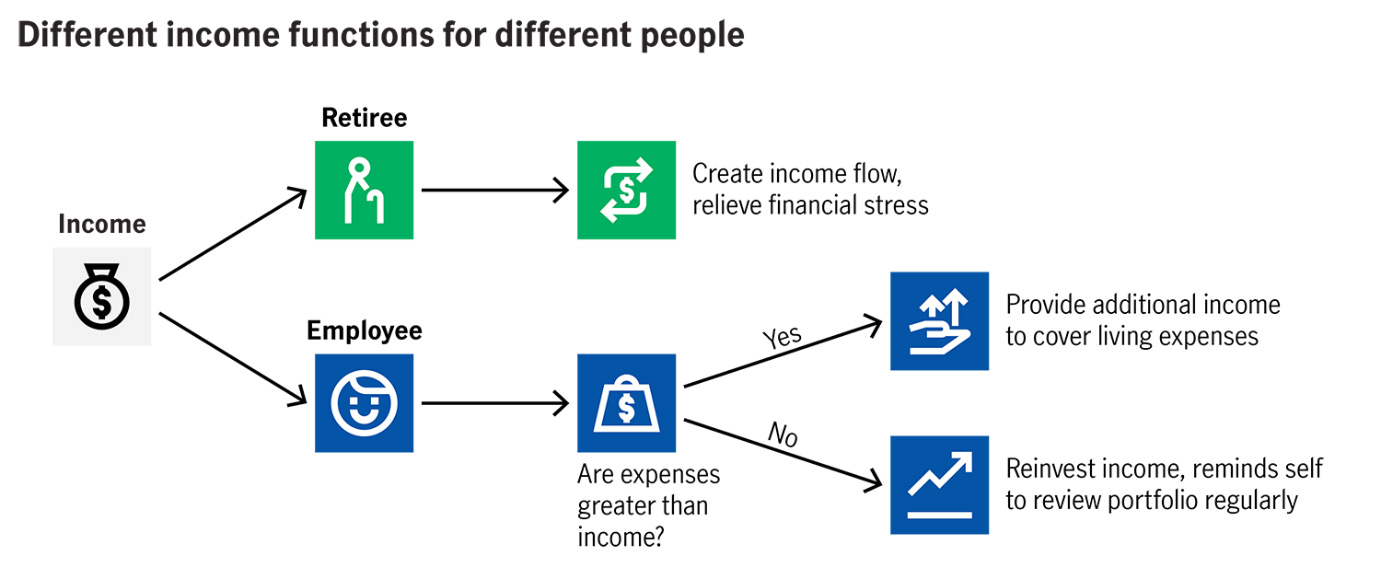 For illustration purposes only.
What income-generating assets can investors consider?
There are a variety of income-generating assets with differing risk and volatility levels. Apart from bonds and equities, there are income funds, or unit trusts that typically aim to distribute dividends at regular intervals.
The dividend yield of these income funds is generally not guaranteed. "But as is the case with any diversified portfolio, the likelihood of every holding failing simultaneously is small," says Ng.
These funds typically earn an income from investing in high-dividend stocks and interest-paying bonds, which are then distributed to investors. When the fund pays investors a dividend, the net asset value of the fund will be reduced accordingly.
A more non-traditional source of income is REITs, which are legally obliged to distribute the majority of net income after tax as dividends, or REIT funds. REITs are defensive, provide regular dividend income and tend to be a good hedge against inflation.
Manulife Investment Management has several REIT funds available. This includes the Manulife Investment Asia-Pacific REIT Fund and Manulife Shariah Global REIT Fund. Both currently offer compelling propositions due to the post-pandemic economic reopening in many countries, Ng observes.
"We believe that higher inflation and an increase in interest rates driven by economic growth is a net positive for physical assets. Under these circumstances, real estate fundamentals remain supportive, and the sector provides a great opportunity for an income investor to consider as a hedge against inflation," he says.
"As Covid-19 cases have stabilised in recent weeks, we continue to believe that a synchronised global reopening should provide further upside for REITs, especially in the retail, office and hospitality sectors."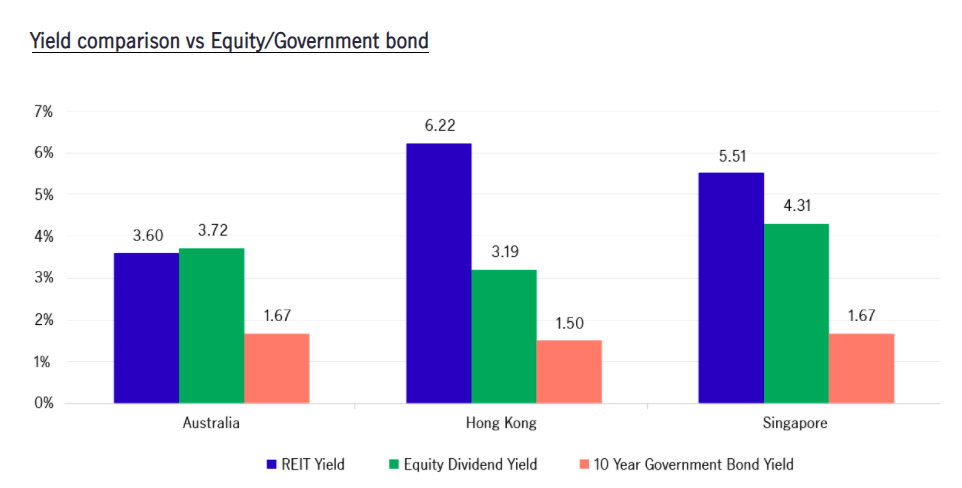 Disclaimer
The above information may contain projections or other forward-looking statements regarding future events, targets, management discipline or other expectations. There is no such assurance that such events will occur, and the future course may be significantly different from that shown here
Source:
Bloomberg as of 31 December 2021. REIT Yield and Equity Dividend Yield are the projected 12-month yield from Bloomberg consensus.
REIT Yield: Australia REIT – S&P/ASX 200 A-REIT Index, Hong Kong REIT – Hang Seng REIT Index, Singapore REIT – FTSE ST Real Estate Investment Trusts index. Equity Dividend Yield: Straits Times Total Return Index, Hang Seng Index, S&P/ASX 200 index.
10 Year Government Bond Yield = Local Generic 10- year Government Bond Yield.
In Asia, excluding mainland China and Hong Kong, the fundamentals of REITs are driven by the synchronised reopening theme. This instils confidence for better rental rates and occupancy outlook for Asia-centric REITs, says Ng.
"The certainty and visibility of the income from REITs continue to appeal to investors, especially during times of heightened volatility across both bond and equity markets," he adds.
From a regional perspective, Manulife Investment Management favours the US, Australia and Singapore markets for their attractive valuations and distribution yields. It sees investment opportunities in industrial, retail, healthcare and technology-related REITs.
"We have minimised our exposure to Japanese and the UK REIT markets, based on their relative distribution yields and valuations," says Ng.
Getting started on the journey
When investors choose income-generating assets, they must understand that the dividend yield is not the sole indicator, says Ng. They must also consider other factors such as risks. "While some funds offer an attractive dividend income, this should not be used as the sole indicator in that fund's selection."
Instead, investors should pay attention to the total returns, where dividend return is combined with a change in fund prices. This would provide investors with a more comprehensive picture.
Ultimately, investors who want to generate income from investments can create a portfolio that provides multiple income streams. For instance, a retirement portfolio and education portfolio for the children can invest in funds that provide quarterly or semi-annual pay outs. This can be complemented with a lifestyle spending portfolio that gives yearly pay outs.
They can seek advice from wealth managers such as Manulife Investment Management to build these portfolios. Manulife Investment Management also has an online fund investment platform called Manulife iFUNDS, which allows investors to open an investment account with an advisor virtually. Investors can also monitor their investment portfolio via the platform.
For more assistance and guidance, investors should look for Manulife unit trust advisors, who will be able to give personalised advice based on the investor's needs.
Looking to diversify your investment portfolio? Call us at (03) 2719 9271
Or if you're looking for the right digital tools to make managing your portfolio a lot easier, click HERE to find out more about Manulife iFUNDS.
The above information has not been reviewed by the SC and is subject to the relevant warning, disclaimer, qualification or terms and conditions stated herein. Investors are advised to read and understand the contents of the Master Prospectus dated 10 August 2020, its First Supplemental Master Prospectus dated 10 August 2020, its Second Supplemental Master Prospectus dated 27 January 2021, its Third Supplemental Master Prospectus dated 5 April 2021 and its Fourth Supplemental Master Prospectus dated 13 September 2021 and all the respective Product Highlights Sheet(s) (collectively, the "Offering Documents"), obtainable at our offices or website, before investing. The Offering Documents have been registered with the Securities Commission Malaysia (SC), however the registration with the SC does not amount to nor indicate that the SC has recommended or endorsed the product. There are risks involved with investing in unit trust funds; wholesale funds and/or Private Retirement Schemes. Some of these risks associated with investments in unit trust funds; wholesale funds and/or Private Retirement Schemes are interest rate fluctuation risk, foreign exchange or currency risk, country risk, political risk, credit risk, non-compliance risk, counter party risk, target fund manager risk, liquidity risk and interest rate risk. For further details on the risk profile of all the funds, please refer to the Risk Factors section in the Offering Documents. The price of units and income distribution may go down as well as up. Investors should compare and consider the fees, charges and costs involved. Investors are advised to conduct own risk assessment and consult the professional advisers if in doubt on the action to be taken. You are advised not to solely rely upon the ratings or rankings disclosed herein in making an investment decision. The ratings or rankings disclosed herein are current; the same may change in the future. Past performances are not an indication of future performances.
Manulife Investment Management (M) Berhad Registration No: 200801033087 (834424-U) (hereinafter referred to as "Manulife IM (Malaysia)") is a wholly owned subsidiary of Manulife Holdings Berhad and holds a Capital Markets Services License for fund management, dealing in securities restricted to unit trusts, dealing in private retirement schemes and financial planning under the Capital Markets and Services Act 2007. Manulife IM (Malaysia) operates under the brand name of Manulife Investment Management which is the global wealth and asset management segment of Manulife Financial Corporation. Information posted herein is intended for the exclusive use by the recipients who are allowed to receive it under the applicable laws and regulations of the relevant jurisdictions. Certain information in this post may contain projections or other forward-looking statements regarding future events, targets, management discipline, estimates or other development trends of financial markets. There is no assurance that such events will occur, and actual results may be significantly different from what is contained herein.
Information contained herein has been obtained and/or derived from sources believed to be reliable, Manulife IM (Malaysia) makes no representation as to its accuracy or completeness and expressly disclaims any liability whatsoever for any loss howsoever arising from or in reliance upon the whole or any part of this information or any information contained in third party website linked to this post. Neither Manulife IM (Malaysia) or its affiliates, nor any of their directors, officers or employees shall assume any liability or responsibility for any direct or indirect loss or damage or any other consequence of any person acting or not acting in reliance on the information contained herein. Investment involves risk, including the loss of principal. Investors should rely on their own evaluation to assess the merits and risk of the investment. In considering the investment or the information provided, investors who are in doubt as to the action to be taken should consult their professional adviser. The information provided herein is for information purposes only and should not be construed as and shall not form part of an offer or solicitation to buy or sell any unit trust funds/ wholesale funds/ private retirement schemes. Information contained herein may subject to change without prior notice and may not be reproduced, distributed or published by any recipient for any purpose.