Interest in Shariah-compliant investment has grown exponentially over the last few years. Though not a new concept—having been introduced in Malaysia back in the 1960s—, its recent surge has drawn many entrepreneurs and investors looking to expand their business investment interests beyond the conventional investment circle.
According to a recent study, analysts anticipate 2022 to be the year environmental, social and governance (ESG) focused investing take centre stage as the driving force behind more Shariah investments. In 2021, Islamic financing billowed by 8.3% compared to conventional loans in the face of Malaysia's economic recovery from the pandemic.
The popularity of socially responsible investment has also given rise to several Shariah-compliant investment holding companies in Malaysia. Following this trend, companies have set their sights on Shariah-investment companies, looking to be more involved in engagements that factor in sustainable and ethical practices.
One such company looking to be a key player in this arena is Radiance Assets Berhad, led by Founder and Executive Chairman Dr. Mohd Ezman Bin Zamani. Motivated to cultivate the market through digital solutions and artificial intelligence investing, Ezman hopes to capitalize on its flourishing prospects and take Shariah investment to new heights.
Unlike mainstream investment-holding companies, firms like Radiance are monitored by a Shariah board and take strict precaution to abide by Shariah law and the principles of Islam. For potential clients, Radiance's investment strategies contributes to the creation of a more inclusive and extensive market.
As a technology-driven investment holding company, Radiance takes careful consideration that the kind of investments it plays a part in matches the company's strategic goals. By evaluating prospectus figures and working with Takada Asset Management, the company can make crucial decisions on the potential an investment can bring and ensure the assessment is Shariah-approved and profitable.
Another crucial factor to the company is the ability for their investment to grow beyond Malaysia. "I like to go global. I receive a lot of interesting proposals, but I always analyse the projects potential reach to international markets and not just locally. No matter how good your idea may be, it must grab the attention of the whole industry," he comments
Having Your (Bigger) Cake & Eating It Too
What sets Radiance apart is their diverse investment portfolio made up of various industries. Over a short period, the company has invested in various innovative and technological driven businesses in the areas of Fintech, Meditech and Cleantech, with big plans to expand into tourism and agriculture already underway.
The company recently acquired Mongolia's Yerru Tsonjun Tour Resort, soon to be the first-ever Halal Resort in the country, which Ezman hopes to be the first step in fostering and re-activating tourism and cultural activities between Mongolia and Malaysia.
Ezman credits this successful venture to Radiance's subsidiaries. "As an investment holding company, we need to delegate the responsibilities to our subsidiaries, like our operating-holding company, to manage our diverse portfolio. We can do many things at one time because we have experts who are well-versed in all these industries. In Mongolia, we have a dedicated team to manage the business there. So, this allows us to not only be limited to one industry."
"Rather than settling with a small cake, why not go for a bigger cake so that it can be shared with more people? Why limit ourselves to just Fintech, Meditech and Cleantech when we can create a link between these industries and expand faster." explains Ezman.
Radiance puts importance in building lasting relationships with their investors, deeming transparency as the key draw to maintaining trust in the long run. Ezman has made it a point to actively communicate with his clients to ensure they are satisfied and to feel free to suggest improvements. He further states that by ignoring even one client's plea can result in a bad image for Radiance as a whole.
This philosophy carries over to not just their clients but the dedicated employees that make up Radiance's operations as well. "I always tell my staff my doors are open. I want to know if there is anything we can improve on. This is how you build a good relationship with the people you work with."
Investing In The Future
Despite setbacks brought on by the pandemic, Radiance has pushed on to go beyond just technology-driven Shariah-investment, looking to conquer the agricultural industry next. With the introduction of their wholly-owned high tech cattle farm, the company is looking to make changes to the local meat trade that has become a pricey commodity for most.
The company also recently took its first step into the education sector with the acquisition of a film and media production institution, POINT College, which will see its rebirth as Radiance Point under the new ownership.
Over the years, Radiance has dipped its hands into a myriad of opportunities that take conventional ideas to the next level through its investment in AI (Artificial Intelligence) and automation. To keep up with the ever-expanding digital age, Ezman derives inspiration from the next generation and incorporates what he has learned to steer his company in the right direction.
"There is an importance to investing in the ideas of the younger generation because they are the future. For example, we are going to have our own chat system with live-streaming capabilities. We were able to do this due to the feedback we collected from the youths, showing their capability to bring more evolution with their keen understanding of where technology will go."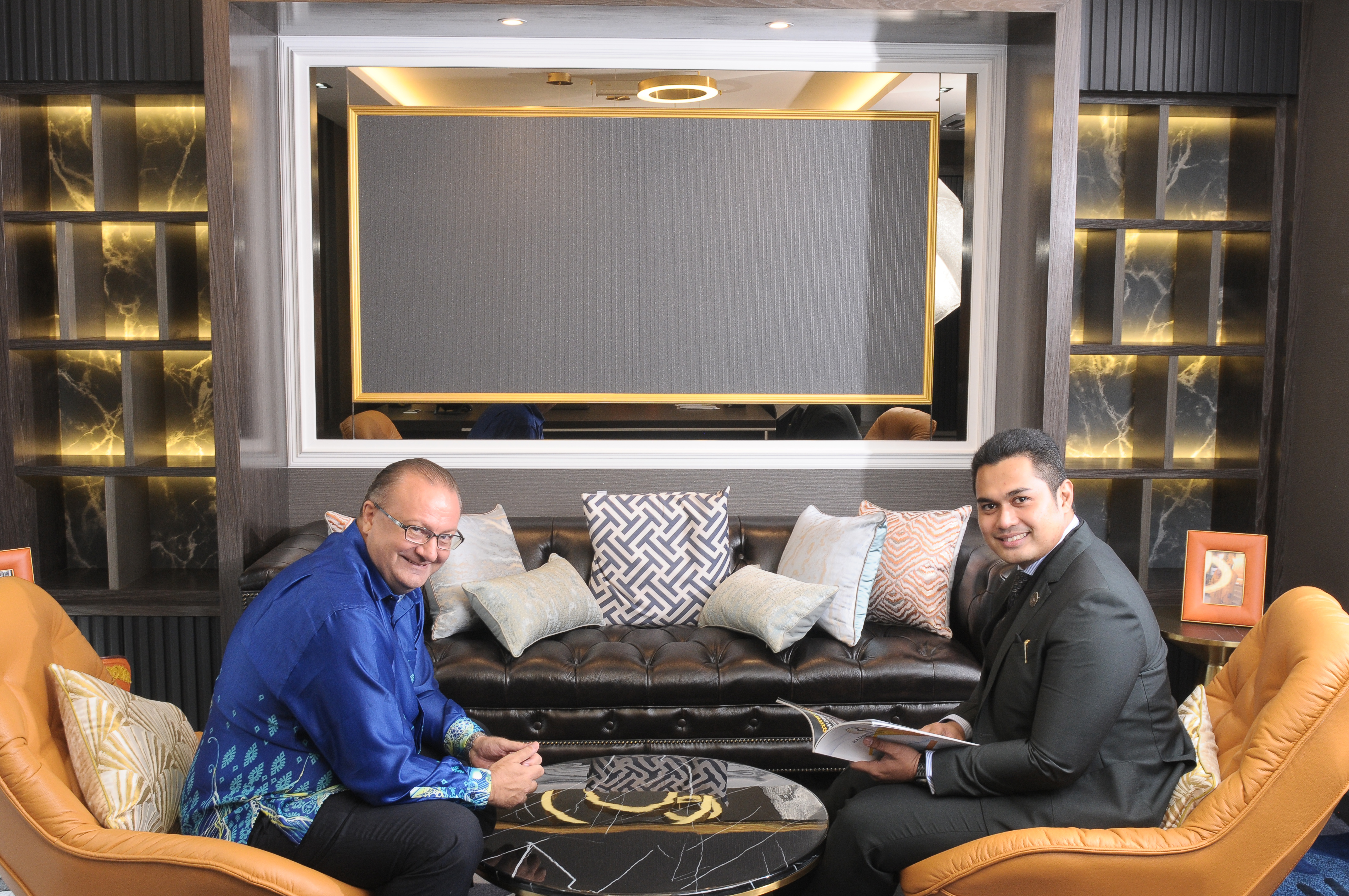 The two leading men of Radiance Assets Berhad, Mr. James Galloway Stevenson (left), CEO of Radiance Assets Berhad and Dr. Mohd Ezman Bin Zamani (right).
As the Founder and CEO, Dr. Mohd Ezman Bin Zamani credits the success of his company to the expertise and hard work of his committed employees, for which he practices open-door policy with.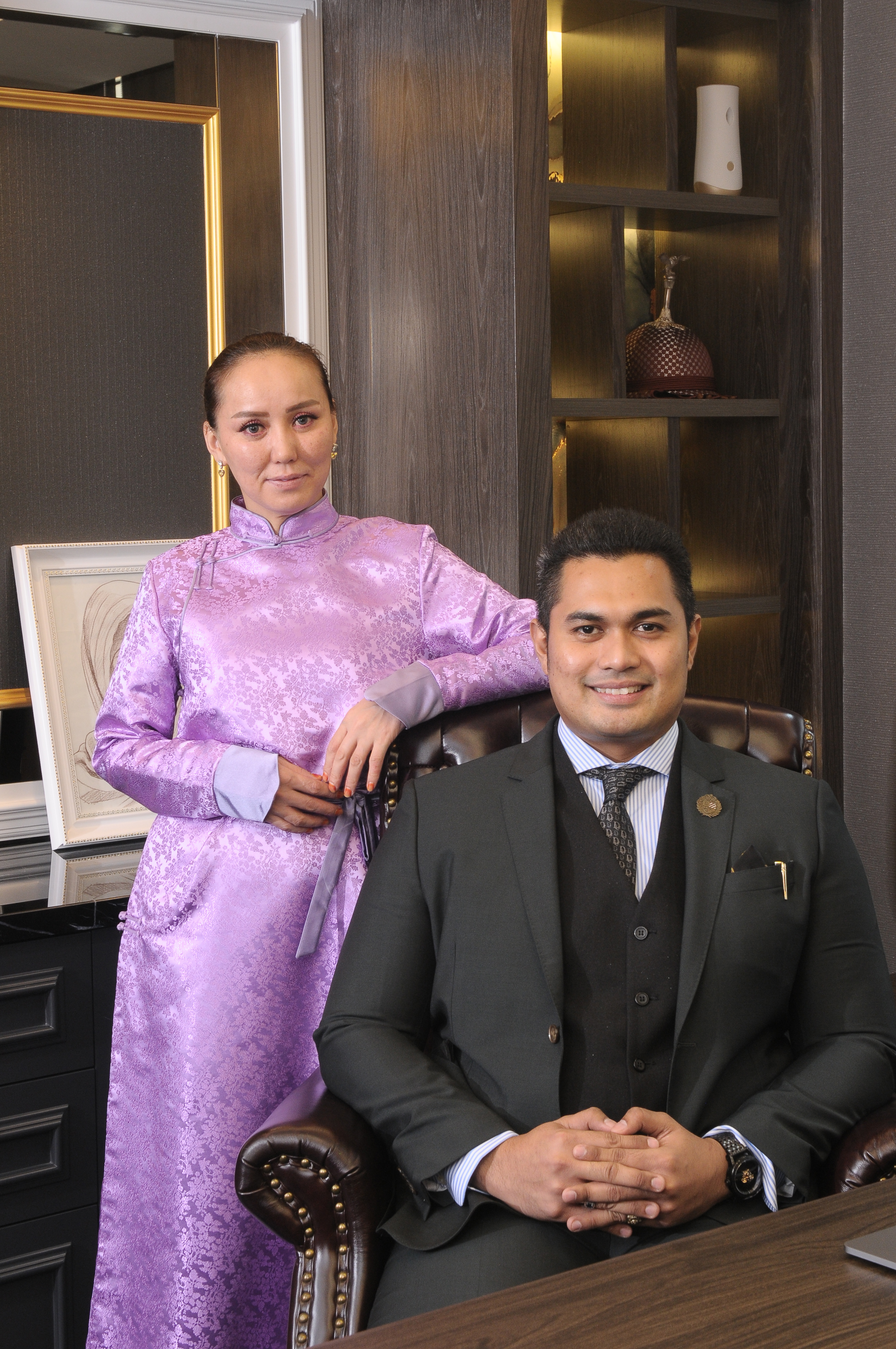 Dr. Mohd Ezman Bin Zamani (right) pictured with his wife, Khishigdalai Dashdorj, also known as Sarah (left).