The widespread adoption of cashless payments has unlocked numerous opportunities for the underserved and unbanked in Malaysia to participate in the economy.
"The integration of e-wallets into marketplaces enables Malaysians from the lower-income group to buy directly from producers from all over the country without the need to own a credit card," says Dr Sonia Kumari Selvarajan, senior lecturer, Department of Development Studies, Faculty of Business and Economics, Universiti Malaya.
The pandemic has accelerated the nation's digital adoption with more people inclined towards using cashless payment methods. What was initially an alternative to curb infections from surfaces has become a habit that will continue to be practised as technology advances exponentially.
Cashless payments have also easily become the norm due to the convenience they offer. Instead of scrambling for an automated teller machine (ATM) whenever we run out of tangible cash, we can now rely on our e-wallets or online payment gateways to complete purchases.
According to Finance Minister Tengku Datuk Seri Zafrul Aziz, the volume of e-wallet transactions increased 89% to 468 million, and online banking usage improved 36% with 12.1 billion payments, in the period of June 2020 to June 2021.
source: Ministry of Finance, Malaysia & STATEOFMOBILE2022.com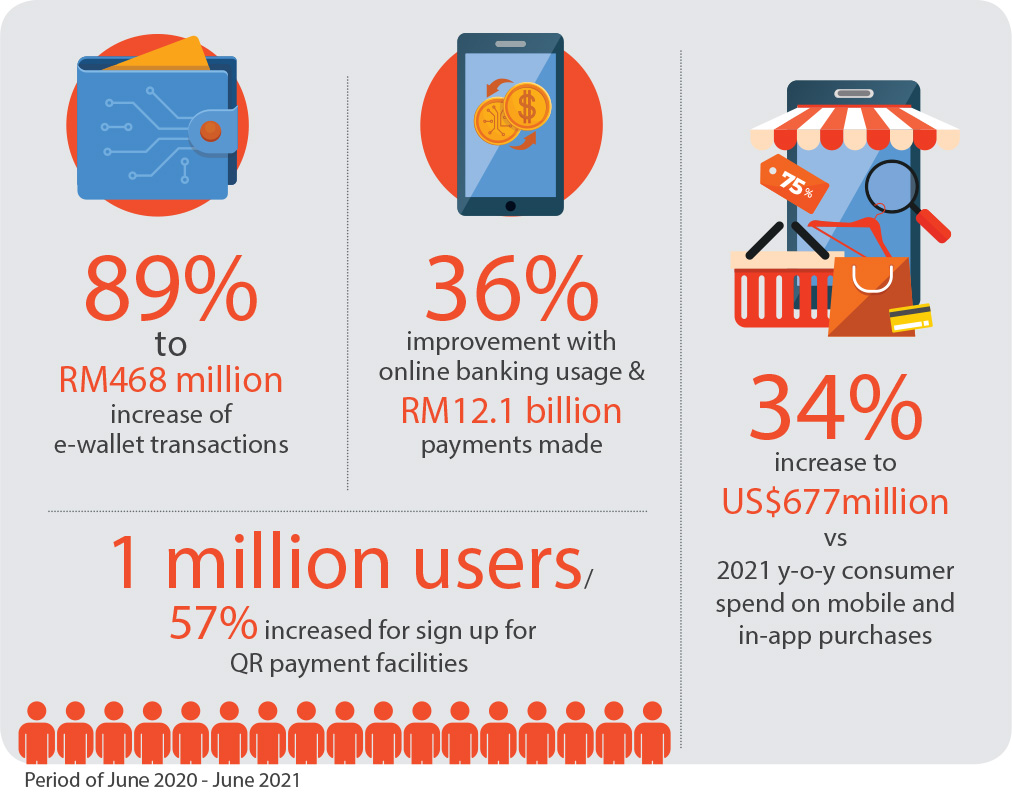 "The rise of digital financing through the adoption of e-wallets and cashless payment apps can serve the poor at scale," says Sonia.
However, she says the surge of cashless payment also means that digital financial literacy is becoming an increasingly important aspect of education for households as well as digital entrepreneurs in this digital age.
A study by the Organisation for Economic Co-operation and Development (OECD) found that Malaysians scored below average in financial knowledge, reflecting gaps in financial decision making.
Sonia explains that the findings point to the need to develop education programmes that focus on critical skills for those participating in the digital economy as well as special programmes for vulnerable groups.
Through the "Malaysia Experience in Financial Inclusion: Unlocking Shared Benefits for All through Inclusive Finance" paper, Bank Negara Malaysia stated that 46% of Malaysians are unbanked, all within the age range of 15 to 24 years old, who are volatile towards financial breakdown.
Following that, Sonia believes Bank Negara's recent move to issue digital banking licences will complement the services provided by conventional banks and further empower vulnerable groups, thus creating a more inclusive economy.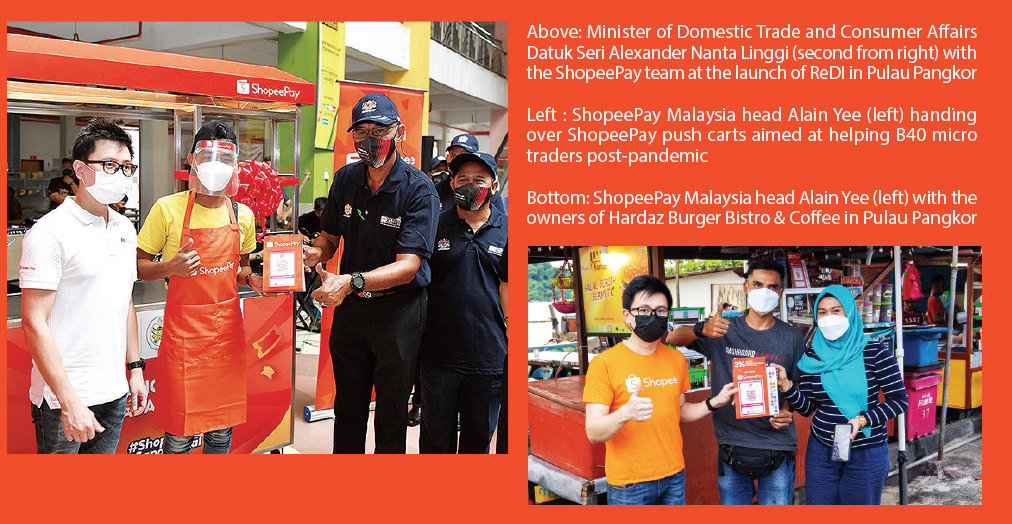 Empowering MSMEs with cashless payment
The cashless payment environment has given room for e-commerce to prosper, with more sellers setting up e-shops to generate more income. A Shopee survey conducted in 2020 among its network of more than 11,000 sellers indicated that 35.4% of them were using the platform to generate a second and third income to cushion themselves against unprecedented circumstances.
Furthermore, cashless payments provide a financial facility to enable micro, small and medium enterprises' (MSMEs) participation in the digital economy. While financing for digitalisation was highlighted in Budget 2021, programmes to upskill and reskill entrepreneurs have to be initiated by key industry players to complement the ecosystem.
One of the initiatives is the Go-eCommerce Onboarding programme, a partnership between Malaysia Digital Economy Corporation (MDEC) and 29 e-commerce players, including Shopee, to encourage e-commerce and e-payment adoption among local businesses.
"This is an early indication that financial inclusion can be achieved through the digital economy with innovations such as e-commerce and e-payments. However, as the digital economy matures in Malaysia, there is a need to move beyond these for true financial inclusion to happen," says Sonia.
Aligning with the trend, businesses grabbed the opportunity to provide various payment options for their customers. This was proven with one million sign-ups for QR payment facilities during the June 2020 to June 2021 period as stated by Zafrul, which is a jump of 57% from the previous year.
Visa says the pandemic has accelerated Malaysia's digital adoption journey by five years. Sonia predicts that the rapid migration to digital technologies will continue throughout the recovery and beyond.
"To keep abreast of the rapidly evolving financial landscape, the focus on strengthening the legal and regulatory framework is necessary for the deployment of financial technology and facilitation of the overall innovation in the financial sector," says Sonia.
Uplifting businesses with ShopeePay
Micro, small and medium enterprises (MSMEs) play a vital role to spur the country's economic growth. In fact, MSMEs are projected to contribute to 45% of Malaysia's GDP by 2050 with the boom of e-commerce.
ShopeePay head Alain Yee says in line with the government's aspirations outlined in the MyDigital blueprint, Shopee aims to contribute to businesses' empowerment by helping those in need to benefit from the technology and digital economy.
"ShopeePay is a component in the ecosystem that enables inclusivity in the digital economy," says Yee. "ShopeePay is committed to supporting the digitalisation of MSMEs. This includes onboarding micro merchants who are accustomed to traditional or offline methods of operating their business online and offering them both incentives and tools for their business."
Apart from its online onboarding programmes, ShopeePay also facilitates acceptance of e-wallets offline through partnerships with DuitNow QR payment.
The ShopeePay Near Me feature has also been introduced to help users discover ShopeePay vouchers from nearby merchants, including bazaar stalls, cafes, restaurants and services.
Yee highlights that ShopeePay has been actively partnering with government agencies to enable more B40 micro traders to participate in the digital economy.
Via the ongoing Retail Sector Digitalisation Initiative Programme (ReDI) organised by the Ministry of Domestic Trade and Consumer Affairs starting this year, ShopeePay onboarded 130 vendors to adopt its e-wallet and donated 100 business canopies to the merchants.
ShopeePay also contributed to digital adoption among the youth by participating in e-Pemula in collaboration with the Ministry of Finance by providing an additional RM500 worth of guaranteed vouchers that can be claimed online and spent offline at participating merchants.
The robust digital adoption has to be further complemented with heightened efforts to advocate financial literacy among Malaysians. ShopeePay has joined efforts with relevant stakeholders such as the Ministry of Communications and Multimedia (MCMC) for the Pupuk campaign to train and empower more than 10,000 rural e-commerce sellers via Shopee University classes at MCMC's rural internet centres.
ShopeePay has also partnered with the Ministry of Higher Education on Siswa Mall, an initiative to educate and train graduates of higher education institutions nationwide on e-commerce aspects and business skills, which is expected to benefit more than 12,000 graduates.
While the efforts to empower Malaysians to adopt digitalisation continue, ShopeePay foresees that its peer-to-peer (P2P) transfer service within ShopeePay will further support financial inclusivity.
"[ShopeePay's P2P service] can also assist in digitalising businesses, especially for micro traders who wish to start accepting e-wallets as a form of payment," says Yee.