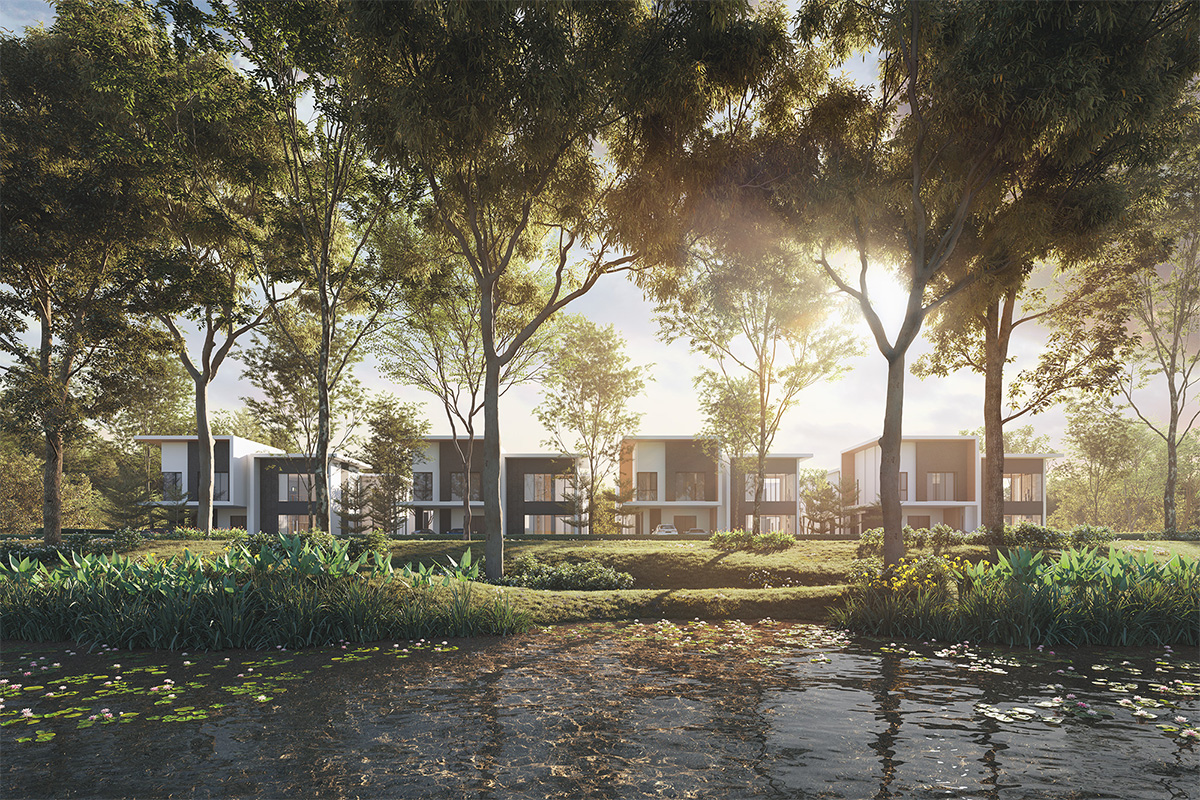 Artist's Impressions
Elegance, practicality and convenience — a perfect description for Matrix Concepts Holdings Bhd's Bandar Sri Sendayan. Located in Seremban, Negeri Sembilan, the sustainable township has over 6,000 acres, comprising residential, commercial, educational, industrial and leisure components that provide the right blend of comfort and culture.
Resort living at its finest
In April, Matrix Concepts gears up to launch its most premium residential development, Resort Villa, in the heart of Bandar Sri Sendayan. Developed on a 15-acre freehold parcel, Resort Villa will offer 34 double-storey exclusive bungalows in two phases. The first to be launched will be Phase 1 with 14 units.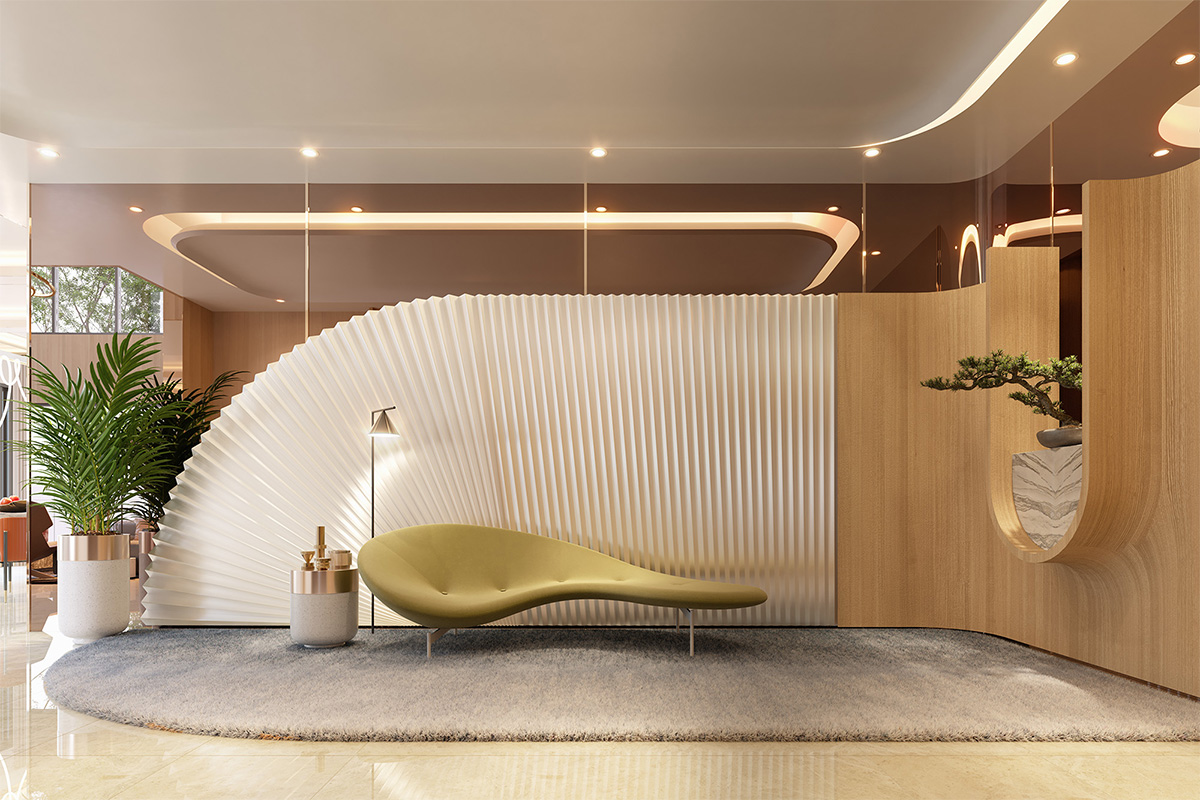 Artist's Impressions
Designed to be functional yet extravagant, the bungalows will have two spacious built-up options — 6,839 sq ft (Type A) and 7,049 sq ft (Type B) — on a massive land size of 75ft by 110ft. Offering five bedrooms and five bathrooms, the bungalows will consist of grand foyers, AV rooms and home offices. There will also be a Jacuzzi in the master bedroom.
With a gross development value of RM48.2 mil (Phase 1), the individual-titled development has a selling price starting from RM3,188,888.
Taking sophistication to the next level, the luxury bungalows will also come with premium fittings that include high-quality 800mm by 800mm tiles and engineered wood flooring that ooze opulence.
Besides the splendour finishing and to enhance the quality of green living among its residents, units in the Resort Villa will come with built-in rainwater harvesting tanks (100 gallons for each unit) and solar water-heater systems with pressure booster pumps (80 gallons for each unit) to reduce energy consumption and promote sustainable everyday living.
Adding to the exclusivity, homes in Resort Villa are also seamlessly integrated with a smart home system. The units will be equipped with lighting modules, air-conditioning infrared blasters, curtain modules, indoor cameras and a digital lock system.
The Resort Villa development is surrounded by Matrix Concepts' resort homes series — Resort Homes, Resort Residence 1 and Resort Residence 2 — where all units have been sold.
This success story proves that Matrix Concepts has used the right strategy to ensure that buyers obtain value for money. Even during the development of the previous precincts in Bandar Sri Sendayan, the company took the time to understand the market's demands and needs to ensure the project's success. Similarly, that practice was applied while Resort Villa was being planned and developed.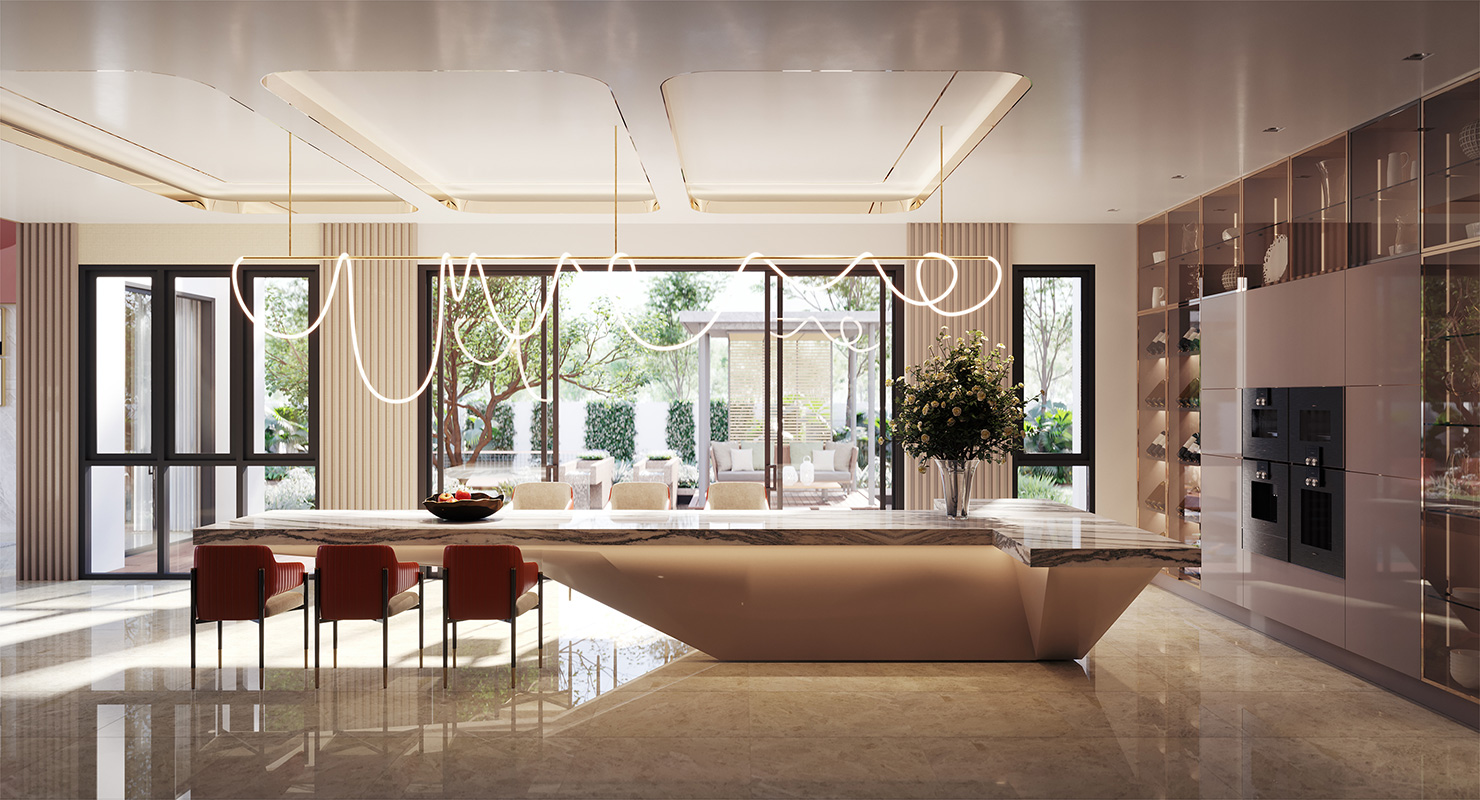 Artist's Impressions
Resort-style facilities
To offer best-in-class safety and security, Resort Villa will offer 24-hour security services with perimeter fencing, a CCTV system and an automatic number-plate recognition system at the main guard house.
An added unique safety feature is the project's built-in security alarm system that has a panic switch button as well as magnetic and vibration sensors. Resort Villa's intercom system can be controlled via an app.
Boasting picturesque views, Resort Villa overlooks the township's serene 6.3-acre lake park. Residents will also be able to indulge in myriad facilities within the development itself. With lush greenscapes surrounding the lake park, residents will be able to enjoy water features as well as outdoor lifestyle facilities such as a tree house, an island deck, a bridge walkway and terrace seating.
Common facilities in the development include a children's playground, a badminton and half-basketball court, a barbecue pit, an outdoor gym and a reflexology path.
Resort Villa also enjoys good feng shui. As the water element is a key component that opens doors to opportunities and improves the ability to generate money, feng shui practitioners notes that having a lake on the northern side of Resort Villa is a boon.
It adds that it is difficult to find a property with the water element in the correct locations for the upcoming energy cycle of Period 9 — from 2024 to 2043. This element will enable the development to thrive and grow for the next 20 years, which is a key aspect for homebuyers these days.
Prime location
Strategically located in the city of Seremban, Bandar Sri Sendayan is an hour's drive from Kuala Lumpur via the North-South Expressway (PLUS). The township is also accessible via major highways, including the Seremban-Port Dickson Highway, the proposed Senawang-KLIA Expressway and the KLIA linkage.
Bandar Sri Sendayan is 24km away from the Sepang International Circuit, 26km away from Port Dickson Waterfront, 30km away from the Kuala Lumpur International Airport (KLIA) and 46km away from the Kuala Lumpur City Centre (KLCC). Public amenities nearby include schools, banks, medical centres, shopping malls, leisure centres and eateries.
With the d'Tempat Country Club in the township, residents can experience resort-style facilities right at their doorstep. The country club, which occupies 6.33 acres, is dubbed the largest family-centric clubhouse in Seremban and offers a variety of goodies.
Facilities there include an 800-pax banquet hall, a VIP holding room, meeting rooms, a TV room and a reading room. For fitness buffs and entertainment seekers, the clubhouse provides a sauna and steam room, a spa, an Olympic-sized swimming pool, a children's wading pool with play stations and water slides, multiple courts, a 10-lane bowling alley, a fully equipped gymnasium, an aerobics room and snooker facilities.
The township is also home to the 34-acre X-Park Bandar Sri Sendayan, the largest entertainment and sports venue in Negeri Sembilan. Extreme sports lovers should not miss the opportunity to try activities such as archery, ATV riding, badminton, futsal, dodgeball, flying fox, Go-karting, golf driving range, paintballing, push biking and wall climbing.
To Find out more contact us at 1800 88 2688 or our website www.resortvilla.com.my