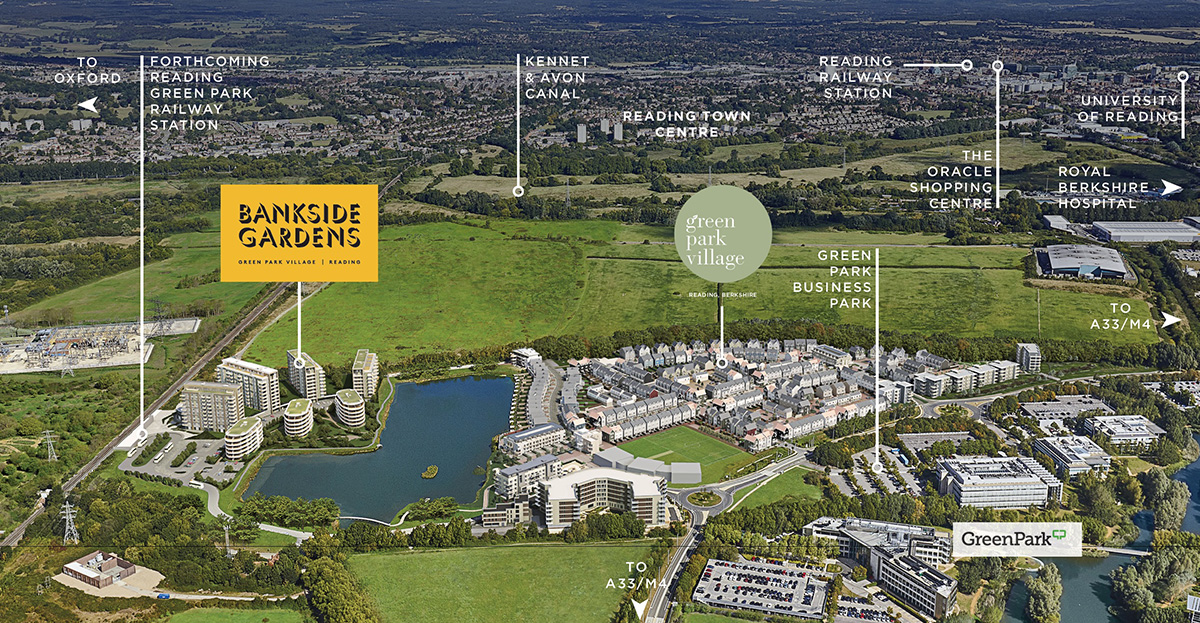 Aerial view of Bankside Gardens, Green Park Village and Green Park Business Park.
Location
Bankside Gardens is located in Reading, Berkshire, a place that is named as one of the best places to live and work in the UK (research by PWC Good Growth For Cities 2019 Index).
Reading has been consistently scoring at the top on these categories: jobs, health, income, skills, work-life-balance, house-affordability, travel-to-work times, income equality, environment and business start-ups for the past few years. It is also named as the top 10 winner of small European cities of the future 2020/21, by fDi Intelligence.
Extensive investment over the past decade has transformed Reading into a dynamic town with a host of accolades and a very bright future. Reading, home to many global businesses, which include Microsoft, Prudential, Pepsico, Honda, Intel and are located in the many large well-managed business parks across Reading. It is also ranked among the UK's top five performing innovation economies*, with Ernst & Young forecasting Reading to be a fast- growing location between 2020 and 2023.
Reading is attracting many digital companies setting up shop, and is named as UK's third largest digital technology city (according to UK 2019 Digital Technology census) and is known as the Silicon Valley of the UK. The many global businesses in Reading are attracting many skilled and professional tenants, with it being one of the highest wages earned in the UK outside of London.

Pic 1: Reading Town Centre, Oracle Shopping Centre. Pic 2: The Kennet & Avon Canal at Reading Town Centre.
The changing landscape in Reading has Reading town centre developing into one of the most dynamic and eclectic entertainment destinations in the South East and is home to famous high street names and department stores, as well as independent hidden gems. Reading offers a great selection of restaurants, cafés and bars - ideal for family dinners or nights out with friends.
Higher Education
Reading is known for its research-intensive university with global reach - University of Reading, including Henley Business School and University of Reading Malaysia.
University of Reading is one of the best universities in the world, ranking in the top 1% of world universities, ranking 27th in UK's top universities, attracting both local and international students, famous alumni includes Jamie Cullum (British singer-songwriter) and Tang Wei (Chinese actress).
Demand for new housing
The growing population of Reading and its status as an important business location has increased demand for new housing. There is a large pool of professional tenants from both overseas and local, as well as international students who call Reading home (there are around 17,000 students from over 150 countries at University of Reading alone), on top of the local demand for new properties. There is also an increasing demand from Hong Kong's BNO passport holders who are moving into the area, providing a vibrant rental demand market, where homes are renting out very quickly in an area which has limited supply.
Rental yields for the area are currently estimated to achieve circa 4.5%, with very low void periods.
New and improved connectivity
Reading is currently a mere 23 minute train ride from London Paddington station, with the new Crossrail station due to open in 2022.
The new Crossrail station in Reading will further enhance Reading's location as an important travel and connectivity hub, with direct connections linking residents from out of London locations into the heart of London City (without changing lines). The Crossrail station is due to be completed with services anticipated to start mid-2022, this will be a game changer for many business travels, as the Crossrail route connects to major tech & business locations such as Slough, Heathrow Airport, Hayes, Tottenham Court Road, Farringdon, Liverpool Street, Canary Wharf and Stratford.
A new Reading Green Park station is being constructed on the doorstep of Bankside Gardens, providing even better accessibility of Green Park Business Park and the growing community of Bankside Gardens with direct trains to Reading station in just 6 minutes.
No. 6 at Bankside Gardens
No. 6 at Bankside Gardens is part of a bigger masterplan, known as Reading Green Park, consisting of:
195 acre Green Park Business Park, where global companies such as Bayer, Cisco, Virgin Media and Huawei are based, only 8 minutes' walk from Bankside Gardens
Green Park Village, with 587 family homes, a market square and a new primary school, Green Park Village Academy (completed and in operation)
Lakeside setting with 3 acres of landscaped parkland and gardens, footpaths and cycle routes
Bankside Gardens is a 7 acre lakeside development consisting of 7 residential buildings, No. 6 is still at its early phase and Malaysian investors get to invest early before the completion of the new on-site Reading Green Park station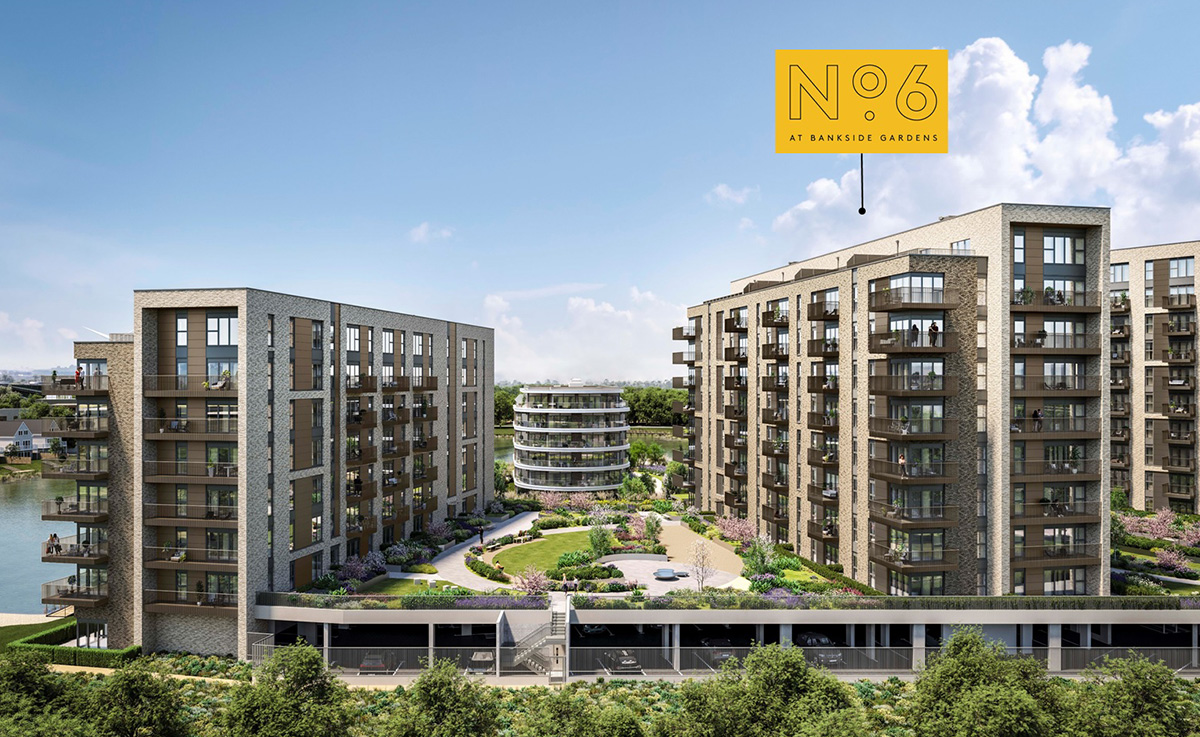 Computer graphic image of No. 6 at Bankside Gardens.
No. 6 at Bankside Gardens is the latest collection of stylish apartments, where buyers can enjoy London-style living without the price tag, which is estimated to be 42% less than the average cost of a one-bedroom home in London, which currently stands at £484,198**.
Bankside Gardens comprises fantastic hotel-style amenities, featuring an impressive range in reminiscent of luxury London apartment buildings. Residents at No. 6 will have access to a co-working studio, state-of-the-art gym, cinema and concierge service. Commercial and retail space will be located on the ground floor of some of the apartment buildings. No. 6 also benefits from plenty of open space for residents to unwind in acres of surrounding parkland.

Pic 1: Computer graphic image of Bankside Gardens landscaped park. Pic 2: Computer graphic image of the market square at neighbouring Green Park Village.
The one and two-bedroom apartments at No. 6 have been designed for flexible, open-plan living. In the living areas, vast glazing floods the space with light and leads out to a balcony or terrace for stunning views over the private landscaped gardens. The kitchens feature composite stone worktops, contrasting timber effect and flat matt finishes and include the latest Bosch, Beko and Smeg appliances.

2 bedroom show apartment of No. 6 at Bankside Gardens: Pic 1: Actual kitchen colour scheme and fittings. Pic 2: Open plan living area.
Attractive entry price and payment scheme
No. 6 at Bankside Gardens benefits from long leasehold tenure, at 999 years, with apartments priced from only £290,000# with parking included. Only 15% deposit is required (payable through stages), and balance is payable upon completion, which is estimated to be Q3 2023 - Q1 2024.
Financing
For interested investors who wish to know if they will qualify for a mortgage, we are able to arrange with UK based lenders or mortgage broker to advise on individual credit assessment and foreign lending criteria, should anyone be interested please touch base with us to know more.
Cornerstone Xstate and Benham & Reeves will be launching No. 6 at Bankside Gardens on the 15th and 16th January 2022 (Saturday & Sunday) at The Four Seasons Hotel Kuala Lumpur, Level 6A, Ballroom 1, from 10am to 6pm. As we comply to the Covid-19 Standard Operating Procedures, it is advisable to reserve your attendance in advance to book your preferred time slot.
Please contact Melvin (PEA 2346) 012 228 6478 or Michelle (PEA 2347) 013 388 6813 to know more, make an appointment or log on to > No. 6 at Bankside Gardens to register your attendance or for further details.
Cornerstone Xstate Sdn Bhd 1289663-A | A-5-10 & A-5-11 Block A, Ativo Plaza, No.1 Jalan PJU 9/1, Damansara Avenue, Bandar Sri Damansara, 52200 Kuala Lumpur. T 03 6261 7238. Benham & Reeves | A-1-10 Plaza Damas 3, Block A Jalan Sri Hartamas 1, Sri Hartamas, 50480 Kuala Lumpur. T 03 6211 6478. Approval number: LPEPH/FE/021/2021(KL). #Price quoted is available at time of publish & is subject to availability.
*9 Centre for Cities / Connected Places Catapult / livingreading.co.uk. **https://www.home.co.uk/guides/house_prices.htm?location=london.