Stream live sports, local originals and your favourite shows, all in one place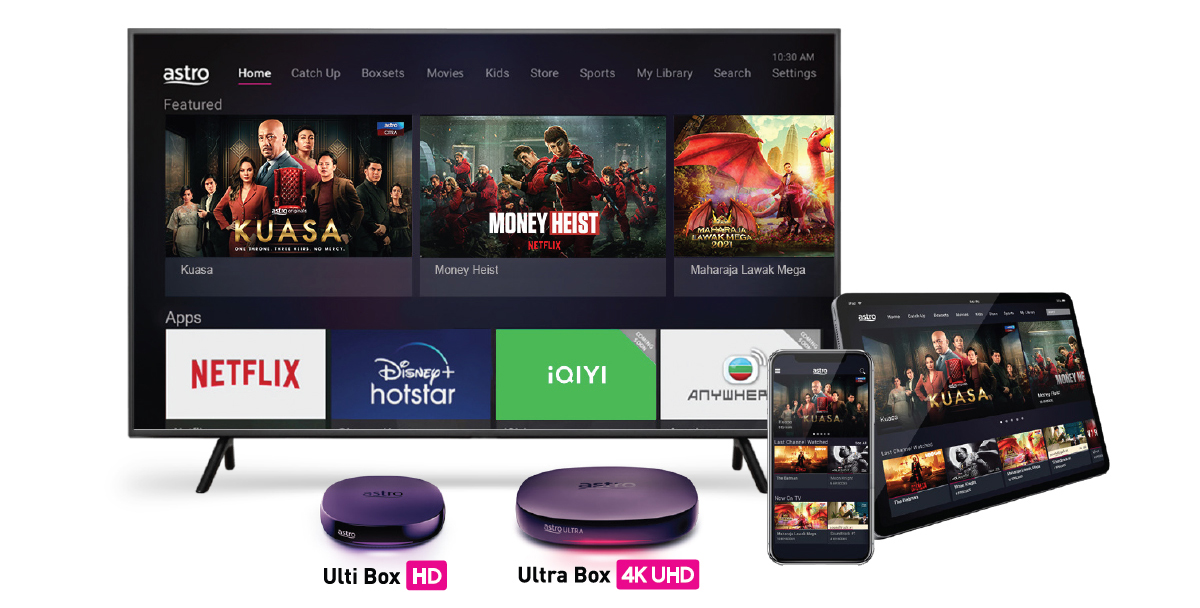 Every Malaysian who grew up in the 90s and 00s is probably familiar with 'first-generation' Astro that brought us LIVE sports, TVB HK dramas, breaking news from CNN and international blockbuster movies from Disney, HBO, and many more. All of this great content was delivered direct into our homes thanks to the satellite technology on which we all once depended to fulfil our entertainment needs.
Innovative Offerings
Recognising the rapid changes in the media and entertainment landscape, Astro embarked on a mission to build innovative offerings to meet the evolving customer demands. In recent years, Astro has rolled out a series of exciting innovations, including the launch of its 4K UHD Ultra and HD-enabled Ulti Boxes, which to date are serving well over 600,000 connected homes. With these connected boxes, customers need not worry about missing their favourite TV dramas or movies, as the Play from Start function enables users to restart movies anytime they wish, record as many programmes as they want simultaneously, and stream seamlessly across devices. In addition, delivery over the internet enables the Ultra/Ulti Box and their companion app, the free Astro GO, to permanently 'hold' over 90,000 pieces of content that can be viewed 'on demand' - originals, award winning drama and comedy ready to watch anytime, anywhere.
Weather disruptions are also now a thing of the past for Astro. Powered solely by broadband, the Ultra Plug & Play Boxes can easily be installed by connecting them to just the TV and the home internet. Because the Box does not require a satellite dish, rain fade is no more.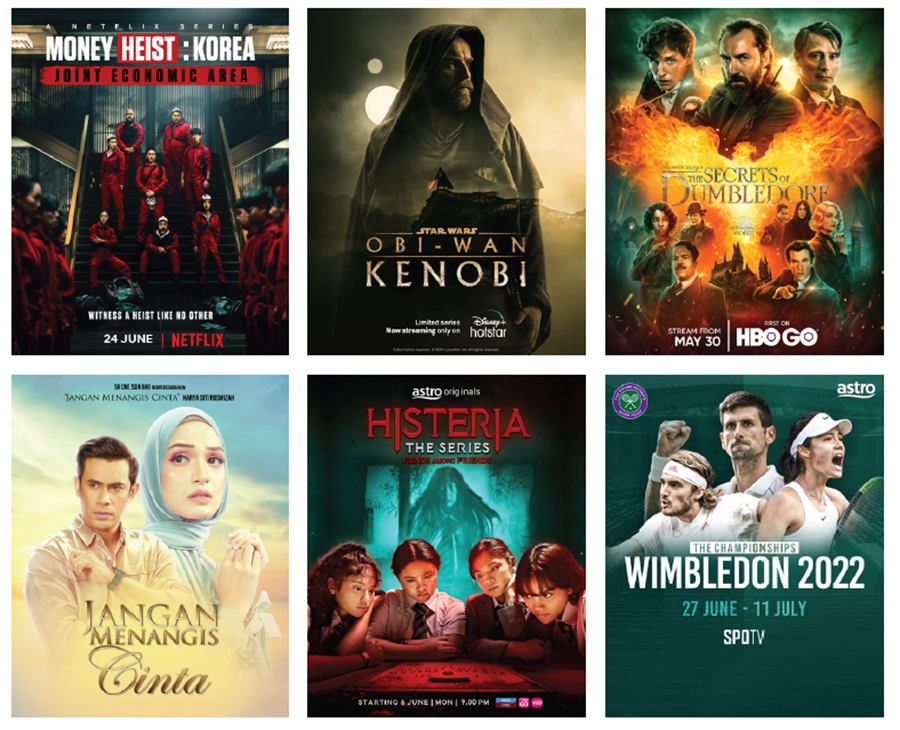 The New Astro Experience
Astro has been tirelessly committed to its mission of elevating Malaysians' home entertainment experience. When the country went under strict lockdown, with limited access to outside entertainment, internet use and online streaming surged as customers increasingly sought out accessible options and convenient platforms for satisfying viewing experiences. Luckily Astro was already well advanced on its aggressive transformation journey into this streaming space, which culminated in the introduction of the New Astro Experience in November 2021.
Euan Smith, Astro's CEO of TV and Group COO said, "Based on consumer insights, we simplified our customer journey with self-serve options and new packs for better value and savings. Realising its ambition of becoming Malaysia's number one entertainment destination, Astro unveiled an unrivalled range of the best movies and series in refreshed channels, as well as big shows and games for kids in order to meet the country's diverse entertainment needs. At the same time, Astro also has welcomed global streaming services like Netflix, Disney+ Hotstar, HBO GO, iQIYI and TVBAnywhere+, onto our platform, expanding our over-the-top (OTT) aggregation strategy and enabling customers to stream all their favourite series and movies in one place."
Customers can already enjoy Netflix on the TV screen via the Ultra and Ulti Boxes with popular and new shows such as Money Heist: Korea - Joint Economic Area, while Disney+ Hotstar and HBO GO fans can watch international smash hits, Obi-Wan Kenobi and Fantastic Beasts: The Secrets of Dumbledore. As Malaysia's leading content provider, there is also no shortage of local favourites including Jangan Menangis Cinta and Histeria, as well as LIVE sports like the Wimbledon that will keep you on your toes. Astro now has a bold plan to add many more apps to its connected boxes this year.

offers better value when bundled with content packages
To address customers' growing demand for stronger connectivity, Astro recently announced its own entry into the Internet Service Provider (ISP) space with the launch of Astro Fibre.
Euan said, "Now that Astro has become an ISP in our own right, we have more flexibility to sell and price our broadband the way we want to - whether bundled or standalone. Our current objective is to get as many of our existing Pay-TV and enterprise customers on to this 'New Astro' service as possible. We have already extended our broadband capability and have seen this resonate strongly - our broadband customer base showed a 50% growth year-on-year, illustrating that more and more customers are recognising the value and convenience of bundling their broadband with the other services they trust Astro to deliver. As we ramp up the Astro Fibre roll-out, this expansion is expected to contribute positively to the Group over the medium term, and result in more happy customers."
With various ISPs already in the market, why choose Astro Fibre? The answer is clear - with speed tiers ranging from 50 Mbps to 800 Mbps, customers have the flexibility to opt for Astro Fibre as a standalone product or, for even better value, to bundle it with one of Astro's amazing new content packages, offering great savings and value at a range of price points. On top of this, Astro Fibre comes with a built-in mesh agent to deliver greater reliability and faster internet through the home. Customers also get to enjoy an elevated entertainment experience as all Astro Fibre comes with a FREE WiFi 6 Router and up to 24 months of one FREE mesh unit! If that is not enough, Astro's team of experts will also conduct a thorough WiFi heat map-based assessment of each home during installation to find dead zones, improve coverage and spot signal leakages.
Check out more savings with Astro Fibre bundled with the packs below: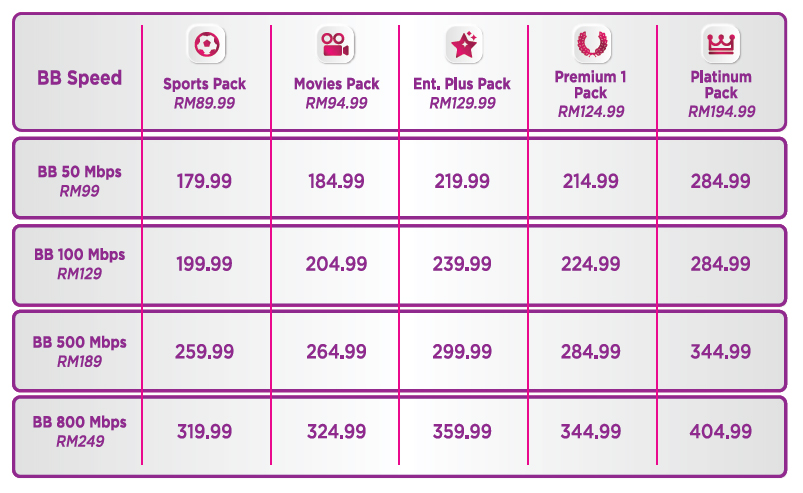 Visit www.astrofibre.com.my or call 03-7481 3000 for more information.