Malaysia is the undisputed leader in the Islamic finance industry, with a 48% market share of global sukuk issuance in 2019, more than double that of its biggest competitor Saudi Arabia. Recently, the country also emerged as one of the world's leading Islamic financial technology (fintech) hubs that houses various Islamic fintech start-ups.
Based on Malaysia Digital Economy Corporation's (MDEC) Islamic Fintech Report, published in February this year, a total of 26 Islamic fintech providers were operating in Malaysia in 2019, higher than the UK (19), United Arab Emirates (16), Indonesia (12) and US (10).
These fintech start-ups include HelloGold, the world's first Shariah-compliant gold digital application, and microLEAP, the first peer-to-peer (P2P) financing platform in Malaysia that offers both Islamic and conventional investment notes. Ethis Ventures, an Islamic fintech start-up from Singapore, moved its headquarters to Malaysia last year and became the first licensed Islamic equity crowdfunding platform locally.
Even conventional fintech start-ups have recently ventured into the Islamic space in Malaysia. For instance, StashAway, the country's first and largest robo-advisory firm in terms of asset under management, launched StashAway Simple this year, a Shariah-compliant cash management solution that invests its clients' money in an Islamic money market fund.
Why has Malaysia become a magnet for Islamic and conventional fintech start-ups? A key factor is that the country has a set of comprehensive regulatory guidelines that clearly list the requirements for fintech players to operate their businesses. Without ambiguity, fintech start-ups can make investment decisions quickly and decisively, says Wong Wai Ken, country manager for StashAway Malaysia.
For instance, the Digital Investment Management (DIM) framework, introduced by the Securities Commission Malaysia (SC), has laid out the requirements for StashAway to participate in the robo-advisory industry and tap into the Muslim and non-Muslim markets. There are also clear regulatory guidelines for fintech players who have applied, or want to apply, for a licence to operate an equity crowdfunding, or P2P financing, platform.
A mature Islamic finance ecosystem is another crucial factor that draws Islamic fintech players to Malaysia. There are various Shariah advisory firms that can ensure the products and services offered by fintech start-ups are Shariah-compliant. Several Islamic banks can also provide them with comprehensive Islamic banking and finance services.
Wong says: "The local Shariah adviser network is robust. There are huge players in this field that can advise you on all kinds of matters. You can also perform various financial tasks with Islamic banks, which are entirely segregated from the conventional ones. The infrastructure [for Islamic finance] is there.
"I cannot say that Singapore has the same [capability] as Malaysia. And Malaysia is the pioneer in Islamic finance based on worldwide standards."
Malaysia houses numerous International Islamic finance bodies that strive to further improve the Islamic finance ecosystem locally and globally. They include the Islamic Financial Services Board (IFSB), a standard-setting organisation that promotes and enhances the stability of the Islamic financial services industry; and International Islamic Liquidity Management Corporation (IILM), an institution that offers and facilitates effective cross-border Shariah-compliant liquidity management solutions.
Bank Negara has set up the International Centre for Education in Islamic Finance (INCEIF) to develop human capital for the global Islamic finance industry; as well as the International Shariah Research Academy for Islamic Finance (ISRA), an Islamic finance and Shariah-related research institution.
Robin Lee, co-founder and CEO of HelloGold, says Malaysia is a perfect market for Islamic fintech players because of its mature Islamic finance ecosystem and infrastructure. It is also a "goldilocks" country with the right market size and a multiracial and multireligion population for Islamic fintech start-ups to do business in.
Lee says: "Singapore, a city state, has a population of five million without a mass retail market [to test our business model]. On the other end of the spectrum, Indonesia is just too big. Malaysia has a population of about 30 million, and it is just nice for us to have a feel of what things will be like.
"In terms of demographics, Singapore's population is largely Chinese. Malaysia has a large Muslim population with a mix of Chinese and Indians. If our products work in Malaysia, it should be able to work in countries like Indonesia and India too," he says.
Then, there is pent-up demand in the Malaysian retail market for new Islamic investment products and services, which makes the country attractive to Islamic fintech players, says Tunku Danny Nasaifuddin Mudzaffar, founder and CEO of microLEAP PLT, the first local P2P financing platform to offer Shariah P2P investment notes.
Danny says the platform was launched in October last year and offered only conventional P2P investment notes in the following six months. The reaction from investors had not been great because of various factors.
"However, we started offering investors Shariah-compliant investment notes beginning April this year, and they were taken up by investors very fast. The growth was fantastic. We had only six investment notes funded at the beginning of April. By October, we had fully funded 38 [Shariah-compliant investment] notes. We found that Malaysians are hungry for Islamic assets," he says.
Challenges on the ground
Still, Islamic fintech start-ups in Malaysia have their own set of challenges in offering a more comprehensive range of products, gaining local market share and expanding their businesses regionally.
For instance, StashAway's Wong says a lack of Shariah-compliant exchange-traded funds (ETFs) in the market has hindered the start-up from providing investors with a globally diversified Islamic ETF portfolio.
As at Nov 25, there were only six Shariah-compliant ETFs listed on the local bourse: MyETF Dow Jones US Titans 50; MyETF Dow Jones Islamic Market Malaysia Titan 25; MyETF MSCI Malaysia Islamic Dividend; MyETF MSCI South East Asia Islamic Dividend; MyETF Thomson Reuters Asia Pacific ex-Japan Islamic Agribusiness; and Trade Plus Shariah Gold Tracker.
Wong notes that existing products also lack the innovation needed to add value to investors.
"The existing Islamic ETFs track the performance of various Islamic indices that are more or less replications of existing conventional indices, instead of tracking innovative Shariah-compliant indices," he says.
For instance, MyETF Dow Jones US Titans 50 benchmarks its performance against the Dow Jones Islamic Market US Titan 50 Index, which is a subset of the Dow Jones Industrial Average.
Then, the MyETF Dow Jones Islamic Market Malaysia Titan 25, which tracks the Dow Jones Islamic Market Malaysia Titans 25 Index's performance, invests in various large-cap companies that are component stocks of the KLCI, which offers investors little diversification value.
"It is crucial to have more innovative Shariah-compliant ETFs available to fund managers," says Wong.
Meanwhile, microLEAP's Danny says awareness surrounding Islamic fintech start-ups is still relatively low, especially in the small and medium enterprise (SME) industry.
He says many smaller businesses eligible to raise funds from the public via P2P platforms are unaware of the Shariah-compliant option. Then, some perceive the Shariah-compliant way of raising funds as more costly than the conventional one.
While this point is true in general, it does not apply across the board, says Danny. "For us, the cost for SMEs to raise funds through the issuance of Shariah-compliant investment notes is exactly the same as conventional notes.
"In fact, Shariah-compliant investment notes get filled up much faster than conventional notes, which means SMEs can raise funds quicker by opting for the Shariah-compliant way," he says.
For a regional start-up such as HelloGold, which has extended its footprint into Thailand and is planning for further business expansion, the key challenge is the lack of a common Shariah standard regionally or globally.
Before HelloGold's plan to expand its business regionally was derailed by the pandemic, Lee had been actively engaging his Indonesian business partner to gain access to the world's largest Muslim country.
The discussions between both parties were progressing rather slowly. "Our partner asked us about Shariah-compliant matters. They asked to look at our fatwa and product sheets and who our Shariah adviser was. They wanted us to check certain things with our adviser. All of this takes time," he says.
"Assuming that the pandemic hadn't happened and we managed to make progress in further discussions, we might have found out later that our Shariah advisers were doing certain things differently from what [our partner was] doing. And we would have needed more time to solve our differences. We wouldn't know."
Lee adds that the discussions between both parties could have been speeded up if there was a set of Shariah standards recognised by all countries regionally or globally.
"It would be much easier if we had a checklist. If all the requirements are met, our start-up would then be recognised by the Indonesian government as a Shariah-compliant entity. We would not need to find out our differences and check on them one by one," he says.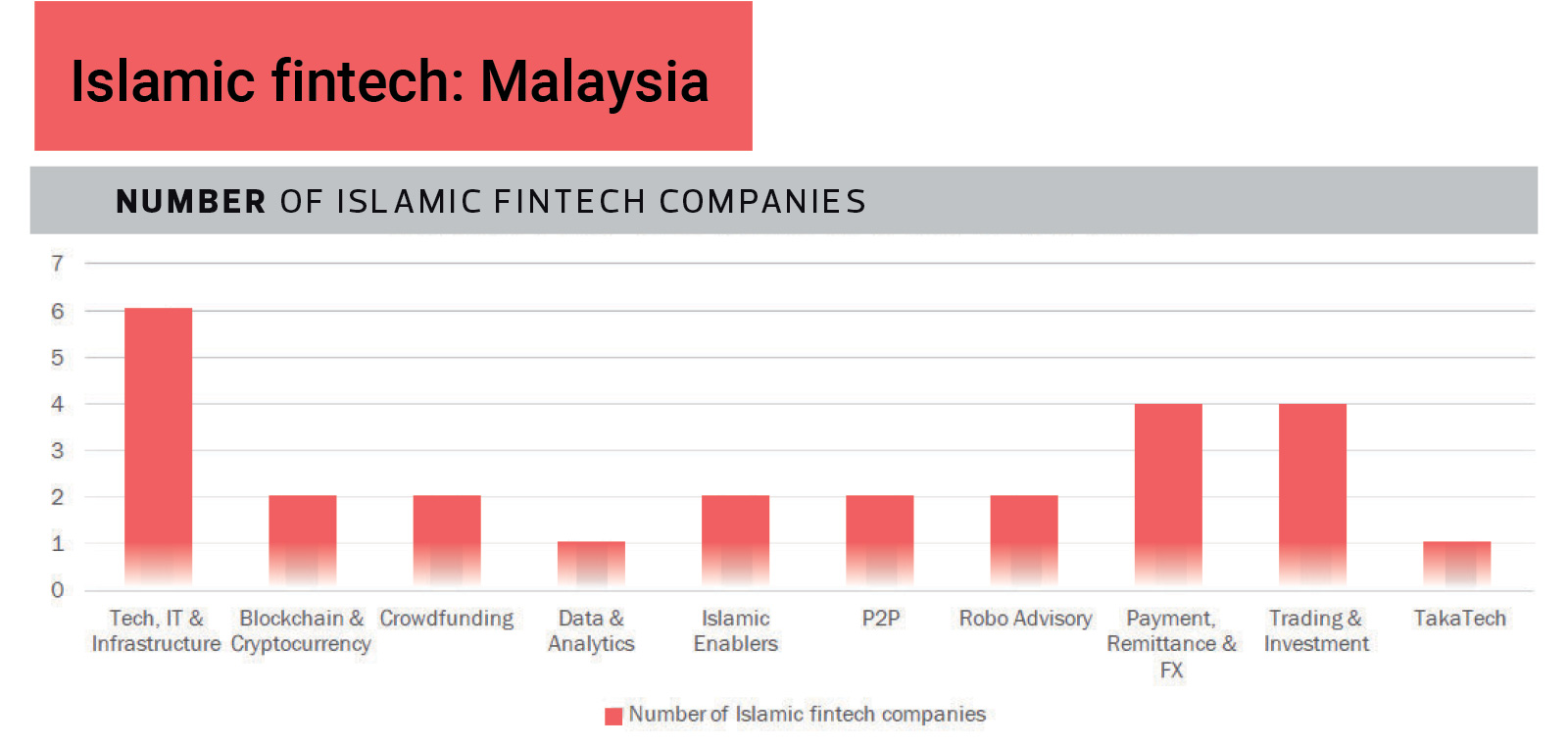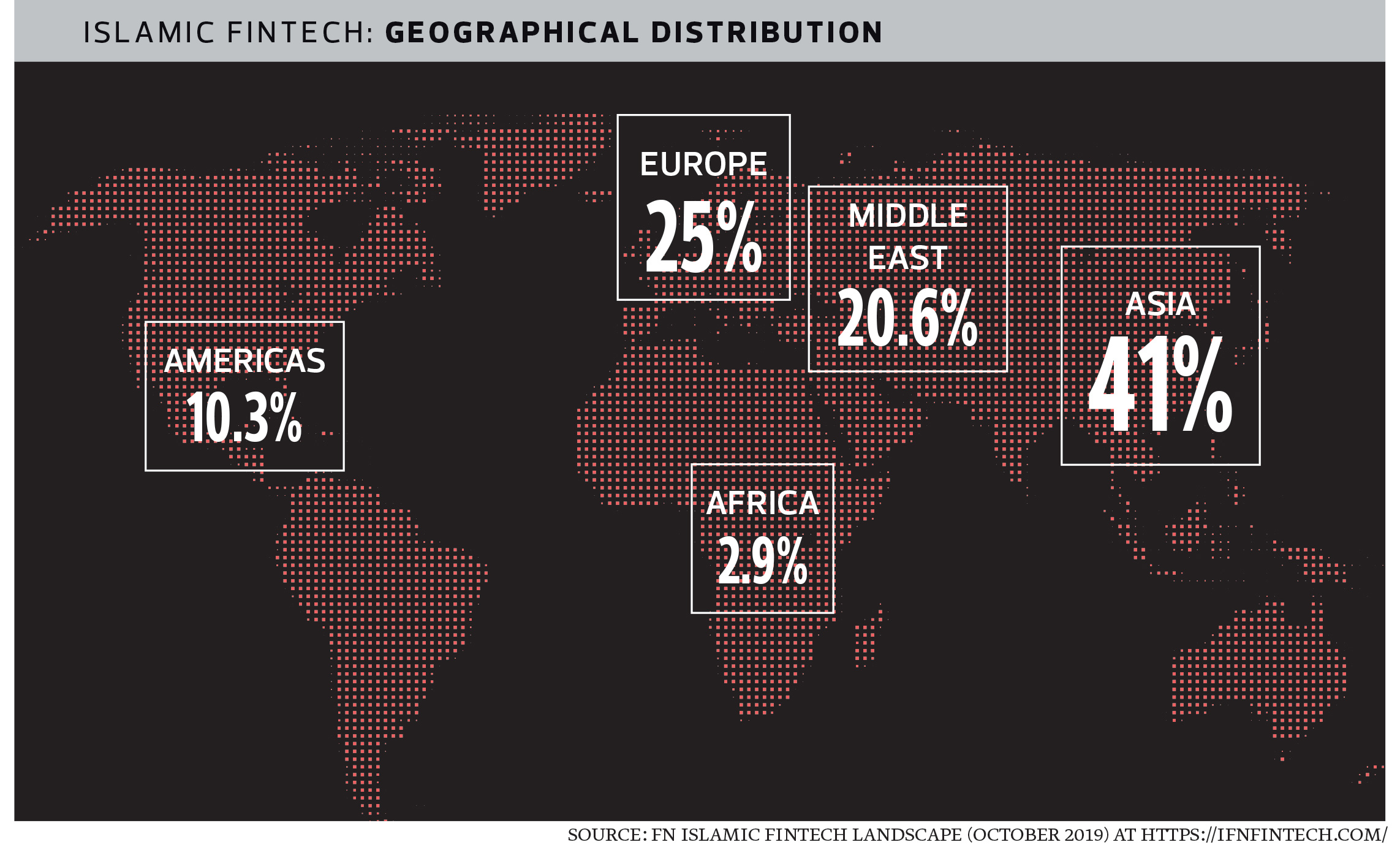 The way forward
Wong says Malaysia needs to have more breadth and depth in Islamic investment products, especially in the passive investment space. "I hope to see more Shariah-compliant ETFs that track indices in a truly different way from conventional ones."
Danny says players in the Islamic finance and Shariah fintech industries need to organise more events and campaigns to educate SMEs about alternative financing that is Shariah-compliant. There is a rather huge supply of funds from the Muslim retail market that remains untapped.
Lee hopes the Malaysian government and regulators can establish bilateral or multilateral relationships with other countries so that the Shariah standard locally can be recognised elsewhere, and vice versa.
"For instance, there is the Accounting and Auditing Organisation for Islamic Financial Institutions (AAOIFI), which prepares accounting, auditing, governance, ethics and Shariah standards for Islamic financial institutions and the industry. While some of the countries that are more advanced in Islamic finance have joined the organisation, some have not," he says.
MDEC, the government agency tasked with organising and leading Malaysia's digital economy, has embarked on various initiatives to push for the advancement of the Shariah fintech industry.
Norhizam Abdul Kadir, vice-president of the fintech and islamic digital economy division at MDEC, says the initiatives include the establishment of the Orbit Fintech Hub. The hub, located at Bangsar South, serves as a nexus for local and foreign fintech players by allowing them to interact with industry leaders to discuss business development and early market entry issues.
MDEC also works with institutions of high learning and relevant industry players to provide input on fintech. "We have also partnered with local regulators, including Bank Negara Malaysia and Securities Commission Malaysia, to conduct regulatory boot camps, which are platforms where regulators will share their latest development on policies and regulations every quarter," he says.
Two other initiatives are Financial Innovation Lab and Fintech Booster. Norhizam says the former, established in partnership with the United Nations Capital Development Fund and Bank Negara, aims to accelerate innovation in digital financial services with new or improved solutions that empower the daily lives of low- and middle-income people. The Fintech Booster, a capacity-building programme organised by MDEC in collaboration with Bank Negara, aims to assist fintech companies in developing their products and services via strategically crafted modules.
There is also eBerkat, an initiative to help Malaysians gain financial knowledge and digital financial services, especially for those in the B40 and micro, small and medium enterprises (MSMEs).
"With these initiatives, MDEC is taking the lead in driving the country's digital economy forward and constantly attracting digital investment for the Islamic finance marketplace," says Norhizam.
MDEC to host Go-eCommerce Expo, Highlighting Live Streaming E-Commerce for MSMEs
Following the huge success of the inaugural e-Dagang Expo in May 2020, the Malaysia Digital Economy Corporation (MDEC) is pleased to bring its latest series of e-commerce initiatives titled
Go-eCommerce Expo, a virtual event that will feature a series of webinars running from 8 to 10 December 2020.
Go-eCommerce Expo is part of MDEC's ongoing efforts to accelerate digitally-powered businesses agenda and to educate the local businesses especially the micro, small and medium sized enterprises (MSMEs) on why they should be selling online and encouraging them to digitalise and be a part of the e-commerce ecosystem.
The three-day virtual event focus on the full spectrum of ecommerce, featuring a series of curated webinars with special emphasis on live streaming e-commerce. Three critical points of considerations will be covered during the expo: Live Selling, Logistics and Payments.
In order for the MSMEs to promote a multi-channel sales approach that will help them to capture a wider reach of the audiences and drive higher sales revenue, the expo will showcase live streaming e-commerce as a new source of sales leads.
This is to ensure the MSMEs overcome the ongoing economic uncertainties that the global pandemic had caused to them and encouraging them to embrace e-commerce in order to diversify their income streams.
The Go-eCommerce Expo will feature top e-commerce experts and industry stalwarts, such as EasyParcel, GOLOG, iLike, Janio Asia, MODEN KOL, MPAY, PayNet, SHOPLINE, Split, TresGo and Visa.
It will also be working closely with nine strategic partners – ACCCIM, eKUD, MAICCI, MATRADE, MRA, MRCA, PERDASAMA, SME Corp, TM ONE – to ensure a wider audience reach and boost uptake among local SMEs that benefit from this event.
The event will conclude with a LIVE Selling Carnival, featuring Perkhidmatan e-Dagang Setempat (PeDAS) participants. This two-hour-long sales festival will be divided into four segments and viewers can purchase locally made products at incredible deals and discounts.
For more information on Go-eCommerce Expo and to register for the event, please go to here.