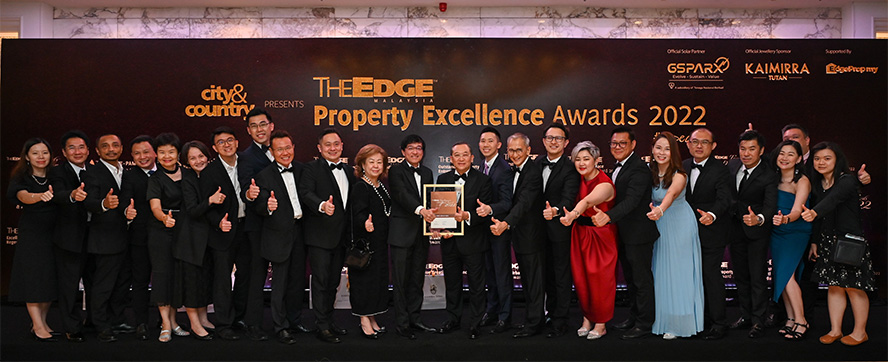 Mah Sing's senior management team celebrate the Group's win and give a thumbs up at the The Edge Malaysia Property Excellence Awards 2022.
2022 proved to be a successful year for Mah Sing as the Group received numerous accolades as a top developer and recognition for our ESG initiatives, helping the Group further cement its place as one of Malaysia's top developers.
"As one of Malaysia's leading property developers with close to 30 years of experience, our vision is to be a nation builder who creates development with communities in mind. We strive to Reinvent Spaces to Enhance the quality of Life by inventing a sustainable future of living. This is further demonstrated by the popularity of our M Series, which offers homebuyers affordable luxury at prime locations. In light of this, we are constantly on the lookout for more suitable landbanks to develop and deliver more affordable homes to our fellow Malaysians," said Tan Sri Dato' Sri Leong Hoy Kum, Founder and Group Managing Director of Mah Sing Group Berhad.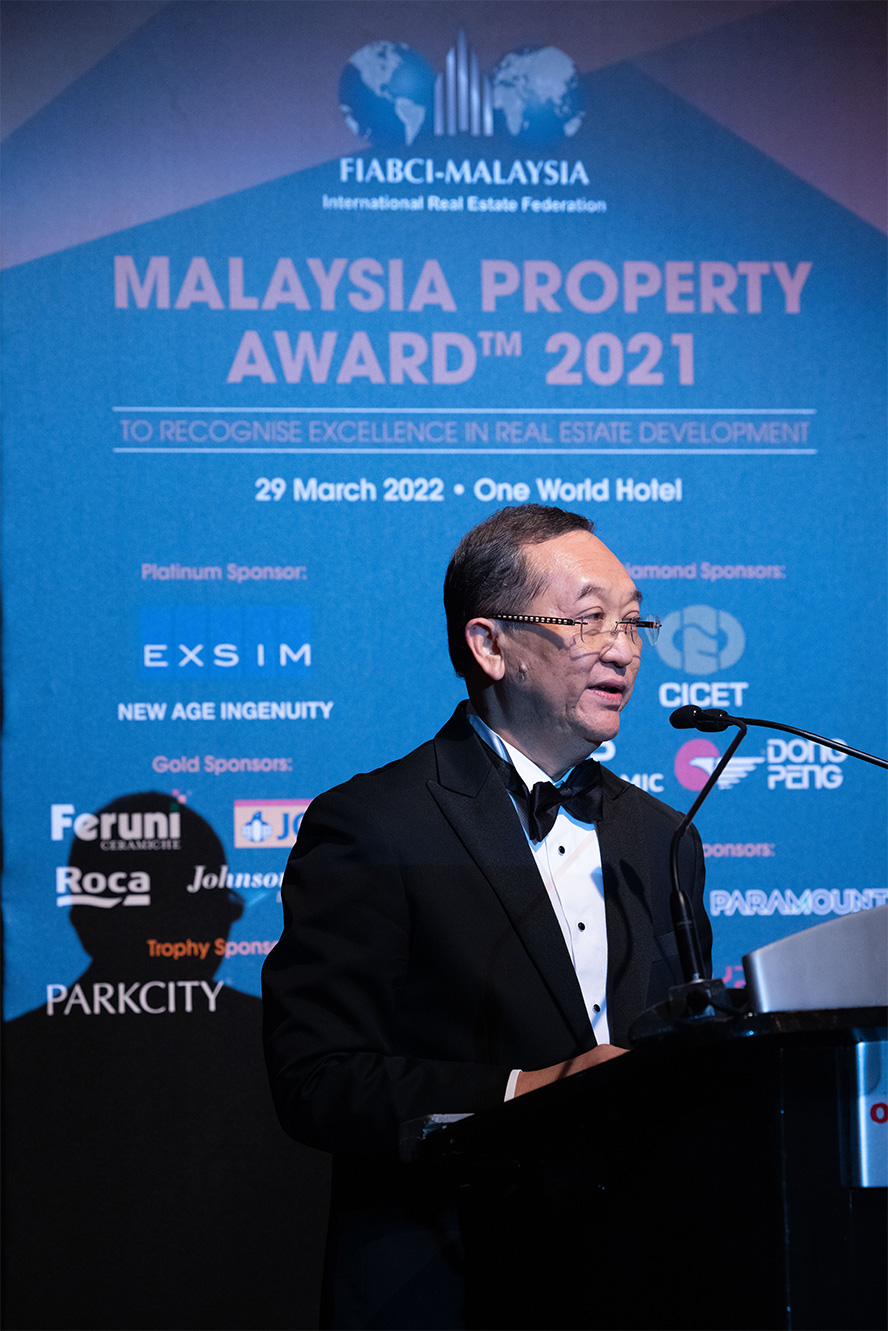 Tan Sri Dato' Sri Leong Hoy Kum, Mah Sing's Founder and Group Managing Director receiving the prestigious 'Property Man 2021' award at the Malaysia Property Award 2021
Mah Sing Group Berhad's 2022 Top Accolades
FIABCI Malaysia Property Award – Property Man of the Year 2021 – Tan Sri Dato' Sri Leong Hoy Kum, Founder and Group Managing Director
The Edge Malaysia Property Excellence Awards 2022 – Top Property Developers Awards 2022 – Top 10
9th PropertyGuru Asia Awards Malaysia in partnership with iProperty.com.my – Developer of the Year
FIABCI-The Star Malaysia Developer Awards 2022 – Top-of-the-Chart-Awards (for Market Cap RM1billion and above) – Top 10
StarProperty Awards 2022 – Real Estate Developer – All-Stars Award
BCI Asia Awards Malaysia 2022 – Top 10 Developers
Brand Finance – Top 10 Fastest-Growing Malaysian Brands 2022
The Edge Malaysia ESG Awards 2022 – Gold (Property and REIT)
Malaysia SDG and ESG Impact Awards 2022 – Outstanding ESG Impact Corporate Excellence Award (Property Development)
Mah Sing embraces a customer-centric strategy to provide its customers and the surrounding community with a valuable and sustainable lifestyle beyond home ownership. Mah Sing's projects take on a holistic approach to all facets of modern living in addition to space planning and interior design, as seen in the well-known M series. They are strategically located, connected with amenities and ready infrastructure, affordably priced and built with a touch of modernization without compromising on quality. The Group's efforts to provide quality homes that meet market demand have been well recognized as evidenced by the success of the M Series' take-up rates among other projects.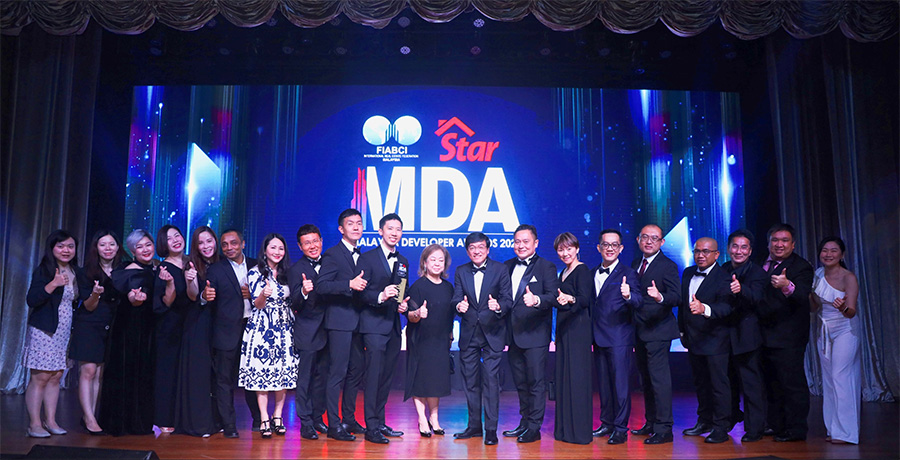 Mah Sing's team giving a thumbs up at Malaysia Developer Awards 2022.
Mah Sing in 2023 - Sets higher sales target at minimum RM2.2billion, on the lookout for more landbank
Robust demand for its recent launches of M Series properties lends increased optimism for stronger sales momentum, leading Mah Sing to set a minimum sales target of RM2.2billion for 2023.
With a strong balance sheet and healthy liquidity, Mah Sing is on the lookout for suitable landbanks this year. It will continue to develop high-quality homes with well-designed features to provide functional, comfortable, affordable homes for the nation. Upcoming new M Series launches to look out for are M Nova in Kepong, Phase 3 of M Senyum in Salak Tinggi, Phase 1B of M Panora in Rawang and Meridin East (Jasmine and Erica West) in Johor Bahru.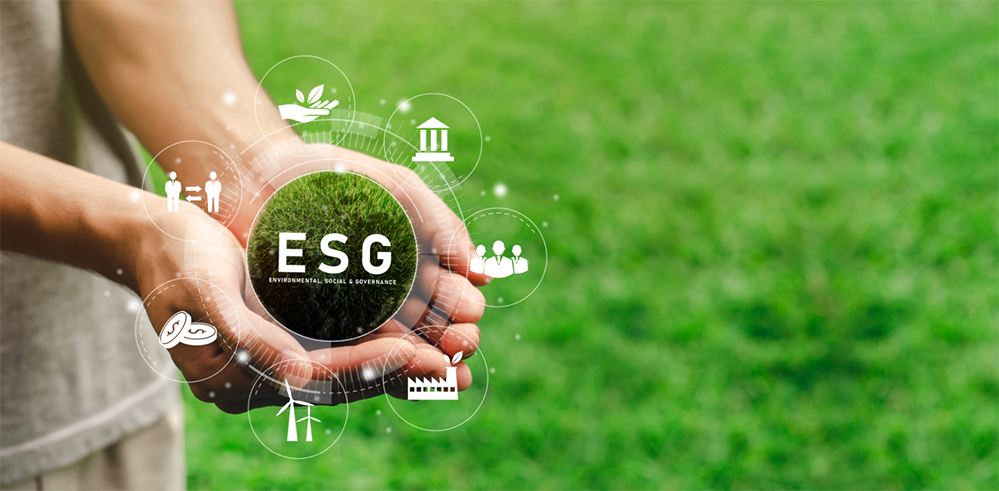 Mah Sing refers to ESG as a transformational journey.
Mah Sing's ESG Journey
Tan Sri Dato' Sri Leong said, "The adoption and implementation of sustainability by Mah Sing has produced remarkable results. We are honoured to be the Gold winner in The Edge Malaysia's first ESG Awards 2022 under the Property & REIT category. We see ESG as a transformational journey and a fundamental driver of operational sustainability."
Mah Sing has consistently integrated sustainability into our Property and Manufacturing Divisions, making Mah Sing a constituent of FTSE4Good and placing it in the top 25% of publicly listed companies in terms of ESG Ratings in FBM Emas. The Group's commitments and focus on environmental, social and governance aspects are in line with the UN Sustainable Development Goals.
Mah Sing's M Series projects astutely infused green building concepts and elements, achieving more than 25% of green spaces. Above and beyond these, the Group also invests in constructing and upgrading surrounding amenities and infrastructure to enhance the quality of life for both residents and the community.

Mah Sing has been recognised as the gold winner of Property & REIT, Equities Category by The Edge Malaysia's Inaugural ESG Awards 2022.
The Group's Manufacturing Divisions focus mainly on reducing electricity, gas and water usage through the use of heat exchangers, solar panels and rainwater collection. The Group places great importance on a comprehensive approach to ensuring high-quality assurance at every stage of the business cycle from procuring raw materials to post-sales customer services. Besides utilising 100% recyclable plastics for its operations, the Group also empowers the local supply chain by sourcing locally to support the communities, foster economic growth and generate job opportunities.
Moving forward, as part of improving ESG management for long-term growth and profitability, Mah Sing is committed to building on current goals and embarking on a more robust goal such as the development of the Task Force on Climate-Related Financial Disclosures (TCFD) reporting framework to manage risk and tackle business challenges through scenario analysis.