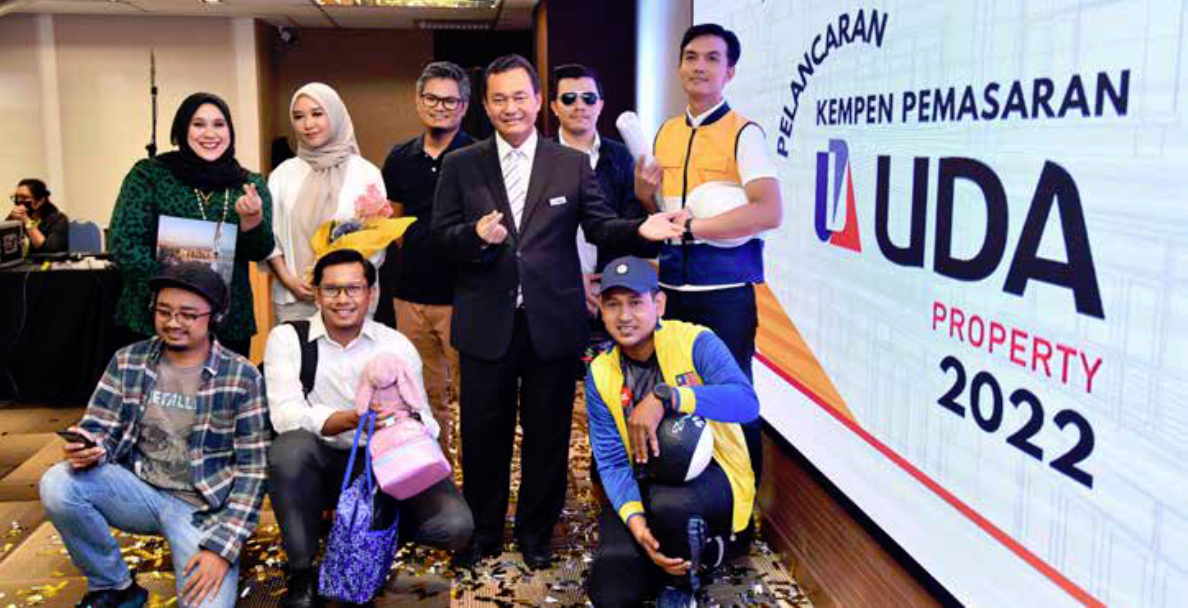 Salem (centre) at the UDARia Property Campaign 2022 launch recently. Throughout the campaign period, UDA will offer special gifts worth RM1 million to those who purchase the developer's properties.
IN A BID to stimulate the country's property market and encourage homeownership, UDA Holdings Bhd has introduced its UDARia Property Campaign 2022.
Themed "Perfect for all generations", the campaign runs from Aug 23 until Oct 31 and will feature 14 UDA property products in four regions - Central (Klang Valley), North (Penang and Kedah), South (Johor) and East (Terengganu and Kuantan).
The participating residential and commercial projects in the campaign are 38 Bangsar Residensi in Bangsar, Legasi Kampong Bharu in Kampung Baru, Residensi Akasia Jubilee in Pudu and Avenue 3 in Cheras; Evoke Residence, Wakaf Seetee Aisah 2 and Elevate @ Gravitas in Penang; Taman Sultan Sallehuddin in Kedah; Pisonia Ville Pac 2, Areca and Neuvo Centro in Johor; Pelindung Heights in Kuantan; Sarai in Kuala Terengganu and Coast Kemaman in Kemaman, Terengganu.
The featured projects are suitable for homebuyers aged 21 to 60, such as singletons, young couples, youngsters, growing families as well as retirees.
UDA President and CEO Mohd Salem Kailany says the campaign is designed to support homebuyers looking to purchase a property. The residential and commercial properties featured in this campaign are attractively priced from RM300,000 to RM2 million.
"Homebuyers' profile and lifestyle are key determinants of their housing preferences, while commercial properties provide good appreciation value in the long term. Everyone wishes to own a property. As such, UDA intends to provide comfortable and spacious homes for buyers, as well as to address the growing demand of Malaysians who want to invest in commercial properties," says Mohd Salem.
UDA anticipates a footfall of 15,000 for the three-month campaign, which will be held in Odeon Walk in Kuala Lumpur; Pusat Komersial Tasek Gelugor in Penang; Serambi Teruntum in Kuantan; Angsana Ipoh Mall in Perak; and Angsana Johor Bahru Mall in Johor Baru. Through-out the campaign period, UDA will offer special gifts worth RM1 million to those who purchase the developer's properties. Lucky purchasers will also stand a chance to win five lucky draw prizes of a cash voucher worth RM100,000 and four smartphones. In addition, there will be performances by celebrities at the event.
A family holiday package worth RM2,000 and a Touch 'n Go e-wallet of RM200 will be given to those who purchase UDA properties priced between RM300,000 and RM500,000. Those who purchase properties in the region of RM501,000 to RM1 million will receive a family holiday package worth RM3,500 and a Touch 'n Go e-wallet of RM300. For purchases of properties above RM1 million, buyers will get a family holiday package worth RM5,000, a Touch 'n Go e-wallet of RM500 as well as a spa package worth RM500.
To find out more, visit https://www.udaproperty.com.my or call 1800 1800 89