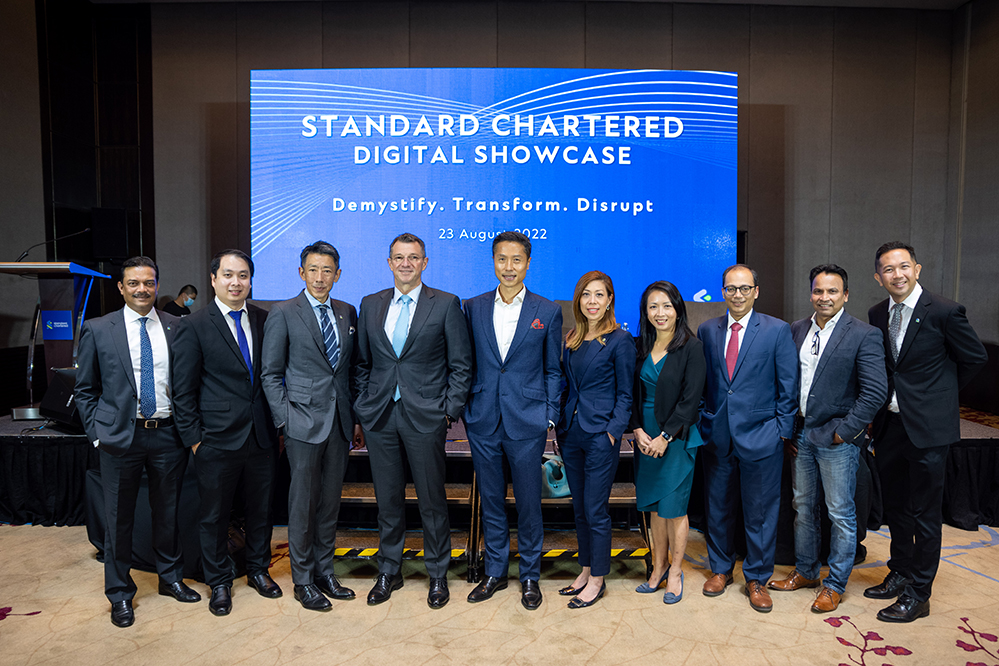 The leaders of Standard Chartered were present to engage and have discussion sessions with attendees. (From left) Abrar Anwar, managing director and non-independent executive director, Malaysia ; Samuel Ding, head of transaction banking, Malaysia; Mak Joon Nien, country CEO, Malaysia; Michael Spiegel, group head of transaction banking; Stanley Sia, co-head, Asia, digital channels and data analytics for corporate, commercial and institutional banking; Patricia Wong, head of client coverage for corporate, commercial and institutional banking Malaysia; Chong Pei Kian, regional head of digital commercialisation; Ankur Kanwar, head of cash products, ASEAN; Samuel John Mathew, global head of flow and financial institution trade; and Bryant Lee, director of digital commercialisation from Standard Chartered
Technology has become the catalyst for businesses to brace for an ever-changing world and scale up quickly. As companies have to be proactive in following new trends, leveraging on digital transformation initiatives is critical to stay competitive.
Moving beyond its traditional role as a bank, Standard Chartered has partnered with a large number of multinationals on their digital transformation journey to grow their business. The inaugural Standard Chartered Digital Showcase was held on Aug 23 to demonstrate the various digital capabilities that corporates can utilise to transform their business and demystify some of the concerns associated with digital transformation.
During the event, attendees were able to visit different stations that showcased various digital capabilities - digital payments and collections capabilities, one-stop digital trade solutions, digital servicing which allows businesses to access answers to some of their queries 24/7, advanced analytics and dashboards capabilities enabling treasurers to unlock value from their data to gain insights for decision making, Application Programming Interfaces that are fast becoming standard for companies to drive connectivity and collaborations, and mobile apps which allow for a hassle-free on-the-go banking experience - as well as listen to four panel sessions on digital transformation essentials.
"Today's event demonstrates how innovation is core to Standard Chartered's strategy, enabling the bank to transform itself to meet the changing needs of our clients in the world's most dynamic markets such as Malaysia," said Stanley Sia, managing director and co-head, Asia, digital channels and data analytics for corporate, commercial and institutional banking.
"We are fully committed to delivering on the vision of an efficient, future-proof and safe platform that can help our clients in Malaysia develop a competitive edge as they expand and scale internationally."
Enabling digital payments
"Digitalisation is not optional. It is a way of life. It is a way of doing business." This advice from Standard Chartered head of cash products, Asean, Ankur Kanwar, encapsulates the reality of today's world that relies on the convenience of going digital, including in business management and in providing the best customer experience.
Based on his observation, some of the digitalisation trends in the realm of business are hyper adoption of digital solutions, the shifting of corporate clients online through e-commerce platforms, the abundance of new digital solutions that keep popping up in the market, and the adoption of digital assets in digitalisation strategies.
Ankur was speaking at a panel session titled "Evolving Digital Payments Landscape: Is Your Business Ready?" during the showcase.
Other panellists who joined him included Khairuan Abdul Rahman, director of retail payment services, Payments Network Malaysia; Allen Woo, chief technology officer (CTO), Affin Hwang Asset Management; and Hasan Farooq Malik, chief financial officer, DHL Express Malaysia and Brunei. The session was moderated by Standard Chartered's regional head of digital commercialisation, Chong Pei Kian.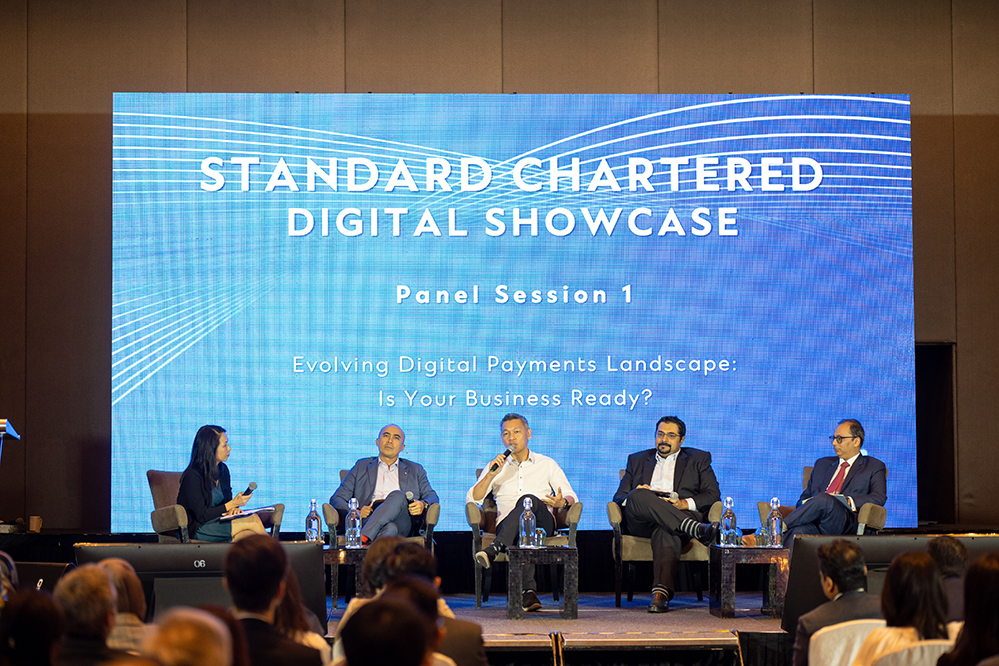 Affin Hwang's Allen Woo (in white shirt) sharing his experience in paving the way in digitalisation
However, a lot still needs to be done to push more businesses towards digitalisation. Khairuan emphasised the importance of mass awareness among consumers and business partners alike. "The challenge for us, or for me personally, is to come up with a good story about [accepting] cash is not free for everyone."
He added that from his interaction with key industry players, he foresees that it will take years to educate business partners and consumers that cash is not free.
As the technology leader in a company, the digitalisation shift depends on a CTO like Woo. He believes that each digitalisation strategy has to start with a vision that invariably has to evolve in the desire to improve customer experience.
He encouraged businesses to adopt the culture of accepting failure, especially in their digitalisation journey, to grow. "It's not about lowering expectations, but having that expectation and having the attitude to learn from [our] mistakes and move on. I think that trait is important to drive your team to give [them] a safe place to migrate through ideas and experimentation."
DHL's Hasan pointed out that real-time integrated data that is sought after with digitalisation will be tremendously useful for businesses. "I think it makes the job easier for everybody when you have a digitalised process."
Hasan's statement was seconded by Ankur. He suggested that data availability has to be looked upon for an organisation to strive.
"The one piece of advice that we always give our clients is [to not] use a piece of technology or data just because it sounds cool. Look at what you are trying to solve and then work backwards to look at how we can go from there. There is enough technology available out there to help you with smarter decision-making."
Ankur recommended that companies start their digitalisation endeavours with small, bite-sized projects to experiment with simpler solutions, with minimal investments.
On the other hand, Woo asserted that the key to a successful digitalisation process is to start first. He shared that one of Affin Hwang's "excuses" to adopt digitalisation was to install a chatbot on its website. From there, it started to build the application programme interface (API) in the back-end system.
Meanwhile, DHL's Hasan advised companies to be more courageous in risk-taking to come up with solutions.
Solutions that redefine trade finance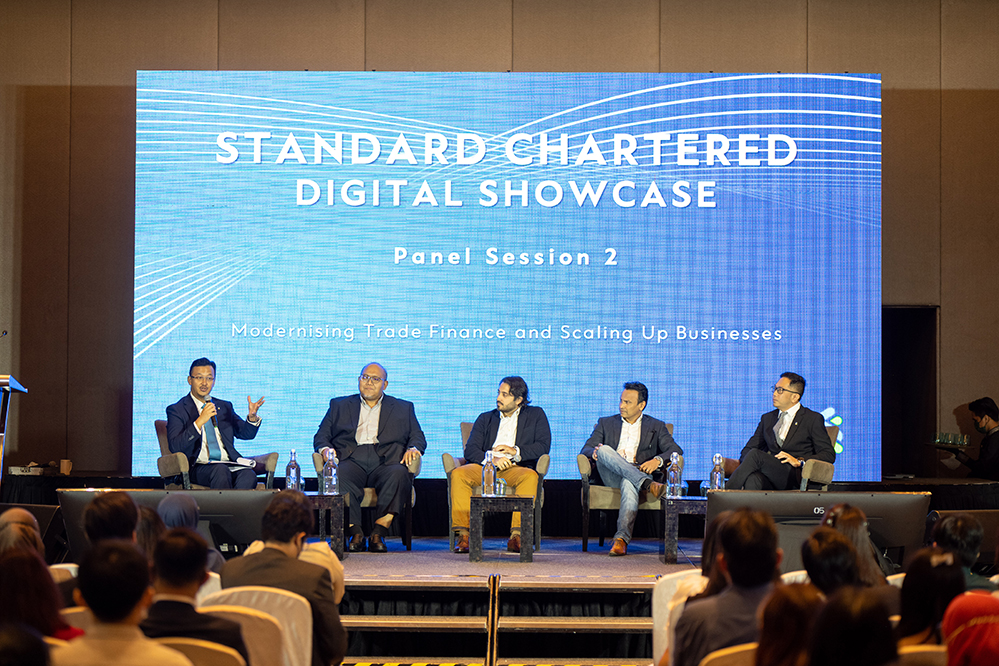 The panellists' different backgrounds and nature of business shows that digitalisation is an essential step to move forward
Faced with a lot of processes that take up a huge chunk of time and manpower, businesses are often met with pain points on their operations journey, which can easily be solved with automation.
During the second panel session titled "Modernising Trade Finance and Scaling Up Businesses", Pharmaniaga Logistics senior manager Nazruddin Maszelan shared that the company's digitalisation journey has improved operational efficiency and reduce manpower requirements, especially during the pandemic.
Due to the high demand for pharmaceutical products in Malaysia, Pharmaniaga struggled to consolidate data at the back-end, especially in recording orders, stock-keeping and filling up forms. He said that the company used to have 21 contract staff just to fill up forms on the ePerolehan website.
Ever since it digitalised its businesses, more processes have been automated and more manpower channelled into other focus areas.
"With the robotic process automation, we reduced [the number of contract staff] from 21 to just two [people to fill up forms on the ePerolehan website]," said Nazruddin.
Vale's sales administration manager Erick Tavares stressed the importance of ensuring that the multiple stakeholders are on the same platform to integrate data and communication.
As a multinational company, its trading business can resume as usual, all thanks to digitalised documenting processes including digital signatures to validate agreements. Today, 30% of Vale's exports are electronic-based.
"We have been partnering our customers in demonstrating to them the value of going digital. Most of them [are hesitant] to change because as you know, mining and metals is still a very conservative industry. Here in Vale, we are always trying to advocate digitalisation," said Tavares.
Aligning with businesses' rapid shift to digitalisation, Standard Chartered's global head of flow and FI trade Samuel John Mathew highlighted that all industry marketplaces and digitalised platforms go hand in hand.
"[The synergy is similar] for banking and finance. We are partnering with various procure-to-pay platforms, marketplaces as well as blockchain networks to become the button that gets clicked by the buyer/seller as part of the financing request in the commercial buy/sell on the marketplace/platform."
Security is a huge concern among customers and businesses, especially in this era where scams and data leaks have become the norm.
Understanding that banking is a business of trust, Standard Chartered's director of digital commercialisation Bryant Lee assured that the bank places a strong emphasis on shared security responsibility with its customers.
"There's a lot of critical awareness details in the security centre within Straight2Bank. [Online] banners are placed within the Straight2Bank [platform], in case there are certain security updates or alerts that are happening across markets."
In concluding the second panel session, all the panellists agreed that having a clear vision, listening to customers and ensuring the safety of transactions are crucial to kick-start a business' digitalisation journey.
For more insights on what was discussed in the third and fourth sessions, stay tuned to the next article which will be published on Sept 26.