This article first appeared in The Edge Malaysia Weekly on September 11, 2017 - September 17, 2017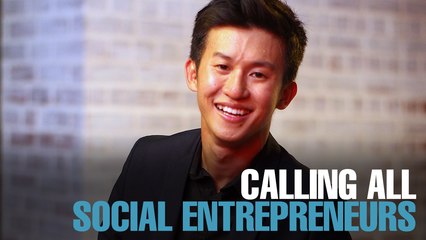 Chivas Venture has opened its registration for Malaysian social entrepreneurs for the second year running. Local judge Ehon Chan shares his hopes for the potential new candidates
The world is now placing more focus on social entrepreneurship as it is seen as being more than just a trend or revolution — it is a new and sustainable approach to solving most of today's critical challenges.
On May 13, 2015, Prime Minister Datuk Seri Najib Razak launched Malaysia's social enterprise blueprint — a three-year road map that aims to propel the social enterprise sector to be self-sustainable, equitable and community-centric in order to empower impact-driven entrepreneurs.
According to Ehon Chan, executive director of the Asean Centre of Entrepreneurship and one of the jury members for Chivas Venture Malaysia 2018, social entrepreneurship in Malaysia, however, still lags behind most developed countries.
"Social entrepreneurship started in the UK in 2005 while South Korea embarked on it in 2007. The US started way back then, but these countries have always had the ecosystem to support such enterprises," he says.
Although Malaysia began actively engaging in social entrepreneurship years later, that is, in 2015, Chan points out that it has leapfrogged many other countries.
A Thomson Reuters Foundation poll of experts in the world's 45 biggest economies last year ranked Malaysia ninth for having the best environment for entrepreneurs using businesses to help tackle social problems.
Chivas Regal, one of the leading providers of support to social entrepreneurs, last Tuesday launched the Chivas Venture 2018, a global search to find and support the next generation of start-ups wishing to succeed and change the world for the better while at it.
Launched globally in 2014, the Chivas Venture has seen close to 6,000 social entrepreneurs compete for a spot in the competition.
Now in its fourth year globally and second for Malaysia, the Chivas Venture will see 29 countries from five continents engage in the competition before taking their game to the global arena.
One winner will be chosen from each participating country and given the chance to be part of the exclusive Accelerator Programme, followed by three weeks of online voting where the allocation of the first US$200,000 of the fund will be in the hands of the public.
The competition will then climax during a series of high-stake pitches at the Chivas Venture Final, where the remainder of the US$1 million fund will be disbursed.
For the Malaysian round, the winner will be selected by a local panel of judges consisting of Chan; Ho Kay Tat, publisher and group CEO of The Edge Media Group; Freda Liu, producer, presenter and anchor for BFM89.9 The Business Station's Enterprise radio programme; and Sébastien Mouquet, managing director of Pernod Ricard Malaysia.
"Last year, we saw a good number of submissions from interesting enterprises. With the company revenue threshold increased to US$1.5 million per annum for the 2017 submissions, I look forward to seeing more promising submissions and finding the right country winner who will inspire social entrepreneurs to excel in their fields," says Ho.
Last year, Chivas Regal placed a cap on one of the criteria for the competition, where a participating company must record not more than US$1 million (RM4.24 million) in annual revenue.
However, it is understood that the rule led to the disqualification of many promising companies and was subsequently relaxed to allow companies with an annual revenue of up to US$1.5 million to take part.
On another note, Chan says based on last year's judging experience, his key takeaway that serves as a heads-up for this year's hopefuls and which, unsurprisingly, happens to be the Achilles heel of today's society is communication and how to effectively execute an intended message or point.
"Most social entrepreneurs have not reached that level where they are excellent in communicating their stories and [get] the impact they want to achieve. They are still weak when it comes to delivering succinct stories and proving their credibility," he says.
He explains that pitching ideas — whether it is for the Chivas Venture or in general scenarios — goes beyond just the typical business output and needs to show how the communicator plans to impact or better yet, improve lives.
"We also hope this year's participants know what figures to use that will add credibility or complement what they are trying to present in the larger narrative. Most people tend to charge ahead with their financial numbers, but when you look at those numbers, you'll realise that they are just direct output and question other things such as the outcome of it and how that will bring positive changes," he says.
An advice to competitors — "You may use colourful jargons, but what really matters may just be five words in that story. So, build up your narrative and be very conscious of your business model and sustainability.
What excites us (judges) is the big picture that you foretell," says Chan.
"We're not going after the big numbers, but the quality. So, engagement is important."
Last year, the Chivas Venture Final was held in Los Angeles, where five enterprising grand finalists — Siam Organic (Thailand), RecyclePoints (Nigeria), Bioestibas (Colombia), I-Drop Water (South Africa) and Intendu (Israel) — pitched their ideas and life-changing proposals to a panel of judges, which includes Oscar-winning actress and philanthropist Halle Berry, surrounded by a live audience of business leaders, influencers and Hollywood stars such as Javier Bardem, Josh Gad and Don Cheadle.
Siam Organic, which aims to end poverty among small-scale farmers, emerged the grand prize winner and took home the largest sum from the Chivas Venture fund — US$400,000.
Malaysia's FOLO Farms, which is involved in organic farming, was the country's first finalist. It was awarded US$10,771.62 in funding following the public voting stage.
For those who dream of becoming superheroes of social change, applications for the Chivas Venture 2018 are open until Oct 28.
Save by subscribing to us for your print and/or digital copy.
P/S: The Edge is also available on Apple's AppStore and Androids' Google Play.