The need to create or build healthy spaces has been on the rise globally due to the pandemic. ESG has also, correctly, pushed the call to ensure health, safety, and well-being of people, be they employees or customers as these aspects are integral to residences and offices. While many parties are making certain core features of a healthy space the main focus - such as good indoor air quality, sufficient lighting and greenery - however, there is still more room to improve pertaining to flooring safety.
In Malaysia, the 2018 National Health and Morbidity Survey1 reported that 15% of adults above 60 had fallen at least once in 12 months. Children are not spared either, as the risk of slipping and falling amongst them is still at a worrying stage. Furthermore, another study2 in 2021 found that slips were the most prevalent cause of falls, accounting for 49% of falls. To address this issue, after strenuous and thorough research and development, Niro Ceramic Group introduced Malaysia's first Slip-Stop Tile Technology within its flagship brand, Niro Granite, to champion indoor and outdoor safety while creating safe and healthy spaces in early 2020. Since its debut, the Slip-Stop range has grown to cater to market demand.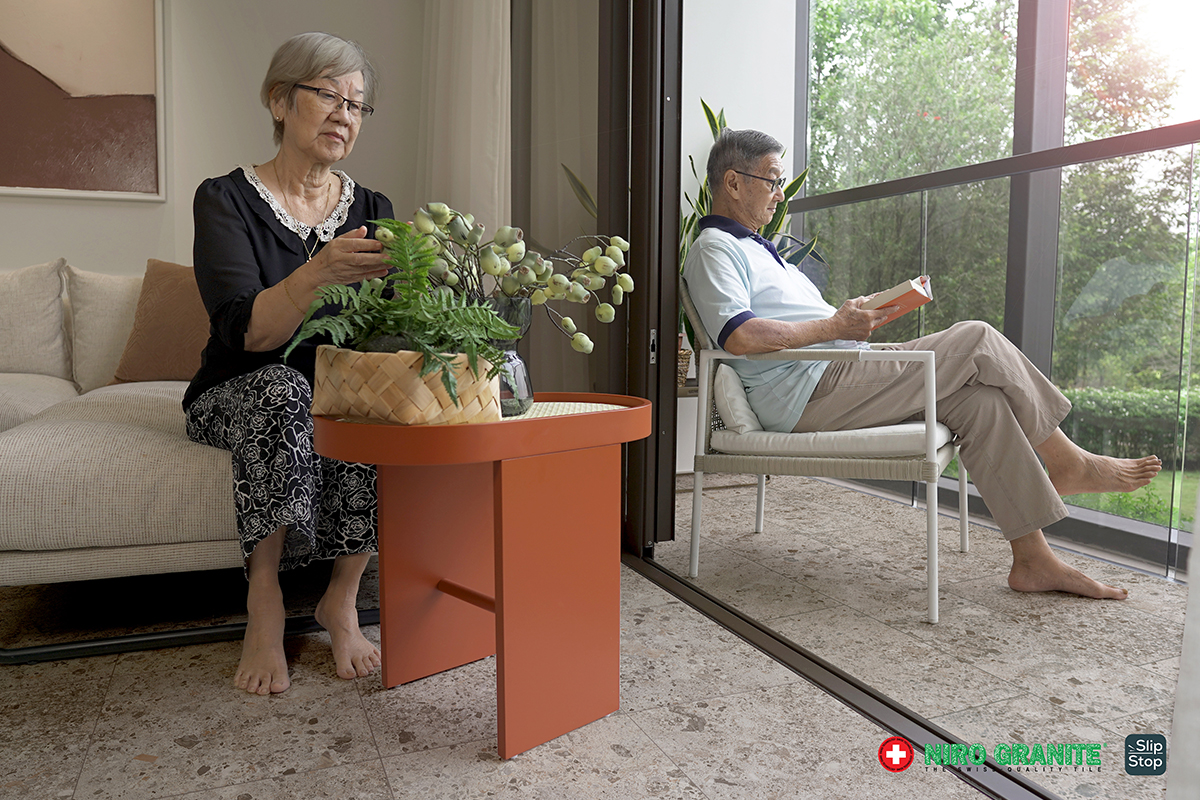 Unlike the conventional anti-slip tiles, the Slip-Stop range is smooth to the touch when dry, making it easy to wipe and clean, and will only activate the anti-slip effect upon the tile surface getting wet - making it a versatile tile option for indoor and outdoor spaces. "Most anti-slip tiles in the market have sandy or gritty surfaces, which are often ideal to be installed for the outdoors only," said Ian Kok, Managing Director of Niro Ceramic Group. "As slipping is a risk in certain indoor spaces and especially outdoors where there is exposure to rain and water, we took the initiative to introduce a tile range that boasts versatility and safety, be it for residential or commercial spaces. Our Slip-Stop tiles scored high in the Pendulum Test - a test that determines a product's slip resistance - therefore, they befit slip-prone areas," he added.
"Places like kitchen, for example, a study3 in 2021 indicated that slipping incident amongst workers at the commercial kitchen is prevalent. Though this is reported to occur frequently in commercial spaces, it's still possible to happen at home," he added.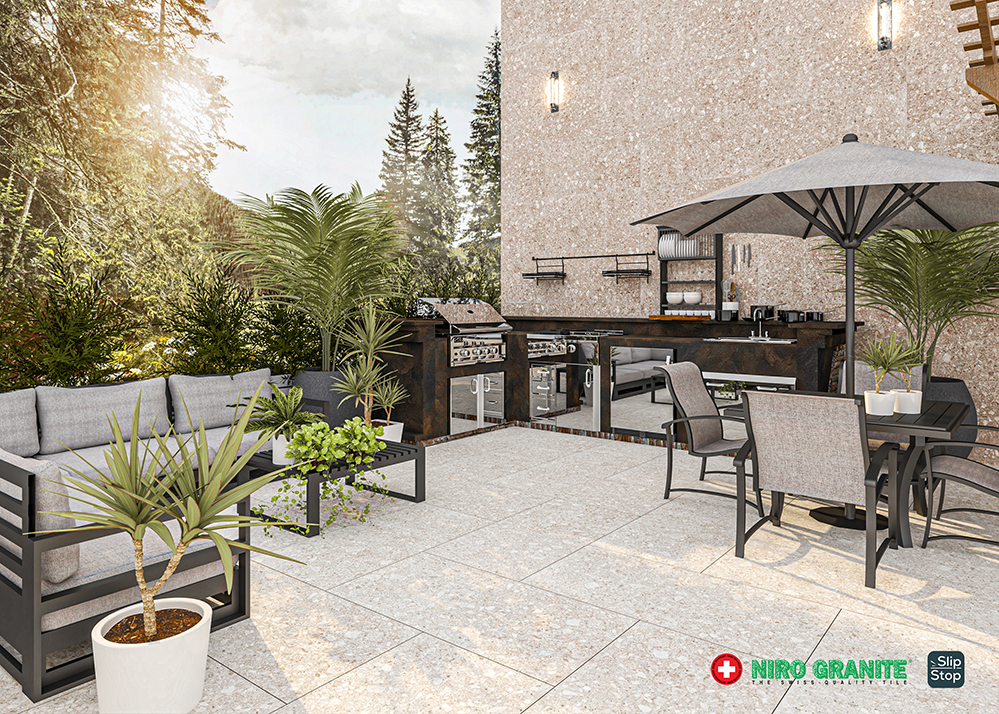 Niro Ceramic Group ensures its products' durability and quality are maintained and not compromised. The Slip-Stop range is durable and strong according to its high ratings by the Mohs Scale of Mineral Hardness (Mohs) and Porcelain Enamel Institute (PEI) - which is in line with Niro Granite's adherence to its Swiss-quality motto. Besides being a preferred option to withstand time, weather and usage, the Slip-Stop range is stain-resistant, making cleaning easy and requiring no special maintenance.
"Our Slip-Stop offerings bear stylish designs as we want to allow consumers or developers to have modern interior design without having to compromise the safety of the occupants,". Apart from floors, the design and aesthetics of the Slip-Stop range is also ideal for wall applications, allowing limitless imagination to achieve the ultimate seamless interior design and adding character to the space.
Innovation is the lifeblood of Niro Ceramic Group, and as the leading tile manufacturer in Malaysia, the company will continue its commitments to purvey up-to-date multifaceted offerings to the market - both local and international. "Apart from Niro Granite, we will be expanding our Slip-Stop range for other brands under Niro Ceramic Group's stable, as we observed since its launch, the market calls for us to widen the range," added Kok.
In line with the demand for sustainable building materials, the Group recently launched Niro Granite Slim - Malaysia's first slim tiles. The latest offering is 50% lighter than the conventional tiles, uses 35% less raw materials to produce, and can be installed over an existing tiles floor, reducing the installation time by 75%.
For more details on Niro Granite's Slip-Stop Technology and Slim tiles, visit www.nirogranite.com.