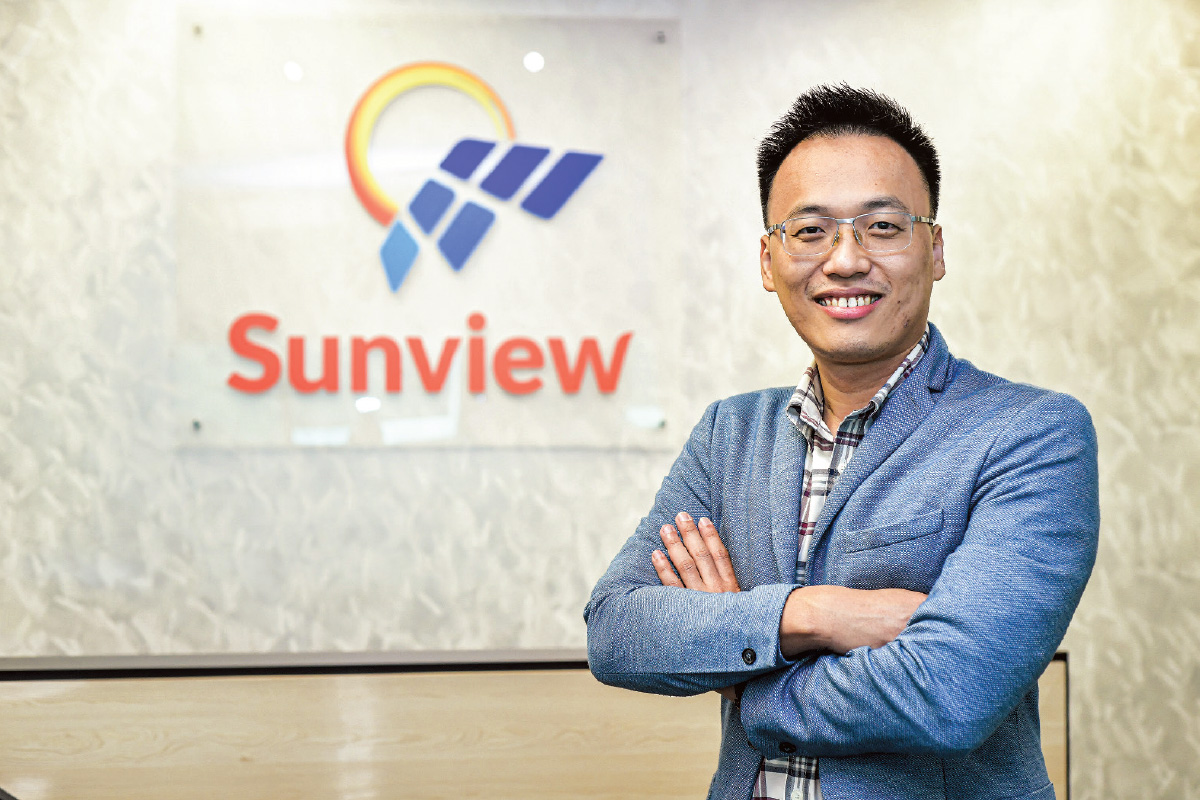 Zahid Izzani bin Mohd Said/The Edge
IN PRIMARY SCHOOL, Sunview Group Bhd CEO Ong Hang Ping was introduced to the concept of 3R — reduce, reuse, recycle — by his teacher. As he grew older, he realised that the first two letters of each 3R word were "re", which is also the commonly used acronym for renewable energy.
"I started to think that [renewable energy] is no longer a trend. Instead, there is a need for us to utilise renewable energy," he says.
Eventually, Ong's passion for the topic blossomed into an ambition to run a business based on renewable energy. To strengthen his knowledge on business management, he worked in multiple companies, including a well-known multinational electronics company, before joining the sales department of Sunview in 2013. He was appointed a director and shareholder in 2015.
A new kid on the block, Sunview is principally involved in engineering, procurement, construction and commissioning (EPCC) as well as construction and installation services for solar photovoltaic (PV) facilities, solar power generation and supply, and its associated services and products.
The company has a strong unbilled order book of RM558.34 million (as at Aug 30, 2022), which provides it with earnings visibility until the financial year ending March 31, 2024 (FY2024). It has 35 ongoing EPCC projects for solar PV facilities, with a total contract value of RM685.30 million.
On Oct 17, Sunview debuted on the ACE Market of Bursa Malaysia at 59.5 sen, a 105.1% premium to its initial public offering (IPO) price of 29 sen. The stock was also the most actively traded that day with a trading volume of 127.57 million.
However, it has not been plain sailing for the company, Ong admits. His tenure as a director and shareholder in 2015 was filled with various obstacles.
He recalls an incident when Sunview had secured a 50MWac solar project, which was later called off after the team had put in a lot of blood, sweat and tears. In another case, the company had secured a project as a subcontractor, but the client declared bankruptcy halfway through the project.
Despite the unfortunate events, Ong continued to pursue his dream. "Just do your best until the very end. Don't do things halfway. You have to continue [because] you never know [if success is meant to be yours]."
Sunview currently has 18 solar PV facilities (as at 30 Aug, 2022) throughout Peninsular Malaysia. The company reinvests in those assets through acquire-own-operate (AOO), build-own-operate (BOO) and build-own-operate transfer (BOOT). It is also looking to expand its asset ownership to provide more recurring and steady income for the company.
ADHERING TO ESG METRICS
The renewable energy sector, especially solar energy, has a huge potential to grow in Malaysia. This is apparent from the RM2.1 billion total market size for the construction of solar PV facilities in the country as at 2021.
The government has introduced numerous programmes and incentives to promote the transition towards renewable energy to boost the economy. For example, the Ministry of Energy and Natural Resources is aiming to increase the use of renewable energy from 24% of the total installed capacity in 2020 to 31% in 2025.
Renewable energy should be the solution for countries to reduce carbon intensity significantly, but the solar energy business is often slammed for greenwashing because more often than not, land has to be cleared and trees have to be chopped down to build solar farms.
Ong explains that most government solar policies such as the Suria 1000 programme and the Feed-In Tariff (FiT) by Tenaga Nasional Bhd cater more for rooftop solar installations, but there needs to be a higher level of awareness before solar companies and the public can move towards complying with ESG standards.
"There is a learning curve that we need to go through before we can push the [ESG agenda] forward," he says.
Businesses might find the initial cost of installing solar panels a burden. To address this problem, Sunview has launched a zero capex scheme that allows clients to install solar panels without an upfront payment.
Ong also hopes that carbon market initiatives such as the Bursa Malaysia Voluntary Carbon Market will be able to help companies, including Sunview, reduce their carbon emissions further by converting renewable energy assets into carbon credits.
An estimated 315 million kg of carbon dioxide have been saved each year from Sunview's completed solar projects since 2013.
Sunview is currently working with a consultant to create an ESG policy framework. Ong assures that the company is continuously working on all three ESG components. For example, under the social aspect, the company helps old folks' homes increase their energy efficiency and save on their electricity bills.
Apart from solar energy, Sunview is looking to venture into the biomass industry as well, having put in a tender for a project.
Moving forward, Ong says the company is setting up a new office in Johor to serve its clients in the southern region and capture the potential solar PV market there. "There are a lot of industrial parks in the southern region. We want to aim for more market share there as well."
Sunview aspires to educate Malaysians on climate change and create a sustainable country for generations to come. "Young Malaysians are getting more environmentally conscious. We need to constantly share the right information on how the people can take action, so that the next generation can enjoy the benefits of sustainability," says Ong.