Commercial property ownership may come with its fair share of dilemmas and obstacles, including its letting process. Recognising the gap, IOI Properties Group Bhd is offering buyers a chance to own commercial properties, and to secure tenants for them in the fastest, simplest way possible.
In a bid to facilitate the transition, the group has introduced its "IOI Buy with Tenant" campaign that promises up to 6% rental returns. The campaign presents an easy entry into the commercial property market with the comfort of tenants in place, and will run from Nov 21, 2022 to Jan 15, 2023.
Participating properties include IOI Business Park, IOI Boulevard and Skypod Square in Bandar Puchong Jaya, and Enigma Square in Bandar Puteri Bangi.
IOI Properties Group sales, marketing and branding head Nicole Lee says, "With the "IOI Buy with Tenant" campaign, investing in a shop or office becomes easy. As the campaign name suggests, all the participating commercial properties are completed and tenanted."
Lee reiterates, "This means that when you buy the property, you will take over the existing tenancy agreement and ownership of the property. You will then become an instant landlord and enjoy instant rental income with a yield as high as 6%."
"Puchong and Bangi are mature addresses with vibrant communities, bustling trades and robust economic activities. Investing in these locations, makes perfect sense because of the ready market and catchment," says Lee.
"With the "IOI Buy with Tenant" campaign, you can look forward to owning a tenanted commercial property in an address such as IOI Business Park in Bandar Puchong Jaya at a starting price of RM440,000", said Lee.
A chance to own commercial property from RM400,000 onwards
With over four decades in the property industry, IOI Properties Group is one of the leading public-listed developers in Malaysia. The developer has successfully carried out sustainable townships and commercial enclaves in sought-after regions of Klang Valley and established a strong presence in Johor, in the southern region of Malaysia as well as Penang, in the northern corridor.
Armed with years of experience and expertise in property leasing and management, IOI Properties Group also owns and manages IOI City Mall, which is the country's largest mall.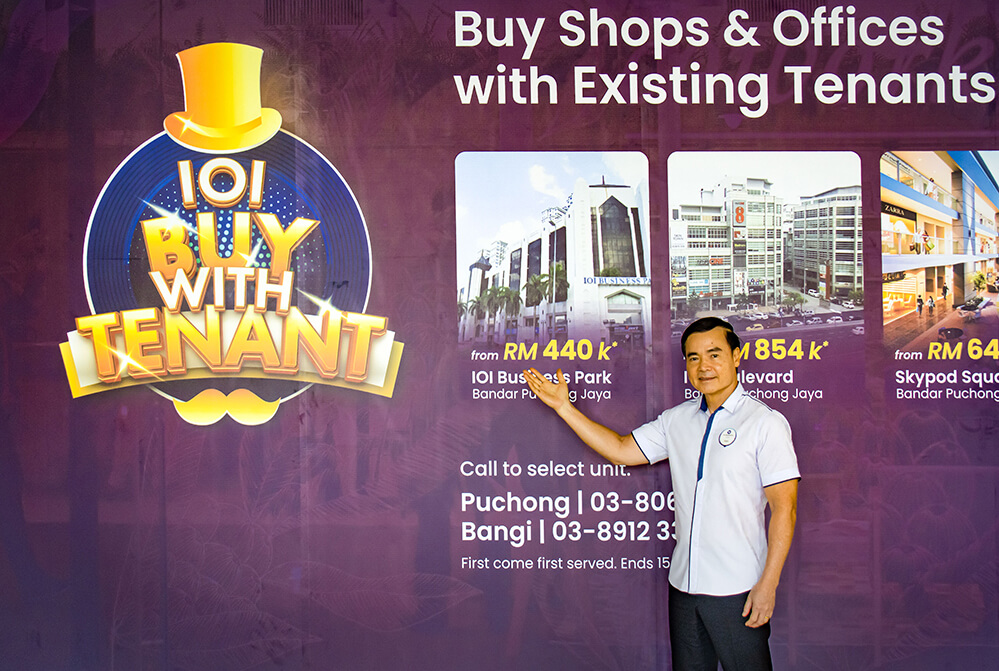 IOI Properties Group CEO Datuk Voon Tin Yow says, "We are driven by the IOI Properties Group's vision of Trusted. and our focus on value creation, which is an integral part of our business model. We do not just develop properties, in many instances, we also co-invest. Hence, we have a keen interest to continue to enhance the value of our developments as we bring in quality tenants and a relevant business mix to improve the economic ecosystem, that in turn generates positive returns for property owners who have placed their trust in us".
The group will bear the cost of stamp duty on memorandum of transfer (MOT), and legal fees on the Sale and Purchase agreements (SPA), and loan agreements for all units transacted.
For more information, please call 03-80608833 (Puchong) or 03-89123333 (Bangi), visit www.ioiproperties.com.my/buywithtenant. Drop by IOI Galleria in Puchong or Bangi for a chat with our team.