The local property investment scene might have been severely hampered by the previous lockdowns and pandemic, but the need for quality residential homes meant for generational families will always be in demand. Seeing an overwhelming response through the full take-up rates for the township's previous phases, Starling and Uptown @ Rimbayu, Bandar Rimbayu by IJM Land launched Robin.
Robin @ Rimbayu is part of the 1,879-acre award-winning township Bandar Rimbayu, and it consists of 615 double storey link homes that are available in 3 different types and sizes which are grouped into Type A (177 units), Type B (333 units) and Type C (105 units).
A total of 308 units from Robin's Parcel 1 and 2 with GDV of RM241mil were fully taken up in the span of 28 minutes. The officiation was conducted through an online unit selection session, where interested homebuyers were given the chance to choose their preferred unit via the developer's official portal, just like purchasing movie tickets online.
Inspired by the bird species, Robin — which symbolises a lively, optimistic and energetic life — the developments are designed to exude a simple, yet modern architecture, along with an open plan concept that are minimalist yet practical. These innovations are designed to fit the needs of contemporary lifestyles while keeping up with homeowners' demand for more space. More than just a beautiful and comprehensive development, Robin @ Bandar Rimbayu also aims to cater to different target markets, through the various types and built-ups available.
A Great Township for A Fresh Start
Understanding that the current economy and homebuying scene may not be in its ideal state especially for young and first-time homebuyers, Robin @ Rimbayu has been keeping them in mind when developing the Types A and B residential homes.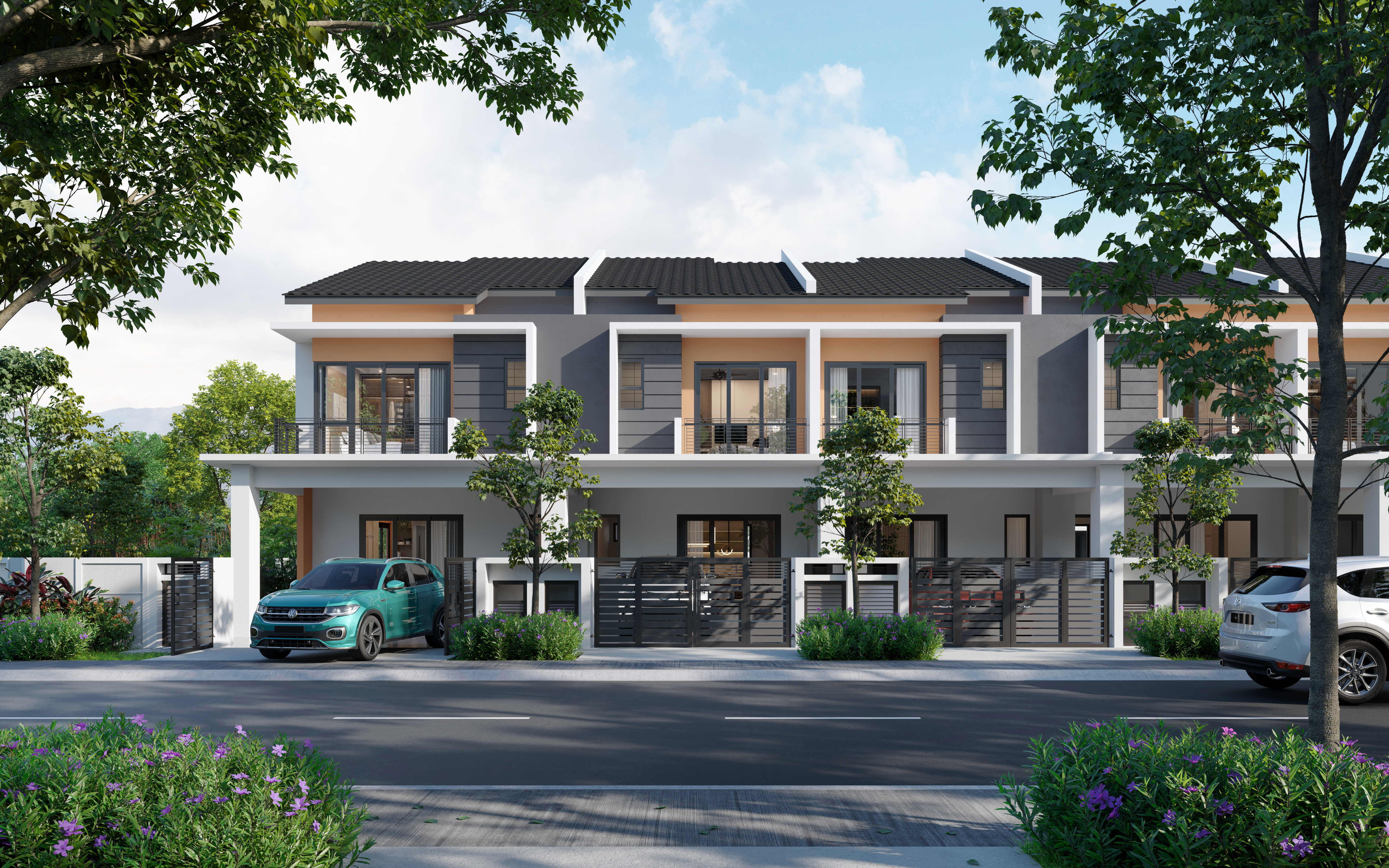 The intermediate Type A units have a 18' x 65' land size and a 1,535 sq ft built-up. Following the lifestyle shift over the past year due to the pandemic, which is evidently more home-based than ever, the ground floors in Type A units have an open layout concept that offers homeowners flexibility and control over their utilisation of spaces. They can easily renovate or demarcate their living spaces according to their ever-changing needs in the future.
Starting from RM 648,800, Type A units come with ample room and space, including the 7 ft back yard, high home ceilings and the balcony in the master bedroom that contribute to the spacious atmosphere. Additionally, the presence of sliding doors allows better lighting and indoor ventilation, further improving livability and comfort at home.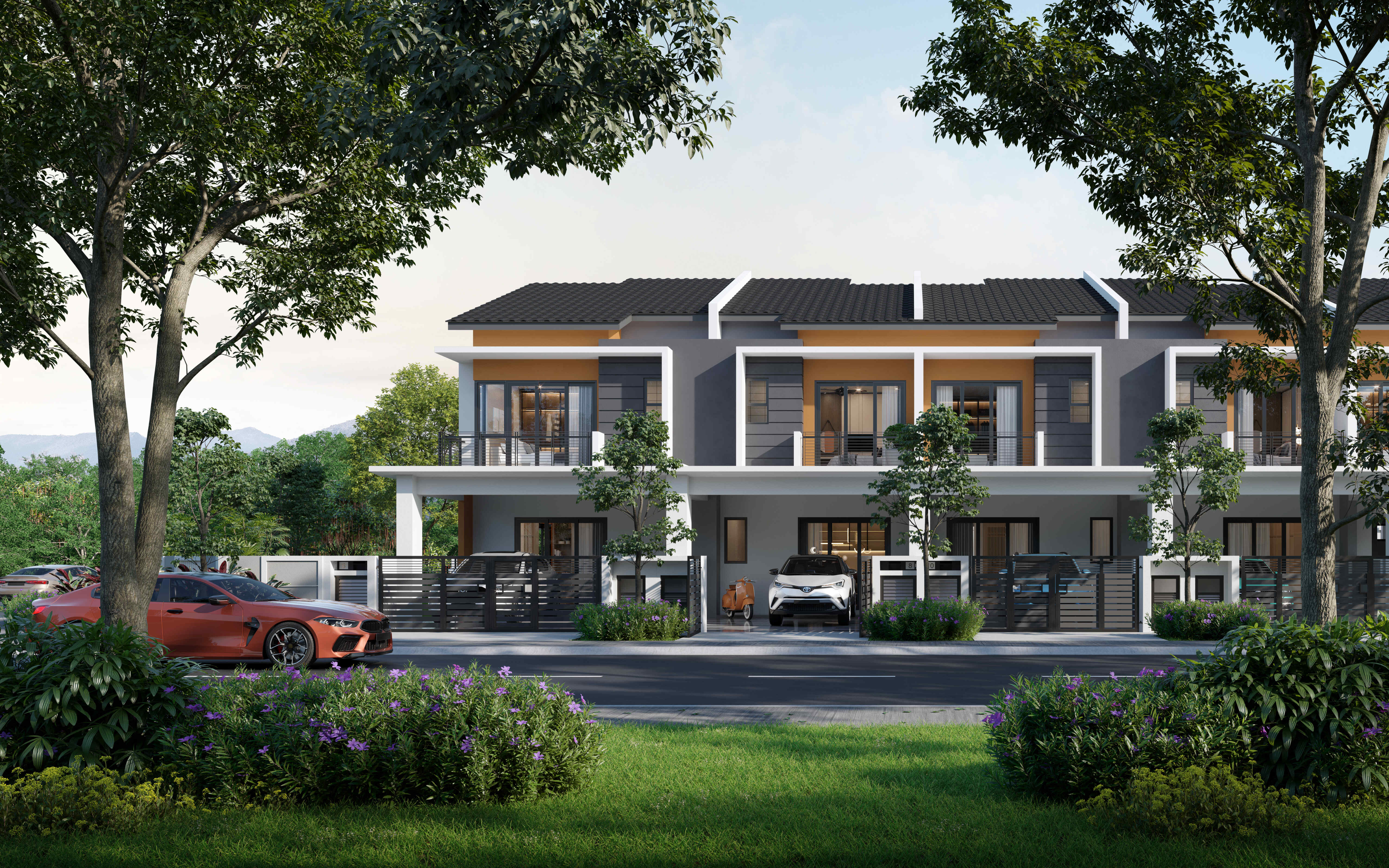 On top of that, homebuyers also have the choice of considering the Type B units with a bigger built-up area of 1,665 sq ft offered at an attractive starting price of RM 680,800. While Type B also prioritises space and an open concept layout similar to Type A, homebuyers of Type B have the advantage of a bigger floor depth that creates an even larger space.
Both Type A and Type B units in Robin @ Rimbayu have 3 bedrooms and 3 bathrooms, and a large opulent gate matching the simple yet modern concept of Robin @ Rimbayu.
A Peaceful Retreat from Life's Bustles
Since Type A and Type B units are catered mostly for the younger homebuyers, Type C on the other hand offers a great layout design for growing families and families with elderly, making it an ideal selection as a generational home. Starting from RM 881,800, the intermediate Type C units have a 28' x 65' land size and a large 2009 sq ft built-up.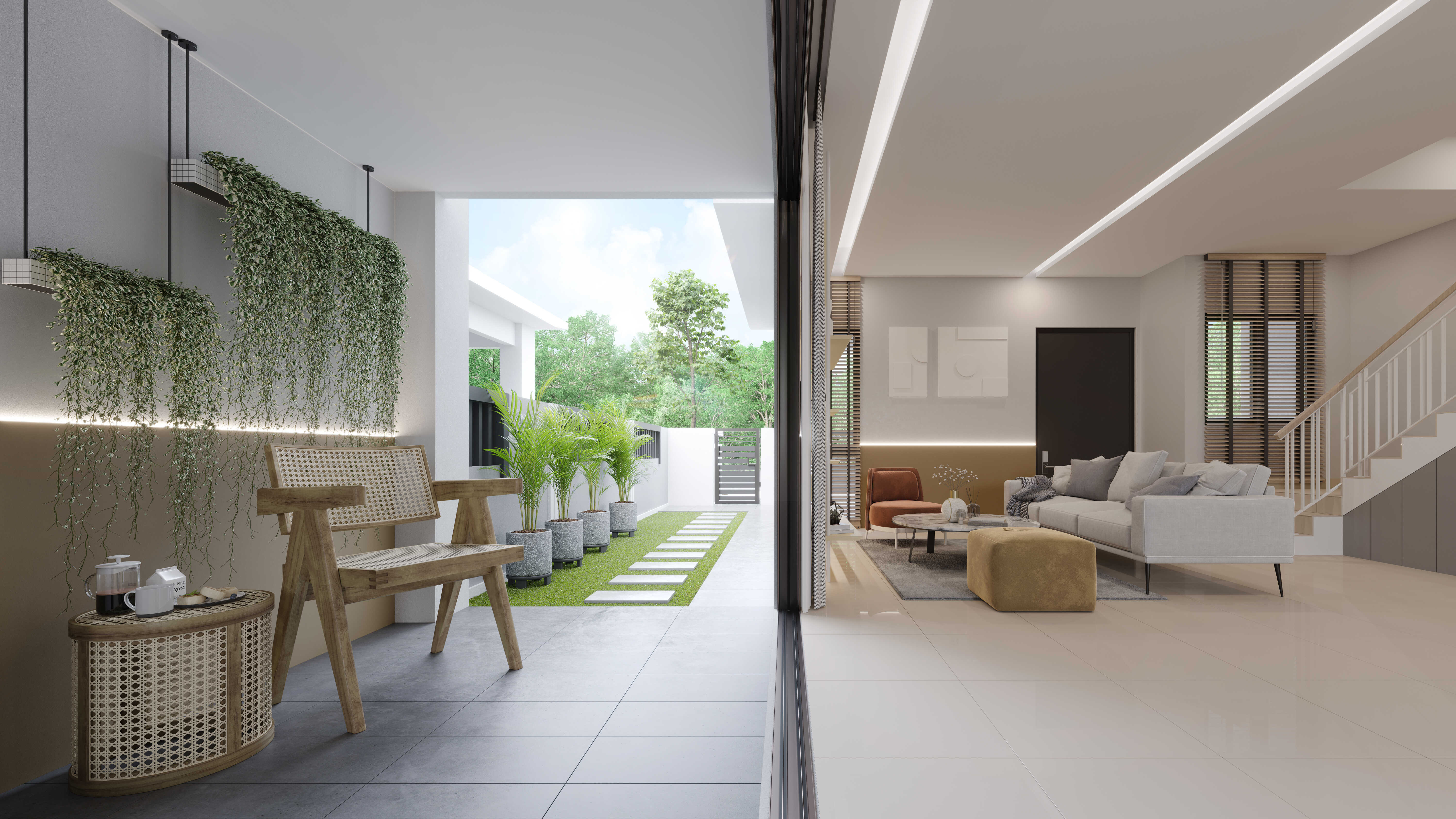 As the largest of the lot, Type C units are named garden homes. They come with an extra bedroom (4 bedroom, 3 bathroom), a 7 ft back yard, an 8 ft garden, and a ground floor room that opens up directly to the garden. These features make the development very sought after by homebuyers with extended families, who make full-use of green spaces incorporated within the compound of their homes.
Further amplifying the aspects of green spaces in a balanced and fulfilling life, homebuyers can also utilise the extra space at the car porch area, with possibilities in converting it into a linear garden with trees, plants and shrubs.
Sharing similarities with Types A and B is the open concept layout that is implemented in the ground floor. The space for living, dining and kitchen areas face no obstructions of compartmental walls. Further to that, the additional family hall on the first floor also overlooks the garden below, hence providing an extra room for family members to congregate or simply enjoy the view from the large window.
A Comprehensive and Convenient Township
As an award-winning township, Bandar Rimbayu offers an array of lifestyle conveniences, including popular, drive-thru restaurants like Starbucks, McDonald's and Kenny Rogers restaurant. The Quayside Mall, which opened at the end of 2020, also offers convenient establishments such as Jaya Grocer, Mr DIY and Harvey Norman.
With a constant emphasis on building a close-knit community, Robin also offers its residents with a well-planned 8.6-acre open space to accommodate much-needed recreational activities, including the basketball court, multipurpose court, parcourse, playground and kite flying sites.
To take its community hub concept a step further, Robin has also incorporated special facilities in an effort to help residents live a healthier yet more sustainable lifestyle. This is reflected through the outdoor facilities where community members can come together to revel in nature and even learn to cultivate their own food. For instance, residents can enjoy outdoor activities at the camping and picnic sites, within the safe and secure environment. At the same time, the community farm and tropical orchard are places where people can grow their own food and share among themselves.
From the guarded neighbourhood, the township communities can seamlessly access the 4 major entry and exit points of well-connected highways. They are Lebuhraya Shah Alam (KESAS), Lebuhraya Kemuning – Shah Alam, Expressway Lingkaran Tengah (ELITE), the South Klang Valley Expressway (SKVE) and the West Coast Expressway (WCE) which will be completed in 2024.
"More than lifestyle conveniences, Bandar Rimbayu prioritises a quality lifestyle and building communities for homebuyers. Therefore, they are in close proximity to The Club @ Rimbayu for its club-grade facilities and also Oasis International School that offers quality education for the neighbourhood children. In accommodating more work, play and shop from home lifestyles, residents are also assured of high-speed broadband infrastructure. All these plans and concepts contribute to the idea of Bandar Rimbayu as a one-stop and self-sustaining township for all of our residents," said Mr. Chai Kian Soon, Senior General Manager of Bandar Rimbayu.
All in all, Robin homebuyers will be able to take advantage of the Home Ownership Programme (HOC) to purchase the new residential units. Through this programme, they can enjoy a minimum 10% discount on the purchasing price on top exemption of stamp duty for Memorandum of Transfer (MOT) and loan. Additionally, purchasers are entitled for free legal fees for both Sales and Purchase Agreement (SPA) and loan.
For more information, log on to www.rimbayu.com.
Media Inquiries:
Xavier Mah
[email protected] or +6017-9911665
Tel: +603 6411 7662
About Bandar Rimbayu
Bandar Rimbayu is a premier township development by IJM LAND, inspiring nostalgia for a time when life was simple and people lived close to nature, in a safe and supportive neighbourhood. Set in tranquil green surroundings on 1,879 acres, Bandar Rimbayu is set to be an iconic mixed development of residential, commercial, recreational and parkland components.
The accessible and strategically-placed development is conveniently close to urban amenities such as shopping malls and educational institutions, and is connected to urban centres and major towns through the nearby highways including Lebuhraya Shah Alam (KESAS), Lebuhraya Kemuning – Shah Alam (LKSA), Expressway Lingkaran Tengah (ELITE) and the South Klang Valley Expressway (SKVE).
With a gross development value in excess of RM11 billion, Bandar Rimbayu will be an integrated township with residential, commercial and recreational components spread over four precincts: Flora, Fauna, Bayu and the Commercial Hub.
About IJM Land Berhad
Since 1989, IJM Land Berhad ("IJM Land") has been committed to redefining the property landscapes in the region. Beyond the world-class townships delivered, IJM Land is committed towards creating a positive legacy for communities to live well and thrive.
As part of IJM Corporation Berhad, a strong sense of responsibility drives its business and its 620-strong team. What defines the company is its customer passion, innovative spirit, drive for excellence and sustainable practices. With a Gross Development Value (GDV) of RM40 billion, IJM Land maximises its portfolio of undeveloped landbank of 4,000 acres which spans across key growth areas of Malaysia (Penang, Pahang, the Greater Kuala Lumpur, Negeri Sembilan, Johor, Sabah and Sarawak), and as far reaching as China and the United Kingdom.
IJM Land is fast becoming a global name known not only for its award-winning sustainable developments, but for the dreams it has made real. For more information on IJM Land, please visit www.ijmland.com.