This article first appeared in The Edge Financial Daily on September 30, 2019
Watch out for young emerging entrepreneurs with passion and vision. That is the cue from the nominations received for the EY Entrepreneur Of The Year (EOY) 2019 Malaysia Awards, which seeks out, recognises and celebrates innovative men and women across generations, industries and sectors.
Philip Rao, advisory partner at Ernst & Young Advisory Services Sdn Bhd (EY) and the EOY programme director, said nominations for the Emerging Entrepreneur category topped those received for the four categories of the awards this year. The other categories are Technology Entrepreneur, Woman Entrepreneur and Master Entrepreneur.
EY announced the 17 top nominees for EOY 2019 Malaysia last Thursday at a cocktail ceremony co-hosted with financial services provider Credit Suisse AG at Hilton Kuala Lumpur.
Rao lauded nominees for their leadership, which empowers them to break away from the pack and inspire purpose, innovation and excellence. Ingenuity and the desire to improve the way enterprises operate anchor their respective stories, and EY is proud to provide a platform for them to share how they built their business, and the impact of their ideas on the community, country and the world, he said.
"We have run the EOY programme for 18 years and we want to promote entrepreneurship in Malaysia, so the Emerging Entrepreneur category is one we hold very dearly to. That's a way to show young entrepreneurs that there is an avenue for them to be recognised, and they can be like mentors or a beacon of hope for younger people in the Malaysian economy."
The Woman Entrepreneur category also saw a significant increase in the number of nominations this year, said Rao. While some might argue that nominees should compete on the same level regardless of gender, having such a category compels people to recognise women, he explained. "The reaction to that is we had the largest number of nominees for this category [to date]. We want to continue to recognise women."
The EY brand is very strong and the awards programme has become very popular, he said. "We hold close to our judging standards and the independence of the panel. We hold close to the judging criteria, which is applied globally.
"Our judges really do a good job — they decide and we help to moderate the awards. For us, it is not just about announcing the winners. It is about the process and top nominees. The stories behind them are as valuable as the trophies," Rao said.
The winners for each category as well as the EOY 2019 Malaysia will be announced at a gala event in November. The Malaysian EOY will join country award recipients from around the world in Monte Carlo next June to compete for the EY World Entrepreneur of the Year 2020 award.
Here are the 17 nominees across all four categories for EOY 2019 Malaysia:
Jeiganthan Ramanathan & Logeswary Kavita
Crescograph Solution Sdn Bhd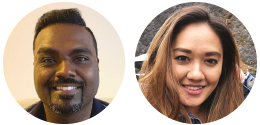 Guided by grit and street smarts, Jeiganthan decided to discontinue his diploma studies at the age of 18 and set up his own business. In 2011, he founded Crescograph Solution, which is involved in the manufacturing and trading of raw minerals, specialising in quartz, feldspar, fused silica and aviation sanitation products. A year later, the meltdown of the metals industry hit him hard but he persevered and turned the business around. Jeiganthan's wife, Logeswary, had little knowledge of or experience in business. She buckled down and learnt the ropes, and is the company's chief financial officer today.
Christopher Liang
Googolplex Holdings Bhd

Christopher Liang believes innovation, education and culture lay the foundation for growth and success. Googolplex Holdings, which he founded in 2013, is based on a holistic, innovative business model: Its core pillar is marketing property projects, but it also handles property development and management, boutique hotel chains and social co-working spaces. This chief executive officer plans to expand to the rest of Southeast Asia and provide one-stop solution centres for investors in property management, venture into the hospitality industry and develop the GLEX Hotel brand, as well as list the company in Hong Kong by 2021.
Liew Ooi Hann
Jirnexu Sdn Bhd

Financial knowledge is power, says Liew, who is set out to equip Malaysians with the knowledge and tools they need to spend money wisely by co-founding SaveMoney.my and JimatCermat.my in 2012. A year later, he launched RinggitPlus, a financial comparison website that gave end-users a tool to research the best banking or insurance product for their needs. In 2014, SaveMoney.my and RinggitPlus merged and were rebranded as Jirnexu. Liew's aim is to enable banks, insurance companies and service providers to think mobile-first and innovate the way they operate their business. Jirnexu, Southeast Asia's first full-stack fintech company, delivers end-to-end digital acquisition tools and solutions to financial services institutions and service providers in Asia.
Daphne Teh,
MuzArt International Sdn Bhd

Problems = Opportunities = Entrepreneurship. That, in a nutshell, is what drives Teh, founder of award-winning MuzArt International, which teaches art and uses music to stimulate creativity and learning. Using the same innovative approach for the learning centre's business model, Teh set up 10 MuzArt branches in Singapore in less than two years. MuzArt has received 29 awards, which speak volumes for her entrepreneurial capabilities. Teh continues to head abroad on study tours, in search of new and better ways to grow her business.
Ko Chuan Zhen, Poh Tyng Huei & Ryan Oh
Plus Solar Systems Sdn Bhd

Energy generation, energy efficiency and energy storage — the so-called Energy Trilogy — can drive the world towards clean and sustainable energy for a better future. With that as their compass, Ko, Poh and Oh set up Plus Solar Systems in 2013. The company delivers turnkey solar photovoltaic solutions and services — engineering, procurement, construction and commissioning — for commercial, industrial and large-scale solar farm projects. In 2015, Plus Solar set up investment subsidiary Leaf Solar Sdn Bhd, which owns and manages its first megawatt solar project. Besides reshaping the way energy is generated and used, the trio has streamlined solar project financing facilitation.
Choo Yan Tiee
Auto Count Sdn Bhd

Auto Count designs business software for small- and medium-sized enterprises to enable people to learn in a structured and easy way. Co-founded in 1996 by Choo, now the chief executive officer, it offers a series of products focused on business automation software such as accounting, inventory control, invoicing, purchasing, payroll and point of sale. A Microsoft ISV Gold Partner with MSC status, Auto Count serves more than 150,000 customers in Malaysia, Asean, China, Australia and South Africa. Choo recognises the need to invest in developing local talent and expertise to continue to succeed. As such, his company works with authorised training centres to conduct courses for public and private institutions in the country.
Clarence Leong
EasyParcel Sdn Bhd

Staying true to its name, EasyParcel makes delivery simple and speedy: Customers book its services using multiple established courier companies and pay competitive prices. Leong founded the company in 2014, inspired by eBay's business model and aware that digitalisation is key to sustainable business growth. His initial challenges were educating customers about the new integrated online booking platform, and simplifying the process flow. Currently, more than 500,000 people and businesses in Malaysia engage EasyParcel to deliver an average of 50,000 parcels a day. In 2017, Leong launched Pgeon, a new service that facilitates last-mile delivery by giving postal users the option of collecting their parcels at convenience stores.
Azhar Zainal Abidin
ProEight Sdn Bhd

Venturing into new businesses seems to come naturally for "serial entrepreneur" Azhar, who founded ProEight in 1998. Once the consulting engineering company was on a firm footing, he diversified into designing, manufacturing and refurbishing mechanical seals. The high investment required for the technology and machinery and the dominance of foreign original equipment manufacturers in the field did not deter him. Azhar then ventured into the maintenance, refurbishment and overhaul (MRO) of pump parts. ProEight is the first Malaysian company to obtain American Petroleum Institute Q1 certification for mechanical seals. It is also a total solutions provider of MRO for various types of pumps.
Mark Leow
Verity Intelligence Sdn Bhd

In 2002, Leow introduced software rental to the IT industry — a radical concept at that time — a year after joining Business Network Solutions Sdn Bhd. It took off rapidly and the business development manager was promoted to chief executive officer in 2003. Always on the lookout for more business opportunities, he started an executive search company in 2007 that specialised in recruitment for the financial and IT industries. Then, noticing a gap in the recruitment industry, Leow introduced employment background screening and launched Verity Intelligence, which now serves 500 customers and screens more than 100,000 people annually.
See Wai Hun
Juris Technologies Sdn Bhd

The 1997 Asian financial crisis was the wrong time to go into business, but See made the right move by setting up JurisTech, which specialises in predictive artificial intelligence (AI) systems, debt collection systems, loan origination systems, credit scoring systems, conveyancing and loan documentation systems. The risk-taker invested in technology ahead of her time and her financial technology company was the first to deploy A1, in 2004, way before others began rebranding themselves as AI-based solutions providers. See credits JurisTech's success to its "GECO" culture, which represents her core beliefs — Growing heroes; making Excellence happen; Customer first; and Opening up.
Datin Cindy Choh
Proguard Technologies Sdn Bhd

As the "iron lady" of Proguard Technologies, Choh walks the floor every day, interacting with professionals and experts to learn how to handle business accounts and administration, and staff. The brand, established in 1993, provides a comprehensive range of personal protective equipment and solutions to clients in various industries, including oil and gas, food processing and industrial manufacturing. Just as there are no short cuts to success, there are no right or wrong decisions, the Proguard chief executive officer believes, only the consequences of one's choices.
Chow Pui Hee
SamAiden Sdn Bhd

Chow invested time and effort in learning what the renewable energy industry is all about and getting the necessary certifications. It is a male-dominated field, but she forged ahead and started SamAiden, offering complete renewable energy systems and environment sustainability solutions with comprehensive accessories to both residential and commercial clients. Chow has put in place standard operating procedures for the company's daily operations, which range from installing photovoltaic solar panels in homes to conducting feasibility studies for and obtaining approval to design and build large projects.
Jenny Chuang
Sydney Cake House Sdn Bhd

With one hand on its philosophy of working as a family, Sydney Cake House, famed for its Mak'Cik curry puffs, has quietly pushed the boundaries. It began as a cake and bread manufacturer in 1982 and now sells frozen, thaw-and-serve and ready-to-eat authentic local as well as Western food. Like a matriarch who wants to see her brood make good, founder and managing director Chuang has sent employees for personal training development courses, and provides their family members opportunities to get work experience.
Datuk Dr Omar Abd Hamid
Avisena Holdings Sdn Bhd

Omar graduated from University Malaya and worked his way up to become deputy director of Hospital UKM. In 1999, he acquired a small private hospital on the verge of insolvency in Selangor. He got funds to secure 55% ownership of the business, located in a shop lot, and took night classes to school himself on business. From that humble start, Avisena has become the fastest-growing healthcare group in Shah Alam, offering primary care, specialist services and health wellness programmes to both local and international clients.
Ben Eng Kok Chuang
Fusipim Sdn Bhd

From a traditional set-up into a technologically advanced enterprise, and from a local operation to an international brand — that is the story of Fusipim, which means "rich food" in Chinese. Founder and managing director Eng never stops learning and always strives to improve. When he took over Fusipim in 2003, it had 60 workers producing fish balls for sale in Selangor. Today, the company has 250 employees and a fleet of cold chain trucks that supplies a host of products to 19 countries, including 31 foreign companies. Sales turnover multiplied from RM3 million in 2003 to RM57 million last year, a result Eng attributes to hard work triumphing over hardship, bitterness and tears.
Datuk Seri Kenneth H'ng
GUH Holdings Bhd

Datuk Seri Kenneth H'ng, chief executive officer and managing director of GUH Holdings, combines traditional values with vision. He sets targets and works towards them, and builds good relationships. But he also pushes employees to think out of the box using tested managerial practices. GUH started out as a manufacturer and trader of cotton yarn. In 1984, it began diversifying into other activities and sectors, including property development, electronic and electrical, plantation, waste/waste water treatment and power generation. Nurtured by H'ng, it listed on the Main Market of Bursa Malaysia Securities Bhd, and has businesses in electronics, property development and utilities in Malaysia, China and Cambodia.
Dang Tai Luk
Mynews Holdings Bhd

When Dang Tai Luk set up a small news stand together with his wife in 1996, he was unprepared for the traditional mindset and practices entrenched within the industry. But, determined to break away from his family background of rubber tapping and strike out on his own, he seized the chance to revamp the old way of selling newspapers and magazines. That led to the birth of myNEWS.com, the 100% home-grown news stand cum retail convenience stores, which started sprouting in malls around Malaysia. Dang's original store, Magbit, still operates in Bandar Utama, Petaling Jaya — a reminder of his positive mindset.