This article first appeared in City & Country, The Edge Malaysia Weekly on August 22, 2022 - August 28, 2022

Having developed one of the few high-rise strata residential projects in Permatang Pauh, Penang, the developer and property management team of Evoke Residence have another challenge on their hands, on top of introducing the strata living concept to locals.
"For example, we [Evoke Residence] are very close to the padi fields, which attract seasonal flying insects, Charlie ants and bird threats," UDA Holdings Bhd president and CEO Mohd Salem Kailany smiles as he shares the unusual challenges of managing the development.
"Those insects are brought into the project area by strong winds during the padi harvest season, which requires special bug fogging to eliminate the threat, especially the Charlie ants. But other than that, our residents enjoy the open view and breeze from Evoke Residence as it is one of the tallest residential buildings in the area."
Handed over to buyers in October 2020, the 35-storey Evoke Residence comes with only 300 condominium units, offering two layout designs and a standard built-up of 1,100 sq ft. The facilities include an Olympic-size swimming pool, a gym, function hall and children's playground. The property manager is UMD Property Management Sdn Bhd, a subsidiary of UDA.
The development is already 90% sold and has a 50% occupancy rate, which is slower than expected due to the outbreak of Covid-19 and ensuing lockdowns over the past two years. However, occupancy is expected to pick up this year, says Salem.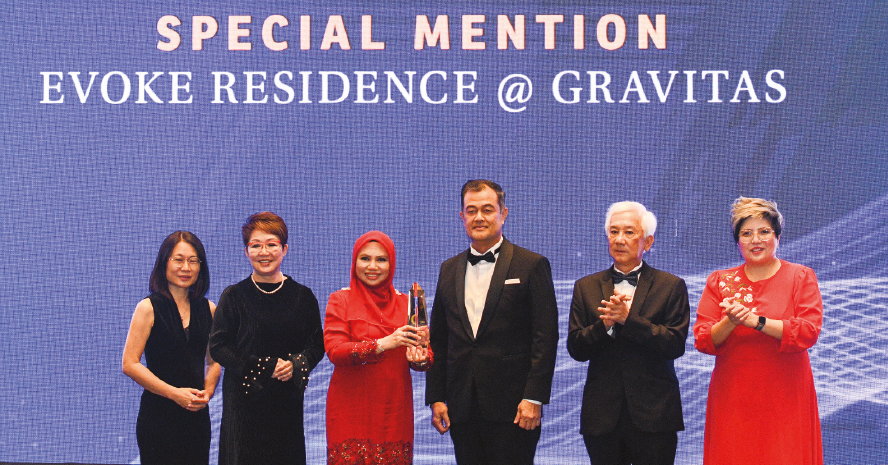 UDA chairman Datuk Norliza Abdul Rahim and group COO for property development Noor Azmi Salleh (third and fourth from left) with (from left) The Edge Malaysia editor-in-chief Kathy Fong, editor emeritus and the awards' chief judge Au Foong Yee, The Edge Media Group publisher and group CEO Datuk Ho Kay Tat and City & Country editor E Jacqui Chan (Picture by Shahrill Basri/The Edge)
"It is a well-received project because it was designed with sustainability in mind. For example, the architectural design of the building promotes cross-ventilation, where the natural air flow travels through the units and into the corridors, and from both ends of the corridors to enhance convection and naturally cool the building."
Apart from that, UDA avoids using plants with tiny leaves to reduce the need for rapid cleaning and to avoid clogging floor traps on the facilities floor. It also uses products and materials that are easy to maintain in the common areas, such as aluminium and stainless steel for outdoor furniture on the facilities floor.
"I think UDA, together with the management team of Evoke Residence, has upheld the best level of services to the residents so far. [We have] promptly addressed any issues that have arisen and strived to provide and maintain the facilities so they can offer comfort and convenience to all residents," says Salem.
The efforts of the team have paid off as Evoke Residence received special mention in the Below 10 Years Multiple-owned Strata Residential category.
Communication is key
When asked about the main challenge of maintaining Evoke Residence, Salem says it would be managing the perceptions and expectations of owners and residents, who are mostly locals, on the concept of strata living.
"It [strata living] is not common here. [We understand that] customers appreciate being in a clean, comfortable and safe building space [when they buy a unit at Evoke Residence]. Therefore, the management has to uphold the highest level of service for the residences. This is crucial in making sure our project becomes the best in the locality," he adds.
Salem notes that communication is important to ensure the quality of property management. UMD brings to this development its experience of managing stratified projects in the Klang Valley and resources such as an online facilities booking system, e-notice board and e-bill payment platform, as well as setting up a group chat service to update residents on any progress or news involving the common areas.
"The group chat is convenient for residents to file complaints to the management. We have a KPI (key performance indicator) for the team to respond to and solve the complaints of the residents within three working days. We also provide progress updates on the complaints to residents via the group chat to keep the communication active and the work in progress transparent," he says.
He adds that transparency and fairness are an integral part of property management at UMD, especially the account book. "As a responsible developer, we have already established the management account and update it on a monthly basis in accordance with the requirements of the Strata Management Act 2013 (Act 757)."
Meanwhile, the property manager uses a comprehensive strata management system in the collection of maintenance fees to ensure transparency. "Our collection rate is 88.7% as at June. I deem it not bad as our occupancy rate is only at 50%. We have initiated various easy payment methods such as JomPay and auto-debit facilities, as well as the condo-master system for owners to view detailed transactions," says Salem.
Future upgrades
When asked about its strategy for managing short stays at Evoke Residence, Salem says there are a few short stays and the management is actively monitoring all visitor movements via a manual system.
"To ensure all house rules and policies are followed, the management is taking further steps by planning to implement a web-based visitor management system that can keep track of visitors' movements in the building. It would provide a more private and conducive living environment for the permanent residents while ensuring constant security and safety in the long run," he notes.
In the pipeline is the upgrading of fluorescent lighting to LED lighting in the common areas, parking lot and emergency staircase for the purpose of energy saving.
Salem points out that quality property management is needed to ensure facility systems and accessories are reliable and functioning well with no breakdowns, which will prolong the lifespan of the building and equipment.
"Quality property management in a stratified development will ensure the property is properly maintained in line with related Acts and regulations. With good facility management processes in place, it will ensure the facilities are running safely, reliably and efficiently at optimum cost," he says.
"As a developer, we understand that well-managed properties with good facilities management will be able to attract customers and eventually help to shape our branding and reputation. This award will be a catalyst for the team to work harder, to provide continuous improvement in our services and enhance the property value of Evoke Residence."
Save by subscribing to us for your print and/or digital copy.
P/S: The Edge is also available on Apple's AppStore and Androids' Google Play.