This article first appeared in Wealth, The Edge Malaysia Weekly on July 25, 2022 - July 31, 2022
Unit trust is the top dog among capital market products for youth, those aged between 18 and 40 years old, according to the Securities Commission Malaysia's (SC) Youth Capital Market Survey: A Malaysian Perspective.
Published on June 30 this year, the survey had a total sample of 1,003 participants nationwide, covering the urban and rural population. It was conducted by the regulator to gain insights into youth's participation in the capital markets, and the findings will be used to guide the SC's policy direction.
The survey showed that 86% of youth prefer to invest in unit trust funds when it comes to capital market products. These products are popular due to greater awareness and access created by unit trust consultants and financial planners.
Less-preferred capital market products are stocks and shares (65%), bond/sukuk (19%) and private retirement schemes (PRS) (14%). Surprisingly, equity crowdfunding (3%), peer-to-peer financing (2%) and exchange-traded funds or ETFs (7%), which are perceived to be more favoured by the millennials, are also less preferred.
Based on a questionnaire adopted from the Organisation for Economic Co-operation and Development (OECD), the survey categorised its respondents into two groups — youth with high financial literacy and those with low financial literacy.
The survey showed that youth with high financial literacy invest more in bond/sukuk (24%), PRS (17%) and ETFs (9%), compared with those with low financial literacy (at 16%, 13% and 6% respectively).
Youth with high financial knowledge also invest more in alternative investment asset classes such as equity crowdfunding (5%) and peer-to-peer financing (3%), compared with those with low financial knowledge (at 2% for both asset classes).
As for non-capital market products, insurance (79%) is the most popular, followed by Tabung Haji (68%), fixed deposits (60%), property/real estate (51%), gold (47%) and foreign currency (47%).
Youth with high financial knowledge invest slightly less in Tabung Haji (65%) compared with those with low financial knowledge (70%).
However, the survey found that during focus group discussions, the youth do not instinctively segmentise investment products into capital market and non-capital market investments. Rather, those products are categorised in terms of risk level or tenure.
In general, the survey's respondents do not have sufficient knowledge about the various capital market products they invest in. Their surface understanding of various products is based on basic knowledge, such as trading concepts, which are more applicable to certain types of products than the rest.
"It is important to note that the mechanics behind most of the investment products were not clearly understood, as those who were investing [in them] tend to rely heavily on their wealth advisers or agents [to make decisions]," the survey said.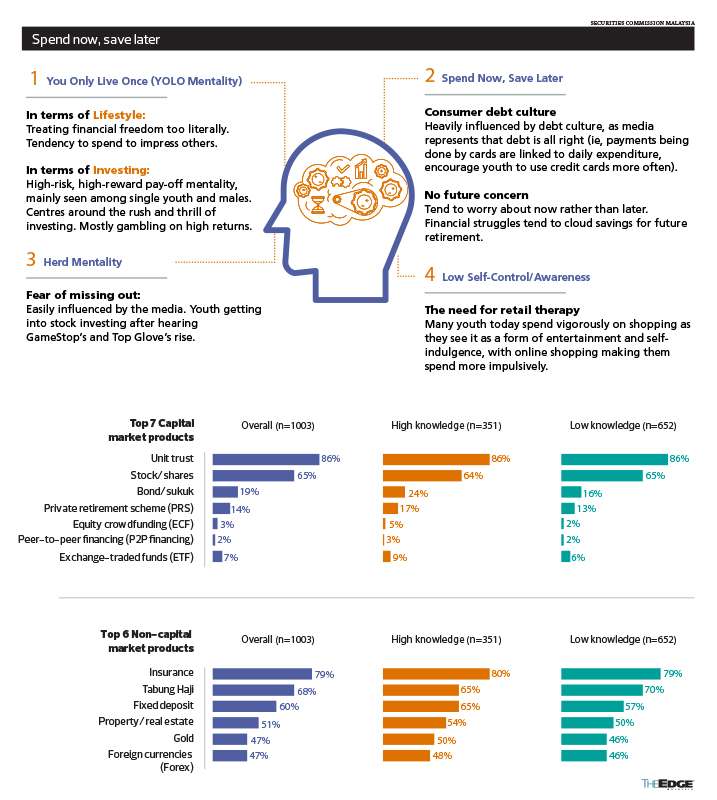 Gambling on cryptos and YOLO mentality could be detrimental
Not surprisingly, the survey showed that many young people are attracted to Bitcoin and cryptocurrencies, mainly due to their volatile prices, which can actually can make or break them in an instant.
"The quick rise and fall of the market entices youth to go for higher-risk investments with higher rewards. Their interest in [such] investment products has slowly risen compared with previous years.
"However, there is concern about the low level of financial literacy among some of the youth investors [who dabble in Bitcoin], which could backfire on them in their investment journey."
Speculating on cryptocurrency aside, the youth's mentality and behaviour could also make them financially vulnerable over the long term. For instance, the survey pointed out that the You Only Live Once (YOLO) mentality among the youth has led them to spend excessively to impress others, or invest in speculative asset classes for the thrill of it.
Youth today are also influenced by the "spend now, save later" culture, which is a form of debt culture. Some think that having debt is all right, and have acquired the habit of making payments via bank cards while accumulating debt.
According to the report, youth could also be easily influenced by herd mentality, causing them to invest blindly in meme stocks, such as GameStop Corp, and in glove stocks during the height of the pandemic. Such a mentality is dubbed FOMO, or the Fear of Missing Out.
Lastly, the report pointed out that youth of the current generation have lower self-control and awareness, which have led them to spend money on unnecessary items to feel good. In other words, they tend to indulge in retail therapy.
"Many youth today spend excessively on shopping as they see it as a form of entertainment and [to] self-indulge [to make themselves feel better]. Online shopping is making them spend more impulsively," it said.
It is perhaps due to this culture that the top priority for most of the respondents — a total of 69% — is to have enough money set aside for emergency purposes.
Their second and third highest priorities are to have enough savings to support their children/family (68%) and pay off existing debts/loans (55%).
Although Malaysia is on its way to becoming a super-aged nation — with 14.2% of the population expected to be senior citizens by 2030 and the figure increasing to 23.2% by 2050 — building a retirement fund is not one of the top priorities of local youth. Only 27% of them list saving and investing for retirement as their main priority.
Offline sources still the most trusted
A higher level of tech savviness, alongside the prevalence of the internet, has made knowledge regarding investments more accessible through mediums such as social media, official websites and search engine results.
The survey pointed out, however, that offline sources of information remain the most trusted among youth, with word-of-mouth advice from friends, relatives and financial advisers among the most prevalent.
Additionally, most youth found talks and seminars the most effective way to disseminate information regarding investments, only then followed by social media.
There is a need to increase capital market awareness among the youth as many of them have yet to participate in the capital market. The information disseminated to them needs to be easily accessible and digestible to prevent them from rejecting it.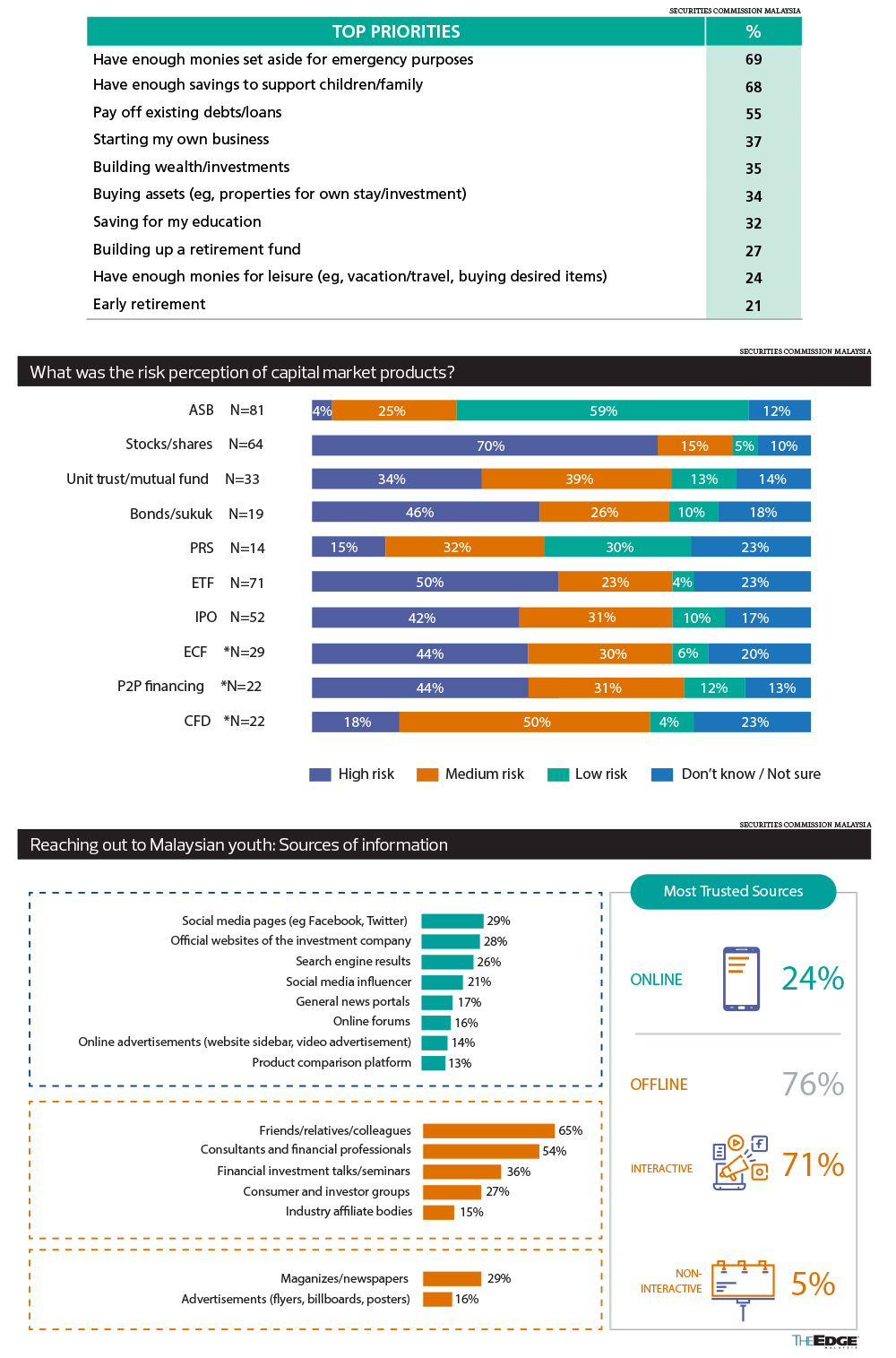 Save by subscribing to us for your print and/or digital copy.
P/S: The Edge is also available on Apple's AppStore and Androids' Google Play.