This article first appeared in Personal Wealth, The Edge Malaysia Weekly on April 10, 2017 - April 16, 2017
Global sustainable investments hit US$22.89 trillion at the start of last year, a 25% increase from 2014, according to the Global Sustainable Investment Review 2016, published by the Global Sustainable Investment Alliance on March 27.
According to the report, the market share of sustainable and responsible investments grew in all regions. Japan was the fastest-growing region from 2014 to 2016, followed by Australia, New Zealand, Canada and the US. Europe, which tightened its definition of socially responsible investing (SRI), was the exception.
Citing the Japan Sustainable Investment Forum (JSIF), the report says Japan's SRI market experienced staggering growth to reach US$473.6 billion last year from only US$7 billion in 2014, due to greater reporting and higher sustainable investing activity by the country's institutional asset owners. JSIF was previously not able to reflect sustainable investments made by institutional investors as the information was not made available.
Therefore, the reporting was limited to publicly available figures of SRI investment trusts and social impact bonds. In 2015, however, JSIF surveyed and recorded the sustainable investments of institutional asset owners for the first time, resulting in the huge increase in Japan's total SRI market.
The growth of Japan's SRI market is also attributed to the major developments in such investments in the country, says the report. This includes the participation of the Japanese Government Pension Investment Fund — the world's largest pension fund — as a signatory of the UN's Principles for Responsible Investment initiative.
In Australia and New Zealand, SRI assets grew 248% to US$515.7 billion in 2016 from US$148.4 billion in 2014, making up a substantial portion of the professional investment market in the region. As there continues to be a trend in investing based on environmental, social and corporate governance (ESG) criteria and ethical factors need to be considered systematically across the financial sector. Investment organisations are moving to meet the demand by developing products and services across all asset classes and all investment styles.
Canada's SRI market is experiencing continued growth, with a 49% increase in SRI-related assets to US$1.08 trillion in 2016 from US$729 billion in 2014. The report attributes the growth to a few factors, including investment managers' increasing engagement in SRI and the rising prominence of millennial investors, who are more likely to consider ESG factors when making investment decisions.
In the US, SRI assets increased 33% to US$8.72 trillion from US$6.57 trillion in 2014. The numbers are expected to rise further with the higher penetration of SRI products, development of new products that incorporate ESG criteria and incorporation of ESG criteria by numerous large asset managers across a wider portion of their holdings.
In Europe, total assets committed to SRI grew 12% to US$12.04 trillion from 2014 , amounting to 53% of the total professionally managed assets in the region. Although institutional investors continue to lead the SRI market in Europe, the retail sector has grown to 22% from 3.4% in 2014.
According to the report, fiduciary duty considerations have been recognised as the main driver of SRI investments in Europe as fund managers have begun to see ESG considerations as a part of their investment obligations, in line with fiduciary duty.
Despite a decrease in SRI assets' growth to 16% between 2014 and 2016, from 32% between 2012 and 2014, the number of SRI funds available to investors in Asia ex-Japan has greatly increased. SRI funds in the region grew 15% per year in 2015 and 2016, compared with 11% in the previous two years. The report says of the total SRI assets in Asia ex-Japan, 34% or US$17.9 billion are shariah-compliant, with annual growth of 3% since 2014.
Malaysia was the largest market for sustainable investing at 30% in Asia excluding Japan, followed by Hong Kong at 26%, South Korea at 14% and China at 14%. China was also the fastest growing market for sustainable investing in Asia excluding Japan, with a growth of 105% since the start of 2014, followed by India at 10% and Pakistan at 50%.
Overseas investors continue to be the most prominent SRI investors in Asia ex-Japan, representing US$18.2 billion in assets. The largest markets with global investors were Hong Kong (US$12.9 billion) and Singapore (US$4.3 billion). Meanwhile, regional and local investors are the main investors in SRI assets in emerging markets such as China and South Korea.
Most implemented strategies
Strategies that are commonly implemented in Asia ex-Japan are ESG integration (US$24.5 billion of assets) and negative/exclusionary screening (US$18.8 billion in assets). Sustainability themed assets, especially those related to clean energy, have attracted particular interest in China, growing 157% annually to US$2.9 billion last year.
Globally, investors using the negative screening strategy held US$15.02 trillion in assets last year. This was followed by those using the ESG integration strategy (US$10.3 trillion) and corporate engagement and shareholder action (US$8.37 trillion). The negative screening strategy excludes companies that do not meet certain SRI criteria.
Impact investing is gaining traction in the US, with more than half the participating managers reportedly using the strategy in their SRI investments. Those using the ESG integration strategy (56%) held the highest amount of SRI assets in the country at US$5.8 trillion. Other strategies used by participating managers include corporate engagement and shareholder action (30.6%) and positive/best-in-class screening (24%).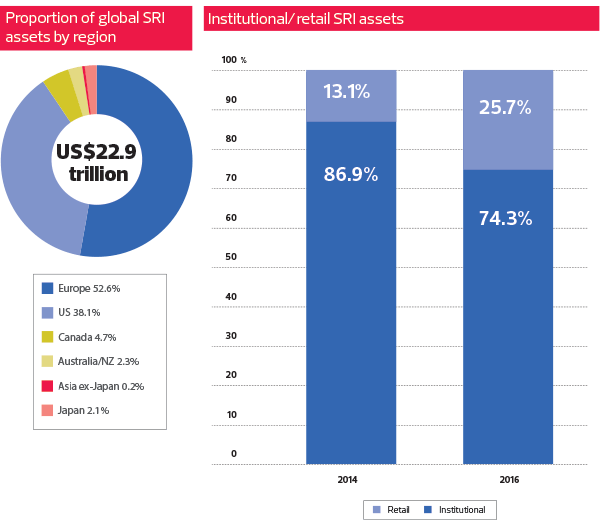 Save by subscribing to us for your print and/or digital copy.
P/S: The Edge is also available on Apple's AppStore and Androids' Google Play.