This article first appeared in City & Country, The Edge Malaysia Weekly on August 22, 2022 - August 28, 2022

Like many other shopping malls, IPC Shopping Centre (IPC) in Mutiara Damansara faced a tough time over the past 2½ years because of the various lockdowns during the pandemic. Despite the uncertainty, the team behind IPC managed to weather the storm.
Their efforts have paid off as IPC has been named the Gold winner in the 10 Years and Above Retail — Non-strata category. It won Silver in the same category last year.
Managed by Ikano Corp Sdn Bhd, the mall, which opened its doors in December 2003, is going from strength to strength where its sustainability agenda is concerned as it complies with global safety and security standards as well as audits set by the Ikano Group.
According to IPC general manager Karyn Lim, IPC — set up by global corporation Ikano Group's IKEA Southeast Asia & Mexico — is raising its targets with the aim of achieving zero landfill waste. It currently has a 52% recycling rate.
"The Ikano sustainability policy creates a big direction, a high-level direction that is applicable to any type of business. This direction enables us to apply it locally and make it locally relevant. There are three areas, namely Healthy & Sustainable Living; Circular & Climate Positive as well as Fair & Inclusive," she says.
Healthy & Sustainable Living is about the well-being of the community, tenants and co-workers. Meanwhile, Circular & Climate Positive is about consumption and ensuring that it utilises resources within the rightful areas, instead of overusing them. It is also about sourcing its materials in a responsible way.
Climate Positive focuses on the management of a building, looking into energy efficiency and water efficiency, cutting down its carbon footprint and managing waste in a responsible way.
The third pillar, Fair & Inclusive, is the way of doing business, ranging from how the business grows to asset management. It involves both business approaches and people's agenda.
"So these three areas have already been defined on a high level and now they are applied towards all different business entities. It is about how we localise them and that is where we have to come up with our own business plan actions and incorporate them into our business plan cycle," Lim explains.
"One thing that I personally respect in the group is the IWAY standard that I believe a lot of organisations do not have. It does not only audit the long-term vendors in terms of impact, but also from the perspective of safety measures, such as the safety measures they have in the company.
It also looks into human rights, if they actually treat their workers in an ethical way, which includes providing them the right to hold their own passport, have decent beds [to sleep on] and lockers to keep their personal belongings, go out to get their food, access to good hygiene and no child labour."
Lim adds that IPC will also pay visits to its vendors to ensure that they operate their business in a responsible way. The IWAY standard covers not only the business itself, but also humanity and the environment.

Mall enhancements at IPC continue even after the major redevelopment in 2017
Major redevelopment
IPC underwent a major redevelopment in 2017 to strengthen its meeting place positioning. The RM200 million project was done in accordance with Malaysia's Green Building Index and Leadership in Energy and Environmental Design green building certification requirements with the use of major environment-friendly apparatus such as solar energy, a rainwater harvesting plant, and energy and water efficiency systems and mechanisms.
It aimed to improve the shopping experience and accessibility. Mall enhancements continue even after the major redevelopment as IPC sets aside a budget every year to strengthen its position as a meeting venue.
Over the years, the work it has done includes the installation of an additional escalator in the centre of the mall that connects the lower ground floor to the ground floor. Prior to that, there was only one escalator at the end of the mall and one lift lobby at the centre of the mall.
The family rooms have also been renovated. The ventilation and filter system has been further improved due to the pandemic. The flooring used is of medical grade. There are also enhanced features such as a playground inside the family rooms as well as a faucet with hot and cold water in the lactation rooms. Playgrounds inside the mall have also been upgraded.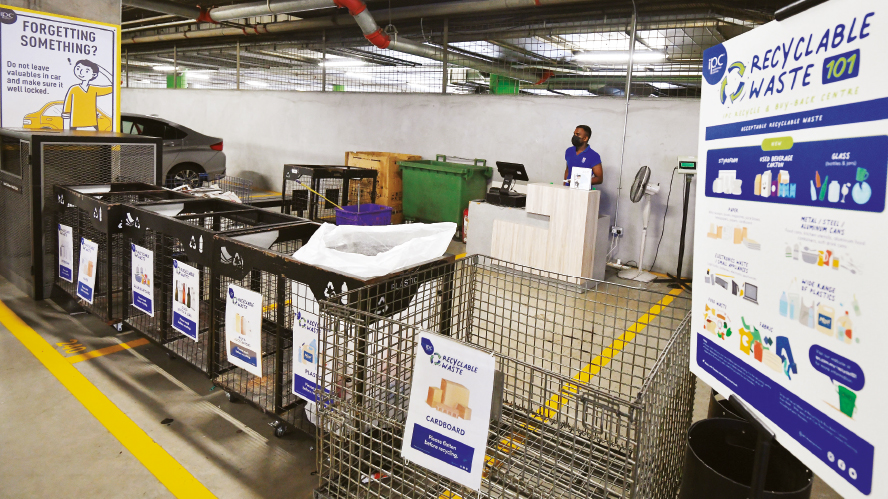 The waste management of the shopping mall is handled by its Recycling & Buy-Back Centre (RBBC). The public can also send their recyclables to the centre in exchange for cash. (Picture by Zahid Izzani/The Edge)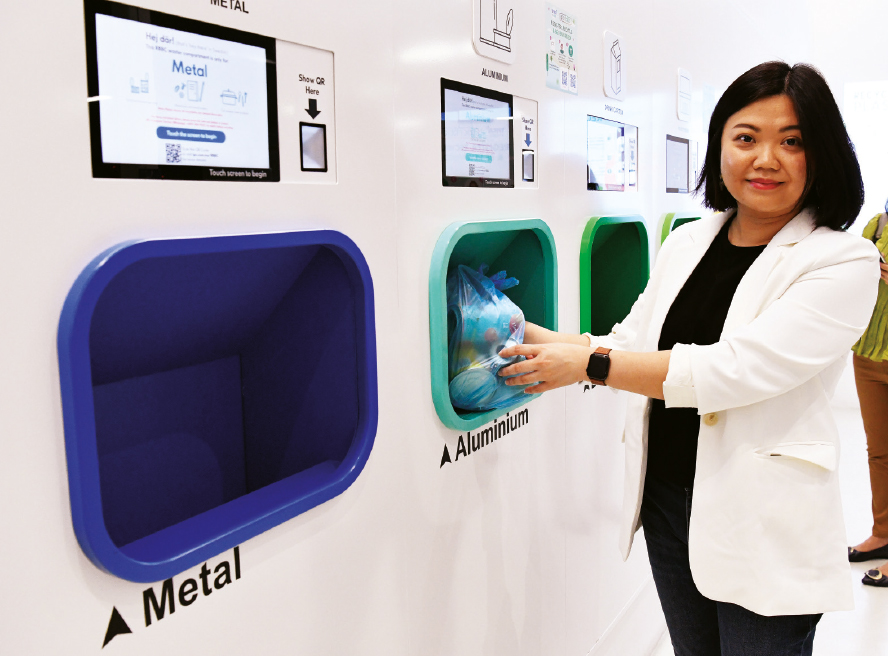 Lim (pictured) says the RBBC has been fully digitalised. (Picture by Suhaimi Yusuf/The Edge)
"We upgraded our solar energy because during Phase One (the major redevelopment in 2017), we only used up about 60% of our rooftop area. Now, we have actually covered up the whole rooftop with solar panels. So it's about 2,370 pieces of panels that contribute 7% to our energy saving. We have a membrane rooftop and we can design it in such a way that we have a non-obstructed rooftop that is able to optimise and maximise the solar energy coverage. During Phase One, we had only about 1,200-plus pieces," Lim says.
"On top of the solar panels, we also did not forget that a building needs frequential or sequential maintenance, including the lights. The maximum lifespan of LED lights is about four to five years and we are using them for more than 12 hours a day for 365 days a year. So, this year, we have invested in changing all our LED lights in phases. We changed the lighting at the parking floors and now we are changing the lighting inside the mall."
She says there are more projects in the pipeline, as she believes a responsible landlord is concerned about more than ringgit and sen and how much it can make from its tenants. Instead, it looks at how it can create a long-term, sustainable business ground for the tenants, as well as something that benefits the community.
Lim explains that IPC's mall enhancement plan is reviewed and fine-tuned every year to ensure that it suits the group's annual business plan cycle.
"However, the principle remains the same, which is to strengthen our meeting place positioning. We have to look into it on a yearly basis because it is an unprecedented time and it cannot give us a guaranteed read.
"The Covid-19 pandemic has also prompted us to visit it more frequently because when we planned the first master plan, there were different things that we wanted to do. But when the pandemic hit, we had to prioritise. For some of them, you have to wait for the readiness of the market potential," she says.
"For example, we have a plan to reconfigure the ground floor retail diagram because currently, it is still pretty anchor-driven and there are many fashion anchors. We want to configure the diagram to accommodate more variety, to cater for smaller lots and also to enable us to grow more local businesses. But that has to be put on hold for the time being because the pandemic has prompted us to look into other areas such as family-friendly facilities, accessibility and escalators. The annual visit allows us to reprioritise and reassign."
Green Tenant Awards
IPC has operated a waste recycling programme for the last three years, whereby the tenants' recyclables and landfill waste are calculated and tracked.
"This year, we will have our inaugural Green Tenant Awards with the objective of driving our tenants' waste recycling practices and reducing landfill waste, as part of their green ambition of achieving zero landfill waste. Three winners will be announced in December, with the tenants' recyclables and landfill waste calculated and tracked from January to December. We will give them a half-month service charge waiver with a maximum cap of RM10,000," Lim says.
The waste management of the shopping mall is handled by its Recycling & Buy-Back Centre (RBBC), which allows the public to send their recyclables to the centre in exchange for cash. She says the RBBC has been fully digitalised and the public can collect points for sending in their recyclables, which can then be exchanged or redeemed for cash vouchers, free parking or freebies.
Future plans
Despite the stiff competition in the retail industry, Lim believes that IPC's family-friendly concept differentiates it from other malls.
"We have an office crowd and working adults nearby who are our target market as well. We believe a lifestyle mall like us has features that are good for our target audiences who prefer a friendlier retail set-up. For them, our size is just nice and not too big. However, there are downsides as well as we don't have many choices," she observes.
"We embrace challenges, we believe that there should be healthy challenges and everyone [should] strive to improve themselves. A shopping mall affects a lot of things, such as tenants, the employment rate and so on. We believe responsible landlords are here for the long term and they are here to create a business ground for the partners and community."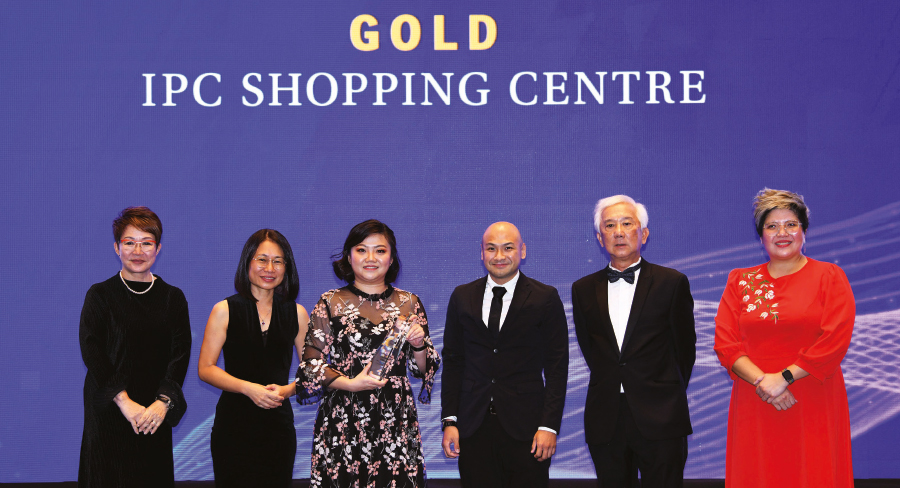 Lim and IPC deputy general manager Mark Tan (third and fourth from left) with (from left) The Edge Malaysia editor emeritus and the awards' chief judge Au Foong Yee, editor-in-chief Kathy Fong, The Edge Media Group publisher and group CEO Datuk Ho Kay Tat and City & Country editor E Jacqui Chan
Save by subscribing to us for your print and/or digital copy.
P/S: The Edge is also available on Apple's AppStore and Androids' Google Play.