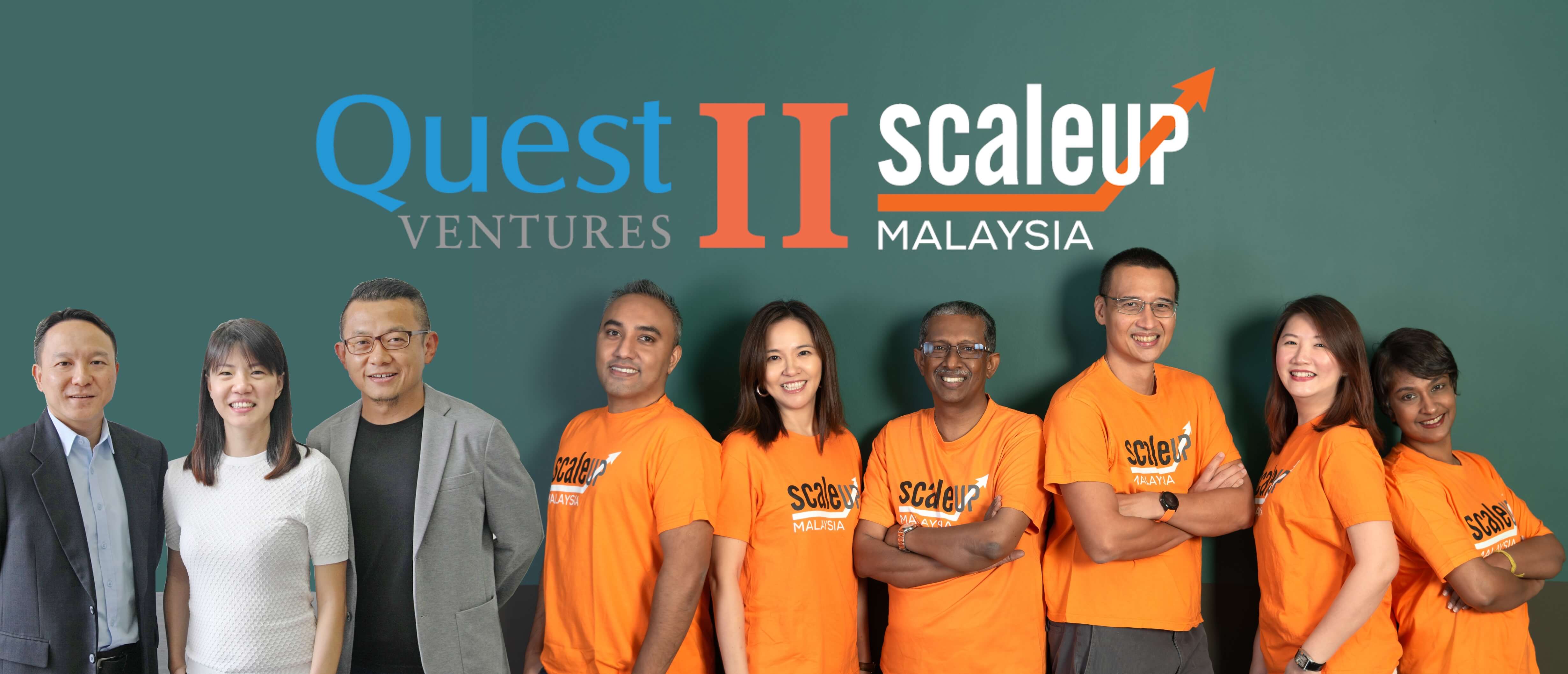 Quest Ventures together with ScaleUp Malaysia partners at the ScaleUp Malaysia Cohort 2 Launch and partnership announcement.
ScaleUp Malaysia has entered into an exclusive partnership with Quest Ventures, a Singapore-based venture capital firm, to help top Malaysian start-ups scale their businesses regionally. The partnership will bring in a foreign direct investment deal into Malaysia worth US$1 million (RM4.15 million) to develop and grow Malaysian start-ups.
At the virtual partnership announcement today, ScaleUp's Cohort 2 programme was launched as well and it is open for applicants. In order for companies to qualify for the programme, scale-ups must be operating on business models that have the propensity to disrupt existing markets or have solutions that are able to navigate future challenges and take advantage of opportunities brought about by the current economic climate.
Only companies registered in Malaysia qualify and they will be selected based on four key criteria — revenue generation, ability to demonstrate product-market fit, potential of highly scalable products or services with large growth potential and possibility of global expansion.
From the list of applicants, 24 companies will be shortlisted to begin their accelerator journey in October this year, before presenting their solutions in front of an investment committee at the end of the programme. As part of the partnership, the programme, powered by Quest Ventures, will invest at least US$60,250 (RM250,000) in up to 12 of these companies.
ScaleUp Malaysia launched its first cohort in December 2019 with 20 companies, where 10 received a US$48,283 (RM200,000) investment. Through its Pegasus model, the accelerator grooms start-ups in the growth and post product-market fit stage into scale-up businesses with high revenue growth and increased profitability rates that attract follow-on investments.
"In this second cohort, we want to empower solutions that tap into the buy-in of the digital economy and prime them through our rigorous syllabus designed to take local companies to the global stage. Our partnership with Quest Ventures will enable our scale-ups to quantum leap their growth, access adjacent markets and unlock a wealth of economic possibilities through value creation, needed now more than ever with our collapsing global economy brought about by Covid-19," said Dr V Sivapalan, senior partner of ScaleUp Malaysia.
James Tan, managing partner of Quest Ventures, said the partnership with ScaleUp Malaysia will enable them to support the top tech talent in Malaysia and provide necessary and timely support to power their disruptive businesses to break into the post-pandemic emerging Asia markets.
"Beyond the traditional investment role of VCs, we see it as our tech ecosystem duty to drive a speedier adoption of the digital economy," he said.
Earlier this year, Quest Ventures announced the first close of its venture capital fund named Asia Fund II after clinching support from Singapore's Pavilion Capital, which is a subsidiary of Singapore state investment firm Temasek Holdings Pte Ltd, and QazTech Ventures, a subsidiary of Kazakhstan state investment institution, Baiterek National Managing Holding JSC. The fund will be used to further expand and strengthen its presence within Southeast and Emerging Asia.
Sivapalan added that they are currently looking for technology investments, such as healthtech, and encourage tech companies to apply. "If you're an impact company that also [uses] technology, we will encourage you to apply as well."
Touching on the programme's modules and syllabus, ScaleUp Malaysia's managing partner Andre Sequerah said during the press conference that the syllabus has taken into account the Covid-19 pandemic.
He explained that the Cohort 2 programme is a fundamental business programme and based on all the best practices they have experienced over the years when coaching companies. However, the pandemic has brought in new variables, which have been added to the latest programme.
For more information on ScaleUp Malaysia and to register for Cohort 2, visit www.scaleup.my.