This article first appeared in Digital Edge, The Edge Malaysia Weekly on June 13, 2022 - June 19, 2022
When Low Ngai Yuen, group chief merchandise and marketing officer of AEON Co Malaysia Bhd, and her colleagues taste-tested traditional kuih raya before putting them on display in stores nationwide during the Ramadan-Raya period, it suddenly occurred to them that they could immortalise delectable treats in the form of non-fungible tokens (NFTs).
"We were just talking [about how we could make the celebration special] and then [we had this idea of] turning them [kuih raya] into NFTs. That way, Malaysians could buy and keep them and call them their own," shares Low.
"Our theme [for this year] was 'Raya Penuh Makna' (a meaningful Raya). So, we wanted to make it more meaningful by enabling Malaysians to own a part of the tradition and be very proud of it."
An NFT is a digital certificate of authenticity, one that is unchangeable and verifiable using blockchain technology, guaranteeing indisputable ownership of the asset it represents.
To execute the idea, AEON collaborated with Meta Universe Solutions Sdn Bhd — which provides consultation for businesses to enter the world of metaverse and NFTs — on its Kuih Raya Kita Digital Gift campaign. Together, they approached renowned homegrown artists, Afi Sulaiman and Izzati Suza, whose works reflect the characteristics of Malaysians and, sometimes, local foibles depicted as cartoons.
The Kuih Raya Kita Digital Gift NFTs collection resonated with AEON's technological transformation journey, says Khalid Gibran, CEO of Meta Universe. "This was the next progressive step that it had to take."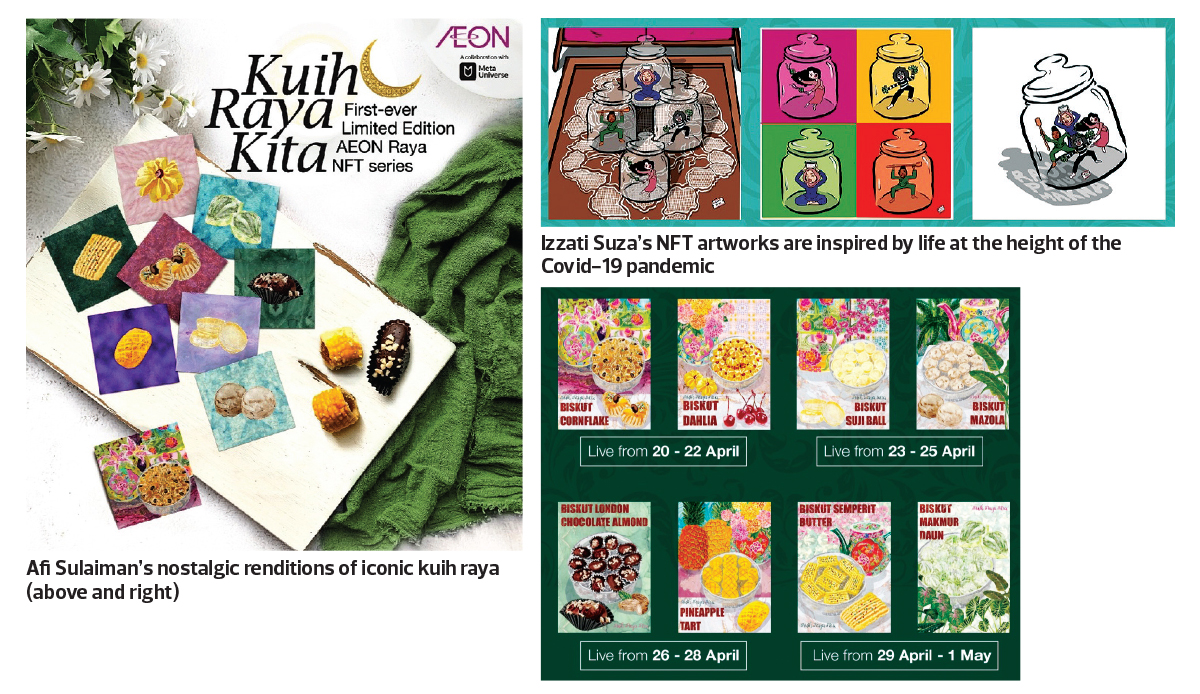 Concept will catch on, slowly but surely
Given that the initiative was an unorthodox one for AEON, the retailer needed to ensure its staff would be well prepared to deal with the anticipated barrage of customer queries on NFTs.
"It took some time before we could launch the NFT [collection] because the concept is new," says Low.
Despite being well aware of her team's concerns that customers may not understand what NFTs are, Low pushed the idea through. "It is a lifestyle [concept] that will catch on slowly but surely, one that we want to be a part of."
AEON and Meta Universe prepared the team by having them try out different types of NFT and cryptocurrency wallets and communicate with each other through a Discord community chatroom created especially for the campaign.
Despite the thorough preparations, the collection was completed only within six weeks.
"It was fast because even though AEON is a large organisation with lots of decision-making tiers to go through, it [AEON] was kind of in that space and was [already] thinking about it. When we went to them [AEON management], it was not difficult to get them on board," Khalid says.
A collection suitable for all
Within AEON, there were concerns that the NFTs might not appeal to customers — largely comprising older millennials and Gen X — to whom digital tokens were still a relatively new concept.
"For an organisation as large as ours, we don't want to say who we are targeting because that's not the point. First and foremost, we asked ourselves, 'Does it work for us?' If the concept and story gel, we will work it [out] together," says Low.
As the concept was based on the assortment of kuih raya, Low believed it would attract a large audience, given Malaysians' love for the delicacies.
AEON members were given a chance to redeem the first series of the Kuih Raya Kita Digital Gift collection, or 1,250 pieces per design, for free between April 20 and May 1. The second series was available for purchase at RM80 apiece from May 2 to May 13, along with a complimentary edible kuih raya that was sent to customers' doorsteps. AEON members who collected the first and second series of the Kuih Raya Kita Digital Gift received an exclusive, autographed digital gift by Afi Sulaiman.
Meanwhile, three NFT artworks from Izzati Suza were part of AEON's Discord Special collection. Via the AEON Discord channel, members could participate in challenges and stand a chance to win a piece of NFT artwork. Each NFT came with additional perks and prizes such as discount vouchers, cash vouchers and discounts on selected items.
The retailer's foray into NFTs doesn't end with kuih raya, however. Low says the company hopes to reward NFT holders with special privileges in the future.
While AEON made history as the first retailer in the country to enter the NFT scene, Low doesn't recommend fellow retailers follow suit without proper planning.
"The point is not about who joins the NFT world. It's really about whether it is suitable for your storytelling and if it is precisely what you're trying to achieve for your project. There are so many ways of presenting yourself and your NFT story in the metaverse.
"We have not even begun to explore the possibilities, it's crazy," says Low.
Khalid agrees. "It has to resonate with your mission, your company's mission, its culture and the customers that you serve. AEON's already on its technology journey, so this is just the next thing.
"Ninety-nine per cent of NFT campaigns usually fail globally. The one per cent that succeeds gets reported and magnified. If the right formula is adopted and the NFT campaign is launched on the right platform and to the right audience, things will work out and grow."
Save by subscribing to us for your print and/or digital copy.
P/S: The Edge is also available on Apple's AppStore and Androids' Google Play.