This article first appeared in Wealth, The Edge Malaysia Weekly on April 25, 2022 - May 1, 2022
The past month has seen extreme volatility in the China and Hong Kong equity markets on renewed tensions between the US and China, concerns about the spillover effects from the Russia-Ukraine conflict and the impact of rolling lockdowns to fight the resurgence of Covid-19 across China. Financial markets fear China's 2022 GDP growth target of around 5.5% will be challenged by these events.
Following China's worst virus outbreak in two years, the authorities locked down Shenzhen and nearby manufacturing sites in Guangdong, all of Jilin province and, most recently, large parts of Shanghai. Meanwhile, China's February credit data was surprisingly soft with new household loans falling for the first time ever. Broad credit growth slipped back to +10.2% year on year, close to its lows of 2021 when the authorities tightened borrowing conditions to slow down debt accumulation.
Lastly, fears that the US will extend sanctions to China if Beijing provides material support to Moscow for Russia's invasion of Ukraine have also increased concerns about China's growth this year.
With these top-of-mind worries, it is not surprising to see extreme market volatility. However, in a rare intervention on March 16, China's vice-premier Liu He addressed these investor concerns directly. These included the government's macro policy stance, Chinese property sector risks, Chinese companies' ADRs (securities that represent shares of non-US companies and traded on US exchanges) and the regulation of China's internet giants and online platform companies. The vice-premier's remarks fuelled a sharp rebound in Chinese and Hong Kong equities.
Four key messages emerged from the Financial Stability and Development Committee meeting chaired by Liu.
First, on macro policy, China will aim to revitalise the economy and to proactively respond with monetary policy changes and to "maintain appropriate growth of new loans". The committee's statement signalled that the policy easing is likely to happen sooner rather than later and policymakers would ensure economic growth stays within a reasonable range.
Second, on the Chinese real estate sector, the authorities will propose effective plans to efficiently deal with risks and "explore and roll out plans that facilitate a new development model for the real estate sector".
Third, on the Chinese ADRs, the US and China "have maintained communications and have made positive progress and are working on forming concrete cooperation plans". Policymakers will continue to support all types of corporates for overseas listing.
Lastly, on the online platform companies and regulation, the relevant government departments should improve the established plans in accordance with the principles of marketisation, legalisation and internationalisation, that is, a more transparent and predictable way for regulatory reform. At the same time, policymakers emphasised the importance of maintaining stability and improving the global competitiveness of China's large platform companies.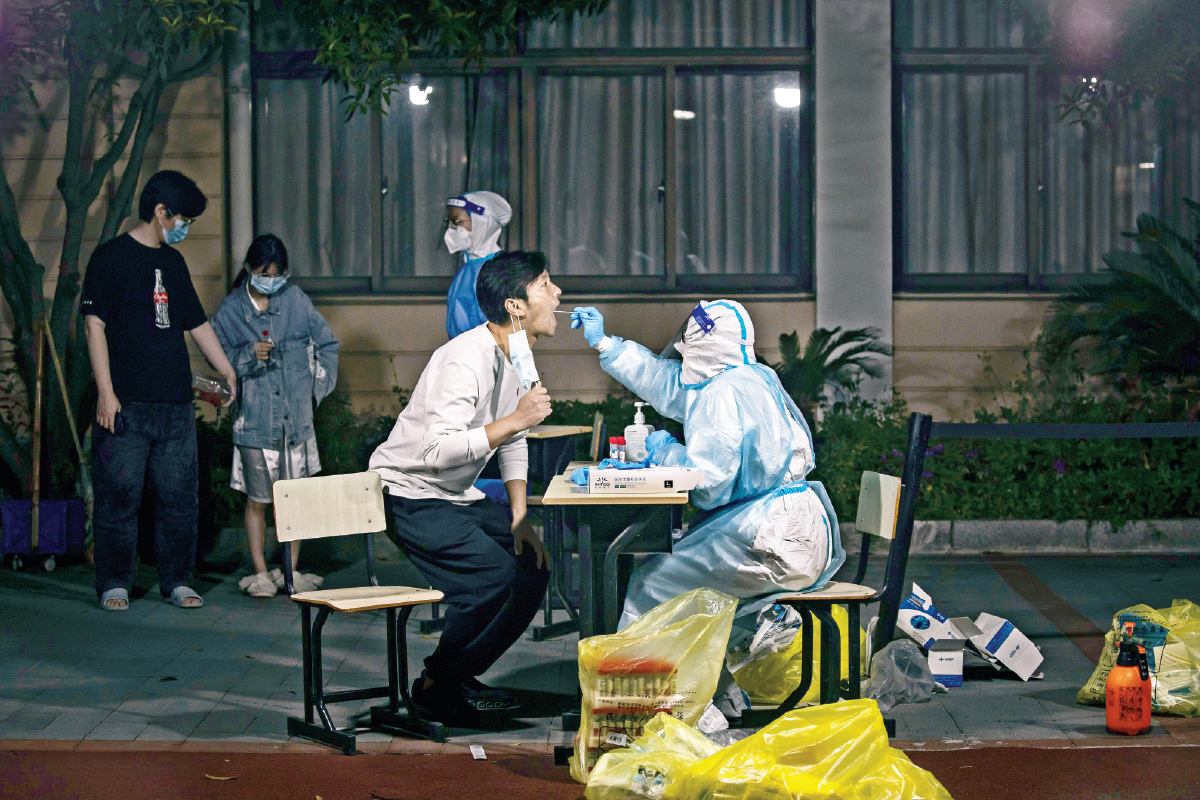 Covid-19 testing in a Shanghai neighbourhood ... Rolling lockdowns to fight the resurgence of the virus across the country added to the extreme volatility of the stock market (Photo by Bloomberg)
Still, while the narrative has turned decidedly more positive from the Chinese authorities, investors will need to see more concrete follow-up actions as evidence of policymakers' support. This would serve as a catalyst for the stock market to price in the positive changes in 2022.
As a result of the clear policy directions, several other ministries have already followed up with their own statements. For example, the finance ministry announced shortly after that the property tax trial would not expand this year, signalling that the policy direction is clear and will be followed by the respective policies from the ministry.
While concerns such as geopolitical tensions, downward earnings revision pressure, Omicron outbreak and real estate risks may persist in the near term, Chinese equities appear to have corrected and stock prices already reflect some of these risks. Surveys of economists suggest that fiscal support from various government agencies and monetary support from the People's Bank of China is expected sooner rather than later. The urgency is likely prompted by the uncertainties caused by the Omicron lockdowns that are happening in Shanghai and Shenzhen.
China has become the largest trading partner for many nations in Asia, in line with its growth over the last few decades. The clearer policy direction and messaging from Vice-Premier Liu, if put into action, will directly benefit Asia. This would be especially helpful as many countries, such as Malaysia, are just recovering from the 2021 lockdowns and these economies would appreciate the positive spillover effect from a growing and stable China.
Investors would be tempted to throw in the towel given the extreme volatility seen in the past month. However, having injected their investment portfolio with resilience by diversifying across asset classes and regions, it is advisable to stay the course and stay invested. It is also worth mentioning that my previous analysis on geopolitics not making a lasting impact still stands. So, having a long-term horizon has never been more important.
---
Michael Lai is executive director of wealth advisory (wealth management) at OCBC Bank (M) Bhd
Save by subscribing to us for your print and/or digital copy.
P/S: The Edge is also available on Apple's AppStore and Androids' Google Play.