This article first appeared in The Edge Malaysia Weekly on February 7, 2022 - February 13, 2022
IPOH-based transport terminal and bus operator Perak Transit Bhd, which has been enjoying high profit margins and consistent earnings growth over the past five to six years, is actively pursuing new revenue streams to boost its profitability.
According to Perak Transit founder and managing director Datuk Seri Cheong Kong Fitt, the group aims to be a leading developer and operator of integrated public transport terminals (IPTT) and transport services provider in the country.
"We are adding new revenue streams by managing third-party bus terminals and transforming some commercial areas in our terminals into logistics hubs," he tells The Edge.
Perak Transit operates two major terminals in Perak, with a combined net leasable area (NLA) of 338,071 sq ft. The group also operates more than 150 buses plying local routes.
"Our mid-term growth will be underpinned by the commencement of the new Kampar Putra Sentral, while our long-term growth will be driven by two new IPTTs, which are in the pipeline. We are focusing on capturing the bus terminal market in Perak, but intend to expand beyond the state," says the 62-year-old Kong Fitt.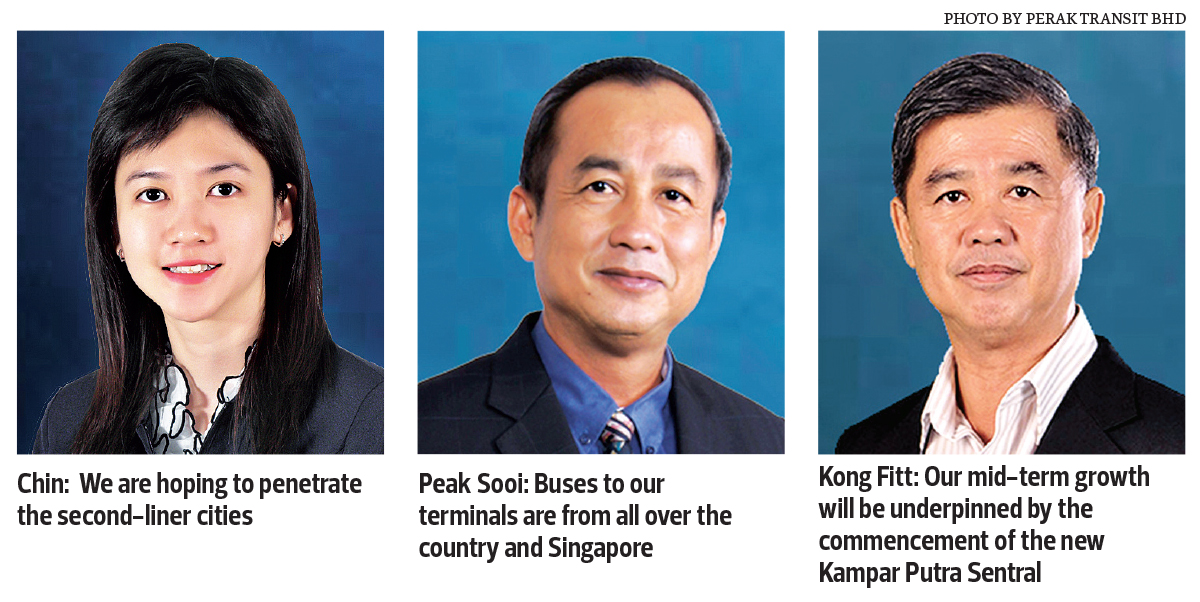 Perak Transit's maiden IPTT is the three-level Terminal Meru Raya, which has a NLA of 51,864 sq ft, and is Ipoh's only express bus terminal. The group's second terminal is the 11-level Kampar Putra Sentral, built at a cost of RM128 million, which commenced operations in September 2020. With a larger NLA of 286,207 sq ft, it houses a bus terminal and a commercial hub.
"Our third terminal, Bidor Sentral, which will be built at a cost of RM135 million, commenced construction in FY2021 and is slated for completion in FY2023. Our fourth terminal is expected to be Terminal Tronoh, which we target to commence construction in FY2023," he elaborates.
Kong Fitt is the single largest shareholder of Perak Transit, with a direct stake of 15.73% and an indirect stake of 14.86%, through CBS Link Sdn Bhd (9.07%) and his wife Datin Seri Lim Sow Keng (5.78%).
Despite lower revenue, Perak Transit saw its net profit grow 5% to RM41.81 million in the financial year ended Dec 31, 2020 (FY2020), up from RM39.75 million a year earlier, on higher contribution from the IPTT operations segment. Its net profit margin improved from 32% in FY2019 to 35% in FY2020.
Notably, Perak Transit's earnings growth accelerated by 41.5% — it registered a net profit of RM40.51 million in the nine months ended Sept 30, 2021 (9MFY2021), compared with RM28.62 million a year earlier, driven by income from leasing advertising and promotion (A&P) space and new rentals.
Perak Transit executive director Datuk Cheong Peak Sooi highlights that since September last year, the group has seen new revenue contributions from two logistics tenants — B&L and UFO — at both Terminal Meru Raya and Kampar Putra Sentral. "We expect to see a new revenue contribution of around RM2.5 million to RM3 million every month," he estimates.
The 55-year-old Peak Sooi, who is Kong Fitt's younger brother, adds that Perak Transit has allocated about 40% of Terminal Meru Raya and 10% of Kampar Putra Sentral as rental space for the two tenants.
Peak Sooi does not discount the possibility of Perak Transit allocating specific areas in other terminals for logistics hubs, as there are synergies.
"Imagine if our logistics tenants need to make deliveries — they can collaborate with bus operators. Buses to our terminals are from all over the country and Singapore," he says.
Meanwhile, chief financial officer Jenni­fer Chin Yi Teng says terminal management contracts (TMCs) would provide Perak Transit with another revenue stream with higher margins.
Generally, she says, TMCs involve renovation work and cost less than RM10 million per terminal, whereas the "develop, own and operate" projects could involve capital expenditure (capex) of more than RM100 million.
"We have secured two third-party TMCs and we are working to secure more," she reveals.
Perak Transit's first TMC is to serve Terminal Sentral Kuantan, from Feb 1, 2021, to Jan 31, 2030, and involves capex of RM3.05 million, but it will receive RM1.2 million in fees with a minimum increment of 3% annually.
Its second TMC is for Terminal Bas Shahab Perdana in Alor Setar — a 15-year contract that is likely to commence this year.
"We will allocate capex of RM6.5 million for this project. The fee structure is not fixed. We will manage our profit from leasing and renting out the commercial portion of the IPTT," says Chin, adding that Perak Transit is in talks with a number of local councils to renovate and refurbish transport terminals. Local councils own and operate more than 100 terminals in the country.
"We are hoping to penetrate the second-liner cities. The terminal business has a high barrier to entry. It is capital intensive. If you do not have a track record, it is not easy for you to secure financing," says Chin.
A check on AbsolutelyStocks shows that Perak Transit's gearing stood at 0.42 times, with a net debt of RM208.1 million, as at Sept 30 last year.
The share price of Main Market-listed Perak Transit rebounded from its 52-week low of 50 sen on June 30 last year to a 52-week high of 72 sen on Oct 15, before paring gains to settle at 61.5 sen last Thursday, giving the company a market capitalisation of RM390.4 million. The counter is currently trading at a historical price-earnings ratio of about seven times.
Save by subscribing to us for your print and/or digital copy.
P/S: The Edge is also available on Apple's AppStore and Androids' Google Play.