This article first appeared in City & Country, The Edge Malaysia Weekly on August 22, 2022 - August 28, 2022

Creativity that is born out of adversity" is how Mont' Kiara Bayu Management Corporation (MC) chair Joanne Wong describes the landscaping at Mont' Kiara Bayu, or MK Bayu — a Bronze winner in the Landscape Design category of The Edge Malaysia-ILAM Malaysia's Sustainable Landscape Awards. The property was previously awarded Bronze in the 10 Years and Above Multi-owned Strata Residential category at the Best Managed & Sustainable Property Awards 2020.
"During the Movement Control Orders when people could not go anywhere and we had nothing much to do, I came up with an idea to turn some underutilised space within the property into something like the Bayu Herb Garden, Serenity Corner …" says Joanne, who has been a resident of MK Bayu for 14 years and currently heads the landscape sub-committee under the MC.
Located off the busy thoroughfare of Jalan Kiara in Mont'Kiara, Kuala Lumpur, the five-acre MK Bayu development by Sunrise Bhd (now UEM Sunrise Bhd) boasts lush canopies of mature trees and green landscape features in every corner. Of the 398 units in total, about 80% are currently occupied.
Since the property was completed in 2002, it has witnessed a gradual evolution of its overall landscape and vegetation, including the latest enhancement, improvement and upgrading efforts over the last 2½ years.
"Through the years, we have planted a lot of perennials that can be propagated and also intentionally selected plants that give a Balinese tropical resort essence such as palm trees, red palms and frangipanis," says Joanne.
"We select plants that [exude] a Balinese essence because this is MK Bayu's signature. I don't want to change this theme. We may have some modern upgrades in some areas, but we are not changing our original essence," she remarks.
One of the first landscape features to greet you driving past the guardhouse and into the property is the crescent foyer garden by the grand porte-cochère. "I have added a Balinese water feature with perennials and tropical plants like cordylines, bird's-nest ferns, palms, hati-hati and elephant ears," Joanne says.
Meanwhile, a key project at MK Bayu is the thriving Bayu Herb Garden, which was spearheaded by Joanne along with several other residents, namely Claudia Wong, Nalini Panicker, Anna Lee, Ho Siew Loon and Tan Bing Xuan.
Says the MC chair: "The herb garden took two years to set up and become what it is today. There was a lot of planning and replanning in terms of the division of the land, which has also been redivided for the plants to grow. There was also a lot of trial and error in the beginning in terms of the type of soil to use for certain plants and herbs. Today, I think the herb garden is thriving."
The charming Bayu Herb Garden today boasts an equal mix of herbs and edible plants as well as a selection of fruit trees. These include curry leaves, laksa leaves, pandan leaves, basil, rosemary, sweet potato leaves, mint, mugwort, daun kaduk (wild pepper), bunga kantan (torch ginger), lengkuas (galangal), dragon fruit, banana and papaya. "We have [harvested] the bananas twice, the ladies' fingers, bitter gourds and eggplants," Joanne says with a smile.
To many residents, the Bayu Herb Garden is today a therapeutic space and a place to connect with one another. "Housewives, especially, like to go to the herb garden for convenience sometimes when they forget something for their cooking. The herb garden is also a community bonding project. When I see [residents] there, they'll talk to me, and I sometimes get them to join the herb garden group.
"We have also put up little notices that say: 'For those who take from the herb garden and have been blessed, please give back in some ways to the good earth for more blessings to come'. Sometimes, residents who are not directly
involved in this project will contribute seeds or whatever they can. I think this shows that they really appreciate what we are doing, and it is encouraging," she enthuses.
"Although the herb garden was born out of my personal interest, it is for the benefit of the MK Bayu community. My term is supposed to end next year. Nonetheless, I will remain in the Bayu Herb Garden group. It is not an official group, but I believe as long as we are living here, we will remain. And I think most people already know me as the 'green fingers lady', so I guess I will be here to stay," she quips.
The condominium's property management company Apex Choice Property Management Sdn Bhd director Susan Wong chimes in: "At MK Bayu, it is about the passion and love for the flora and fauna aspect of the landscape."
In total, there are around 43 types of herbs, vegetables and fruit trees in the herb garden today, on top of eight tree species, 35 types of flowering plants and shrubs, and 10 types of ferns within MK Bayu's landscape design.

The recreational deck on the fifth level is a tropical oasis filled with colourful plants, hedges and rocks
A thoughtful, tropical oasis
Filled with colourful plants, hedges and rocks, the recreational deck on the fifth floor of the property is a tropical oasis that houses facilities including a gym, barbecue area, saline swimming and wading pools, gazebos and sitting areas, as well as two tennis courts and a badminton court.
"At the recreational deck, we have replanted some of the wilting flowers with cannas and frangipanis as they are some of the most vibrant and colourful flowering plants, so to speak," says Joanne.
She adds that neem trees have also been planted where the reflexology path is "as they are known for their antioxidant properties and are beneficial to residents who like doing their tai chi there, for example".
Like the Bayu Herb Garden, the Serenity Corner was once another underutilised space. "During the MCO, residents were not allowed to use the facilities such as the swimming pools, gym, and the tennis and badminton courts. So, I came up with the idea for the Serenity Corner," says Joanne.
"We cleared out the space and put in a simple swing and benches. Some of the residents now go there to do some simple exercises, and I think the place is very conducive if you want to escape from your unit for a moment of fresh air and some me-time," she adds.
The MC engages a sub-contractor who provides three workers to help with the maintenance of the landscape as well as the compost soil.
The children's playground areas have also been improved. "They were initially full of cordylines, which is a nice companion plant, but when there are too many of them, mosquitoes can breed. That's why I removed them. I wanted to make [the playgrounds] a relaxing area for residents, especially when they cannot go out. This area is now a place where they can relax by a water feature, have a picnic with their family or play with their children," says Joanne.
"At the playground, we also try to have more grass for people to walk or stand barefoot, also known as earthing or grounding," she adds.
Nalini pipes up: "It is a natural therapy that detoxes the body. People go there to walk."
In addition, MK Bayu's covered walkway to its Bayu Walk retail annex has been updated, says Joanne. "We have lined the link way with Balinese pots, pebbles and water plants like arrowhead."
Not an avid facility user, Claudia thoroughly enjoys the landscaping aspects of the property's grounds. "I don't use the facilities very much but the landscape makes my heart very calm and peaceful. It is like watching a piece of art transforming, instead of just hard concrete. It is like walking into an art gallery, but a live one."
Being a single-tier development, MK Bayu is well ventilated. "We have a lot of free air flow within our corridors, within our units and outside in the common areas. That's why we are called 'Bayu', which means breeze," Joanne remarks. "In the mornings, we can hear birds chirping in the trees and in the gardens, we see butterflies."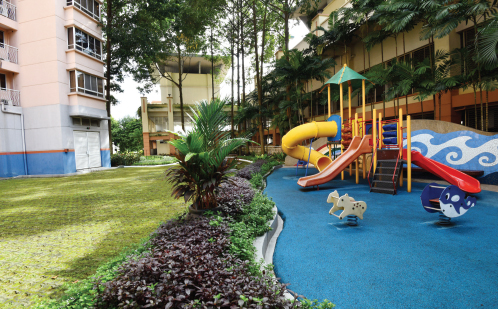 The children's playground areas have been improved and also planted with grass for people to practise earthing or grounding (Photo by Shahrin Yahya/The Edge)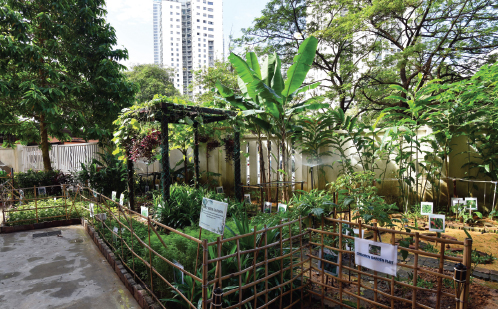 The Bayu Herb Garden boasts an equal mix of herbs and edible plants as well as a selection of trees (Photo by Shahrin Yahya/The Edge)
Taking it to the next level
Meanwhile, MK Bayu is taking sustainability in terms of landscape maintenance to another, and also more eco-friendly, level.
This includes having a designated space as a nursery for propagating plants and a proper compost area. "We are already expanding the landscape by planting more fruit trees and propagating our plants as most of the plants in our landscape are perennial. This helps with financial sustainability and keeping costs low.
"As for the compost area, we specially built it 2½ years ago. It used to be a little pit with nothing much going on, but we have now turned it into a proper compost area. We have also planted some flowers and plants next to the compost pit [to beautify the area and encourage residents to throw their organic waste there]," Joanne adds.
The MC is currently adding more sprinkler systems and water harvesting tanks to save resources and to minimise labour. "We are adding more sprinklers with timers as we are very conscious of our water usage.
The condominium also utilises rainwater harvesting to save resources. "We currently have a very simple system whereby we have drainage from the recreational deck that goes into a pipe down to our water tank, which is 500 gallons. That was our pilot project. For our next one, we are looking to add another two tanks," Joanne says.
According to Susan, the cost to maintain the landscape at MK Bayu is not significant. "The initial costs would definitely be a tad higher from buying the rainwater harvesting tank, sprinklers and the works. But after that, it is basically preventive maintenance so [the cost] will work out. The cost for water would also have come down by a certain percentage due to the rainwater harvesting system in place, so less and less would be required."
The MC is also looking into the possibility of having new roof catchment areas for rainwater harvesting as well as tapping into solar energy in the near future.
Save by subscribing to us for your print and/or digital copy.
P/S: The Edge is also available on Apple's AppStore and Androids' Google Play.