The digital transformation of an organisation, once considered a nice-to-have, is now viewed as critical for business survival, allowing businesses to quickly respond and adapt to change. This has been one of the key lessons of the Covid-19 pandemic.
One of the most asked questions in recent months is the impact of the Covid-19 pandemic on the pace of digital transformation. Are organisations, especially small and medium enterprises (SMEs), now more inclined to invest in automating and digitalising their operations, and are companies in general accelerating their digital transformation plans in the wake of the pandemic?
Malaysia Digital Economy Corporation (MDEC) director of business digital adoption Muhundhan Kamarapullai says the pandemic has been a wake-up call. "Covid-19 has definitely altered the drive for digital transformation where, in order to sustain and survive, businesses need to inject digital [technology] into their business operations."
KPMG head of IT-enabled transformation Alvin Gan is observing a mindset change among business executives and leaders. "It used to be a 'wait-for-digital' mindset with digital transformation initiatives in several industries tottering at the edges. Today, we are seeing more of a 'straight-to-digital' mindset as Covid-19 becomes the burning platform to change," he says.
The digital transformation conversation is not new. Malaysia has recognised the importance of digital transformation from as far back as the 1990s, with the establishment of the National IT Council as well as the launch of initiatives such as the National IT Agenda and the Multimedia Super Corridor.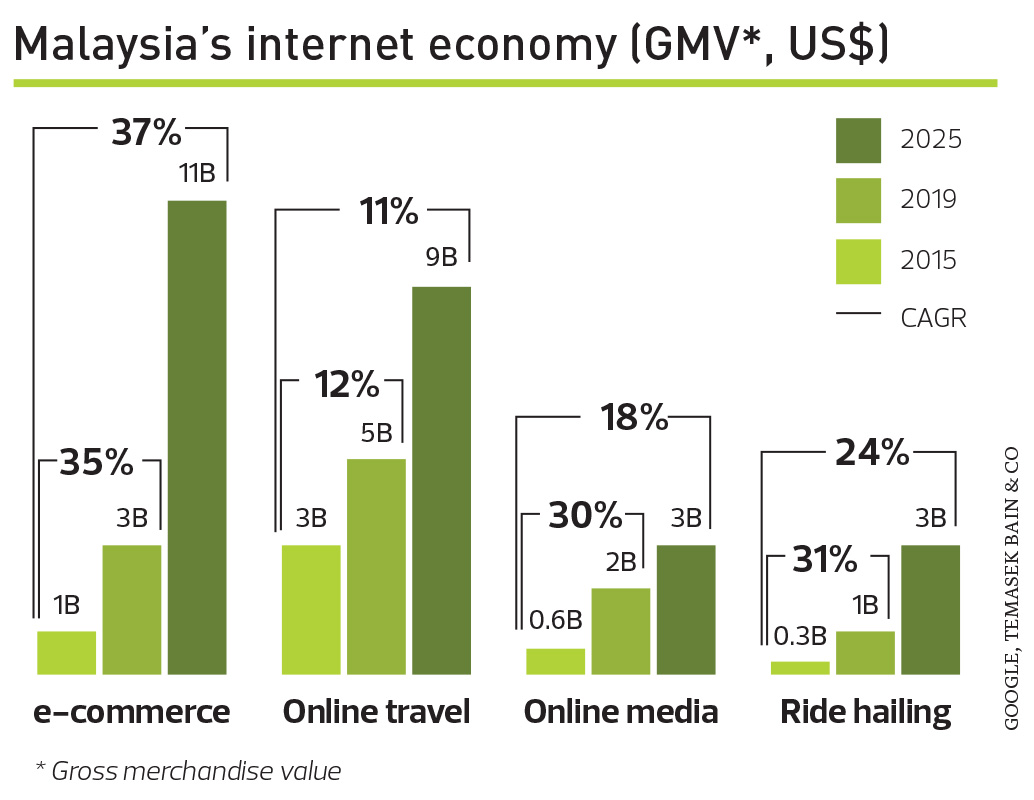 Benchmarking studies conducted in recent years show that Malaysia is competitive in terms of digital adoption, says Muhundhan. For example, the Digital Adoption Index, developed for the World Bank's World Development Report 2016: Digital Dividends, ranks Malaysia at No 41 out of 180 countries. The IMD World Digital Competitiveness Rankings 2019 meanwhile places Malaysia at No 26 out of 63 other economies in Overall Performance in Digital Trends.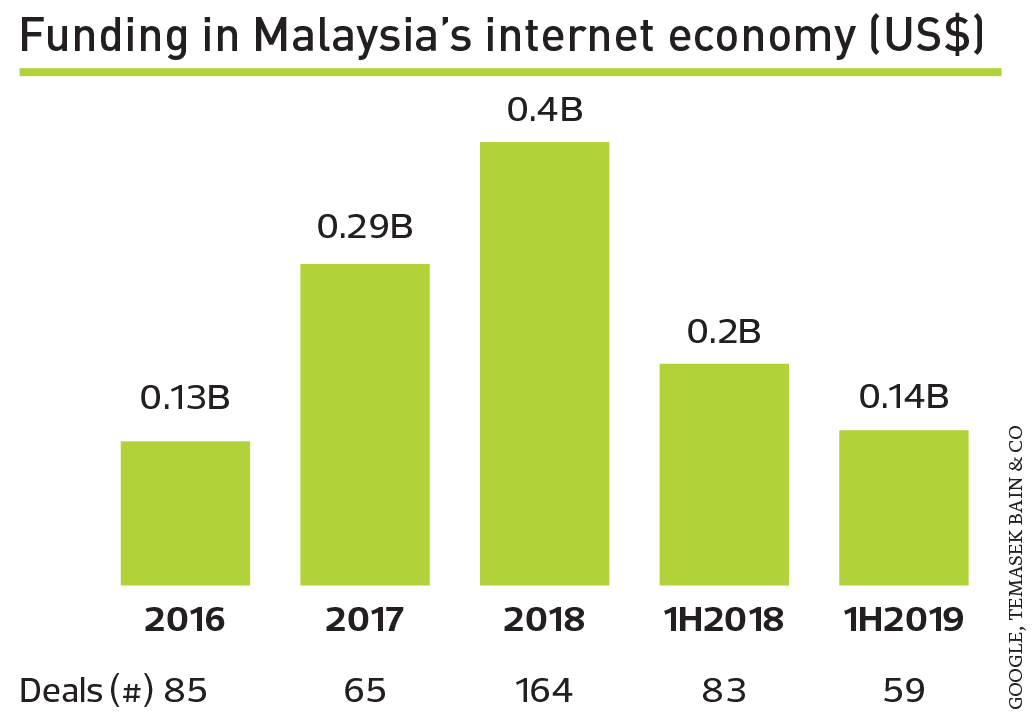 Malaysia is ranked No 31 (out of 139 countries) in the World Economic Forum's 2016 Network Readiness Index, an aggregate measure that aims to capture how well an economy is using information and communications technology. Basically, the index shows that connectivity indicators are mostly strong with good internet and mobile penetration and widespread smartphone usage.
DataReportal's Digital 2020 Malaysia report, created in partnership with We Are Social and Hootsuite, shows that at the start of 2020, there were 26.69 million internet users in the country, comprising 83% of the total population. Mobile internet users made up the bulk of total internet users (97%), with 96% of them accessing the internet via smartphones.
Thillai Raj T Ramanathan, chief technology officer at national applied research and development centre Mimos Bhd, says the public sector has also embraced digital technology. He points to digital transformation initiatives such as MyGOV — the government's one-stop service delivery portal — and the government's open data platform, data.gov.my.
"It is important for appropriate metrics to be put in place to measure progress," says Thillai, adding that a measure for e-government is the UN's E-Government Development Index (EGDI). "EGDI comprises three important dimensions — provision of online services, telecommunications connectivity and human capacity. The recent UNEG 2020 Report has Malaysia moving from high to very high."
Where we have done well
Gan believes that where Malaysia has done well is in policymaking, which enables platforms for businesses and stakeholders to digitally thrive. "For example, Bank Negara Malaysia in recent times has issued policies that encourage digital growth in the banking sector such as electronic Know Your Customer processes, which impact banks, insurers and others to accelerate and streamline practices in identifying and verifying individual customers online," he says. The country is gearing up for a digital banking revolution with the central bank set to provide five digital banking licences, he adds.
With this new development, Gan expects to see a higher rate of digital adoption in the financial sector. A report by the International Monetary Fund (IMF) in February shows that internet banking quadrupled in the last decade — topping a usage rate of 90% in 2018. Regulatory efforts are helping to advance digital adoption, as seen in the growth of mobile wallets, or e-wallets.
Bank Negara has a longstanding commitment to accelerate Malaysia's migration to e-payments, which is part of the Financial Sector Blueprint 2011-2020. To spur greater adoption of mobile payments, the central bank introduced the Interoperable Credit Transfer Framework, which establishes a shared payment infrastructure that connects bank and non-bank accounts while managing the resultant risks.
What is significant about the e-wallet growth is the launch of multiple ones by non-bank players in Malaysia, particularly financial technology (fintech) start-ups and big technology firms, including Chinese big tech firms such as Ant Financial and Tencent.
The number of non-bank e-money issuers that offer payment solutions through mobile apps has grown significantly from just five in 2016 to 47 currently, according to Bank Negara. Of these e-wallets, GrabPay, Touch 'n Go (a partnership with Ant Financial) and Tencent's WeChat Pay MY are said to be among the most popular.
Indeed, on the consumer side, the digital leap appears to be well underway. As for the other verticals, the e-Conomy SEA 2019 report by Google & Temasek in partnership with Bain & Co, shows that Malaysia's e-commerce market has tripled in size since 2015, exceeding US$3 billion in 2019. The report forecast that the e-commerce market will hit US$11 billion by 2025. In addition, the online travel sector, spearheaded by budget airlines and budget hotel chains, reached close to US$5 billion last year and was projected to hit US$9 billion by 2025.
Apart from regulators, agencies such as MDEC are playing a role in the country's digital transformation journey. Muhundhan points to the 100 Go Digital initiative, which is aimed at SMEs. "Focusing on cashless payment for the pilot project that was rolled out in Langkawi in 2019, we have successfully onboarded more than 100 SMEs for the initiative, with 30% successfully implementing digital payment solutions," he says.
One of the most successful of these SMEs is TerraGrill Satay, which was started by Zainah Abd Manaf when she took over her father's satay business at the night market. According to Muhundhan, Zainah now delivers satay throughout Malaysia, having accelerated the process by injecting digital technology into business functions such as automating the satay-making process, utilising digital marketing to increase sales and implementing a cashless payment solution. She has more than doubled production to 7,000 sticks daily (up from 3,000 sticks) to date and hit sales of RM40,000 to RM60,000 a month through digital marketing.
Is Covid-19 pushing us to a digital future?
Muhundhan says that when the Fourth Industrial Revolution (IR4.0) kicked off, there was great emphasis on the role of digital transformation in defining how businesses would remain relevant in the future. "But the Covid-19 pandemic has been the greatest catalyst for digital transformation in defining how businesses need to remain relevant by adopting future work practices that have been discussed for years. For example, working from home has become the 'new normal' — enabling a geographically dispersed workforce in the public and private sectors to continuously function at an effective degree."
Thillai says the current technology infrastructure, however, is limited with respect to support for e-commerce
activities and video conferencing. "There are areas that can be improved. For example, in loan disbursements, during the Movement Control Order (MCO) period, documents could not be signed for processing. This could have been alleviated had there been a digital signature system in place for electronic transactions."
He adds that the pandemic has highlighted the gaps in data sharing and communication as well.
EY Malaysia — in its survey of nearly 700 companies, large and listed as well as SMEs — found that 80% of companies experienced challenges with communications, connectivity and infrastructure during the MCO period.
Indeed, what has been most apparent during the pandemic and the subsequent restrictions to stem its spread is that
organisations with digital strategies in place have been able to react and adapt swiftly such as meeting the demands of a work-from-home workforce and shifting businesses online.
Workday — a provider of enterprise cloud applications for finance and human resources (HR), through its survey of C-suite and business leaders from the IT, HR and finance functions in Hong Kong, Singapore, Thailand, Indonesia and Malaysia in June and July — says that almost all the chief information officers surveyed reported that digital technologies have been used to carry out their company's business continuity plans.
The pandemic is creating opportunities for industries that have lagged behind in terms of technology such as food and beverage (F&B) and hospitality. The restaurant industry, which has been brought to its knees by the pandemic and continues to face challenges with changing consumer behaviours, has the opportunity to embrace technology whether in the form of contactless payments, reservations software,or even robotic assistants. Similarly, the hotel industry is looking to the Internet of Things (IoT) to aid in its recovery by enabling contactless access, connected appliances and energy management.
There are also opportunities for digital innovations across the entire value chain of the agriculture sector, often considered the world's final technological frontier. IoT-based farming solutions to monitor crops and the use of autonomous vehicle technology for sowing and harvesting, for example, can help farmers increase productivity and reduce the cost of fertilisers and pesticides.
Technology can help farmers shorten the supply chain and reach their customers more effectively. During the MCO period, for example, the disruption in the food supply chain saw farmers in Cameron Highlands dumping tonnes of vegetables. To mitigate this, e-commerce players stepped in and started selling the produce on their platforms.
One example is Everleaf Eco Solutions, which operates the organic product platform Everleaf, that set up a storage and fulfilment centre in April. Everleaf founder Clarence Chin says it assisted farmers in listing their produce on various online marketplaces. This expanded the farmers' digital exposure, allowing them to take the first steps in digitalising their operations.
"Covid-19 has emerged as a game changer for digital transformation. Where previous initiatives and programmes to go digital met with lukewarm responses, particularly from SMEs, the pandemic has spurred Corporate Malaysia to accelerate its digital transformation," says EY Malaysia managing partner Datuk Abdul Rauf Rashid.
EY's survey found that 37% of SMEs and 32% of the large and listed companies have taken steps to expand or upgrade their technology capabilities. Close to 30% of businesses (30% large and listed companies and 26% SMEs) have invested in work-from-home hardware and software to ensure connectivity with their employees and improve employee productivity.
So what's the hold up?
Although the pandemic is pushing organisations to digitally transform, the reality is that many are struggling to do so. The Workday Digital Agility Index, a study conducted in collaboration with global technology market intelligence company International Data Corp (IDC) found that 90% of organisations it surveyed in Malaysia struggled to make changes to their financial plans for the year, with 83% unable to realign their organisational structures.
"Recent events have brought into focus the importance of businesses being digitally agile. Without the right technological backbone, organisations cannot move quickly to adapt to rapid change. Most companies have had to make significant changes to their financial and human resources plans this year, at quick notice, and our research shows that offline processes have hampered this," says Workday Asia president Rob Wells.
While it is difficult to expect companies to invest in the digitalisation of their organisations at a time when they are struggling to pay overheads, the dearth of digital skills is another key factor in an organisation's lack of digital agility.
The Workday Digital Agility Index, for example, found that two-thirds of Malaysian organisations lack an enterprise-wide culture of agility and 67% say that less than half of their people are equipped with digital skills and capabilities. Meanwhile, a staggering 13% say they have almost no employees with digital experience or skills.
KPMG's 2019 CEO Outlook report found that the top three scarcest skills are big data/analytics, cybersecurity and artificial intelligence (AI). The findings show that skills shortages are at an all-time high since 2008 and that these shortages act as a bottleneck to growth, says Gan. "It is a point often discussed in digital transformation, but a tough nut to crack," he adds.
Workday's study attributes the lack of digital expertise in part to the prevailing mindset within Malaysian organisations of not viewing talent as a source of competitive advantage. Therefore, they are not investing in finding and nurturing it — with 79% of the organisations it surveyed discounting talent as an important strategic asset and, as such, lack the proper tools and processes to manage it.
The lack of digital growth education in the Malaysian education system, the mismatch of skills to meet the increasing demands of the digital economy and the migration of skilled workers overseas further exacerbate the country's digital skill deficiency, says Muhundhan.
iTrain Group co-founder and executive director Datuk Eric Ku stresses that to create a successful digital economy that contributes to the country's GDP and growth, more digital creators are required. "Currently, Malaysia is a digital consumer country compared with the US and China or even Taiwan. A simple way to discover this is to find out how many apps are created by Malaysians," he says.
The lack of homegrown unicorns (a term used in the venture capital industry to describe a privately held start-up with a value of more than US$1 billion) also explains the lower levels of funding received by Malaysia compared with its neighbours such as Singapore and Indonesia. The e-Conomy SEA 2019 report, for instance, shows that although funds for Malaysian internet companies have totalled nearly US$1 billion since 2015, the US$140 million raised in the first half of 2019 fell short of 2018 levels.
The other common issue that derails digital transformation is the resistance to change, Gan observes. "This is seen in almost every layer of the organisation, where corporate leaders have enjoyed a certain degree of comfort. Resistance to change can grind transformations to a halt. It is up to the CEO to rally the troops and align everyone around a strategy, narrative and vision," he says.
The challenges related to infrastructure is also hampering the digital transformation process. MDEC's Muhundhan points out that although nearly 80% of the Malaysian population is online and there is a high broadband subscription, Malaysia lags in terms of coverage, with download speeds of only 100 Mbps for high-growth areas. This lags behind countries such as Vietnam, he adds.
A lack of competition among the country's internet service providers means Malaysians are paying more for broadband compared with their neighbours in the region. The World Bank's Malaysia Economic Monitor June 2018 report ranks Malaysia at No 74 out of 167 countries for fixed broadband services and No 64 out of 118 for fibre broadband services — behind regional competitors like Vietnam and countries at a similar level of economic development such as Mexico and Turkey.
How to make that leap?
In digital skills development, initiatives such as MDEC's #mydigitalmaker aims to impart skills like coding, app development, 3D printing, robotics, embedded programming and data analytics and expose students to careers related to digital technology. The goal is to transform Malaysian youths from digital consumers into digital producers.
Companies such as the iTrain Group are assisting organisations and the government on employee digital empowerment. "The goal is to upskill and reskill all the tech and non-tech employees on digital skills in order to increase the organisation's digital quotient," says Ku, disclosing that the group is currently working with a financial institution to come up with a digital skills competency framework.
"Digital skills are important for non-tech employees, more so than tech employees. Non-tech employees are the domain experts in their respective fields whether it is finance, marketing or sales. Training them in digital skills allows them to discover the opportunity for digitalisation whereas it is the tech employees who will be tasked with the implementation," he points out.
Thillai believes that a public-private sector partnership is important to accelerate digital transformation. The government serves as a catalyst by putting in the appropriate policies, plans, mechanisms and regulatory measures while the private sector acts as the investment and implementation arm, he adds.
"A Digital Economic Blueprint is being developed by the government to overcome these challenges and issues and it will involve both the public and private sectors," he says.
From the government's Budget 2020, there are already positive efforts to further the country's digital transformation journey. The RM21.6 billion National Fiberisation and Connectivity Plan, for one, aims to improve Malaysia's economic competitiveness through connectivity while preparing the nation for IR4.0.
The plan's objective is to bridge the digital divide between the rural and urban areas in Malaysia. It hopes to achieve this by, among others, having an entry-level fixed broadband package at 1% of the gross national income by 2020; for fibre networks to cover 70% of schools, hospitals, libraries, police stations and post offices by 2022; average speeds of 30Mbps in 98% of populated areas by 2023 and to have gigabits avaiability in selected industrial areas by 2020 as well as all state capitals by 2023.
MDEC, on its part, has rolled out several programmes to bridge the urban-rural digital divide, including the establishment of Digital Enhancement Centres. There are 14 such one-stop centres located throughout the country aimed at assisting SMEs in increasing their digital adoption as well as their access to financing and capacity building.
Meanwhile, the recently announced Short Term Economic Recovery Plan (Penjana) focuses on digitalisation to spur economic recovery. Among the initiatives are the Ministry of Science, Technology and Innovation's National Technology and Innovation Sandbox (NTIS).
Initiatives included in the NTIS (which has a RM100 million allocation) include the use of autonomous robots for health services and the agriculture sector by optimising the usage of fertilisers and spraying of pesticides, AI and IoT technologies and advanced manufacturing such as 3D printing.
The #SMART Automation Grant is another government initiative to expand support for SMEs to make the digital leap. The grant is available for 50% of the total project cost or up to a maximum grant cap of RM200,000, whichever is lower. Businesses in the services sector that qualify for the grant include retail, wholesale, food and beverage, tourism, logistics, transport, education, healthcare, real estate as well as professional and financial services.
In last year's tabling of Budget 2020, the government introduced a 5G Ecosystem Development Grant worth RM50 million and allocated RM25 million to set up a contestable matching grant fund to spur more pilot projects related to emerging technologies such as AI, blockchain and autonomous vehicles that leverage the fibre optics and 5G infrastructure.
"5G will see connectivity in Malaysia evolve to a level which is unseen before in terms of connectivity speed, less latencies, higher number of connections and, of course, bigger capacity," says Gan.
He adds that 5G, to a large extent, will be the backbone of the country's goals in making it big in the digital economy.