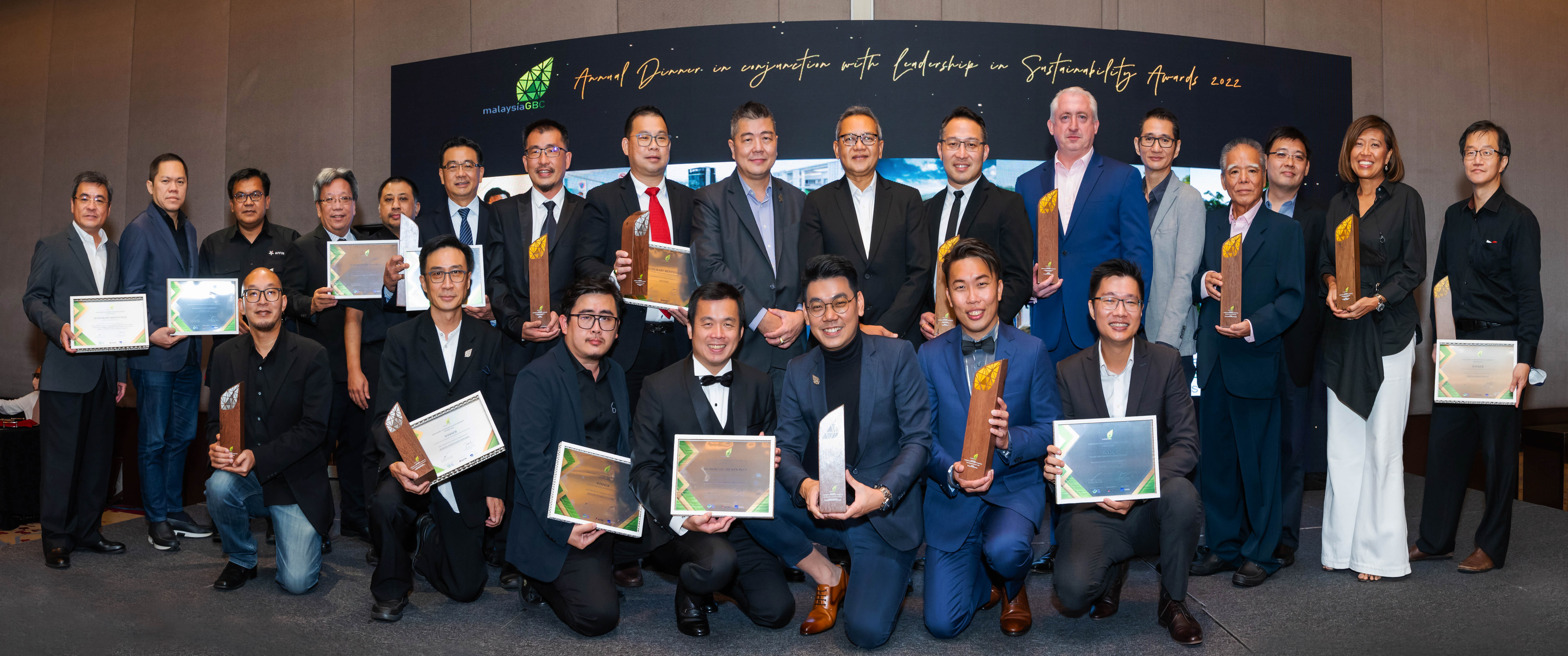 The winners of Leadership in Sustainability Awards 2022.
KUALA LUMPUR (July 8): More than 250 guests celebrated the malaysiaGBC's Leadership in Sustainability Awards in conjunction with malaysiaGBC's annual dinner 2022 held last Friday (July 1) at The Westin Kuala Lumpur.
In a press release, malaysiaGBC president Sim Chee Liang said the theme of the award presentation and annual dinner was "Building Hope", in line with the association's vision to rebuild a more sustainable and resilient future for Malaysia together with the government.
"Today (July 1) is malaysiaGBC's Report Card Day. We will reflect on our milestone achievements for the last 1.5 years [from January 2021 to present] and set a clear end-pandemic mission to restart, reset and rebuilt the association," Sim said.
Some of the winners of malaysiaGBC Leadership in Sustainability Awards 2022 were Gamuda Gardens (Best New Green & Sustainable Township category), Menara IQ in TRX (Best New Green & Sustainable Commercial Building), Tzu Chi Jing Si Hall in Kepong (Best New Green & Sustainable Institutional Building), just to name a few.
As the guest of honour of the night, chief executive officer of Malaysian Green Technology and Climate Change Corp (MGTC) Shamsul Bahar Mohd Nor expressed that excessive energy consumption from buildings had contributed to climate change.
"As of 2019, the building works in the construction industry were accountable for 30% of greenhouse gas emission. The high amount of greenhouse gas emissions in the construction industry has alerted the experts in the construction industry to look into the opportunity of green building," he reiterated.
In addition, several presentations gave the attendees a better idea of the direction malaysiaGBC was heading towards. Dr Serina Hijja presented the malaysiaGBC Roadmap 2021-2025; Mitch Gelber presented the malaysiaGBC Carbon Score; while the Malaysia Sustainable Development Goals and Environment, Social and Government initiative was presented by Ahmad Izdihar Supaat.
According to the statement, malaysiaGBC promotes green building programmes, technologies, design practices and processes as well as green labels in embracing responsible sustainable measures and other green requirements for environmental, social and economic benefits. An established member of the World Green Building Council (WGBC), malaysiaGBC is the only organisation in Malaysia endorsed and supported by WGBC, it said.
The results of the malaysiaGBC Leadership in Sustainability Awards 2022 are as follows:
1. Best Green Research
HONORARY MENTION
• PILOT PROJECT ON SOLAR PV HYBRID SYSTEM AND HEAT PUMP TO IMPROVE THERMAL COMFORT FOR NATURAL VENTILATION WARD 3 AT KEPALA BATAS HOSPITAL PENANG

2. Best Green Products & Technology
WINNER
• AEP OIL-GREASE SEPARATOR SYSTEM
HONORARY MENTION
• ION PAINT

3. Best Corporate Leadership for Male
WINNER
• BAYLON THAM WAI LEONG

4. Best Sustainability Leadership for Consultant
WINNER
• VERITAS ARCHITECTS SDN BHD
HONORARY MENTIONS
• BGREEN ASSOCIATES SDN BHD
• CONEVO GREEN CONSULTANCY SDN BHD

5. Best New Green & Sustainable Academia Building
JOINT WINNERS
• INTERNATIONAL SCHOOL KUALA LUMPUR
• SMJK JIT SIN

6. Best New Green & Sustainable Institutional Building
WINNER
• TZU CHI JING SI HALL, KEPONG

7. Best New Green & Sustainable Commercial Building
HONORARY MENTIONS
• AFFIN BANK HQ @ TRX
• D'NETWORK

8. Best New Green & Sustainable Township