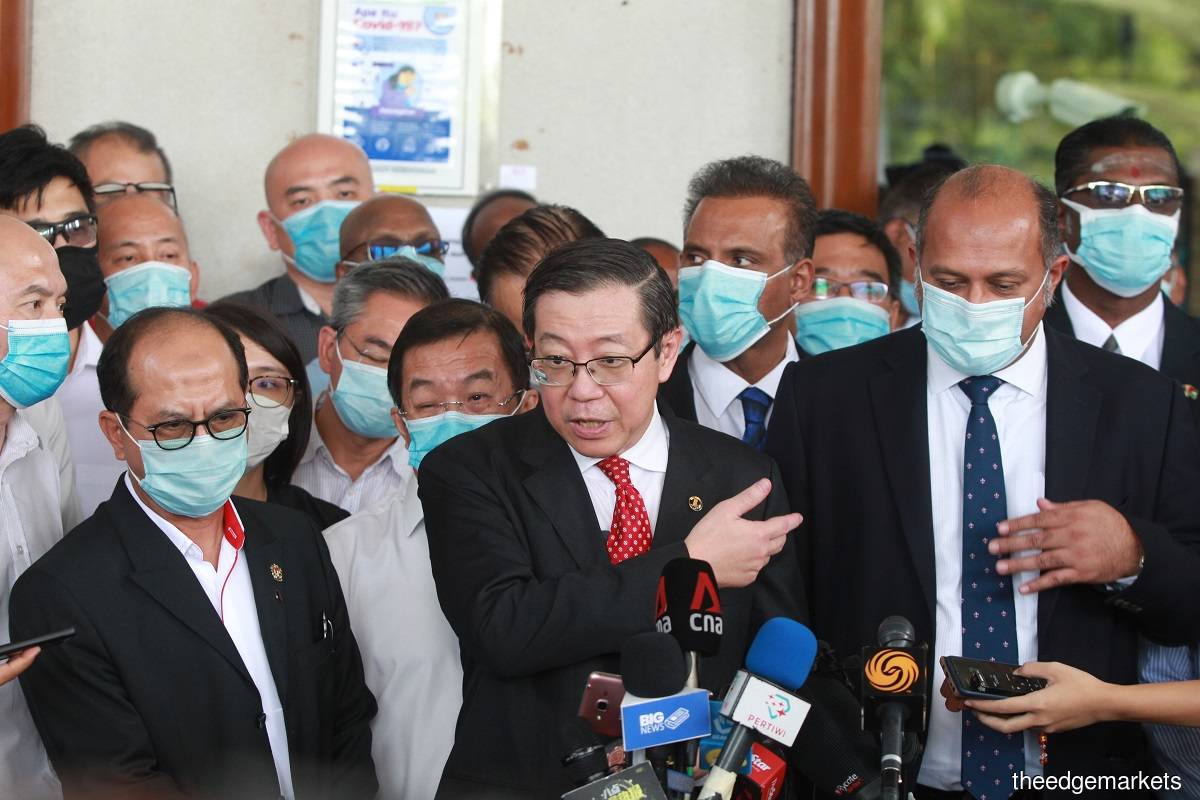 No bribe quantum in charge sheet, says Gobind
KUALA LUMPUR (Aug 7): Lawyer Gobind Singh Deo pointed out that there is no quantum stated in the charge sheet preferred against his client former finance minister Lim Guan Eng, and that there is no basis to the charge.
During a press conference following the charging of the former minister, he said it was only mentioned that there was a request for a certain percentage to be given.
"It is very clear there is no figure stated in the charge. What is stated in the charge is that there was a request for a certain percentage to be given through the project.
"As far as we are concerned, there is no basis to the charge. We will fight it to the very end and we will use the court process to prove that my client is innocent," said Gobind.
He also highlighted the fact that this is a charge that relates to an incident which allegedly happened nine years ago, in 2011, and the Malaysian Anti-Corruption Commission (MACC) had investigated the matter before but had never taken the matter up.
Meanwhile, Lim said the charge is politically motivated, intended to tarnish Pakatan Harapan's reputation, and emphasised that the coalition is serious in its fight against corruption.
"I also want to stress that I have never received any gratification and I've said this to the MACC. They never asked me to show proof whether I have millions of ringgit in my bank account or whether I had millions of ringgit in cash.
"I will fight to prove my innocence in court and I believe that the truth will show that I did not receive any gratification and there is no corruption," he said.
Lim was charged with one count of graft relating to an alleged agreement for the Bagan Member of Parliament to receive 10% of the future profits from the developer of the RM6.3 billion Penang Undersea Tunnel project.
The agreement was allegedly made with Datuk Zarul Ahmad Mohd Zulkifli, currently the senior executive director of Consortium Zenith Construction Sdn Bhd.
He was read the charge, made under Section 16(A)(a) of the Malaysian Anti-Corruption Commission (MACC) Act 2009, before Sessions Court Judge Azura Alwi today.
If found guilty, Lim will face a jail term of no more than 20 years and a fine of no less than five times the amount or value of gratification, or RM10,000, whichever is higher.
Meanwhile, it is noted that Lim had previously won a defamation suit against Raja Petra Kamarudin in February this year, over the blogger's write ups on allegations of corruption related to the project.