This article first appeared in City & Country, The Edge Malaysia Weekly on August 22, 2022 - August 28, 2022

It isn't every day that a car enthusiast finds several car brands operating in one area. At Sime Darby Motors City in Ara Damansara, Selangor, there are six. Designed to enhance the automotive shopping experience, it is certainly no easy task to manage this six-building complex while balancing the various needs and requirements of its very discerning tenants.
However, a dogged determination to make things work has resulted in Sime Darby Motors City winning the Gold award under the Below 10 Years Specialised Categories.
Sited on an 8.71-acre tract, the property features six commercial buildings, each of which is tenanted by the following car brands: BMW, Ford, Hyundai, Jaguar, Porsche and Volvo. Sime Darby Motors City was completed in 2018 and has been in operation for four years.
With its unique set-up, this is clearly no run-of-the-mill property. For property managers Henry Butcher Malaysia (Mont Kiara) Sdn Bhd (HBMK), it took time to sort out the systems and processes to manage the property efficiently, as senior building manager Cyanne Lim reveals.
"First, it is to understand their [the brands'] requirements and the whole process of building operations. From there, you know what they want and what can be done to accommodate them," she says.
Colleague and senior area manager Kathrine Yong concurs, adding: "Basically, communication is very important — updates, helping them [the brands] understand what building management is, the purpose and functions of a JMB (joint management body), what our boundaries are and so on."
According to Low Yuan Lung, managing director of Hyundai-Sime Darby Motors Sdn Bhd, which owns the six commercial blocks, the working relationship with the property management has been good.
"This whole property consists of six blocks. We have different brands in each building and they each have different requirements because each principal has its own corporate identity.
"So what we did is, since we are the representative of the building owner, we appointed HBMK. The team is doing its very best to cater to each brand where requirements are concerned. For me, the experience so far is that there have been no complaints. Response time is also very fast. In fact, response time is 24/7. Sometimes, at midnight, the guard will call with an emergency, and they will respond quickly," he says with a smile.
Due to the unique nature of this development, there is also another layer of contact in the form of Syed Mohd Mazfira Syed Mohd Bakar, Sime Darby Motors Division head of facilities & project management and retail & distribution, who was brought on board during the pandemic period.
"In managing the building maintenance, first we need to get all blocks together. What we did was to appoint a facilities manager representative from each block. Then we communicate with them in a WhatsApp group. We also have scheduled maintenance for each block and we inform them accordingly. And the cost will go to each operating unit. This is the basic process that we have," Syed says.
When it is time for a scheduled maintenance activity, HBMK will send out a reminder three days in advance and a technician will accompany the service provider to ensure all goes well.
Another key challenge in the beginning concerned the basement car park, which all six commercial buildings share.
"In the previous parking plans, some bays were allocated between two buildings. Internally, this was sorted out between each brand and then pillars were coloured accordingly to identify each brand's allocated parking spaces so that customers would not get confused," says Low.
Staying in touch
With so many people to stay in touch with, it is a wonder that there has not been any major miscommunication. This, it seems, is due to the fact that everyone is speaking the same language.
"I find it very easy to work with the HBMK team because one thing in facilities management is that there is one 'language'. So if I am only speaking that language that they don't understand, then it will be difficult to communicate. What I am experiencing here is that they understand my language. Whatever I tell or share with them they know and understand the direction and will quickly act on it," Syed says.
To ensure that everyone is kept up to date regarding building matters, each brand is kept in close contact via WhatsApp chat groups.
Says Low, "There are two group chats. The first is with the operating unit heads, the brand owners. That is used to tell us in general, 'Look, we are doing façade cleaning, or floor painting'. The second group chat is used by the working committee — referring to the floor managers — which relays messages like 'There will be a closure in this area, kindly use another road'.
"On top of that, these group chats are very useful in terms of corrective and preventive actions. For example, I made a report on one of the car ramps. There are many cars going in and out, so the epoxy flooring was wearing out. When it rained and if you were near the bottom and hit the brakes, the car would skid. Our cars are all installed with an anti-lock braking system, so the car can brake on time but motorbikes will skid and hit the wall. Immediate action was taken.
"All the staff in the group chats … when they see any hazard, they will report the matter and the property management will take action. There is this 'proactiveness' from all working committees. It is very important. Sometimes, if someone sees the lift is not operating or it suddenly stops, they will take a snapshot of the lift number advising everyone else not to use it. Communication is done in real time," says Low.
Technology creates efficiency and clarity
One of the key components in managing Sime Darby Motors City is the use of technology throughout the development. Some of these include the Automatic Number Plate Recognition (ANPR) system, Under Vehicle Surveillance System (UVSS) and Face Recognition System.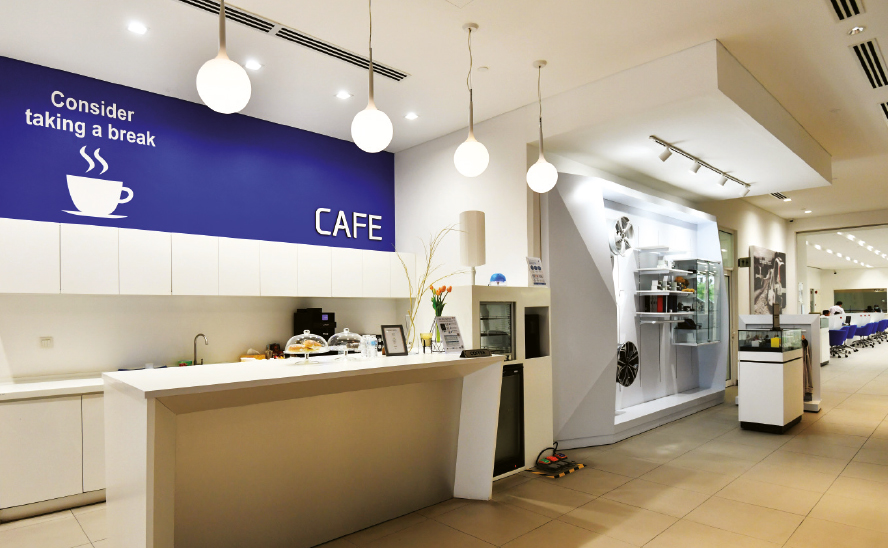 A cosy café area for customers to enjoy a snack while they wait for their car to be serviced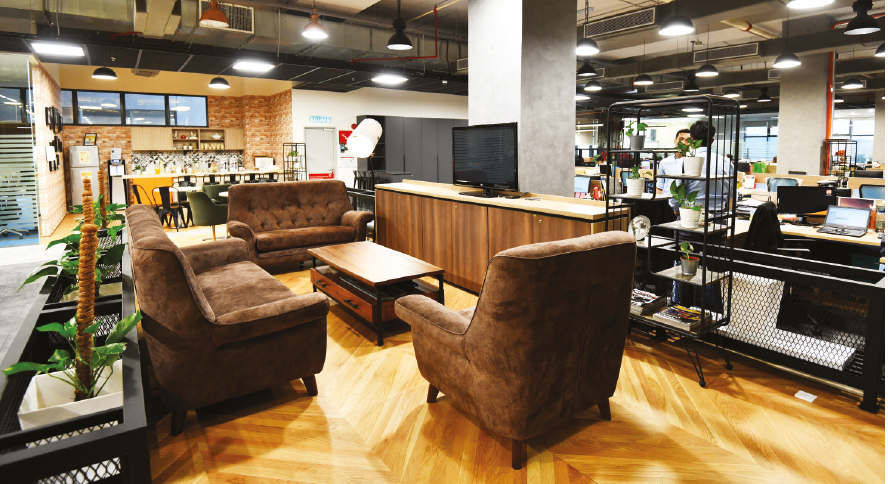 A conducive working environment
Says Syed, "Basement 1 is a shared parking space. We had a few incidents actually, one of which was quite serious where our new car, to be delivered soon to the customer, was scratched. And we wanted to know who the culprit was. Luckily, we have individual cameras installed at each bay, and we have the ANPR system. This system helps you identify where your car is parked in case you forget. With this system we were able to identify the culprit."
The UVSS, according to Low, takes a high-resolution shot of the undercarriage of all vehicles entering Sime Darby Motors City. This is installed at the guard posts. So in case a car is stolen, there will be a record of the incident.
"The other use of the UVSS, which scans in high resolution the whole undercarriage of the vehicle, is when the car comes in for servicing, the undercarriage could be scratched when it comes in or the tailpipe is missing or the bumper is damaged, so we can zoom in on that area, and say, when your car came in, there was no tailpipe or so on.
"It can also scan the condition of the tyres and check if there is any leak on the undercarriage. This saves a lot of hassle especially for customers who try their luck. These are the additional things they [HBMK] put in to help us. Because in one day, the whole six blocks easily have a total of 400 to 500 cars coming in to be serviced," says Low.
To facilitate movement around the different buildings, a Face Recognition System is in place. This, according to Lim, has helped reduce the need for security personnel at all entry points, especially at night.
Apart from these high-tech systems, a soft touch is also implemented to help build a community within the development. Low gives examples of durian parties and festive gatherings to help bolster interaction and bonding.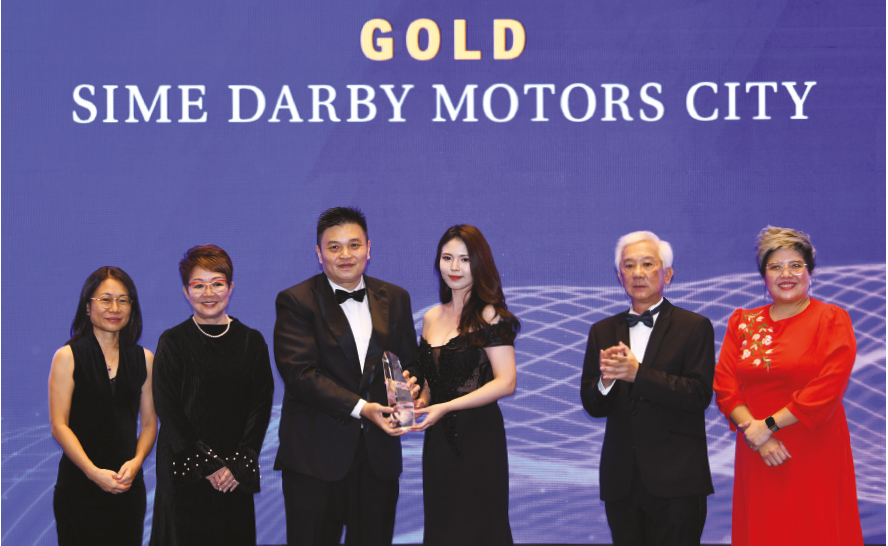 Low and Yong (third and fourth from left) with (from left) The Edge Malaysia editor-in-chief Kathy Fong, editor emeritus and the awards' chief judge Au Foong Yee, The Edge Media Group publisher and group CEO Datuk Ho Kay Tat and City & Country editor E Jacqui Chan (Picture by Low Yen Yeing/The Edge)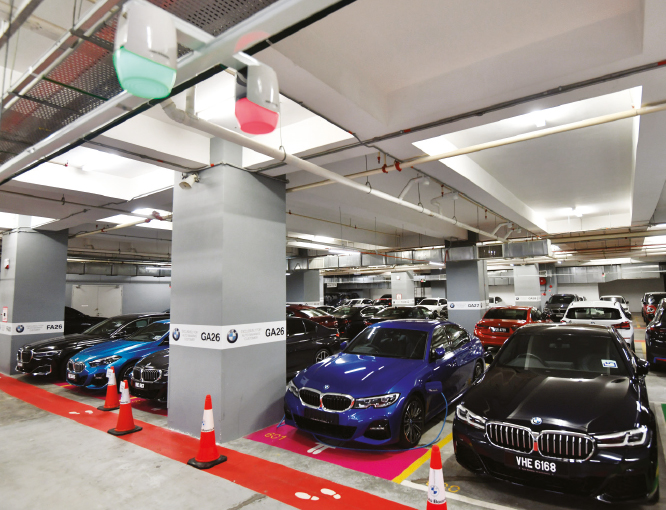 The Automatic Number Plate Recognition (ANPR) system is installed in the shared parking space (Picture by Sam Fong/The Edge)
Within the Hyundai block, he points out how special touches like workstations, good coffee and snacks and a good sound system are in place to give customers a memorable experience while their car is being serviced.
Sime Darby Motors City is looking to ensure it future-proofs itself. Low reveals there are plans to set up an EV charging hub for electric vehicles. At the moment, there are 23 charging stations in the development and the aim is to increase that to maybe 40 to 50 stations. Low points out that those who charge their vehicle, which can be any brand, will have to pay, just as if one goes to a petrol station. While waiting, customers can visit the different showrooms.
Also being planned is the fixing of solar panels to supply electricity to the buildings. The details are still being looked into.
As for present and future plans for the development, HBMK's Yong says they have drawn up a budget forecast to ensure that costs are well managed.
All in all, managing a unique property such as Sime Darby Motors City provides more than just one challenge, but the journey, or in this case, the ride, is towards a sustainable motoring future.

Charging bays for EVs; the Under Vehicle Surveillance System (UVSS); and the Face Recognition System (Pictures by Sam Fong/The Edge)
Save by subscribing to us for your print and/or digital copy.
P/S: The Edge is also available on Apple's AppStore and Androids' Google Play.