THE number of homes that went under the hammer has been rising over the last few quarters, reflecting the overall property market slowdown. But for auctioneers, the auction market has been woefully uneventful with little interest from bidders. Is there cause for concern?
According to data from online auctions listings platform Auctionguru.com, auction residential properties have risen 14.4% to 6,225 cases in 1Q2017 from 5,442 cases recorded in the same period last year. In terms of value, the figure has climbed 31% to RM1.8 billion from RM1.375 billion in the first quarter of 2016 (1Q2016).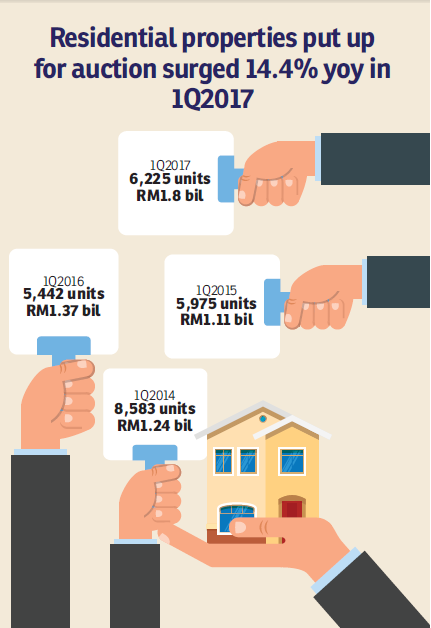 The uptrend has been gradual since 2Q2016, following a steep fall of 17% to 5,442 cases in 1Q2016, from 6,543 cases in 4Q2015.
In 2Q2016, there were 5,505 cases, a slight increase of 1.16% from the previous quarter. The figure climbed 5.7% the following quarter with 5,818 auction cases. In 4Q2016, the number had risen to 6,154 cases worth RM1.797 billion. In 1Q2017, the volume and value of auction cases increased slightly by 1.15% and 0.3%, respectively.
Last year, a total of 22,919 homes worth RM6.26 billion went under the hammer compared with 19,132 cases valued at RM3.66 billion in 2015. There were 24,806 cases worth RM4.1 billion in 2014.
Overall, comparing annual figures, the number of auction cases has been decreasing over the past three years. There were 26,101 properties worth over RM9 billion put up for auction in 2016 compared with 28,750 valued at RM7.63 billion in 2015. In 2014, there were 35,577 cases worth RM7.9 billion.
Auctionguru.com executive director Gary Chia tells TheEdgeProperty.com that although there are more residential properties on offer for buyers, the market has been lacklustre as buyers are cautious and are staying on the sidelines. He notes that not only has the crowd that attends the auction events become smaller, but the number of bidders has also shrunk.
"I have seen some good deals in the [auction] market as some properties have seen their reserve prices go significantly lower than the market price, especially high-rise properties in Kuala Lumpur city centre, but they still face difficulties in finding buyers," he says.
For instance, a 2,444 sq ft apartment at The Troika in KL city centre was put up for bid with a reserve price of RM2.4 million in January this year with an average price of RM948 psf, which is 22.6% lower than its average transaction price of RM1,272 psf in 2016, according to TheEdgeProperty.com data.
Another example is a 3,750 sq ft serviced apartment at The Oval in KL city centre, that had a reserve price of RM4.1 million in January this year (RM1,093 psf), which is about 16% lower than last year's average transaction price of RM1,306 psf.
"During market boom times, it's normal to see more than 20 bidders for one property, but now, it would be lucky if five to six people would bid for one property as it has become a norm now to see just one or two bidders, or sometimes none," he adds.
The report also showed that among the 6,225 auction cases in 1Q2017, about 50% or 3,094 properties are repeat cases, which means that these properties have been put up for auction for two times or more. Notably, there were 3,131 new cases valued at RM8.24 billion registered in 1Q2017 alone.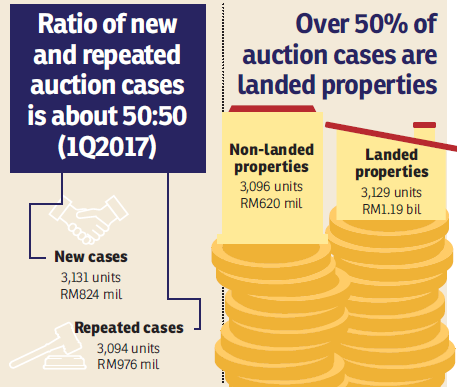 Chia believes the current slumber will continue into the subsequent quarters due to the cascading effect emanated from the secondary market, where more property owners will be selling to realise their capital gains and restructure their investment portfolio.
"Thus, market supply will increase and it will be harder for owners to cash out. Consequently, some of the property owners who encounter financial constraint may eventually be forced to abandon their monthly financial commitment for their leveraged properties," he explains.
Selangor, Johor and Perak top the list
Among all the states and federal territories — including Putrajaya and Labuan — Selangor, Johor and Perak have topped the list with the highest number of properties that went under the hammer in 1Q2017.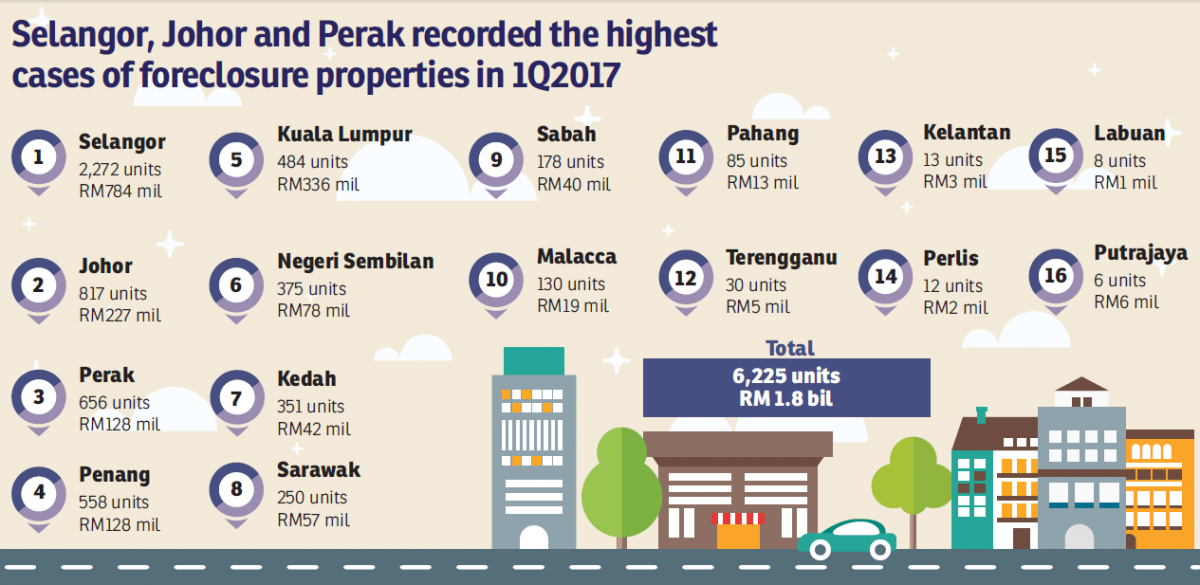 Selangor dominates with 2,272 properties worth RM784 million being put up for auction, making up about 36% of total auction cases in 1Q2017.
Johor and Perak registered 817 cases worth RM227 million and 656 cases worth RM61 million, respectively, making up about 13% and 11% of the total cases. Putrajaya, Labuan and Perlis have the least number of auction cases, with just 6, 8 and 12 auction cases, respectively.
In terms of value, Selangor, KL and Johor led the pack. KL had 484 properties worth RM336 million, while Penang had 558 properties valued at RM128 million put up for auction in 1Q2017.
Chia notes that Selangor has recorded the highest number of foreclosures in the residential property segment as the state is highly developed and is the most densely populated in Malaysia. Therefore, property transactions in the state will tend to be higher.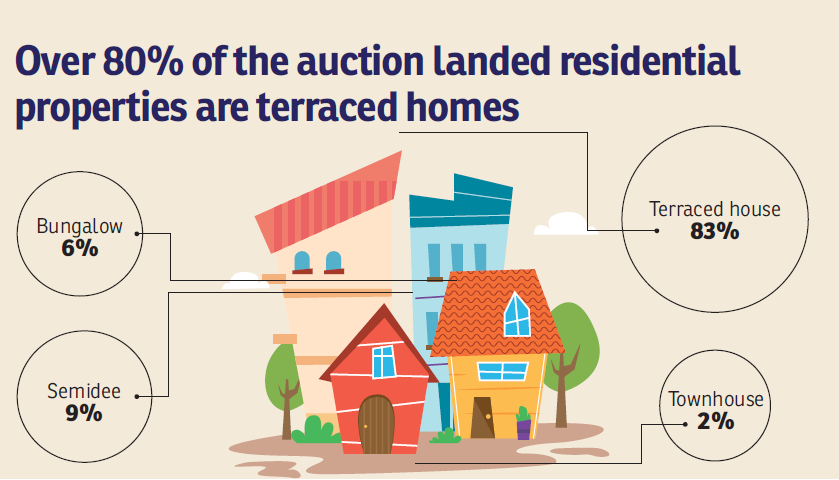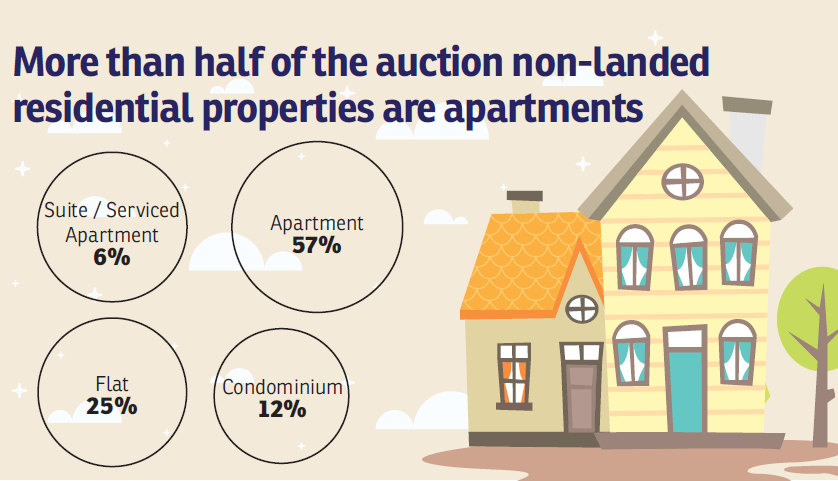 He also spotted a rising number of luxury landed homes and newly completed high-rise homes being put up for auction.
"Our records showed that quite a number of units at The Raffles Suites located at Bandar Uda Utama in Johor, which was completed about one year ago, were being foreclosed in 1Q2017.
"Some of the reserve prices stipulated for units in that property were almost equal to or below the initial purchase price," he notes.
According to Auctionguru.com's records, the first auction of a unit from The Raffles Suites was seen in January, and since then, there have been 32 units put up for auction.
Launched in 2013, the 311-unit freehold condominium was selling from RM389,400, or an average of RM570 psf. The recent auction listings in May showed that the reserve price is about RM467 psf.
A more realistic approach to market price
Chia opines that the reserve price of an auction property more or less reflects the real value of the property.
"The reserve price is based on bank valuation where the land value and future growth potential are the main considerations," he explains.
For luxury properties that were set at an exorbitant price previously, their price valuation will be challenged if their future growth potential is questioned.
"However, the reserve price may not always go downwards, even for repeated cases. In some cases where the property is located in prime areas, the reserve price can increase in tandem with the land value," he emphasises.
For example, a 3,294 sq ft duplex condominium in One KL located at Jalan Pinang, KL city centre has a reserve price of RM4.25 million, or an average of RM1,290 psf, in February this year. TheEdgeProperty.com transaction price data showed that One KL's average selling price in 2016 was at RM984 psf.
Chia perceives the current situation positively as such market "adjustments" are necessary for the market to recover. He opines that the local residential market is relatively resilient and the segment is fairly shielded from economic fluctuations.
"Challenging business conditions, coupled with negative sentiments on the local front, may prolong the expansion of the foreclosure market. However, for bargain hunters, there are more opportunities on the market," he concludes.
This story first appeared in TheEdgeProperty.com pullout on June 16, 2017. Download TheEdgeProperty.com pullout here for free.