This article first appeared in City & Country, The Edge Malaysia Weekly on August 22, 2022 - August 28, 2022

On Level 34 of Menara JLand in Johor Baru is its sky garden with a cantilevered glass observation deck that unveils a crisp, clear view of the busy Johor-Singapore Causeway and its surrounding areas. At 170m above ground, this feature of the tower is fast becoming a tourist attraction in the city centre.
Dubbed "the epicentre of the south", Menara JLand is a commercial and sustainable Grade A office.
The landmark, which was built according to MSC standards and has a Green Building Index (GBI) gold certification, is a Bronze winner in the Below 10 Years Single-owned Office in a Mixed Strata category.
DASB Property Management Sdn Bhd CEO Datin Ismahana Musbah, manager Fatimah Abdullah and their team are delighted with the recognition.
"We are thankful for the recognition and kind words. Although this is our first time competing for this award, we are truly honoured to be chosen as a winner for the category, having had to compete with many established players in the industry," says a beaming Ismahana via a virtual call.
"This award is a strong motivation for us, the Menara JLand team, and we are incredibly happy to share the news of this award with our stakeholders," she continues, adding that she hopes the win will be an impetus for the company to win more awards in the future.
Completed in 2018, Menara JLand is a single-owned office in a mixed-use strata development, with a gross floor area of 406,533 sq ft. Developed by Johor Land Bhd, the tower has a net lettable area (NLA) of 259,994 sq ft and land area of 230,756 sq ft.
The building has 30 floors of office space, 195 car parking bays and 19 tenants. Its anchor tenants include CNA, Tourism Malaysia, MRT Corp, Deloitte, Pernas, Arkema, Infinity 8 and MSIG.
"Our current occupancy rate is about 46%, although we have a target to achieve 70% by year end, especially with the opening of borders between Johor Baru and Singapore.
"We are also targeting other companies in Asia, especially those from Hong Kong, China, South Korea and Japan, and we are confident of achieving our target as we are witnessing more activity in the light of the reopening. We have just received our Malaysia Digital Status (formerly known as the MSC status). This will guarantee that the occupants will enjoy our world-class facilities smoothly without any interruption," says Ismahana.
Founded in 1975, DASB is the property services arm of Johor Corp (JCorp) that provides integrated asset lifecycle management services and solutions.
With over 400 employees, DASB manages a portfolio of commercial, industrial, healthcare, residential and government properties, with a total NLA of 1.29 million sq ft for offices and 0.61 million sq ft for malls in Johor Baru and Kuala Lumpur.
The company is a Grade 7 contractor certified by the Construction Industry Development Board (CIDB) as well as a member of the International Real Estate Federation (Fiabci), International Council of Shopping Centres (ICSC), Malaysia Retail Chain Association (MRCA), Bumiputera Retailers Organisation (BRO) and Malaysia Shopping Malls Association (PPK).
Challenges
DASB foresees an uptick in activity and tenancy take-up in the near future. "As the purpose-built office (PBO) market in Johor CBD (central business district) is improving, we have seen the growth of the prospects list, and more MNCs (multinational corporations) have shown an interest in expanding their business in our building," says Fatimah.
She asserts that with key drivers such as the Johor Bahru-Singapore Rapid Transit System (RTS) project, which is expected to be completed in 2024, "it has boosted our Singaporean prospect list due to the currency exchange and better logistic efforts from both countries".
Nevertheless, DASB believes that it is still a challenging market climate. "As we are running on a low tenancy rate, we will have to absorb the additional costs," says Fatimah.
To overcome this, the company has strengthened its efforts to further grow the number of tenants in Menara JLand. "We intend to have more event collaborations with listed site platforms and agents, which will expand the market segmentation.
"We will also be running digital campaigns by having more awareness programmes to get more impressions and page reviews towards getting more enquiries or leads," says Fatimah.
"Receiving this award is also a part of Menara JLand's accreditation highlights and this will boost our confidence to bring the standard of this prestigious Johor Baru office building to an advanced level," adds Ismahana.
Fatimah says the building's tenants are facing challenges as well. "Among the effort to maintain the rental and absorb the service charges is by introducing cost-saving measures without sacrificing on the quality and the tenants' comfort in the building. Examples of such measures are an assessment of roles for the operations team, rescheduling operating hours of the air-conditioning system, and optimising marketing campaigns by having more online presence rather than the traditional ways of doing things."
Sustainability diagram
During a visit to the site, DASB's Fatimah points to its sustainability diagram, which shows some of the building's sustainable characteristics.
"We measure the success via our energy-efficiency system that shows the actual electricity bill versus the baseline and savings. In terms of material selection, fit-out guidelines were given to the tenants to ensure that only low volatile organic compound (VOC) paints and adhesives are used for all fit-out works.
"For the health and well-being aspects, the building emphasises good indoor air quality. UV lights [installed in air-handling units (AHUs)] kill bacteria and viruses, hence protecting occupants during the haze season. The materials used during construction are also low VOC paints and adhesives," she adds.
The main building has a north-south orientation to minimise solar heat gain, while the sky garden has an east-west position to utilise solar heat gain for its landscape.
Meanwhile, the wastewater management system collects and reuses rainwater for landscape irrigation. "It recycles water from the ablution area to flush toilets, and uses condensation water from the AHUs for the cooling towers," shares Fatimah.
Menara JLand's energy-efficient system includes both active and passive designs. "We have good performance glazing (rejects heat and allows light), and a heat-recovery system brings in fresh air at low energy cost. For the lighting system, motion sensors and lux sensors are used," she adds.
The building has a five-tier security system comprising an extensive visitor management system, turnstiles at the main lobby, card access system to the designated floors only, security patron and 24-hour CCTV surveillance.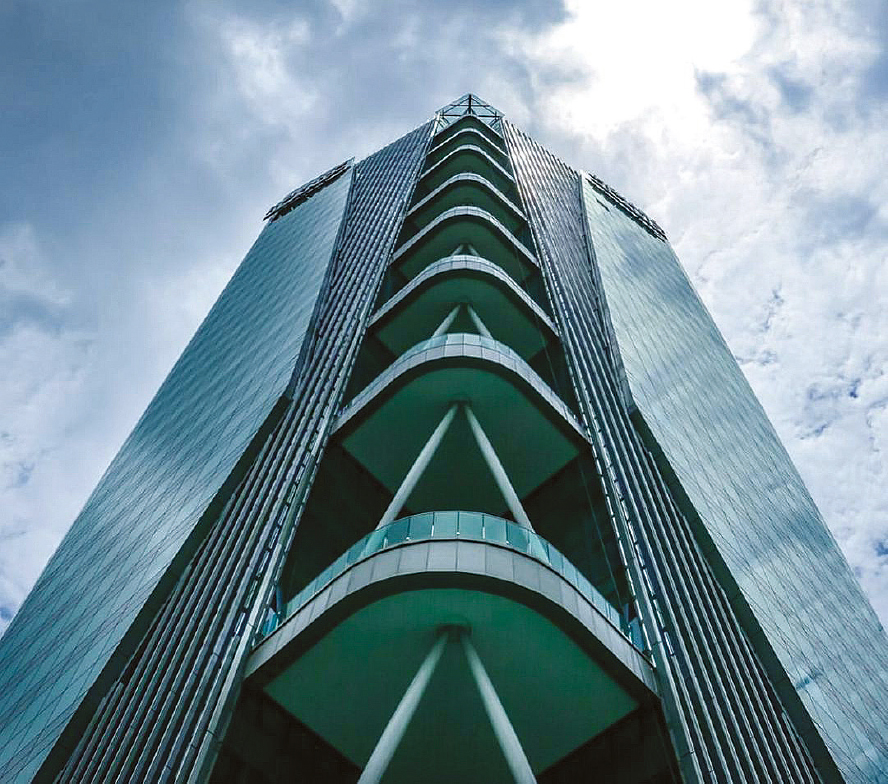 The tower's energy-efficient system includes good performance glazing (rejects heat and allows light) and a heat-recovery system
Future add-ons
DASB has plans to provide Menara JLand with more features. "We plan to upgrade all the common area lighting to LED lighting. Currently, they are T5 lighting, which were installed in 2018 after the tender process in 2015," says Ismahana.
Another goal is to improve the wellness and nourishment of its occupants. "This is namely the wellness provision of a gymnasium, and nourishing healthy eating habits. For example, urban farming, the selling of strawberries by one of our tenants on Level 8 and the provision of a healthy food vending machine with nutritional information," she continues.
"Other than that, we would like to make use of renewable energy — with solar panels to be used for façade lighting."
As for the building's future, Ismahana says, "We will have regular inspections on the current systems, a 24-hour live monitoring system and Servedeck, [a smart subscription cloud-based solution] in order to provide feedback and preventive maintenance on the spot.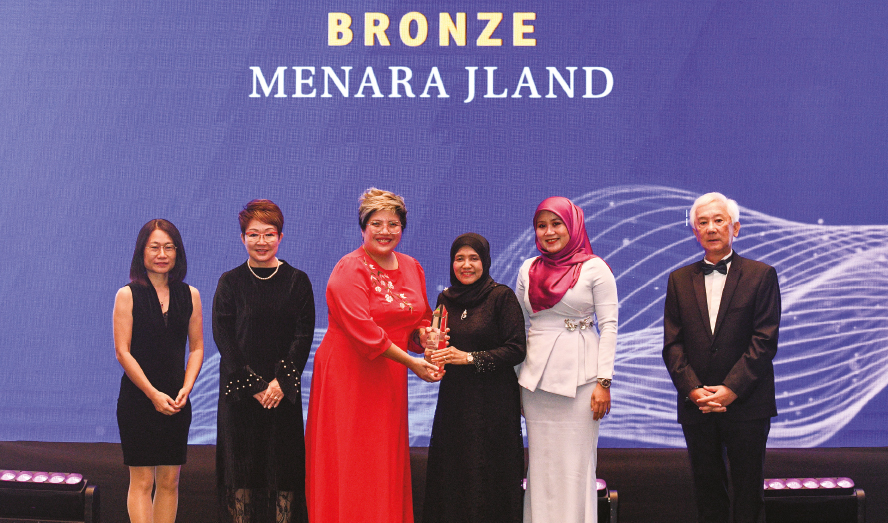 Fatimah and Ismahana (second and third from right) with (from left) The Edge Malaysia editor-in-chief Kathy Fong, editor emeritus and the awards' chief judge Au Foong Yee, City & Country editor E Jacqui Chan and The Edge Media Group publisher and group CEO Datuk Ho Kay Tat
"DASB also has a waste recycling plan for Menara JLand to collaborate with recycling contractors to collect recycled waste every month and have proper records of waste management," adds Ismahana.
"Our aim is to have 100% of compliance from our tenants towards the GBI specifications by having a certified consultant verify and be fully involved during the pre- and post-fit-out process such as maintaining our venetian blinds to enable our daylight harvesting and anti-glare system, using low VOC spec items, lux sensor application, and installation of thermostats to ensure optimum room temperatures for occupants," she concludes.
Save by subscribing to us for your print and/or digital copy.
P/S: The Edge is also available on Apple's AppStore and Androids' Google Play.