This article first appeared in Options, The Edge Malaysia Weekly on May 3, 2021 - May 9, 2021
Richard Mille's commitment to crafting watches for women reaches a new apex with the RM 07-01 Automatic Starry Night and the RM 07-01 Automatic Open Link bracelet in red gold and Carbon TPT
Swiss watch brand Richard Mille has introduced two new additions to its arsenal of feminine timepieces, this time with unprecedented adornments: the RM 07-01 Automatic Starry Night, with its extraordinary gem-set star motifs and the RM 07-01 Automatic, with a sensuous and fascinating open-link bracelet in red gold and Carbon TPT. Both models feature Carbon TPT, a high-performance material that is both light and strong, ensuring optimal protection of the movement. Its surface offers a striking appearance of damascene patterns and a moiré sheen, while its matte finish provides warmth to the touch and the wrist.
It is fairly unusual for a watchmaker to include complex mechanical movements in women's watches, let alone the kind of hi-tech material that Richard Mille employs. This, according to creative director Cécile Guenat, has less to do with the applied gender of the watches than the company's intrinsic approach to material research. "The application and use of innovative materials remains at the very heart of the brand's core concept; to create watches for women without adhering to this concept would be a falsification of what we stand for," she points out. "Women's and men's watches stand on equal footing at Richard Mille, and all the aspects that define the brand are to be found in every type of watch, in every collection that we create."
Thrilling and fascinating, RM 07-01 Automatic Starry Night displays a prong setting on the bezel and dial in a nod to the heavenly bodies that highlights a profile gracefully enhanced with diamonds. The setting underscores the maison's mastery in gem-setting, as the hardness and resistance of Carbon TPT requires specialist machines equipped with diamond bits. Hand-polished prongs in 5N red gold are produced separately and then embedded in the many stone settings of varying diameters destined to hold fast the piece's 181 diamonds.
"The case of the RM 07-01 Automatic Starry Night in Carbon TPT is extremely light and comfortable on the wrist; the idea of fashioning the entire bracelet in Carbon TPT was to produce an extreme luxury sensation for the wearer by making it as care-free and light as possible," says Guenat. "Carbon TPT is incredibly tough to work with. Owing to this demanding production process, crafting a bracelet in Carbon TPT means it is more costly for us than producing the same bracelet in any precious metal."
Meanwhile, the RM 07-01 Automatic is equipped with a bracelet that features a fresh take on design with hand-finished links that weave together Carbon TPT and 5N red gold. In every respect, it is a voluptuous bracelet offering a play of matte and shining effects, and, most surprisingly, both suppleness and extreme strength. "The red gold and Carbon TPT open-link bracelet is also extremely complex to produce, and the driving philosophy behind it is different," says Guenat, daughter of Dominique Guenat, the co-founder of Richard Mille. "The open-link look has a retro character and I chose the combination of red gold and Carbon TPT to provide visually rhythmic contrasts. This bracelet's creation in two materials combines incredibly advanced 21st-century machining techniques with the traditional working methods of jewellery making in a really unconventional way."
These two new interpretations possess all the technical characteristics that have forged the reputation of the RM 07-01. Both are driven by the in-house Calibre CRMA2, a skeletonised automatic movement with hours, minutes and a variable-geometry rotor. Mechanics and ergonomics once again exhibit superlative care, while the sensuous lines of the tonneau case, including the detailing on the tonneau-shaped clasp, reflect this defining architectural feature of Richard Mille watches, down to the shapely crown in red gold.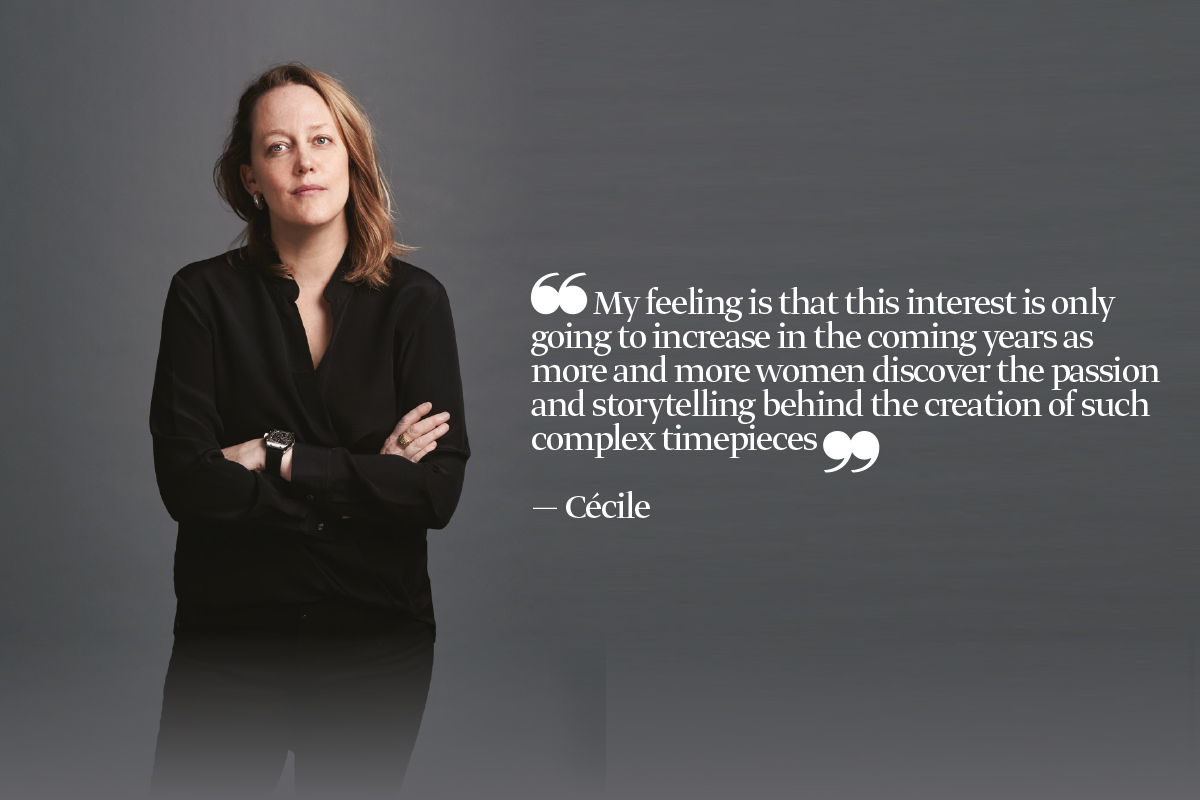 Cécile Guenat, creative director - Richard Mille
Taking the lesser-known path has always been a signature of the maison — there is no other brand in the industry that would choose to announce its debut with a tourbillon. And yet, Richard Mille did just that at the 2001 edition of Baselworld and, in 2005, it unveiled the RM 007 line for women. At the time, ladies' watches tended to profile skills in gem-setting and other metiers d'art, but not necessarily mechanical movements. Not so with this maison, whose inaugural ladies' collection was fitted with an all-new automatic movement designed with an impressive 50-hour power reserve and a unique construction that made it especially sturdy and robust. This move, more than anything, recognised a growing demand for ladies' watches that was anchored by mechanics.
Mille, a relative latecomer to the fine watchmaking universe, tapped his daughter Amanda to break into the women's market. Already a technical specialist, he relied on his oldest daughter's input in everything, from hiring the right kinds of partners to deciphering what most women looked for in a watch. The result is a respectful and insightful collection that pays homage to a woman's love for both aesthetic perfection and technical mastery.
"Some women, of course, still prefer refinement above complexity, and that remains perfectly valid. Within the last decade, however, more and more women have been developing a real interest in complex timepieces such as chronographs, also larger-dimensioned watches in general, and this is becoming more and more an established trend," Guenat says. "After all, we don't always have to let ourselves be boxed in. What women are looking for in a mechanical watch is audacity; they also want to perceive poetry and imagination. My feeling is that this interest is only going to increase in the coming years as more and more women discover the passion and storytelling behind the creation of such complex timepieces."
In 2010, the maison announced Datuk Michelle Yeoh as the first of its now lengthy list of female partners, and declared 2014 as the designated year of women for the brand, where an extended collection for ladies was rolled out:
RM 07-01 and RM 037 automatic calibres, and the option of an open-link gold bracelet. Other notable collections for women include the cult-status Bonbon collection and the whimsical RM 71-02 Talisman, which draws on the untamed energy and raw glamour of the 1970s. A limited suite of 10 variations, each produced in an edition of just seven pieces, the watches were fitted with the in-house automatic calibre CRMT1, which powers a tourbillon.
The RM 71-02 Talisman was particularly pivotal for Richard Mille's commitment to producing mechanical watches custom-built for women. The first project Guenat worked on, the collection's unique aesthetic paved the way for many different stylistic techniques. "With the RM 71-01 Talisman, we demonstrated the special attention we pay to the women's collection," she says. "We brought some new impulses in the last five years by creating very bold collections and telling new stories to clients. The characteristics that attract women most are a good mix of ergonomics, aesthetic beauty, technique and savoir-faire, and this corresponds to the letter with the brand's strategy."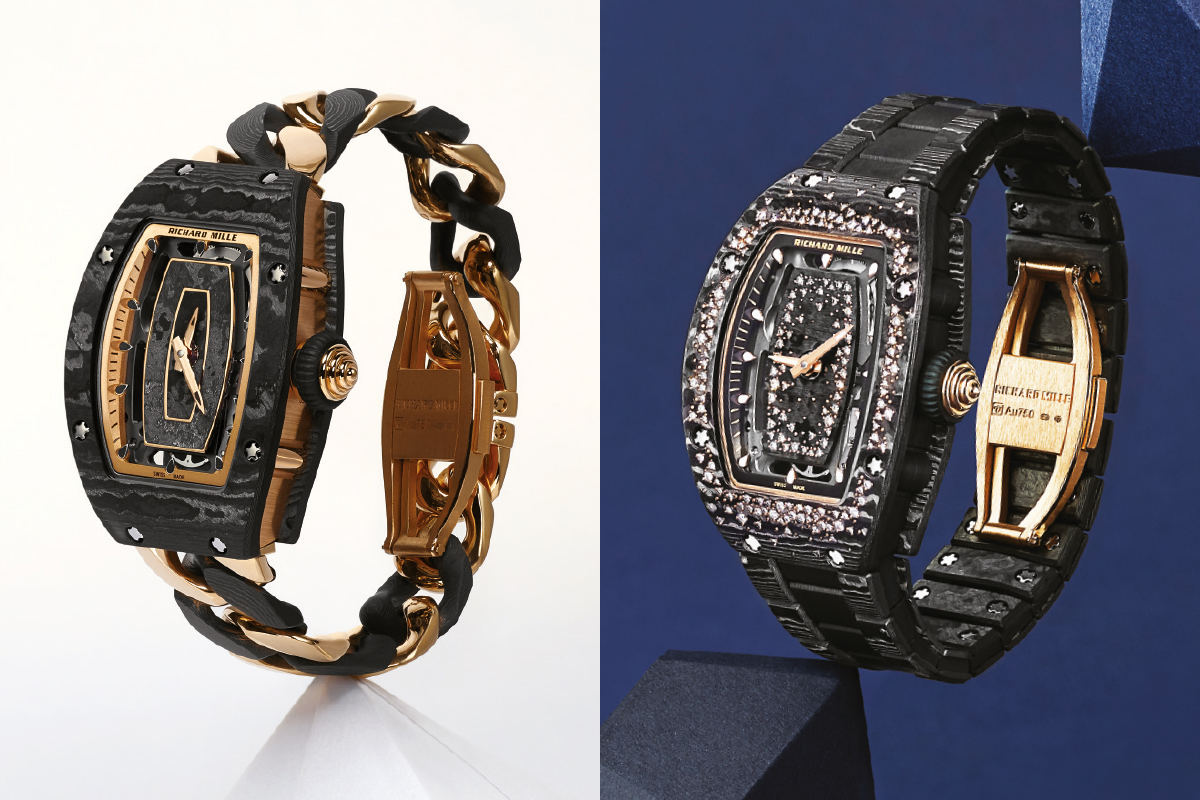 Women can certainly have their cake and eat it too, Richard Mille watches seem to say, with their masterful blend of gorgeous gems, avant-garde materials and exceptional complications. Guenat notes: "Our approach in terms of planning is the same for all the Mille watches. The brand has always sought to use the same codes and values for both women and men. Women have never been relegated to a secondary role, quite the contrary.
"The first in-house automatic movement was made for a ladies' timepiece; so was our first manufactured tourbillon. We offer our women clientele a comprehensive range of models, including sporty lifestyle and jewellery timepieces with movements such as automatics and tourbillons, and an entire array of materials, straps, colours and different kinds of settings."
This journey reaches a new apex with the RM 07-01 Automatic Starry Night and RM 07-01 Automatic open-link bracelet, with their proven and much-loved size and shape, combining beauty, comfort and technical prowess. With their modern aesthetics and bold silhouettes, they beckon and fascinate, attesting to the true reach of this iconic collection.
Save by subscribing to us for your print and/or digital copy.
P/S: The Edge is also available on Apple's AppStore and Androids' Google Play.